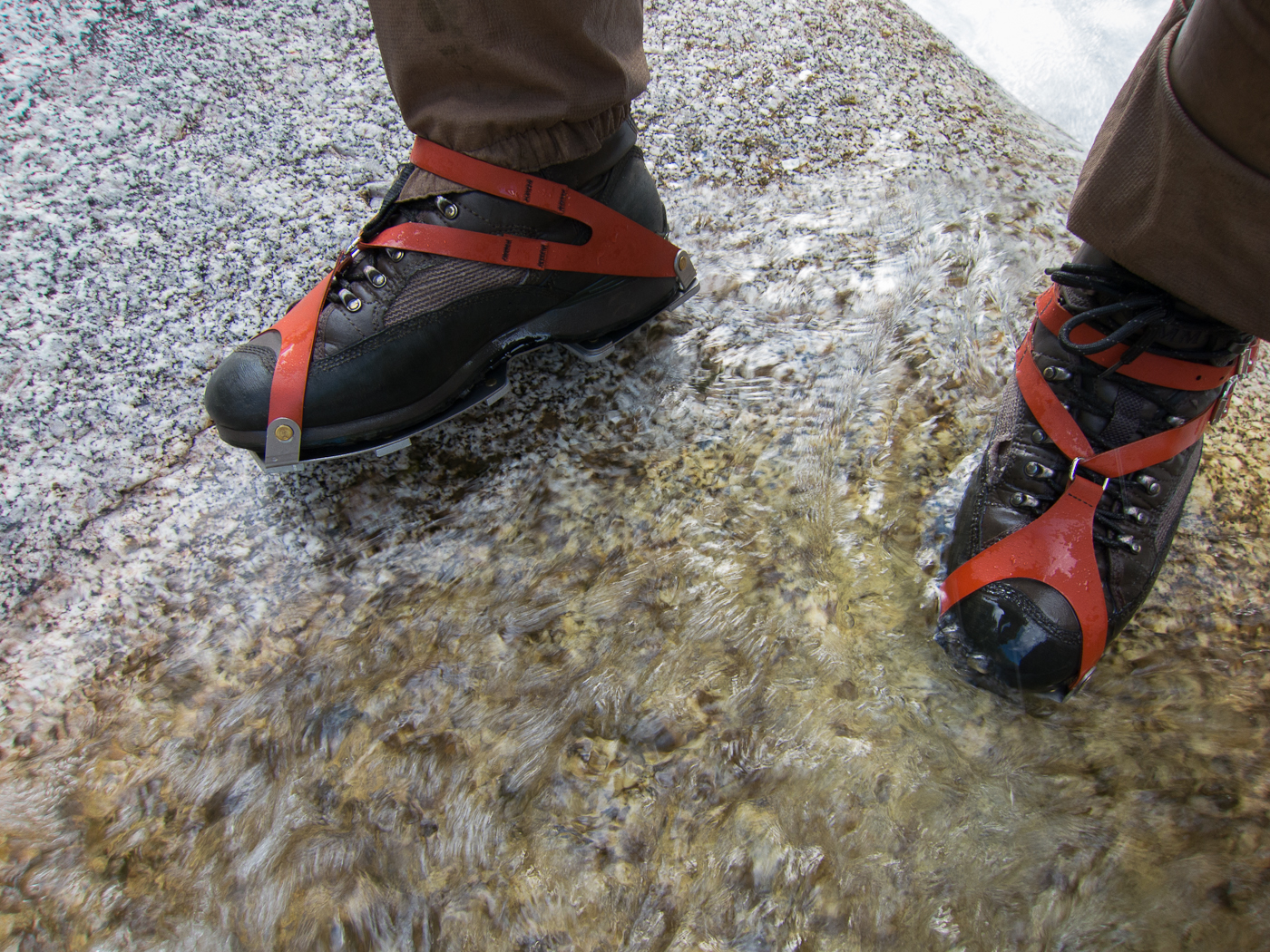 It's been a while since I have reviewed any fly fishing gear.   This isn't because I haven't been fishing (I fish a couple times a week when conditions are good,) but rather because I haven't bought any fishing gear in a long time.  I've been pretty happy with the gear I've been using.
However, when I got the chance to test the new Patagonia River Crampons, I couldn't resist.  They're new and kind of odd and very unlike anything else on the market.  That definitely piqued my interest.  They seemed like a good idea for mossy rock.  However, I was kind of skeptical about these river crampons for general use.
I have to admit that as I was strapping on the crampons for the first time, I was already pre-forming my opinion in my head:   "fine for shuffling along snotty, slick, mossy river beds, but insecure for fast hopping around on large boulders."    It's a good thing, that I actually try stuff out however, because I was wrong in my assumptions.
In actual use, the river crampons are very secure on just about every surface.  They grab on wet rock covered with lichen, dry rock, gravely rock, small cobbles covered with moss, dead logs, dirt, and pretty much every other surface I have encountered.   My skepticism about the river crampons was colored by my experience with traditional steel or carbide studded rubber soles, which tend to skid and scrape insecurely on hard rock surfaces.  I figured that these crampons would perform in much the same manner.  This is not the case.  The aluminum bars have a lot more bite and grip than studded soles and I can scramble up and down boulders with excellent traction.  I like to move fast when I wade, hopping from rock to rock, and wading quickly past unproductive water.  These crampons made me more efficient.  Wading and boulder hopping was a lot faster and less tentative than the studded rubber or felt that I'm used to using.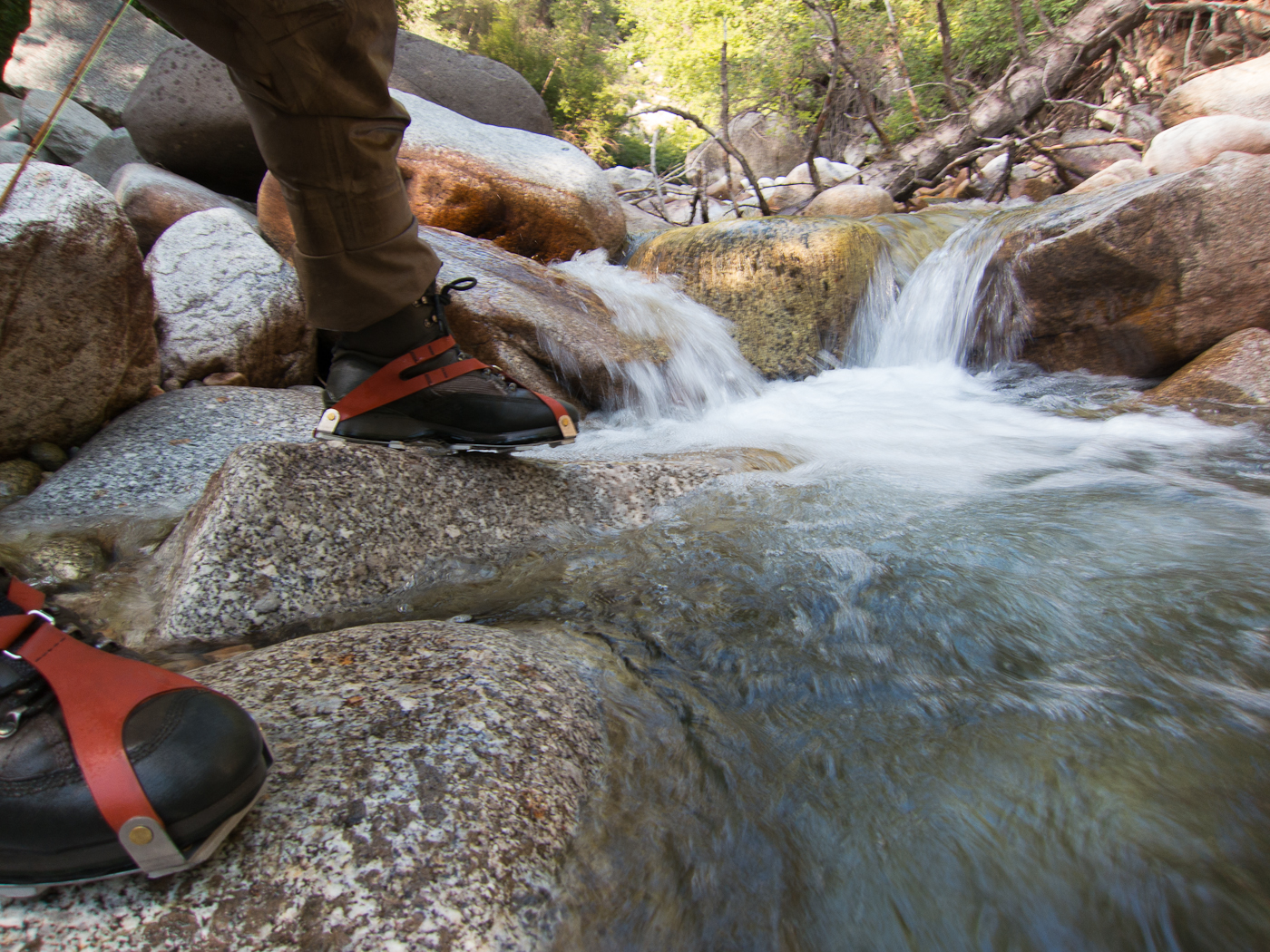 The crampons adjust easily and the straps are secure.  The straps are made from a durable neoprene covered nylon that  gave me nostalgia for my 1980's vintage Chouinard Scottish Crampon Straps.  The crampons stay on my feet and don't slip around.  They fit well on both my traditional wading boots, and also on my lightweight water shoes.
My only real complaint about the crampons is that they are kind of heavy.  At first I was intrigued with the thought of using these crampons with lightweight water shoes for backcountry fishing.  However, the crampons weigh 17 ounces each, which makes them kind of heavy for backcountry use.  Combined with my lightweight Columbia Drainmaker shoes, the crampon/shoe combination is  26.6 ounces per foot.  Compare that with these other lightweight options, and the river crampons start to look less useful for backpacking, however, given their exceptional performance, I may just take them along anyway, coupled with some lightweight shoes.  When I'm in the backcountry, having the extra wading traction and security could save me from getting hurt while wading, plus the experience of fishing is more fun with better traction, so perhaps 2 pounds is not that bad a weight penalty to pay.   Here are some weights of various backcountry options for comparison:
LL Bean "Ultralight II" wading boots, studded rubber soles 23.4 ounces
Orvis "Pack and Travel II" wading boots, felt soles 19.8 ounces
Simms "L2" wading boot, rubber soles 23.8 ounces
Bite "Portatge" wading shoe, rubber/felt soles 17.1 ounces
Cloudveil "8x" wading shoe felt soles 18.2 ounces
Korkers "Cross Current" wading boot felt soles 19.1 ounces (With rubber hiking soles, 20.2 ounces) (felt soles alone are 3.8 ounces each)
Hodgman "Stream King" wading boot felt sole 21.7
The weight of the crampons was their only real drawback for roadside use as well.  After a long day of wading, I could feel the extra weight on my feet.  I haven't tried the Patagonia rock grip wading boots, but if they provide the same grip in a light-weight form, they could be a real winner.
So, what's the bottom line for these crampons?   Well, using these crampons has made me really want to try out the Patagonia Rock Grip boots with the aluminum traction bars on their soles. If the Rock Grip boots can provide me with the same traction as these crampons with less of a weight penalty, I may have found the perfect all-around boot.  Until then, I will keep using the river crampons, at least for roadside fishing, as the traction and security they provide is better than anything else I've used and is worth the extra weight, at least if I'm not hiking in a long ways.  I'm going back and forth on whether to bring these along on backpacking trips.  I have a week-long trip in the Uintas coming up soon.  I've been adding and removing the crampons to my pile of gear.  Still don't know whether I will take them or not, but if I do, I will update this review with a backcountry-centered update.
A word on sizing:  I wear size 10 or size 11 wading boots and shoes.   The size small crampons fit my lightweight shoes the best and fit my size 11 Simms L2 boots too.  I don't know if the size small would fit some of the really bulky wading boots that are out there in a size 11, but they seemed well suited for the more streamlined, lightweight hiking boot type of wading footwear.