Guided Hut to Hut skiing in Idaho's Sawtooth Range with Sun Valley Trekking
March 16-20, 2015
For the past few seasons, I've done a multi-day backcountry ski trip with a group of friends.   So far, we've done a traverse of the Teton Crest traverse, a Sierra trip from Mammoth to Lee Vining Canyon, and a trip to the Baldy Knoll Yurt in the Teton Backcountry.    This year, we opted for a trip to Idaho's Sawtooth Range.  Rather than staying in tents, we would be staying in backcountry huts.  Unlike past trips, we decided to hire a guide.
We arranged the trip through Sun Valley Trekking, which operates a number of yurts and huts in the Sawtooth range.   It was an "all inclusive" trip that included our hut accommodations, food, and guiding for the week.   Not having done a guided ski trip before, we weren't quite sure what to expect.  As it turned out, it was the most decadently comfortable backcountry ski trip I've ever done.
We split our time between two huts, the Bench Hut, and the Fishhook Hut.  The first day we spent skiing into the Bench Hut.  It was a pretty easy day, made even easier by the fact that the guide service had a couple of porters that brought in all of our food on a sled.
The Bench Hut is a large structure made of fabric on a wooden frame that comfortably accommodated our large group of 8 people.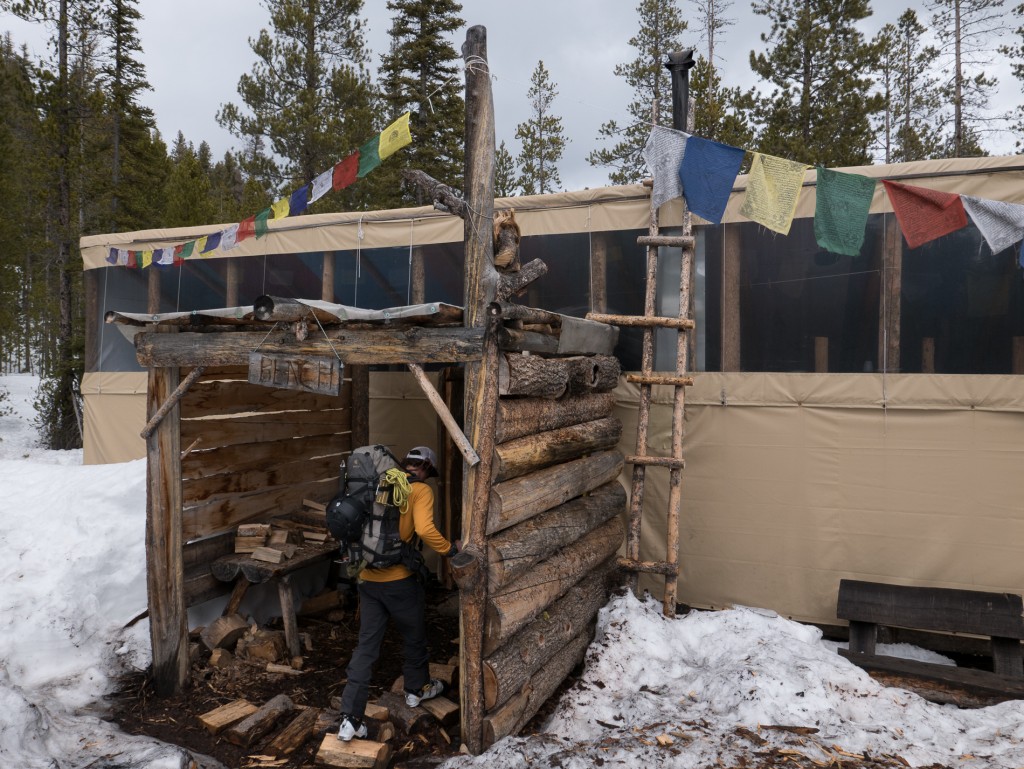 Conditions were not ideal.  When we had booked the trip back in November, we figured that mid March would be prime powder skiing season.  However, Idaho, like most of the Mountain West, had suffered through a warm, dry winter, so the snowpack was more like it would be in very late spring.   On the trip in to the Bench Hut, we were getting rained on, which is never an auspicious way to start a ski trip.
The good news was that the food that the Sun Valley Trekking folks provided for us was terrific.  We just lounged around in the hut, while the guides cooked us a great meal.  It didn't feel much like backcountry skiing at all.  It was way too cushy.  (But I wasn't complaining about that.)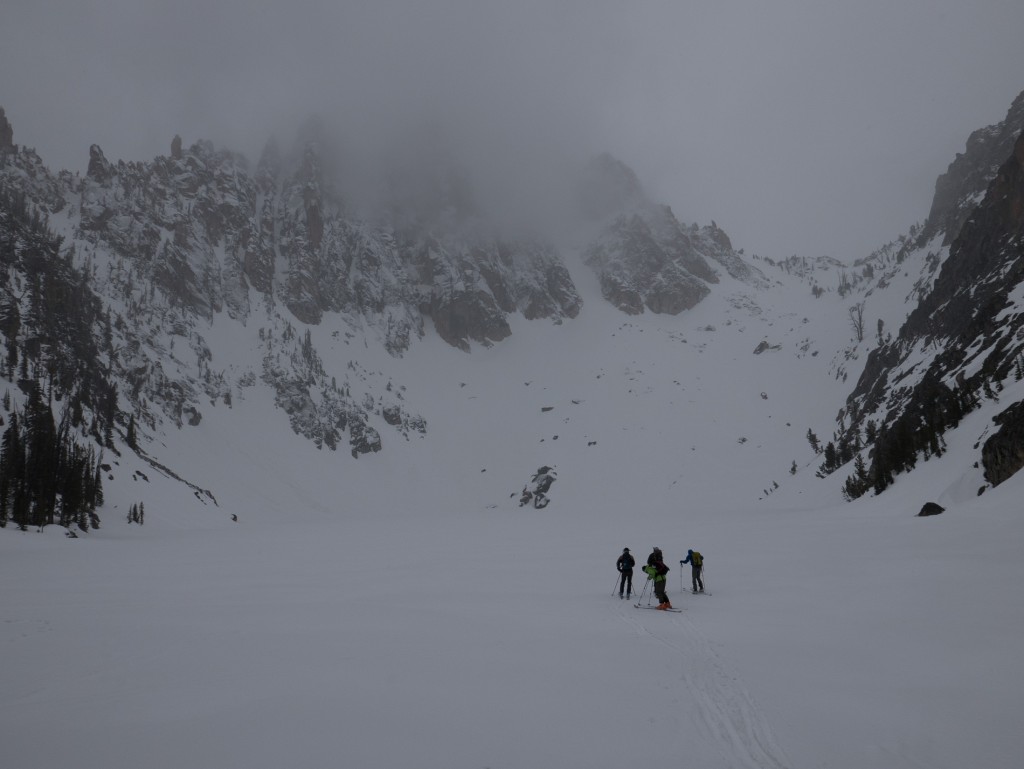 The next day, we took off to see if we could find some decent snow.  It was warm and wet, with low clouds and intermittent rain.  The snow was thick and not particularly fun or easy to ski.  We skinned up to the Bench Lakes high above the hut, and toured around a bit, but overall, it was something of a disappointment.  I could tell that our guides were worried that the trip was going to a bust, in spite of their best efforts to find us some skiable terrain.  Sadly, there was not much they could do about the weather and snow conditions.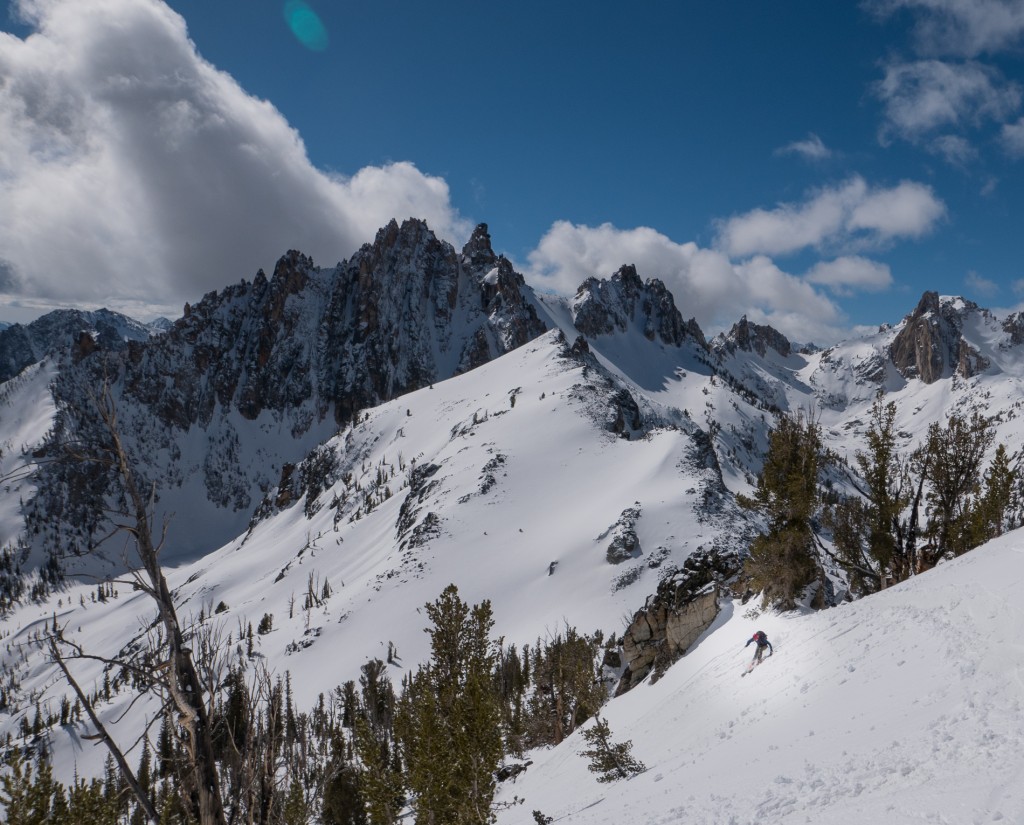 That night, however, the temperatures dropped significantly, and there was some snow instead of rain.   We awoke to clear skies and firm snow.  We took that opportunity to hit the trail early and get some skiing in before things got too warm and mushy.  We skinned up to a peak above the bench hut, and got some turns on the way down.  Then we slowly made our way back to the hut, yo-yo-ing some nice slopes olong the way.  It was a fun day, although by the afternoon, the snow was getting very thick and mushy again due to the warm temps.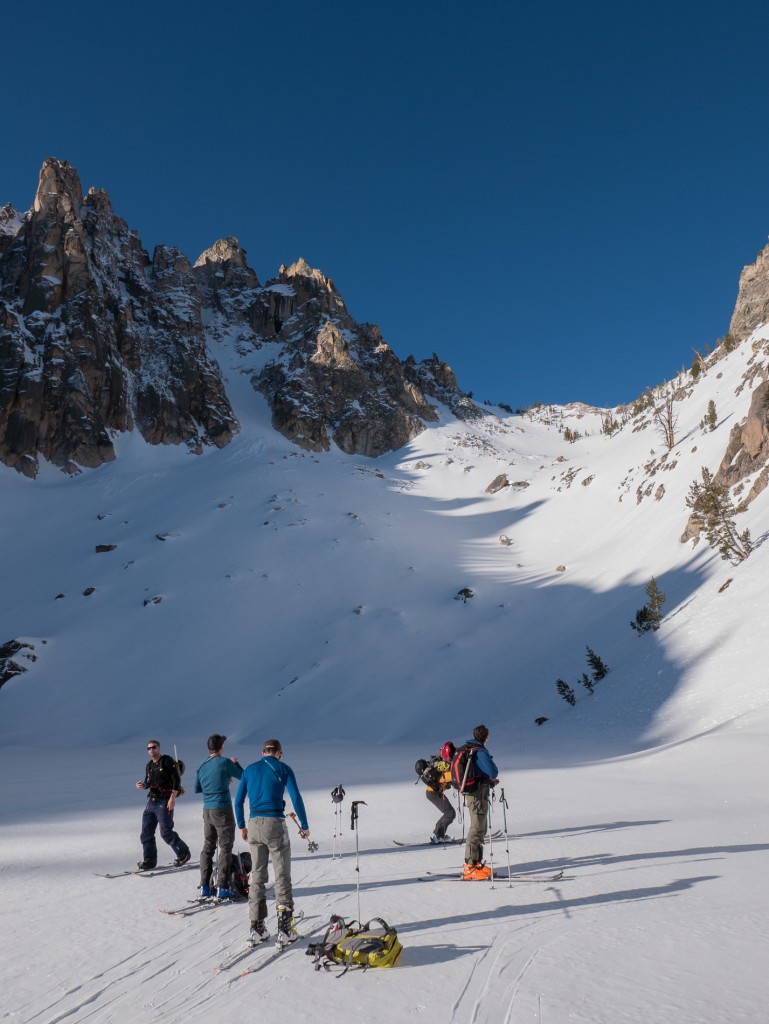 The next day, our goal was a traverse from the Bench Hut to the Fishhook Hut.  Again, it was sort of like cheating, because the Sun Valley Trekking porters took our sleeping bags and other non-skiing gear, along with our food, and sledded it to the Fishhook hut for us.  We were able to ski the entire day with lightweight day packs.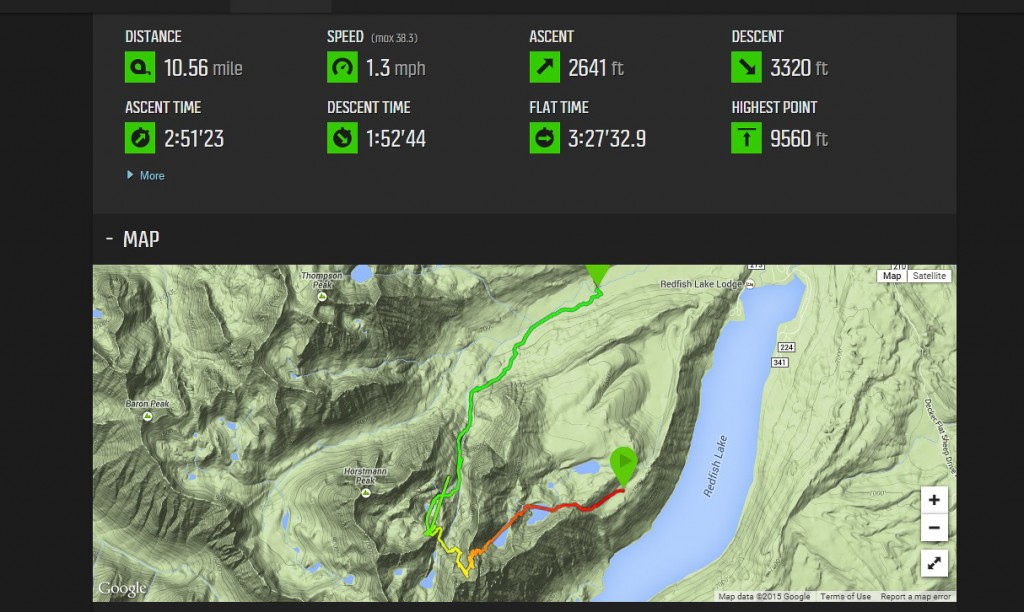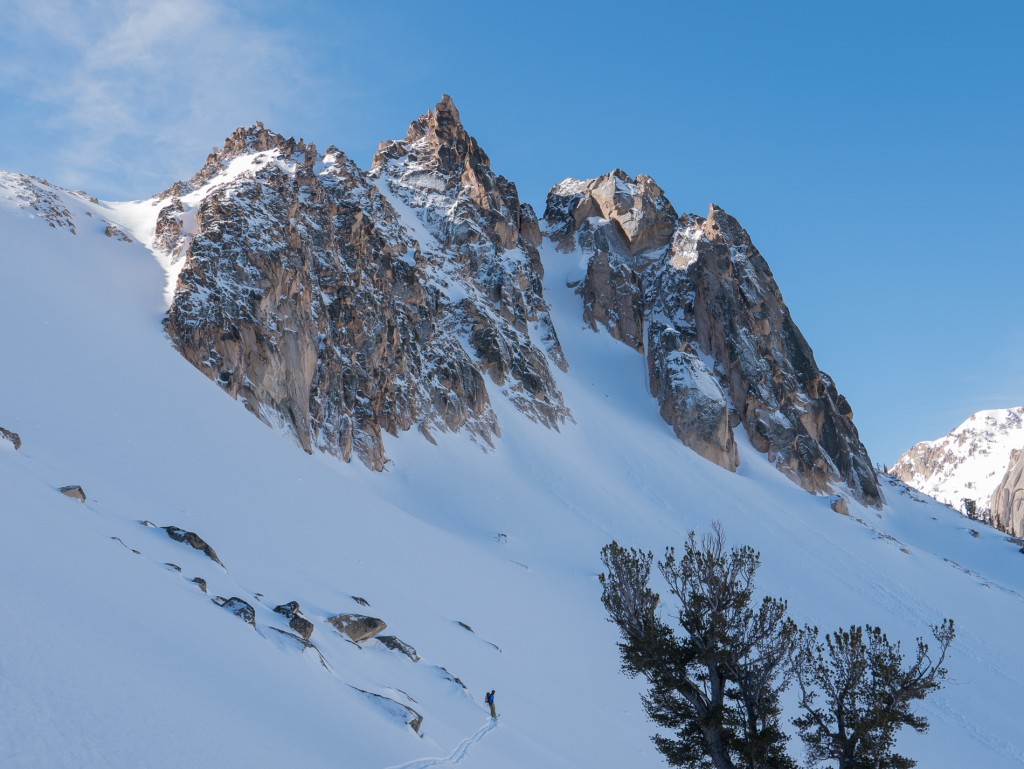 The skiing was a lot of fun.  Snow conditions were excellent, with a dusting of powder over a nice, firm supportable base.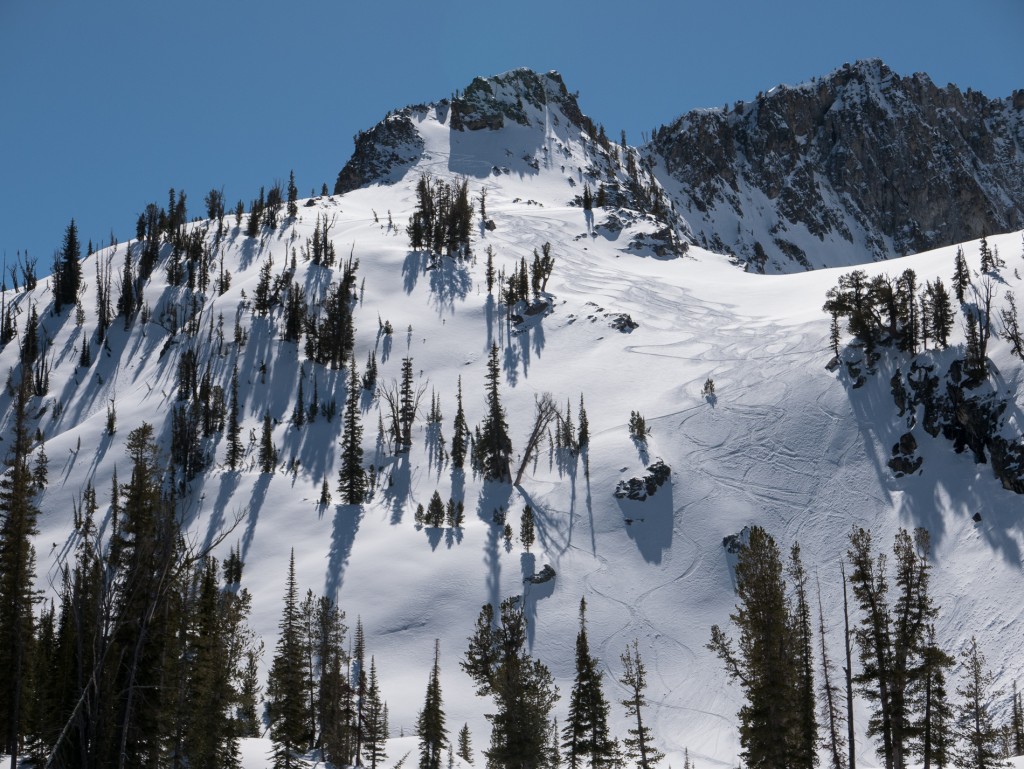 It was an amazing day, with great snow conditions for skiing, eye-popping scenery, and perfect weather.  The fun sort of ran out near the bottom as we approached the Fishhook hut and had to navigate through the tight trees and brush of the area our guides referred to as "the Jungle."  Still, it was an excellent and memorable day of backcountry skiing.
The Fishhook hut was as comfortable as the Bench Hut had been, with an added bonus;  It has a hot tub!!!    I can't think of how many times I've been in the mountains and thought about how nice it would be to have  a hot tub to relax in.  This trip, that fantasy came true.  It was so amazing to soak my tired body in hot water.  Again, it seemed like cheating.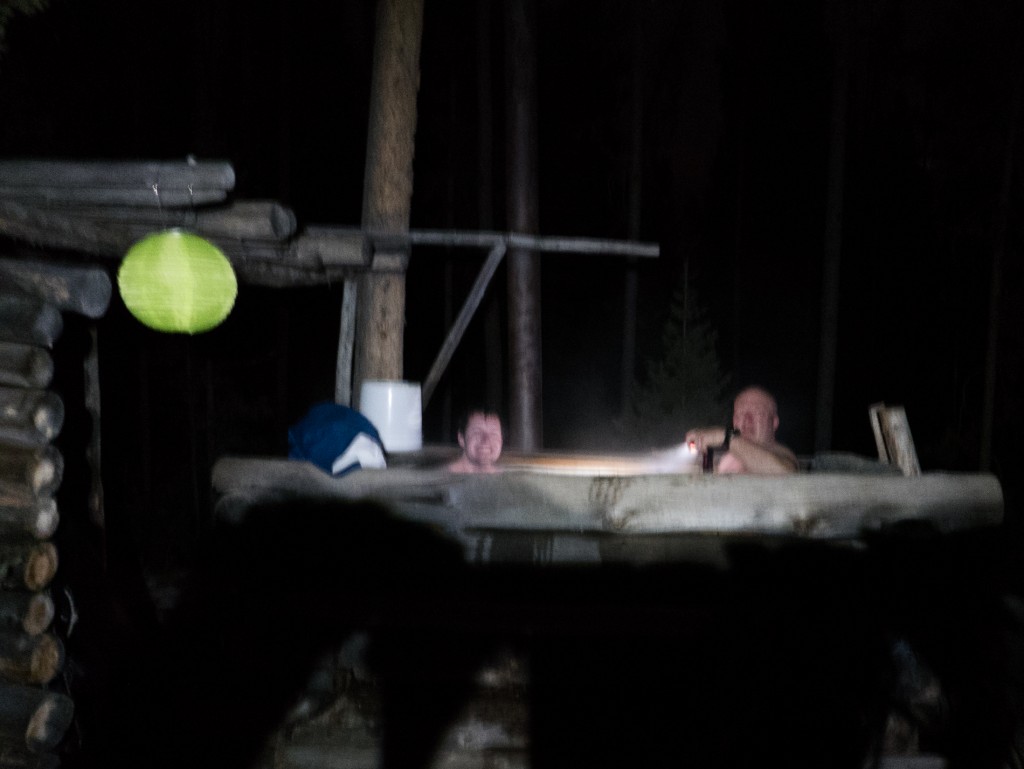 The next day was not particularly memorable.  We woke up late, and skied out from the Fishhook hut to the trailhead.  The warm weather had taken its toll on the snowpack, and there were sections of dirt where the snow had all melted out.  Eventually, however, we made it back to the cars.
Overall, it was a great trip in spite of the marginal weather and snow conditions.  The day we spent skiing from Bench Hut to Fishhook Hut really made the whole trip.  It was one of the better days I've spent backcountry skiing.   The Sun Valley Trekking guides were terrific, especially J.P., our lead guide.  They took good care of our entire group, and helped make the experience a lot of fun.
However, as fun as the trip was, I think that next year, we're going to do something a bit less cushy and comfortable.  After two years in a row of yurt/hut trips, I think we're all ready for something a bit more primitive.  (although I will definitely miss that hot tub.)
Some pictures from the trip: