Some folk built like this, some folk built like that
But the way I'm built, Don't you call me fat
Because I'm built for comfort, I ain't built for speed
But I got everything, oh, that a good girl need
Howlin Wolf:  Built for Comfort
The North Ice Project is definitely a pack that is built for comfort, not speed.  It's not "light and fast" it's heavy and slow.  It's a pack that is made for ice climbing at your local crags.  I first saw the Ice Project at last year's Summer Outdoor Retailer show.  The pack was designed by Conrad Anker, and I was fortunate enough to get to chat with him about the pack's various features at the North Face booth.   I got a sweet deal on it, and couldn't resist the purchase, in spite of the fact that I usually buy stripped down, lightweight packs.
This pack keeps things organized and easy to get to, unlike my top loading pack that I previously used for ice cragging.  Instead of just dumping everything out in the snow when I get to the climb, with the Ice Project, I can unzip the pack and have access to all my gear and clothing.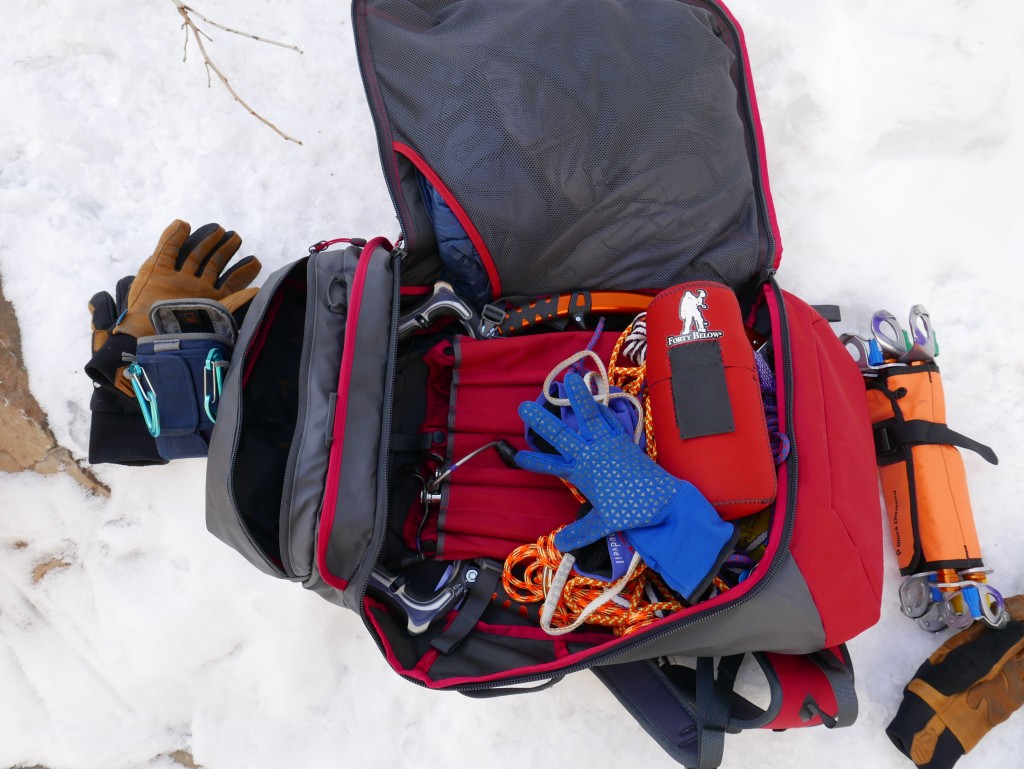 There is a large top pocket of waterproof fabric that holds your crampons, and a smaller top pocket that's good for sunscreen, sunglasses, and snacks.  Your ice tools go inside the pack, secured by sleeves and straps.  There's a snap-out row of sleeves to keep your ice screws in, and a pouch that holds various items.  There's even a sewn-in sleeve to hold your file.
The zip off clamshell section has a big mesh pocket that's perfect for storing extra clothing.  You can flip this section out, and have a soft, insulated place to sit while you're adjusting your boots and putting on your crampons.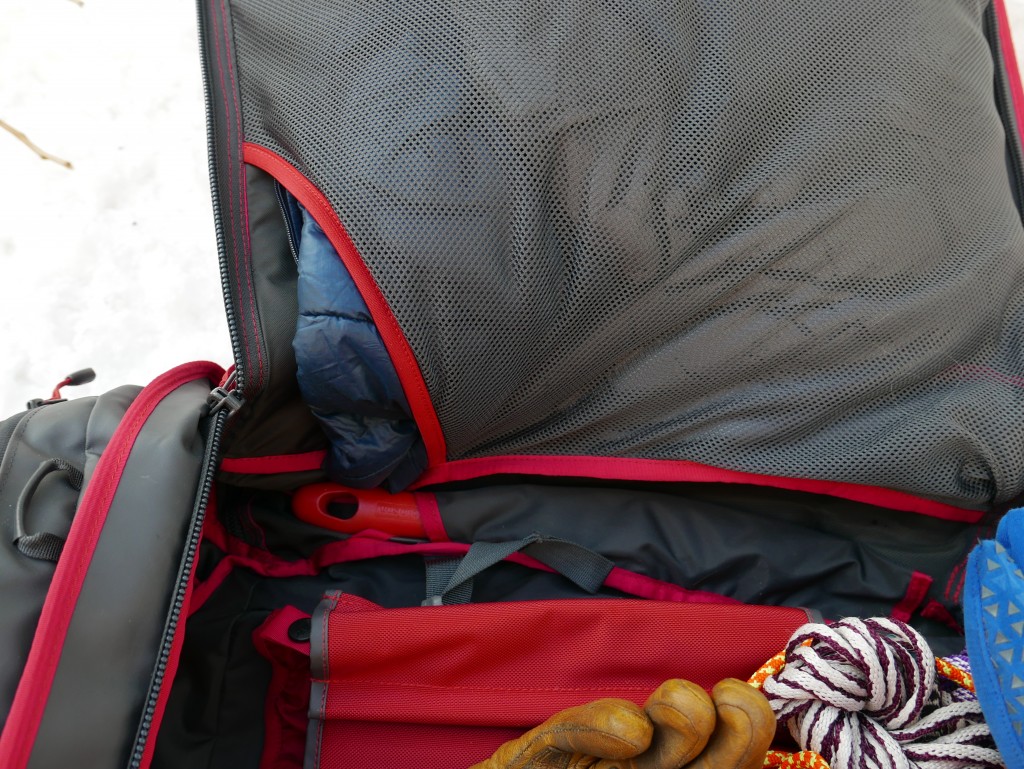 The pack is listed at 2746 cubic inches, but it seems bigger to me.  Perhaps it's just because the design allows for better organization and more efficient use of space.  There's room in the pack for pretty much everything you would need for a day of ice climbing.  I carry rope, rack, helmet, tools, extra clothing, snacks, and miscellaneous stuff.  Also, unlike other packs, where I've got crampons and ice tools strapped to the outside, everything fits inside the pack itself.  There's no pokey things on the outside that are going to rip holes in your car seats when you toss this pack into your back seat of your car.  If you absolutely must have more storage, there's daisy chains you can use to strap stuff the outside.
The construction is bomber.  It's built like a base camp duffel bag, with heavy fabrics, big zippers, and reinforced stitching.  You would have to work really really hard to wear this pack out.  It's got grab handles on the body, so you can man-handle it like you would with luggage.
The pack carries pretty well, and is comfortable for hiking.  One thing that I appreciate is that it comes in two back sizes.  I have a longer than average back, and am glad that it's available in a long back length.  While it's comfortable for hiking it really isn't a climbing pack however.  I've climbed with it on my back a couple of times, and it's way too stiff, and the top of the pack interferes with your helmet when you look up.  This is not a pack to take with you if you plan on doing any actual climbing while wearing the pack.
What this pack is perfect for, however, is a trip to Ouray, or any other ice climbing venue where you hike in, drop your pack, and then climb without the pack.
The pack is kind of heavy.  (Mine weighs 5 pounds, 1.6 ounces in a size large.)  However, that's the price you pay for the burly construction and multitude of features.
The only real complaint I have about this pack is the number of ice screw sleeves.  The pack has 10 sleeves, but I sometimes use 12 screws.  I wish the ice screw carrier had a couple more slots.   One other nit pick is that the beefy zipper can be a bit of a chore to operate, especially when the pack is cold.
Overall, I really like this pack.  The North Face has made a niche pack that's specialized for ice cragging.  However, I suspect that it will be fairly popular, because, my guess is that there are more folks that go ice cragging than people who are doing hard core alpine climbing.  The Ice Project is a perfect pack for the days at the local ice fall that constitute the majority of my actual ice climbing days.  It's a niche product that fills its niche very well.