This is the tale of my recent elk hunting trip to the Uintas. Spoiler alert! I did not get an elk. This story does not have a happy ending. There will be no delicious elk bourguignon; no bacon wrapped elk tenderloin; no elk burgers; no elk stew. I am a bad hunter. If I were living in a hunter-gatherer society, I would be of the lowest status. My tribal name would be, Uwangalaama, which, roughly translated means, "He whom the elk mock."
Nevertheless, even though I am a failure as a hunter, I had a lot of fun. I started out heading up to the high Uintas, following an abandoned ATV trail in my 80 Series Landcruiser, bumping over large boulders, deep washed out gullies, and heavy mud; crashing over the occasional downed tree, marveling at the total bad-assery of Toyota's last great off-road vehicle, manufactured in the days when Landcruisers were not designed for going to the mall.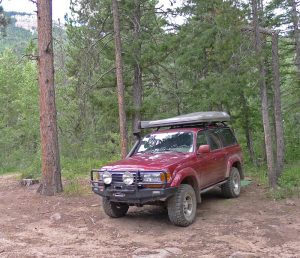 When I drove far enough down the track that I would be pretty much impossible to rescue if I got stuck, I stopped and set out hunting. I headed toward a spot that I had scouted out several weeks ago and had seen elk. After several hours of hiking, I found a tree which an elk had used to rub his antlers on. It was a fresh rub, and the bark was still moist and the gash was just starting to weep sticky resin. From here, I followed the elk's tracks through the forest, encountering some very recent elk droppings.
Eventually, I heard sounds of the elk in the thick forest. I dropped my pack, and began creeping up on the elk, trying hard not to make any sound. I was feeling very Natty Bumpo, and was stoked that I was about to bag an elk my first day of the hunt. However, there were so many downed trees, it was like playing Jenga on a mound of Pick up Sticks. I was about 30 yards away when I snapped a big twig. The elk (a little spike antlered bull) popped his head up and took off. There was no way to get a shot off. The thick timber was a curtain that did not allow a clear shot, even at 30 yards.
Not wanting to let this elk that I had tracked down escape, I followed him. Trailing was initially quite easy, as he was moving fast, breaking branches and leaving deep tracks in the dirt. Eventually, however, I lost the track. Worse, I realized that I had no idea where I had left my pack. I headed back in the direction I thought my pack was, and soon was not entirely sure where I was in relation to my pack or my vehicle. It's just a big, thick forest, and all the trees look pretty much the same, and there are no landmarks. So, I did what I always do when I get disoriented (note, "disoriented" not "lost.") I used the expanding spiral. I didn't find my pack, but I came across the elk tracks and my tracks. By back-tracking I was finally able to make it back to my pack. This was good, because I didn't have the gear on me to spend a comfortable night out.
I collected my pack, breathed a sigh of relief, and set out to track the elk again. It took me a while, but eventually I picked up what I thought was his trail. I followed it for a while, and again heard sounds of an elk ahead. This time, I marked my pack's location with my gps on my watch, and this time, I moved so slowly that I would not make any noise at all. I slithered towards the elk like the Grinch stealing presents on Christmas Eve. However, when I was no more than 20 yards away, the wind shifted, blowing my scent toward the elk. I felt it shift, and a few seconds later, the elk popped his head up and took off. I tried to get a clear shot, but as before, the dense timber would not allow it. I did see that it was a different elk than the first one.
After that, I hunted a bit more, and finally settled in to a spot by a small pond, where I would spend the night. The pond had lots of recent elk sign around it, and two intersecting game trails. However, no elk appeared. I decided to forgo a tent and sleep out under the stars because the weather was beautiful and looked likely to remain so. Howling wolves later on made me question that decision, but while they woke me periodically with their howling, they did not come near or gnaw on me in the night.
The next day, I saw no elk. I followed fresh sign, and fresh tracks, but didn't see any actual animals.
I decided to hike over a big ridge into the next drainage. It was even further from any road or trail, and I figured there might be elk there that had not been scared by hunters. On a steep descent down into the valley, I blundered into another elk. He was a big, fully grown trophy elk. (Bigger than I wanted to pack out, really.) He was there for about 2 seconds, and then he disappeared into the thick timber before I could even get my gun to my shoulder.
The next couple of days were frustrating. I tried to find places where the elk would be in the open, but while I saw recent elk sign in the meadows and clearings, I saw no elk. Generally, elk hunker down in deep timber during mid day, and are mobile and active in the morning and evening. That's when they go out into the meadows and clearings and do elky things like browse on green grass and lichen and socialize, etc. However, we had a really bright, almost full moon. It was lighter at 3:00 a.m. than it was at twilight because of the moon. Because of this, the elk didn't need to move around in the morning or evening. They could hunker down until late night, and then come out and frolic in the moonlight.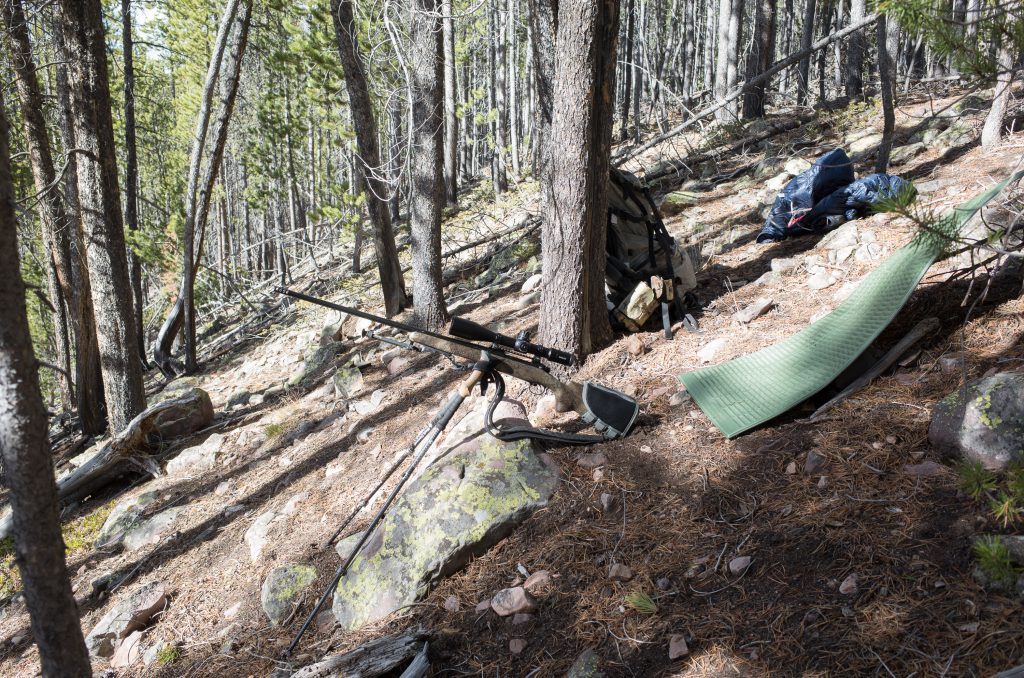 I put this theory to the test one night when I couldn't sleep. I got up at 2 in the morning, and crept to a large meadow near where I was camping. Sure enough, there were four elk in the meadow, and possibly more in the dark timber surrounding it. The moon was so bright that I could see them clearly, and could have had an easy 120 meter shot. However, legal hunting time ends a half hour after sundown, no matter how bright the moon. Inexplicably, I brought my (useless) rifle with me to this late night elk soiree, but neglected to bring my camera, so I was not able to capture any images of these ghostly elk.
My last night in the woods, the beautiful weather took a turn for the worse. It began to rain heavily, and the wind picked up too. I set up my tent in the middle of a meadow to lessen my chances of a dead tree falling on me. In the night, I was visited by an unknown animal. It woke me up with loud wheezing panting right next to my tent. Not knowing what else to do, I growled loudly at it, figuring that a loud growl was the universal animal language for "I'm sleeping. Go away." The heavy breather mystery beast apparently got the message and left me in peace.
I woke up this morning to snowfall, and hiked out in snow, which made the forest magical. Hunting is unlike any other outdoor activity that I do. When hunting, you move very slowly and are so focused on your surroundings, you see everything around you. You notice little things that you would likely just pass by if you were just out hiking. I saw a cougar den, interesting rocks and trees, lots of animal sign, and even a few elk. Although I didn't fill our freezer full of elk meat, it was still a terrific experience. I spent five days alone in beautiful, rugged, remote country. I didn't see another human being that entire time. I didn't have phone, email, or internet. I'm already looking forward to next year.