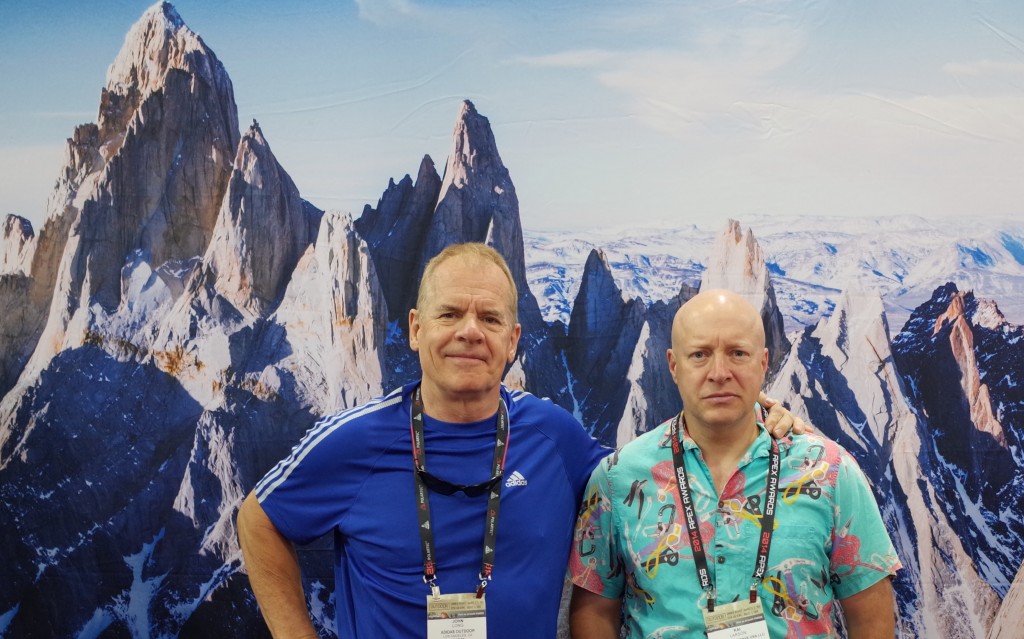 The 2014 Summer Outdoor Retailer Show is in full swing here in Salt Lake City.
It's a huge event, taking up not only the full space in the Salt Palace, but three large temporary pavilions and a tent city as well.
I've spent the last day and a half wandering around the show, looking at stuff, talking to exhibitors, and trying to take in the huge number of products on exhibit.
Overall, I haven't seen anything truly groundbreaking or game changing.  I haven't encountered any gear that will change the way I play in the outdoors.  However, there have been a few items that have caught my attention.  Here they are:
Ropes with UIAA Dry Certification.
The UIAA recently came out with new standards for "dry" ropes.  In order to meet the UIAA's new dry rope standard, the rope can not absorb more than 5% of its weight when subjected to being sprayed with water.  Manufacturers can still claim "dry" status for their ropes, but they can only put the "UIAA Water Repellent" label on their ropes if the ropes meet the UIAA test specifications.

A number of Beal and Edelweiss ropes are touted as meeting the new standard, and Mammut also had a couple of new ropes that meet the new standard.
However, not all of the rope manufacturers I talked to were excited about the new standard.  Some of them felt that the UIAA standard was not sufficient for testing of actual water resistance.  The biggest complaints centered on the fact that the test doesn't require submersion of the rope, but rather the rope is sprayed with water.  The other complaint I heard about the test procedure was that the test is self-administered by the manufacturers themselves rather than administered by a third party lab.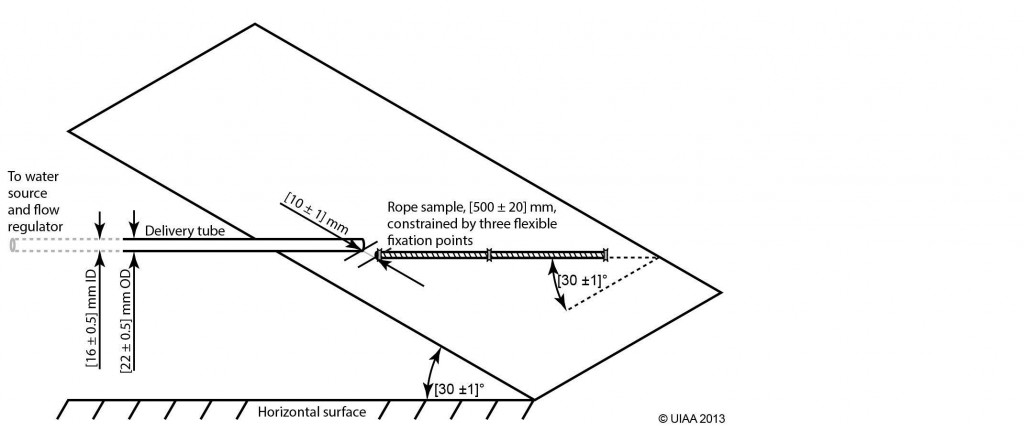 It will be interesting to see how this plays out.  My feeling, after talking with a number of people is that some rope manufacturers are going to adopt the new test criteria, but that others are going to push for a submersion test, administered by a third party testing facility.  This will likely take the form of an E.N. (European Norm) test.
So, while all this is getting worked out, there will be a few ropes on the market that meet the new standard and a bunch more that don't.  Until the dust (or water) settles, it appears that there won't be a consistent test for dryness that all of the manufacturers are going to use, as some of the manufacturers are simply not going to be using this new UIAA test protocol.
The North Face Ice Project Pack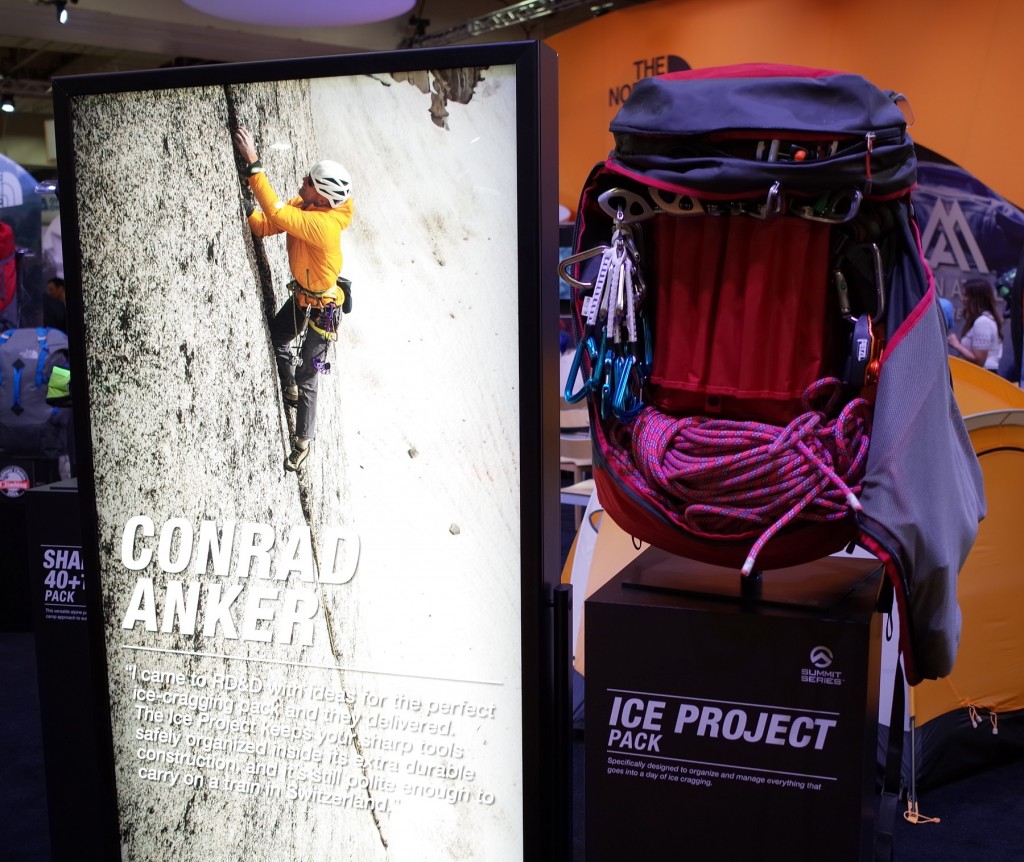 This is one of the few items I'm actually going to run out and buy as a result of seeing it at the show.  It's an ice climbing pack that is very different than the typical ice climbing packs that I own and use.  My other ice climbing packs tend to be stripped down, lightweight affairs devoid of extraneous features or bells and whistles.  This Ice Project pack is all about bells and whistles.  It's built for comfort, not for speed.  It's an ice cragging pack, meant to organize all of your gear and equipment that's needed for a day climbing frozen waterfalls or mixed routes.  It's not really made for wearing while climbing.  It's more for transporting all of your stuff to the base of the route, and having everything easily accessible and organized when you get there, rather than having to just dump everything out in the snow.
It has a zippered opening that makes access easy, and there are accouterments for storing up to 10 ice screws, compartments for your rope, crampons, helmet, and other gear and necessities.   It's the perfect pack for "ice cragging" where your approach isn't super long, and you aren't going super light.  It's all about convenience.
It's available on a limited basis this fall, and will be in broad distribution by late winter 2014 or early spring, 2015.   Price is $200.  I've already got one on order.
Crux AK 47 x Pack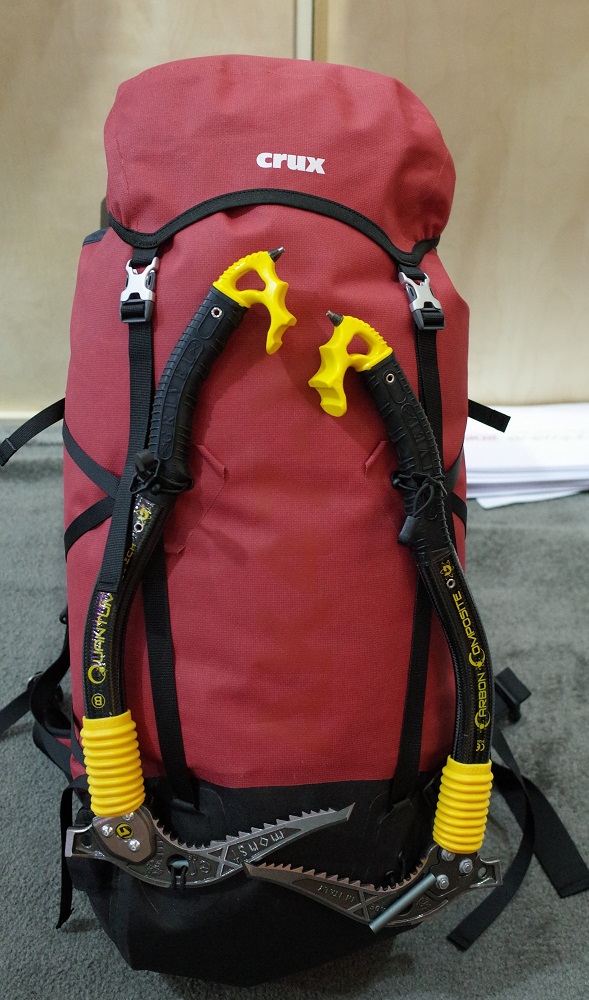 This pack couldn't be more different in design and conception than the North Face Ice Project.  The Crux is a stripped down alpine pack made for going fast and light on big alpine routes.  It's got a 47 liter capacity, which makes it suitable for longer routes where you've carrying lots of food, fuel and/or equipment.   The frame is a semi-flexible thermo foam affair, that provides some support without adding too much extra weight.
There are a number of well thought out details that climbers will appreciate, such as a grab/haul loop that is large enough to be easily grabbed while wearing big mittens, and 4mm climbing spec drawcords that can be used as rap tat in an emergency.  The AK47 x differs from the regular AK47 in that it has an extendable/removable top lid, as opposed to the fixed top lid on the regular AK47.
Crux has a bit of a cult following in the U.K., where they are based, but this company is relatively unknown here in the U.S.  This pack looks like a contender for climbers who want a light, streamlined, no-nonsense alpine-oriented pack.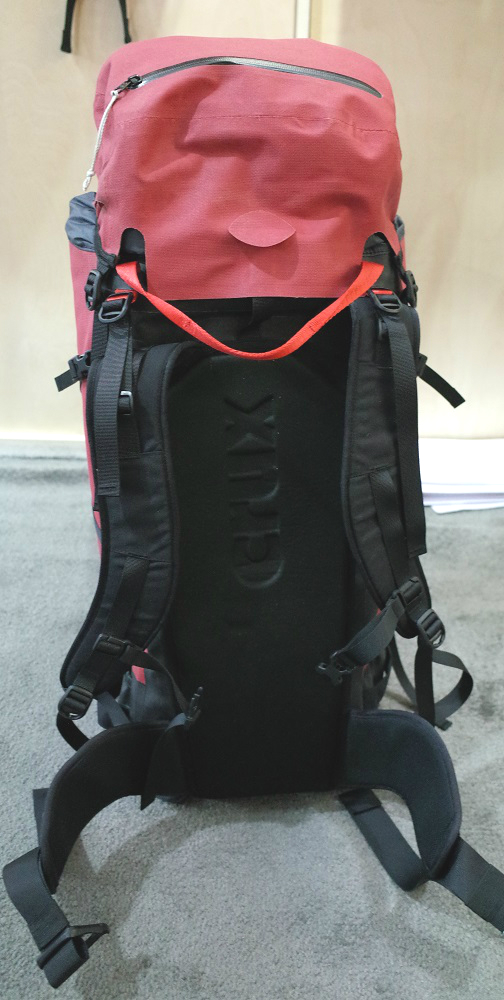 SMC Spire Belay Device
Lots of companies are coming out with new belay devices these days.  I looked at new devices from DMM, Edelrid, and various other companies.  The one that impressed me the most was the SMC Spire.
The Spire functions pretty much like the Black Diamond ATC Guide.  It can be used to belay a leader using one or two ropes, and can be used in "guide mode" to belay one or two followers in autolocking guide mode.  What sets it apart from devices like the Black Diamond ATC Guide and the Petzl Reverso 3 are its small size (easily the smallest and lightest of the three) and the clever mechanism for lowering a following climber when in guide mode.  The guide mode release function is horizontal rather than vertical, and provides an easy and controlled lower that is much easier to actuate and control than the ATC Guide or Reverso.  It's a very elegant and simple piece of engineering.  If I were in the market for a traditional (non locking assisted) belay device, the Spire would be at the top of my list.
I found a Youtube video demonstrating the Spire HERE.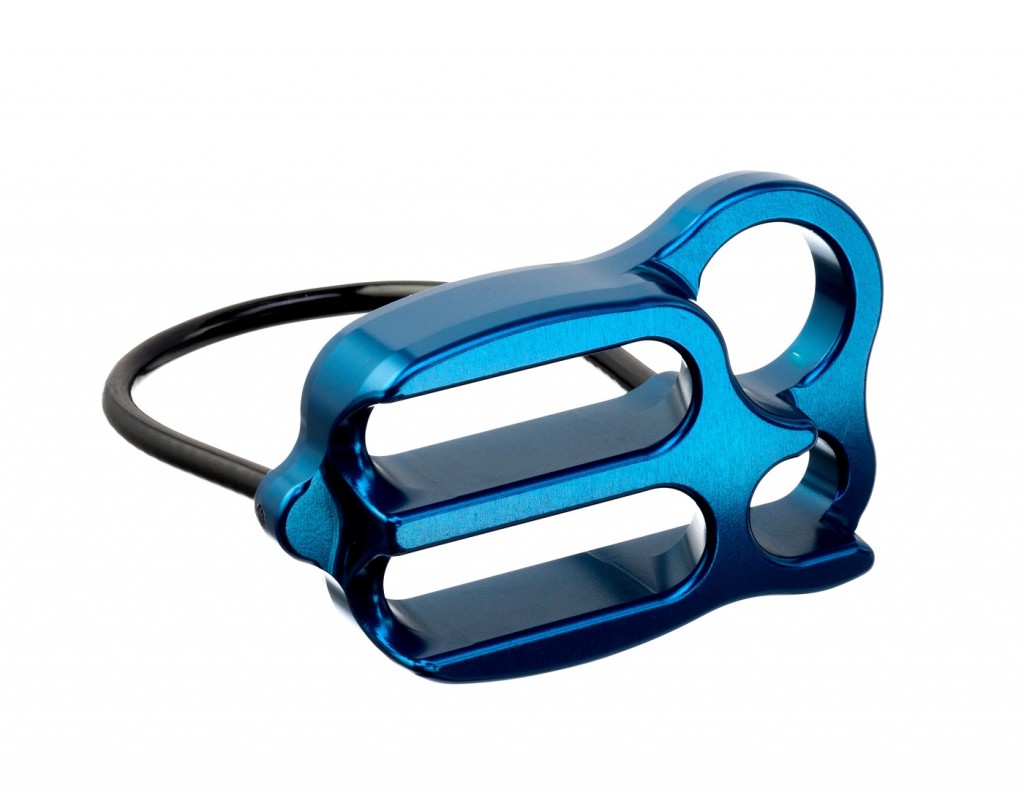 SMC Picket Cables.  
Another interesting find at the SMC booth are the new detachable picket cables.  This relatively simple product is nothing but a cable with a connector that allows it to be attached to the holes in pickets.  Some pickets come with cables attached permanently, but I've not seen picket cables that can be attached and detached.  This allows you to either use the cable or not as you wish, or move it up and down on the picket as conditions dictate.  It's not a ground-breaking, super innovative product, but it does allow a climber to have a bit more flexibility when it comes to using cabled pickets.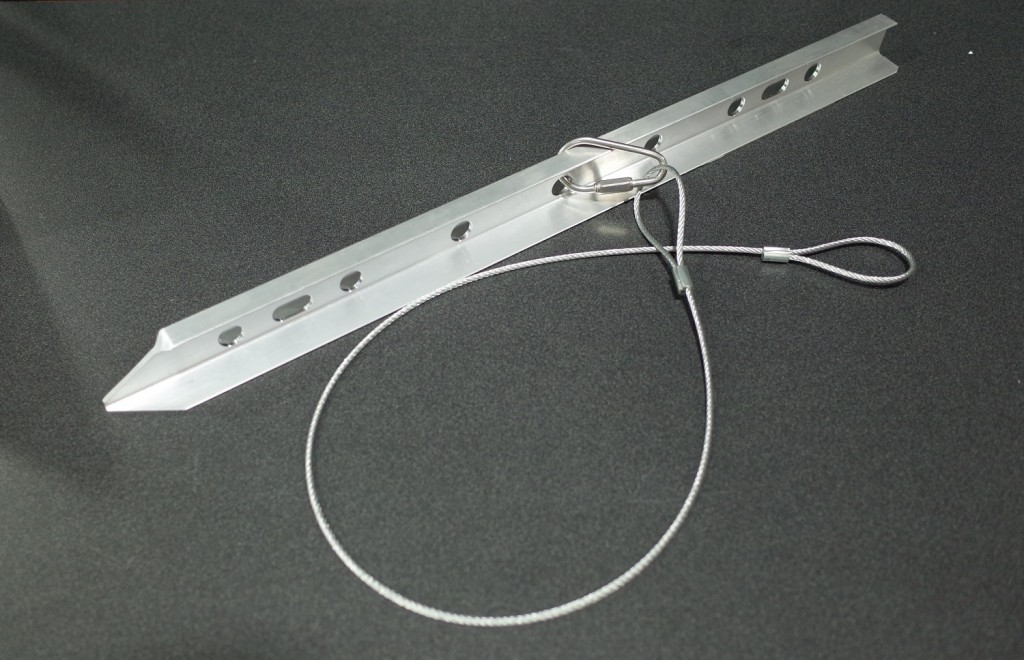 Energy Food That Doesn't Taste Horrible
I've been kind of fed up with energy bars lately.  I'm getting to where eating a Pro Bar, or Power Bar, or Cliff Bar or trying to down a pack of Gu or other energy gel makes me gag.
There were dozens of outdoor food companies hawking their wares at the O.R. show, and I sampled everything I could, trying to find things that I enjoyed eating.  Here are my favorites:
Bridgford Shelf Stable Sandwiches.    These were a real surprise.  Bridgford makes these as part of the U.S. Army's new "First Strike Ration."  I figured that if it was Army food, it probably was nasty.  These sandwiches are actually pretty tasty.  There are some meat sandwiches (my favorites were the Italian sausage and BBQ beef) and sweet sandwiches (including a quite good French toast flavor.)  They kind of remind me of "hot pockets."  They can be eaten cold, or warmed up by dipping the sealed pouch in boiling water.  I could see myself brewing up some hot cider, and using the hot water to warm up one of these sandwiches before mixing up my drink.
Folks who insist on all-natural, organic, gluten free, low fat, and low sodium will need to look elsewhere.  These sandwiches don't check any of these boxes.  However, I don't really care.   I don't eat enough meals in the backcountry that having some artificial or non-organic ingredients is going to harm me.  When I'm in the backcountry, all I really want is something simple, convenient, that tastes good and that will provide me with the energy I need to keep going.   These sandwiches fit that bill well.  I ordered a couple cases of them at the show.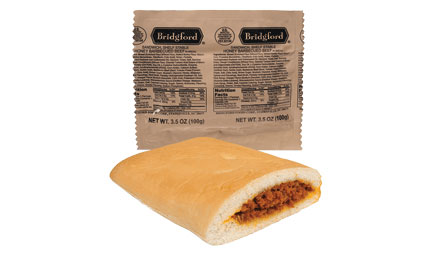 Honey Stinger Waffles and Honey Gels
These are organic waffles filled with honey and various natural flavorings.  They tasted great, and the mix of honey and carbohydrates should provide a good energy boost.
The Stinger folks also market an energy gel made from honey.  I sampled a few flavors and found them to be more palatable than the typical energy gels I'm used to eating.
I'm going to stock up on both of these items before my next climbing trip.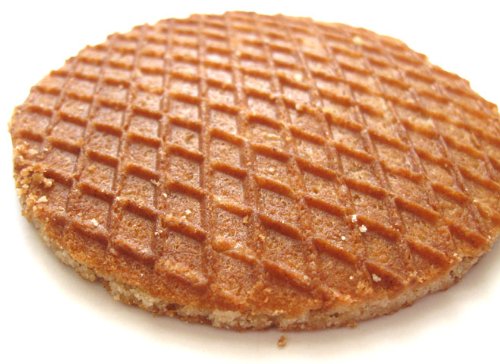 Chef Five Minute Meals Tuna and Chicken Salads with Tortillas
The Chef Five Minute Meals folks make various kinds of ready made meals.  Most of them seemed a bit heavy for backpacking (they are not dehydrated) but they had a couple of items that seemed reasonably practical, particularly for shorter trips where paring down weight to the absolute minimum isn't essential.
Their Tuna Vegetable Salad, and Chicken Vegetable Salad are very tasty, and when matched with one of their tortillas would make a nice lunch that doesn't require any refrigeration and very little preparation effort.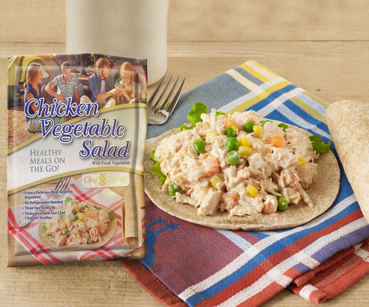 MSR Windboiler Stove
MSR Is coming out with a new system stove, called the Windboiler.  It's kind of the little brother of the MSR Reactor, and looks positioned to compete with the ubiquitous Jetboil line.  Claimed advantages of the new Windboiler over the Jetboil are increased wind resistance.  (The Jetboil sucks in wind.)  The Windboiler is supposed to have better simmer control when compared with the Reactor, which will make it better suited for tasks other than snow-melting.  A hanging kit will be available for the system.  If MSR's performance claims for this stove are accurate, the Jetboil system is in for some very stiff competition.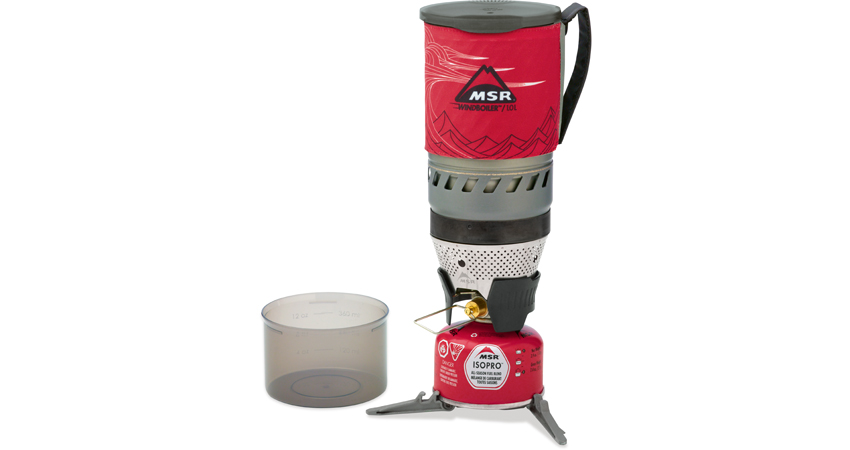 Unsubstantiated Stove Rumors
I was really looking forward to the Jetboil Joule, a stove with a high output burner and inverted canister.  It looked like it was going to be competition for the MSR Reactor for cold weather snow melting tasks.  However, I was disappointed by how big the Joule was.  It's just too big for climbing or backpacking use, except as a basecamp stove.  However, I heard an unsubstantiated rumor that the Jetboil folks are working on a lighter, more compact version of the Joule.  If true, then this is quite interesting news.  Until this becomes reality, however, I'm sticking with my MSR Reactor.