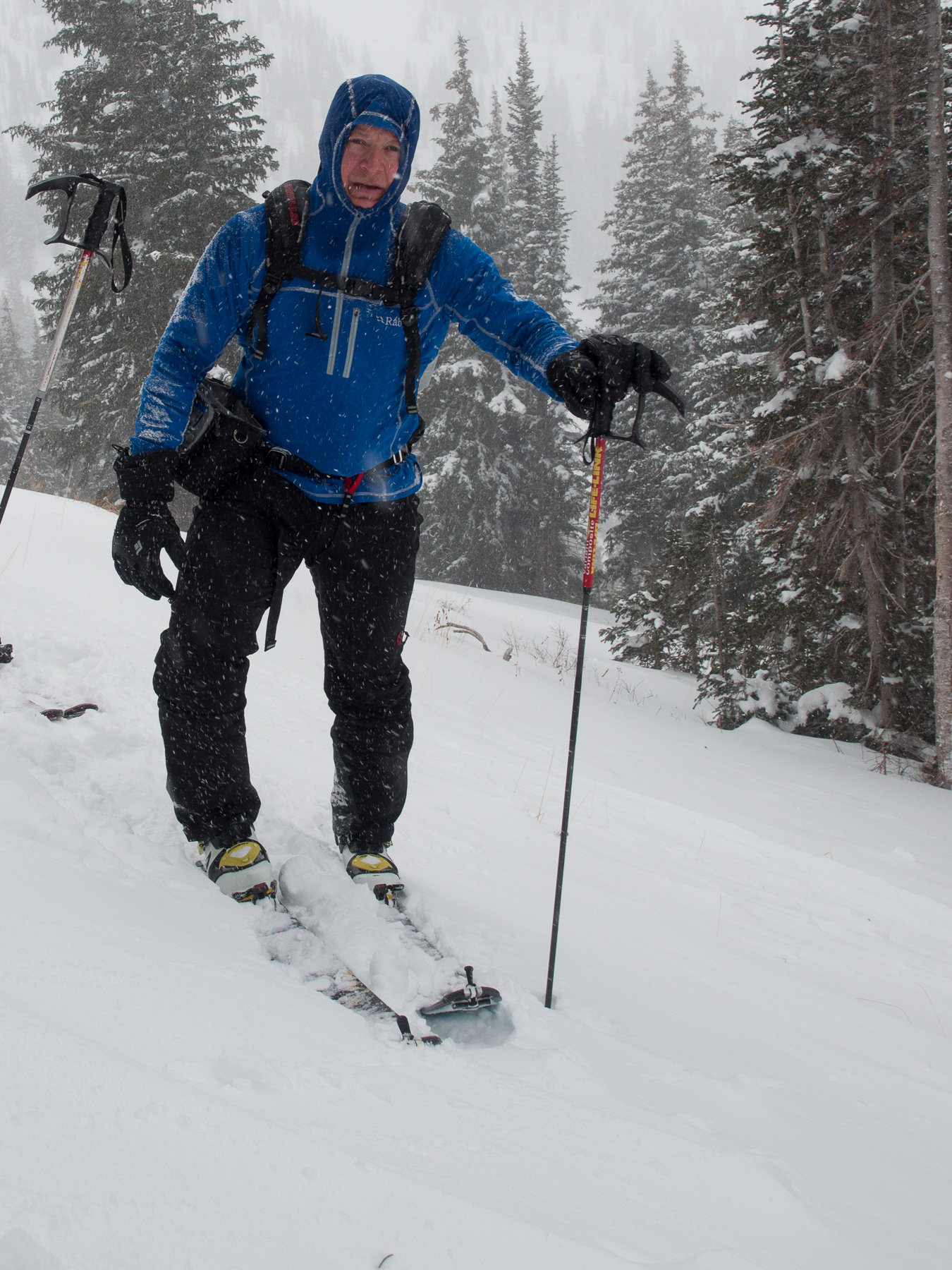 The Rab Boreas Pull-On is a strange soft shell.  It's not very wind resistant.  It's not very water resistant.  Currently, outdoor clothing companies all seem to be making their softshell clothing more and more weather resistant, blurring the line between hard and soft shells.  The Boreas goes the other direction.  It's a softshell that provides maximum breathability and minimum weather resistance.  Just based on this description, it sounds useless.  However, it's become one of my favorite pieces of clothing.
I put out a lot of heat when I'm active.  I'm one of those people who steams in cold weather.  For winter activities, like skinning uphill when backcountry skiing, or moving quickly when climbing or approaching over easy ground, the only insulation I generally require is a midweight or heavy weight base-layer.  However, I typically need a lightweight weather resistant layer over the base-layer to add a little protection from wind and a bit of extra warmth.  Most softshells and windshirts leave me overheated and sweaty.  They just aren't breathable enough.  They provide too much protection.
The Boreas is just right when worn over a base layer when I'm exerting myself.  It doesn't cut the wind entirely, but takes the edge off a cold wind and allows the base-layer underneath to continue to function.  Likewise, it won't keep me dry in sustained rain, but it will fend off snow and light drizzle.
The hood is comfortable, and fits snugly under a helmet.  The single zipper allows for venting, and a chest pocket is large enough to hold sunglasses or a small pocket camera.
So, the Boreas has become my go-to garment for moving fast in the mountains.  As long as I'm moving, it's just enough.  I stay cool, comfortable, and don't end up drenched in sweat.  It's not a great piece for cold weather belaying, or other activities where I'm stopped and inactive for any length of time.  Stop and go sports like hard climbing are not where I use this.  However, for situations where I'm constantly on the move, like backcountry skiing, or easy routes in the mountains where I'm constantly on the move, its' perfect.
The Boreas fits close.  If you want to wear more than just a baselayer under it, you may want to go up a size.
Weight:  8.6 ounces (size large)
Boreas Pull-On on the Rab Website