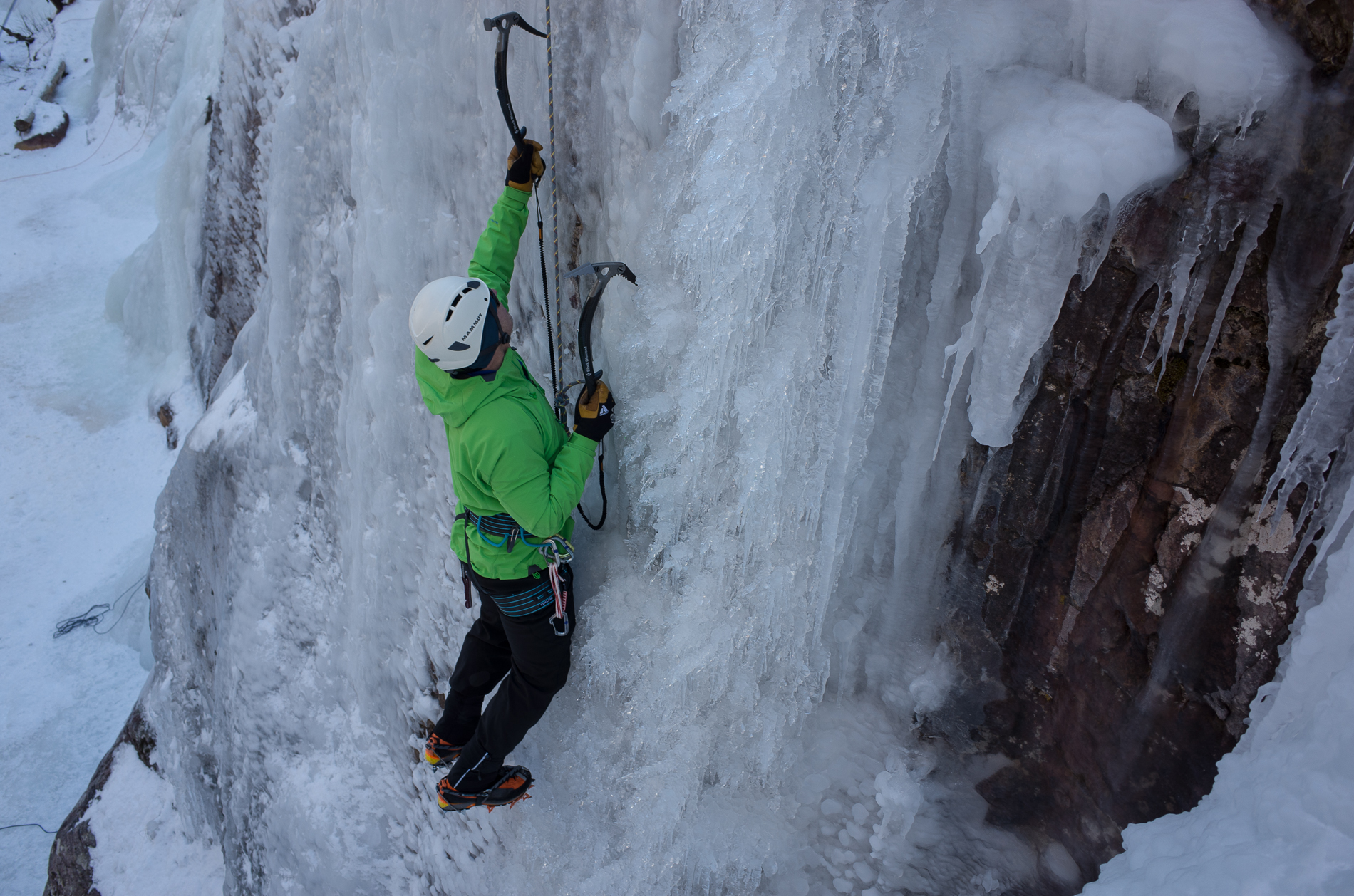 Polartech Powerstretch Pro is a new highly breathable and water resistant fabric from the folks at Malden Mills.   Patagonia incorporated it into two different lines of clothing, the Knifeblade and Northwall lines, which are blurring the lines between softshells and hardshells.   The Knifeblade line is uninsulated, and the Northwall line has a light gridded fleece lining.  Knifeblade options are a full zip jacket, half-zip pullover, and pants.  Northwall line options are  jacket and pants.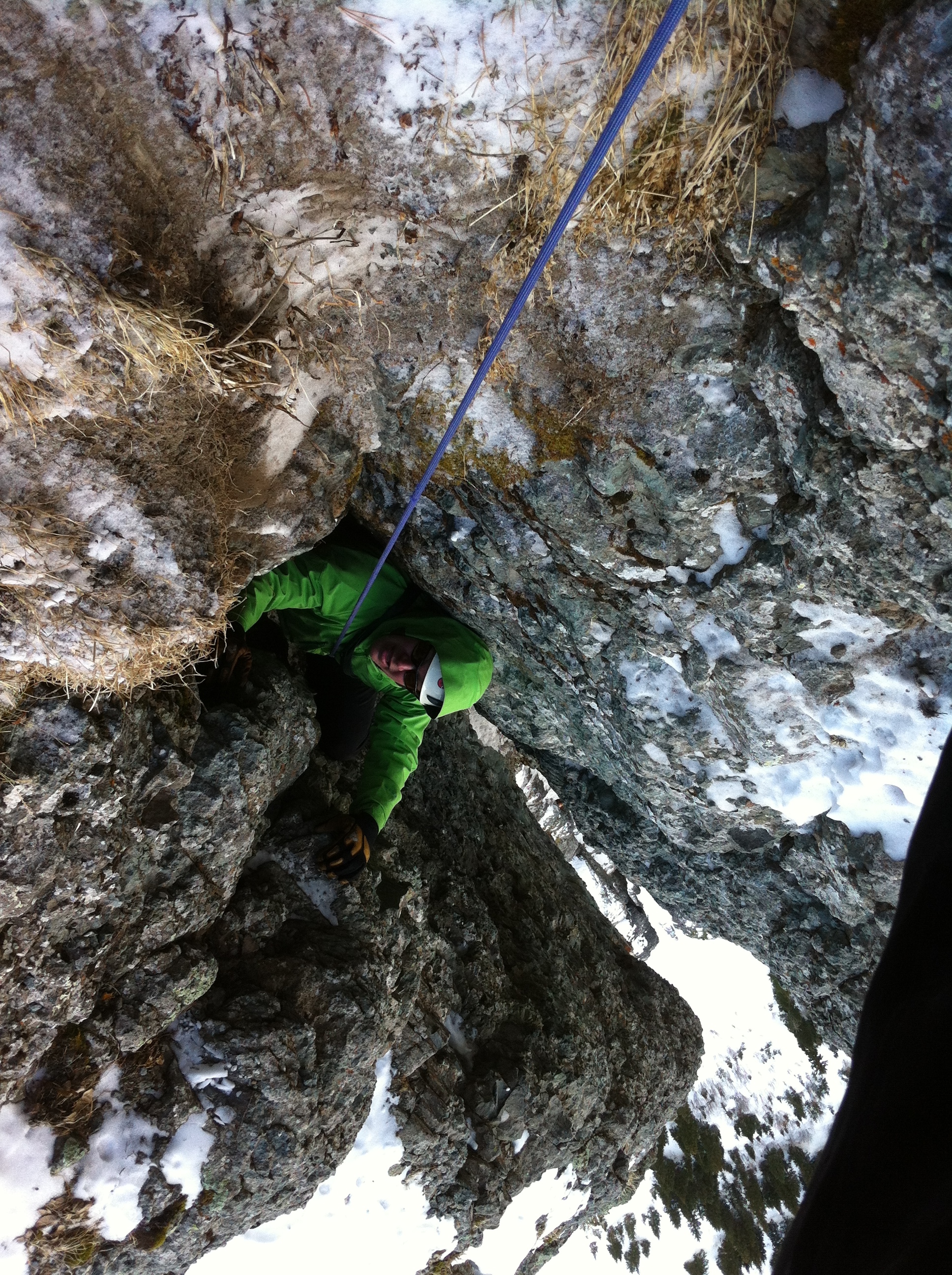 I've got a Knifeblade pullover, and Knifeblade pants, along with the Northwall pants.  These have become my all-time favorite winter climbing shells.
Here's why I love them:
The Powerstretch Pro fabric  breathes really really well. When I am working hard, I am a heat inferno. Any hard shell I've ever used has never been able to cope with the amount of heat I put out when climbing. This soft shell fabric has no problem dealing with my prodigious heat output.  I sweat less, and stay dry from the inside.
Unlike traditional softshell garments, these pieces are functionally water proof.  They are billed as water resistant, but I've climbed in some very wet conditions and stayed dry, including once where I was pretty much stuck under a small waterfall while belaying. I've heard of some folks getting some seepage through the seams eventually, but I haven't gotten wet yet during the winter.  I have used the pants in an extended period of driving rain.  After an hour, the pants leaked and continued leaking.  These are not rain pants, so don't expect them to stand up to long bouts of heavy rain.  However, for anything I'm doing in winter, they have more than adequate water resistance.
The fabric has a bit of stretch to it.  Just enough to add significant mobility.
The cut of the Knifeblade Pullover is perfect for ice climbing. The pullover style is very clean. Length is long enough that it stays put under a harness. Cut and material make for a good, body hugging fit that doesn't blouse up and block my vision of my ice screws on my harness, but it has enough stretch and the cut is good enough that it's not at all restrictive. Hood works very well over a helmet.   Pockets are high and out of the way of my harness.
The pants have articulated knees, and a high waist, coupled with suspenders to keep them up without needing a belt.  Freedom of movement is excellent.  Seat can be dropped via zippers if you've got to poo.   The Northwall pants are lightly insulated, which makes them great for really cold days.  The Knifeblade pants are uninsulated, and better suited for more moderate temperatures.
The fabric is very durable. Long chimneying sessions, sharp ice tools and general abuse have not had much effect at all on the Knifeblade Pullover.  I've managed to stab some crampon holes in my pants, but the fabric doesn't rip easily, and the holes were easily repaired with repair tape and seamgrip.
I've heard rumors that Patagonia will be discontinuing both the Knifeblade and Northwall lines and won't have any Powerstretch Pro fabric clothing to replace them.  I hope this is not true.  Just to be on the safe side, I bought spares to make sure I will still have my favorite winter clothes in the event I ever manage to wear out my current ones.