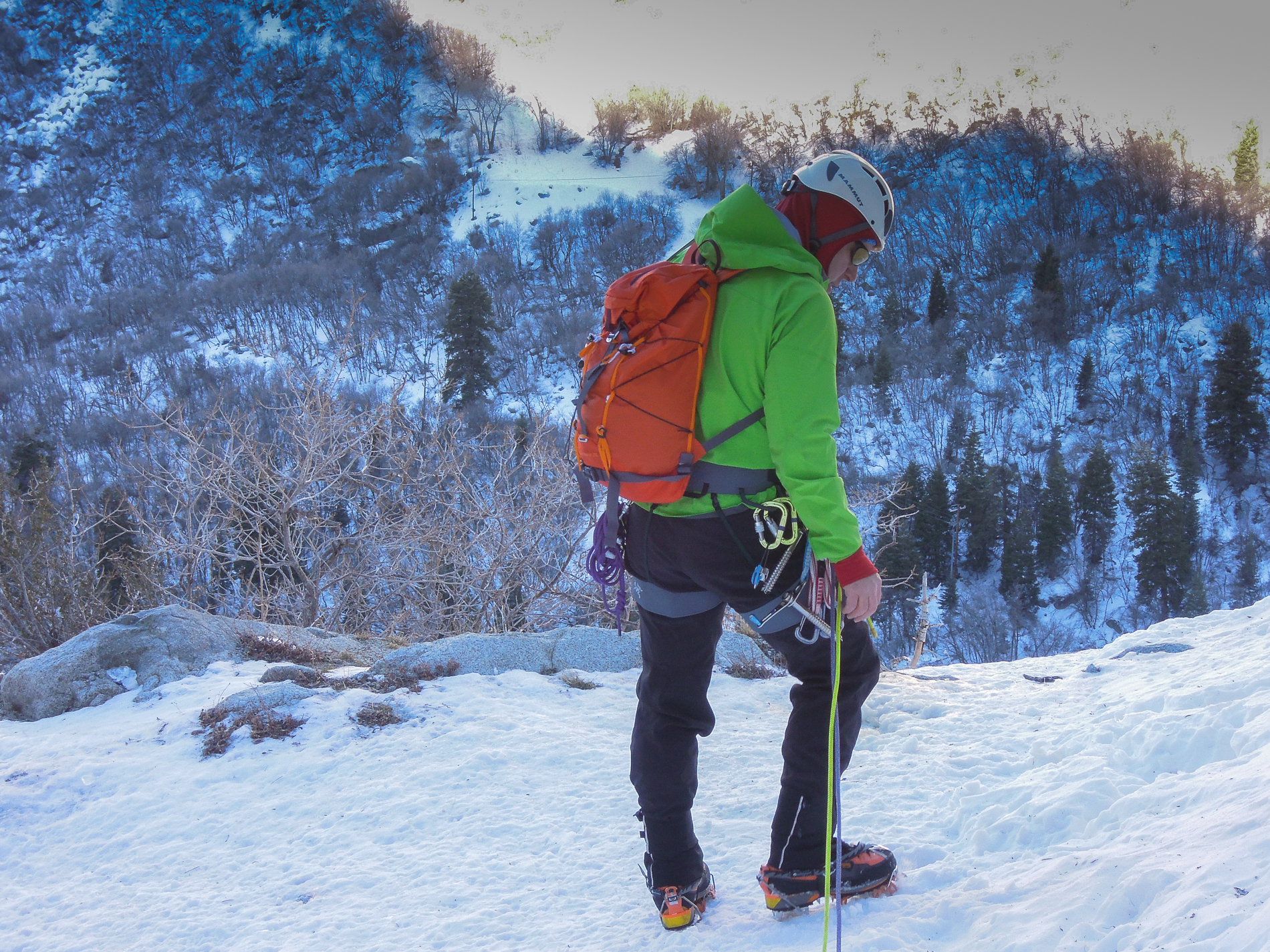 15.8 ounces (with add-on shock cord compression straps.)
The Patagonia Ascensionist pack line is Patagonia's new foray into making backpacks.  The 25 liter pack is the smallest of the line-up, suited for day trips and traditional alpine climbs from huts.
The Ascensionist 25L pack is stripped down to the bare essentials.  The suspension is Spartan but effective for its size.  It has a thin sewn-in foam back pad, lightly padded shoulder straps, and a removable waist belt made from 1 inch webbing.  If you pack it carefully, it carries well, even with a full ice climbing load.  The pack doesn't have any compression straps, but I added my own compression system by weaving a couple of pieces of shock cord in and out of daisy chains on the sides of the pack.  This helps control the load when the pack is mostly empty.  They also allow me to strap crampons to the outside of the pack.
Pack Characteristics:
1  Weight:  Weight is only 15.8 ounces, including the shockcord compression straps and cordlocks I added myself.  (Weight from the factory was 12.8 ounces.  This is good, as it's hard to find a technical daypack that weighs under a pound.  Most climbing daypacks have lots of heavy "features" that add weight but are of questionable functionality.  The Mammut Trion Light 28L pack is a good example of this trend, as it's about the same size, but weighs more than twice as much as the Patagonia Ascensionist.
2:  Top lid:  The top lid is unique.  It is secured with a single drawcord that can be opened or closed with a single gloved hand.  When you open the pack, the top lid stays propped open on its own, which makes access convenient.  There is a top pocket that is accessed by a horizontally oriented zipper.   Nothing about the top lid is game changing or a massive leap forward, but it is very cleverly and thoughtfully designed and definitely is an improvement over the typical day pack lid.  The top lid is closed by means of a simple aluminum hook.  I've found that the hook doesn't stay fastened when the pack is not full and there's no tension on the hook.  This isn't really a serious issue, however, as when there's no tension on the hook, it's not needed to keep the pack lid closed.  One caution about the top lid design:  It does not allow for you to stow a rope under the top lid securely.  I am used to being able to coil my rope and stash it under the top lid for the approach and descent.  The Ascensionist design doesn't accommodate this practice very well, as the rope doesn't stay put and there isn't really any good way to keep it in place.  If you need to transport a rope, you will need to either shove it into the pack, or just do a mountaineer's coil and carry it slung over your shoulder.
3:  Construction and features.  Fabric is a mid weight gridded ripstop in the body, with a doubled, heavier fabric on the bottom of the pack.  I haven't used it enough to have any opinions on long term durability.  Ice axe attachments are by means of traditional loops on the bottom secured at the top by adjustable shock corded hooks.
Overall, the pack is a study in simplicity.  It's stripped down to the basics, which is generally a good thing in my book.
However, there are a couple of things that I wish this pack had:
It doesn't have any provision for carrying a hydration bladder.  There's no hole to slip a hydration hose through, and there's no loop inside to hang a bladder from.  Adding a small hydration hole and hanging loop would make the pack much more user friendly for those of us who tend to use hydration bladder systems.
Also, the foam back pad is not removable.  Having a removable back pad would allow me to strip out the pad and use the pack as a low bulk stuff-sack summit pack like the old MEC Genie pack, or replace the pad with a folded up bothy bag.
The changes for hydration compatibility and making the foam pad removable would have added very minimal weight (probably less than 2 ounces total) and would have made the pack a little more versatile.
The pack lists for $99, which is pretty expensive for a lightweight daypack.  The MEC Alpinelite 24 pack is $54 Canadian, and the REI Flash 22 pack is $49.50.   However, the Ascensionist 25L is significantly lighter than the MEC Alpinelite, and more climbing oriented than the REI Flash.  Whether it's worth an extra $50 compared with those packs probably depends on how tight your budget is, and how often you think you will have need of a good daypack that's focused on climbing.
So far, I'm happy with the pack.  I've used it ice climbing and hiking, and have been pleased with its performance.  I'm probably going to get it modified to add a hydration bladder exit port and a bladder hanging loop.  I'ts likely to be my go-to technical daypack for a while.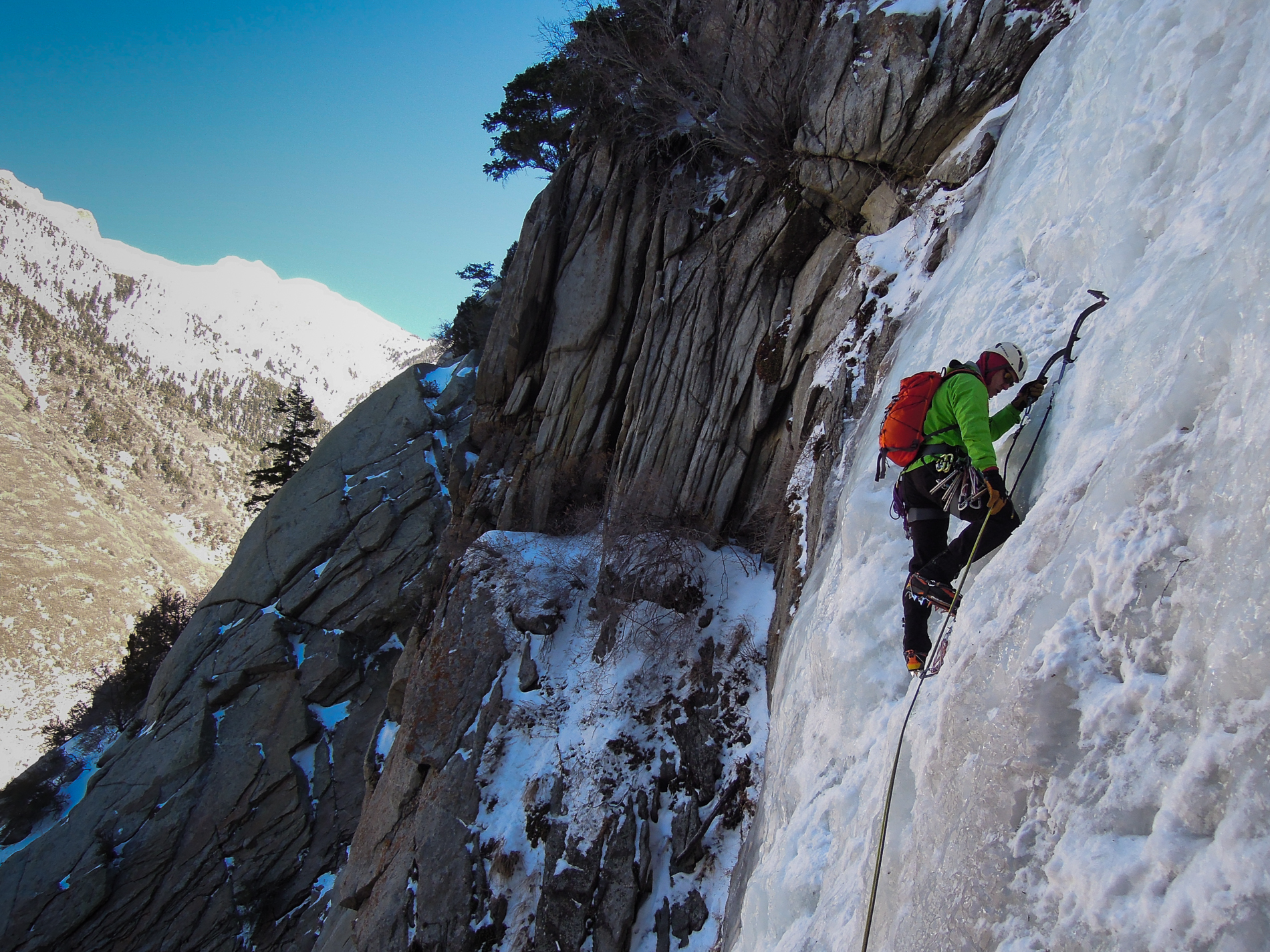 This Link is to a nice video of Steve House explaining the various features of the Ascensionist 25L Pack.