I just got back from the Uinta Highline Trail.  This trail follows the spine of Utah's Uinta Wilderness Area.  It traverses about 70 miles, and requires a bit over 15,000 feet of vertical gain (and corresponding vertical loss.)   The route pretty much stays above 10,000 feet altitude, with multiple 12,000+ foot passes.   Scenery and vistas are spectacular.
We hiked the trail from East to West, starting at the Chepeta Lake trailhead.  From where I live in the Salt Lake City suburbs, it's a full 5 hour drive to the Chepeta trailhead, with the last couple hours on rough dirt roads.
My son dropped us off at the Chepeta Lake trailhead Sunday night and we hiked for about 15 minutes or so then camped near the trail.   Unlike what is shown on the the Trails Illustrated map we were using, the trail doesn't actually head up to Chepeta Lake, but rather cuts pretty much due west from the trailhead.  Our camp the first night was at :  Lat 40.780972 Lon -110.023248   The trail runs right past this spot.
The next day, we made pretty good time.  Headed up over North Pole Pass, then down into the valley below.   We hiked until we were pretty tired, and made camp that night on the shores of the South Kidney Lake.   Sadly, the area around Kidney Lakes has been seriously trashed by horse packers and big groups.   It was difficult to find a decent camp spot that didn't have big mounds of stinking horse dung, tons of horse packer trash and other signs of "high impact" users.   I fished a little bit in Kidney Lakes, but didn't catch anything.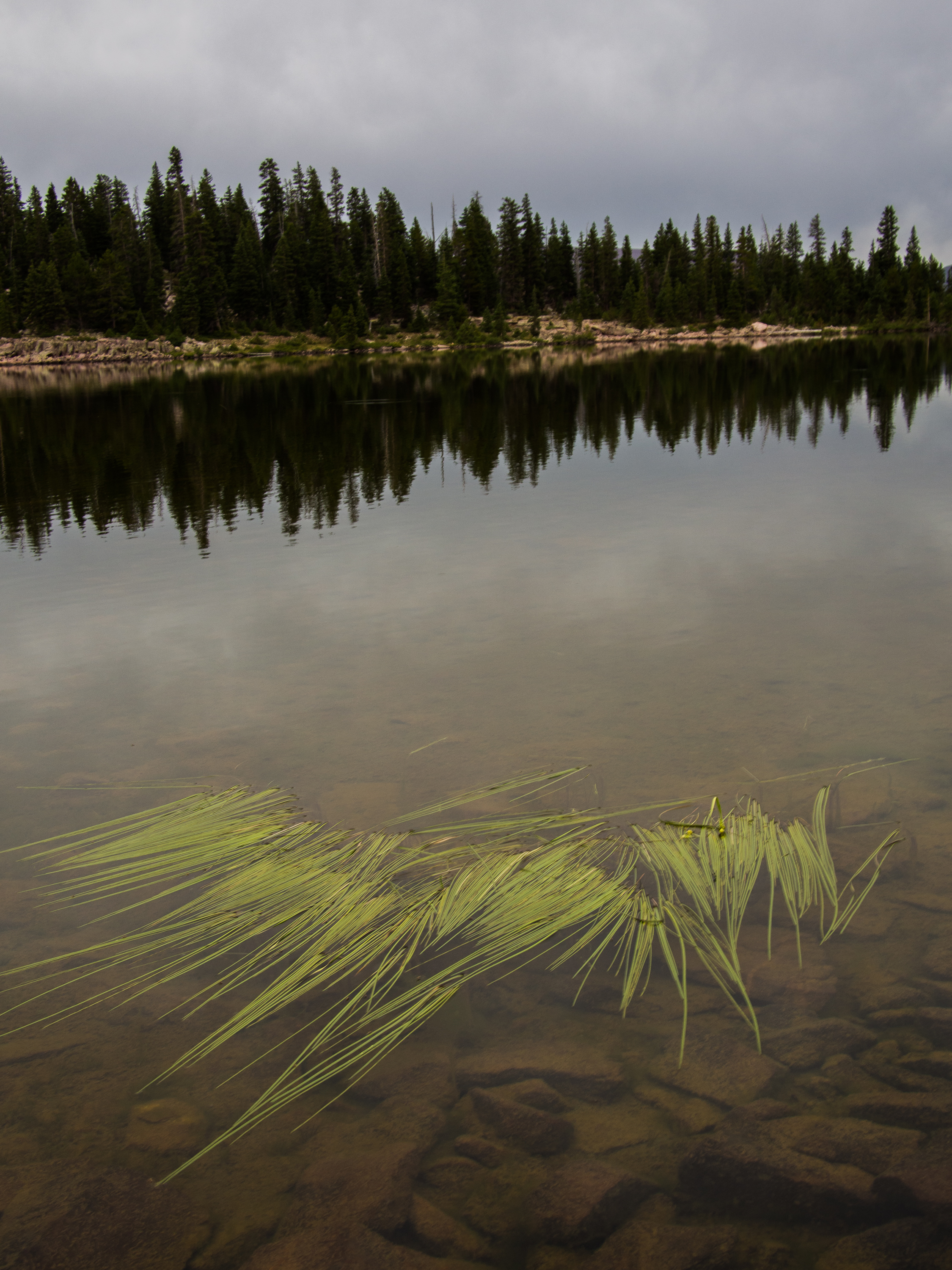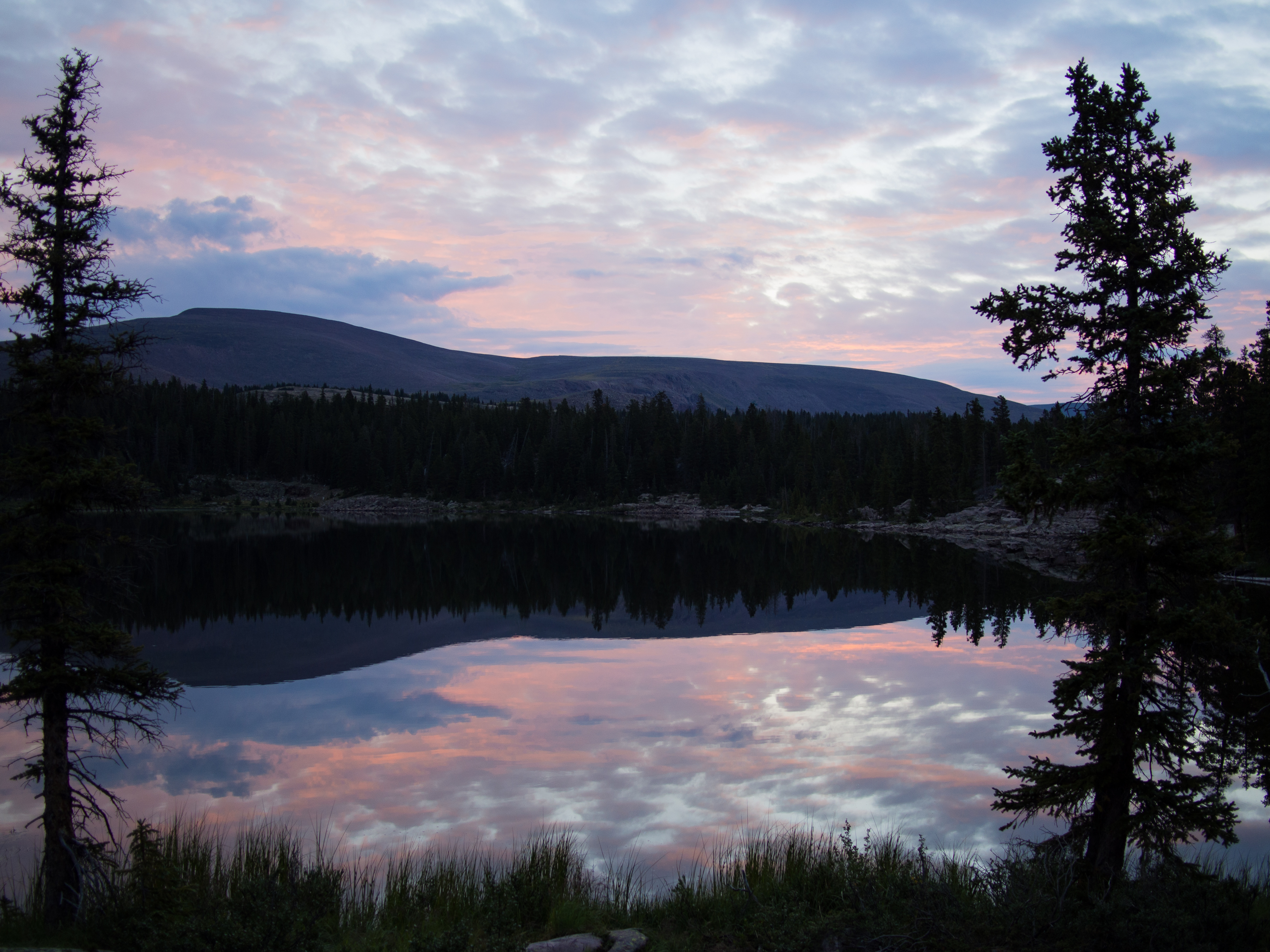 The next day was perhaps our hardest of the trip.  We left our camp at Kidney Lakes and hiked West up Painter Basin to Anderson Pass.

By the time we got to Anderson Pass, we  were pretty tired, and the rocky trail and altitude (about 12,600 feet) really took their toll on us.   We had originally thought of taking off from Anderson Pass to climb King's Peak (at 13,528 feet the highest point in Utah) but our fatigue and threatening weather convinced us to just keep on moving West along the trail rather than take a peak bagging detour.

We'd originally thought we might make it to Tungston Pass by the end of the day, but we figured that a camp in the Yellowstone Creek drainage was good enough.  We made camp in the midst of a thunderstorm, with rain, lightning, and other excitement.  Because of the haste to get our tents up, I somehow overlooked a football sized stone right in the center of my tent (that I didn't discover until I went to sleep later that evening.)   Luckily, the thunderstorm was short lived, and we had time to relax.  I went fishing in Yellowstone Creek, but saw/caught no fish.  I also took advantage of a nice bath spot to get myself clean.    Camp site coordinates were:  Lat 40.767528 Lon -110.412318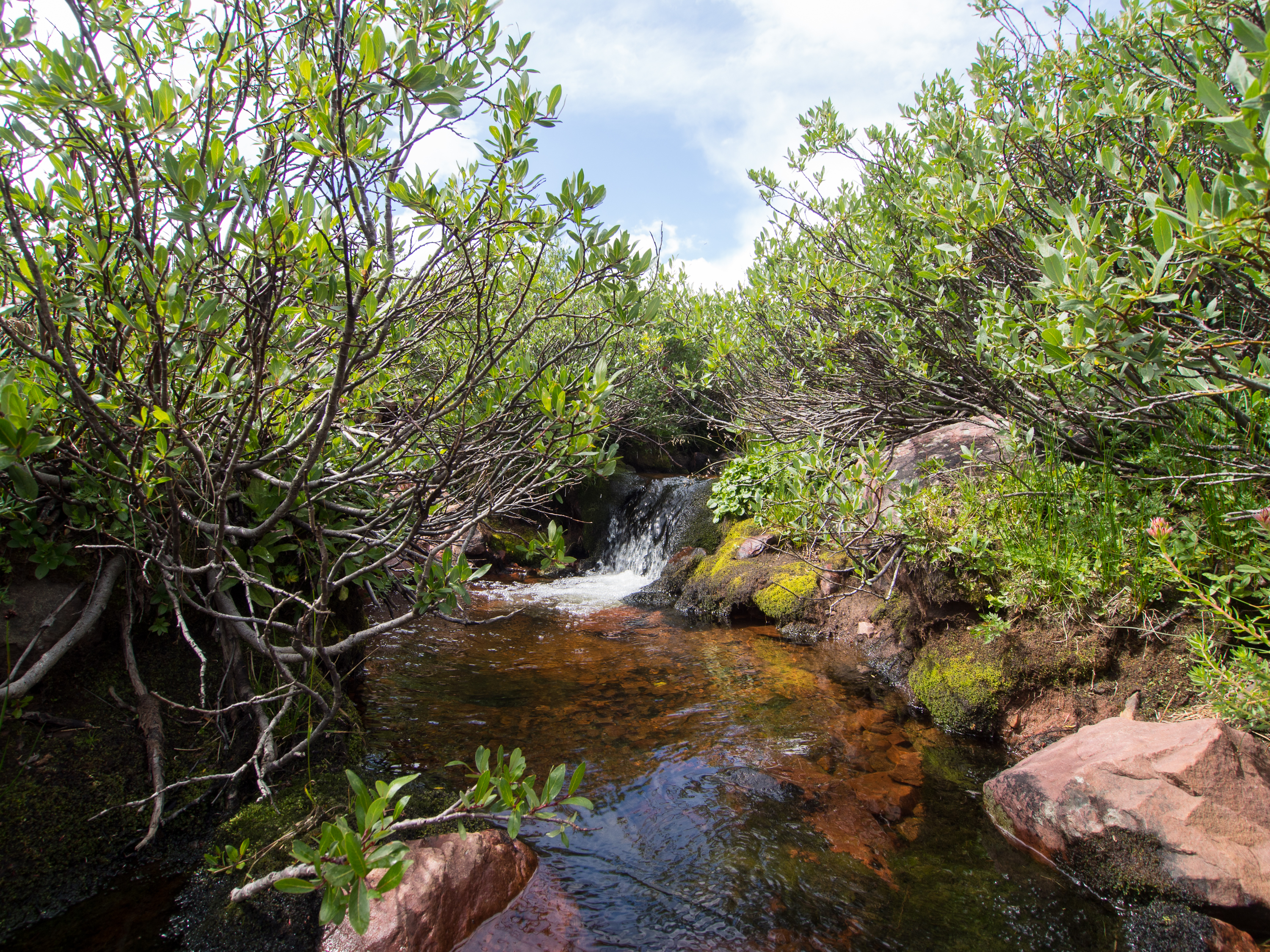 It rained heavily that night for about 4 hours.   We woke up early and packed our wet tents and other gear and headed off again.  Tungsten Pass was easy, and Porcupine not so bad either.   We had lunch on the West side of Porcupine Pass and took advantage of the bright sunshine to dry our wet gear.

After a nice rest, we made very good time along the easy trail that headed West along the wide open valley.  We made camp that night in a beautiful spot at Lambert Meadows. ( Lat 40.735502 Lon -110.589043   )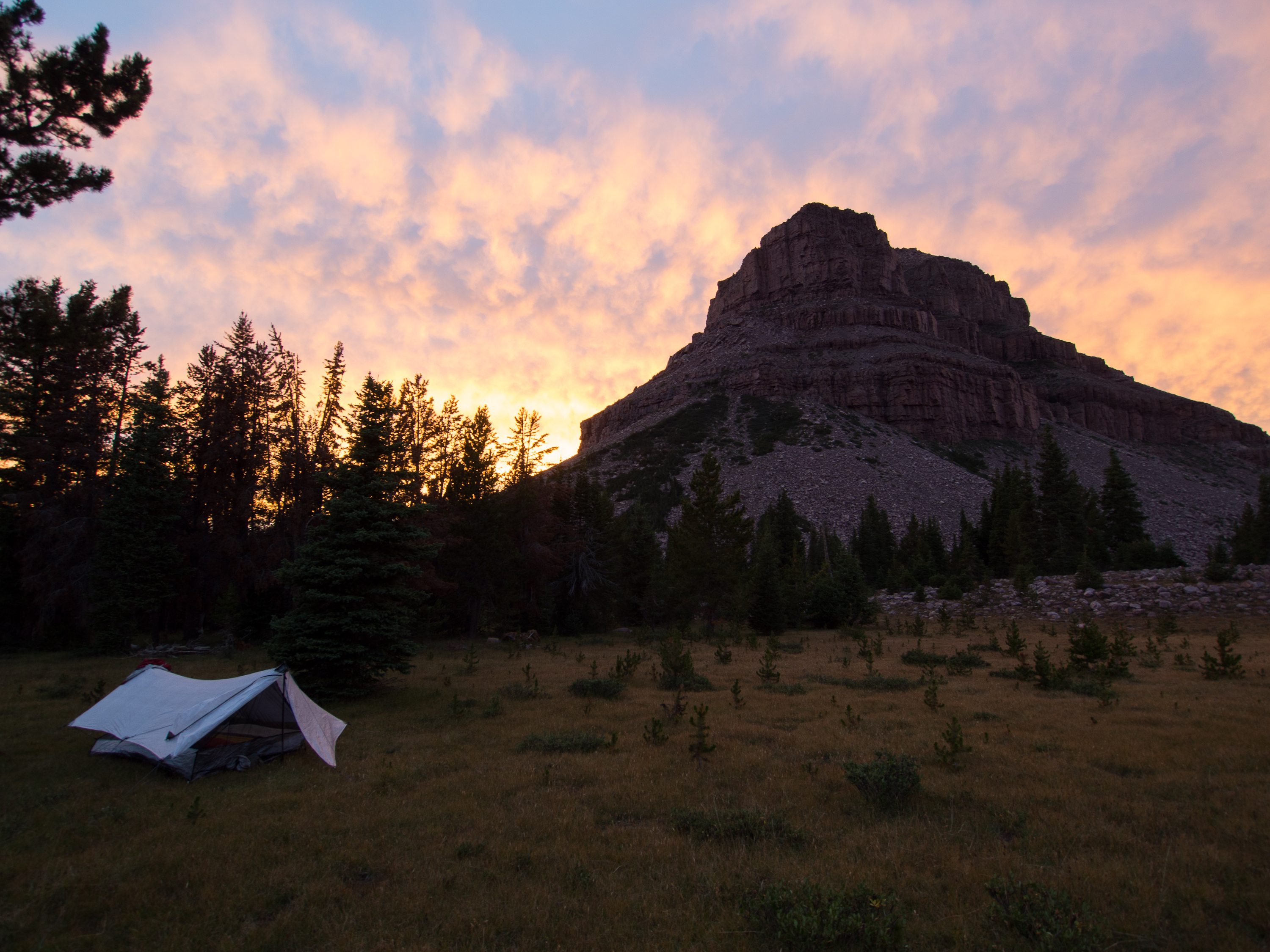 Having carried a bunch of fishing gear all this way without catching any fish at all, I was anxious to catch some fish.  So, I headed down the trail to where it met the Lake Fork River and did some fishing.   The river was full of brook trout.  As with most wild backcountry trout, they were very aggressive and not at all suspicious of my dry flies I was using.   I'd catch one about every 20 feet of wading or so.  None of them were big, but many were beautiful.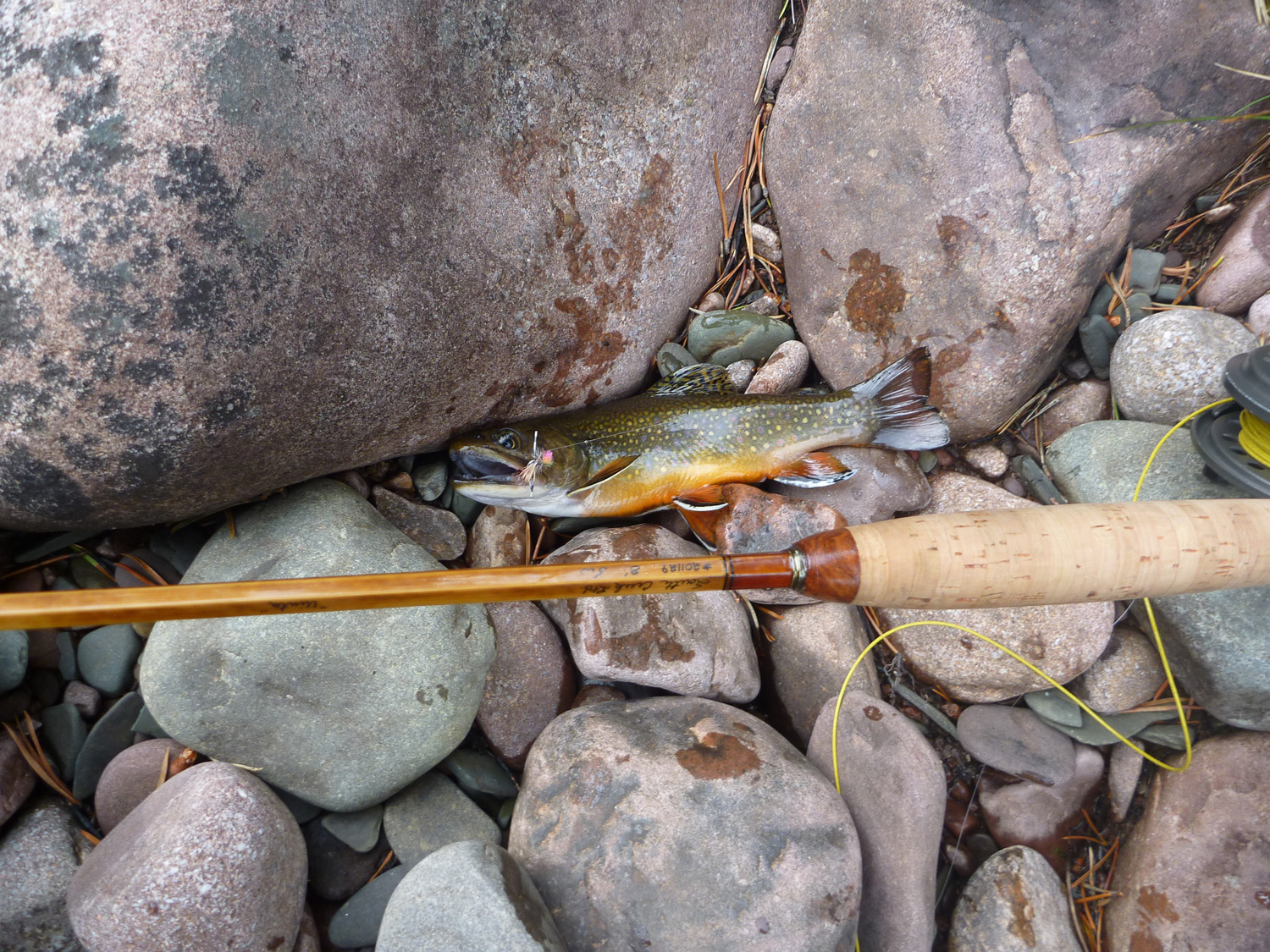 The next day was one we had been dreading the whole trip.  We were going to tackle two big passes in one day.  The day began with Red Knob Pass, then we had to get over Dead Horse Pass.  From the maps, they both looked steep.
As it turned out, we managed to get over both passes and still had some energy left in the tank.  The weather was hot, but we'd had enough hiking that we were getting into a good rhythm and made good time.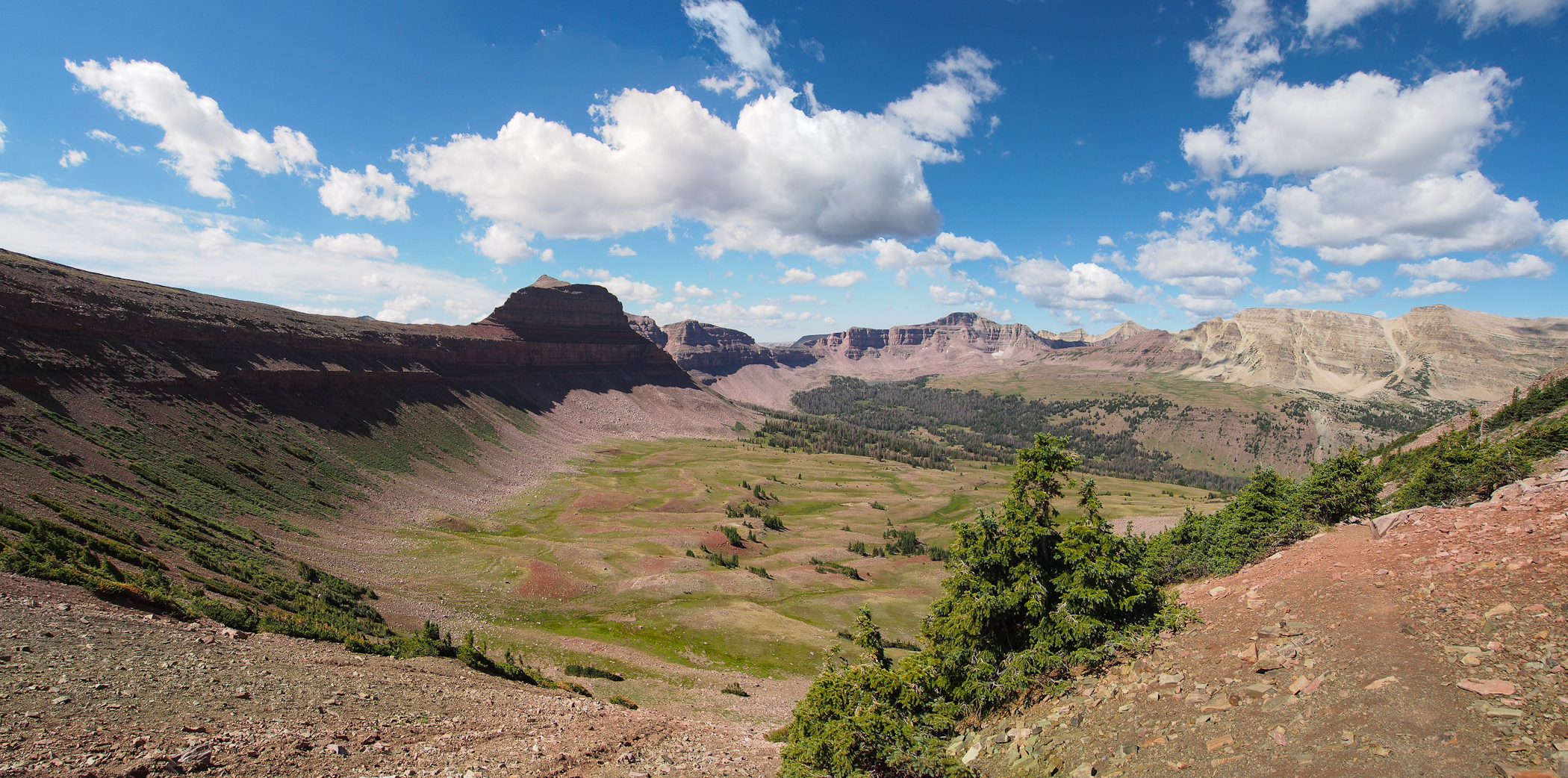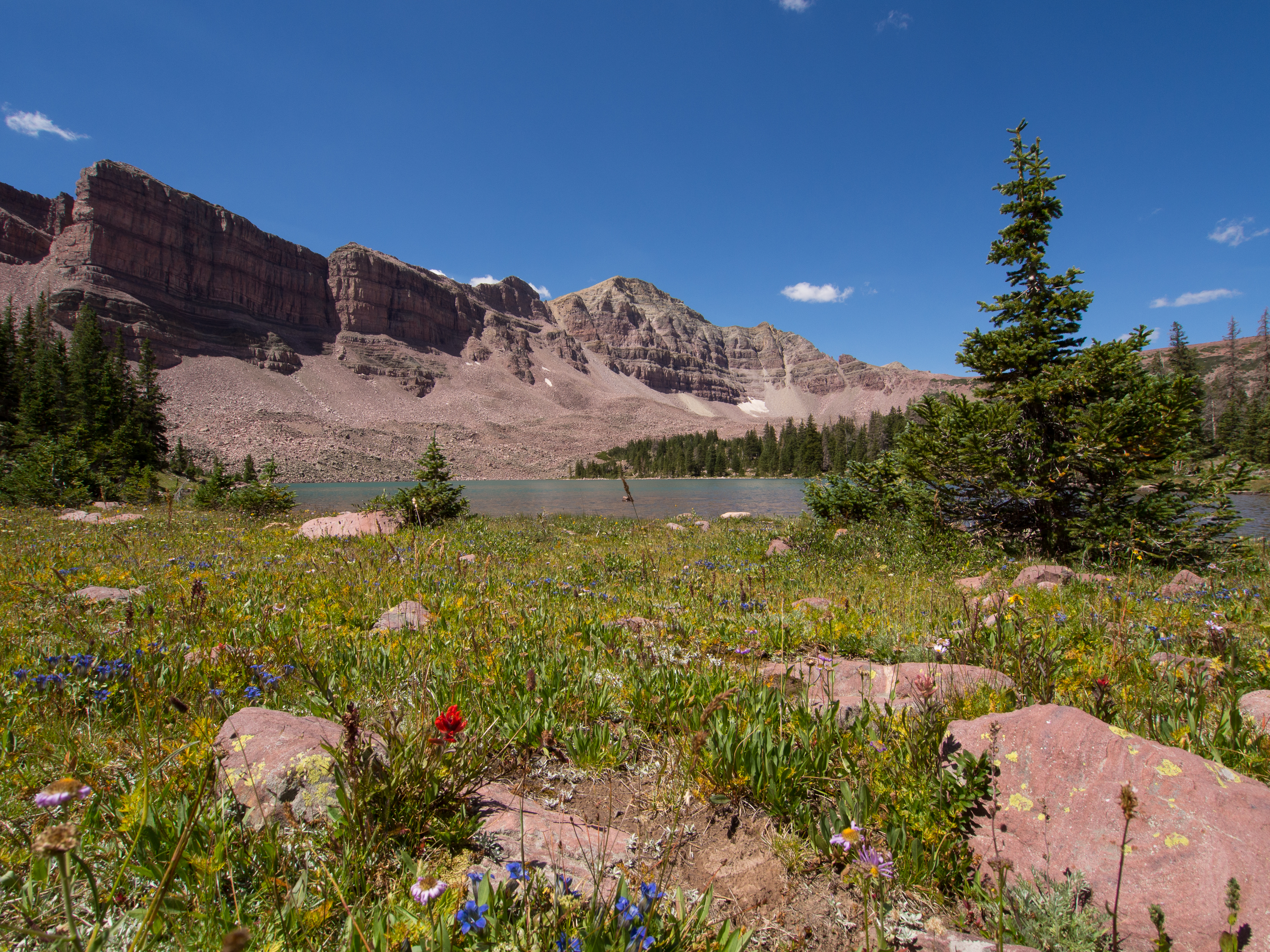 Dead Horse Pass was the steepest of the passes on the trip.  Approaching the pass, it was difficult to even see where the trail ran.  Once on the pass, however, it wasn't too difficult (just steep.)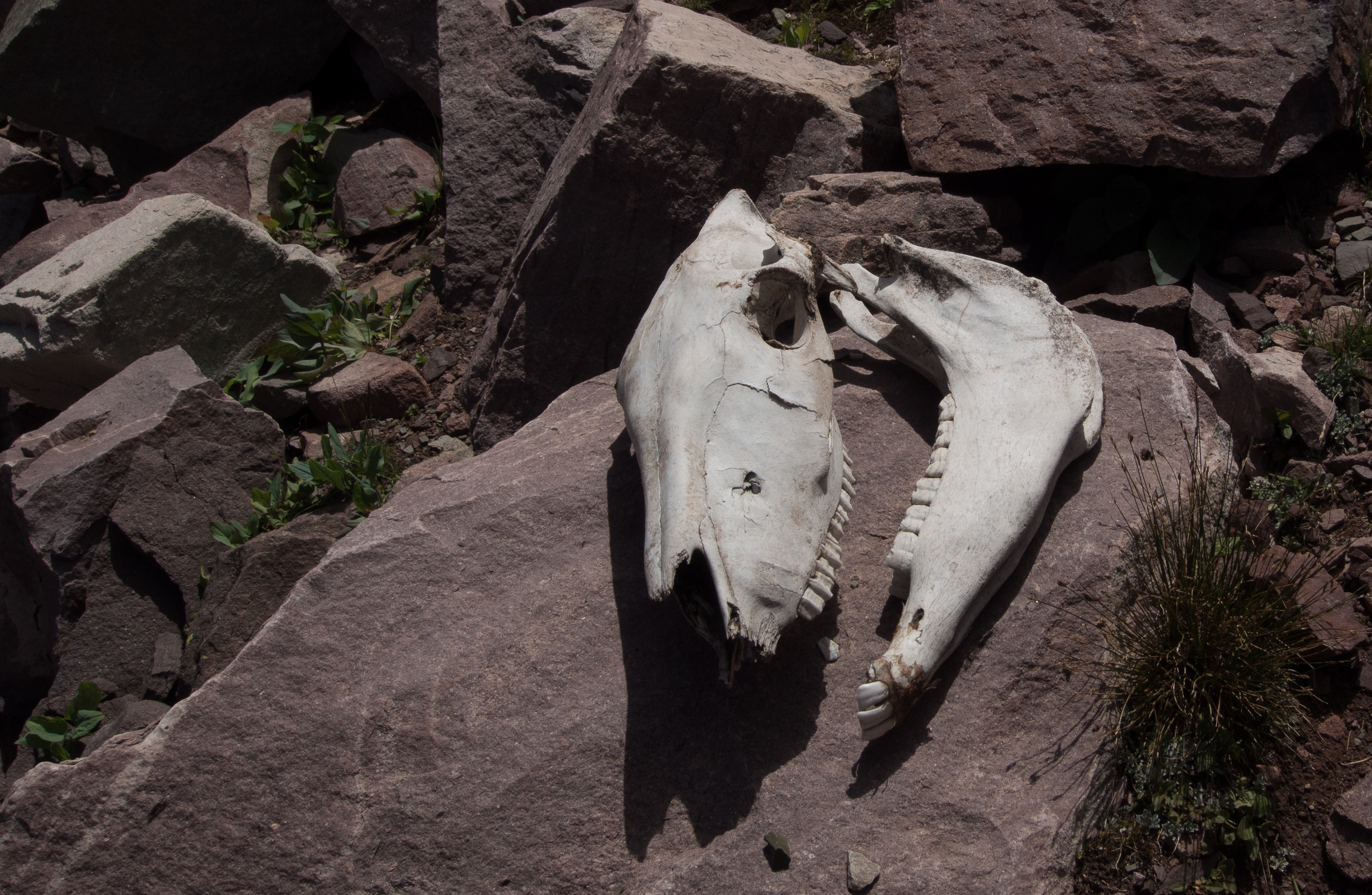 After we got over both passes, we still had a surprising amount of energy.  After a short rest (and nap) at the base of Dead Horse Pass, we kept on going, and eventually made camp at the spot where the trail met up with Rock Creek, not too far from Rocky Sea Pass.    Rock Creek was also full of Uinta Brook Trout, and I had a fun time catching them.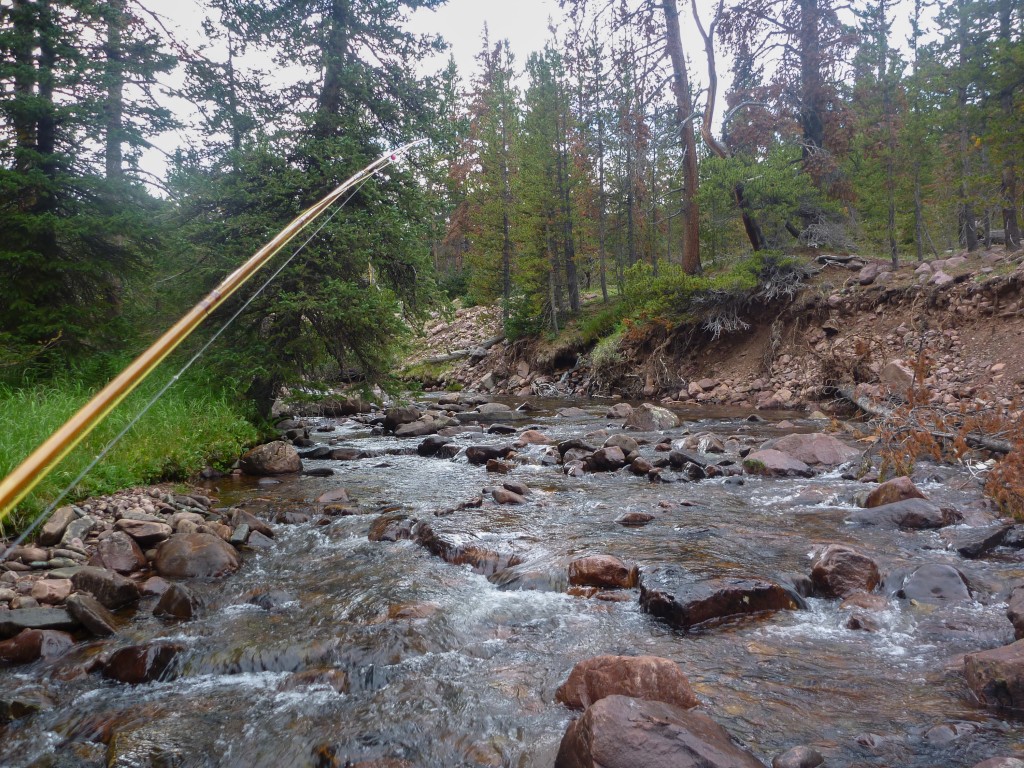 Another thing the Rock Creek drainage was full of was cow manure.  Clearly, this area is used for cattle grazing.  I have to say that I'm not a big fan of cattle grazing in wilderness areas.  Seeing cattle damage and cow pies everywhere seems incompatible with wilderness.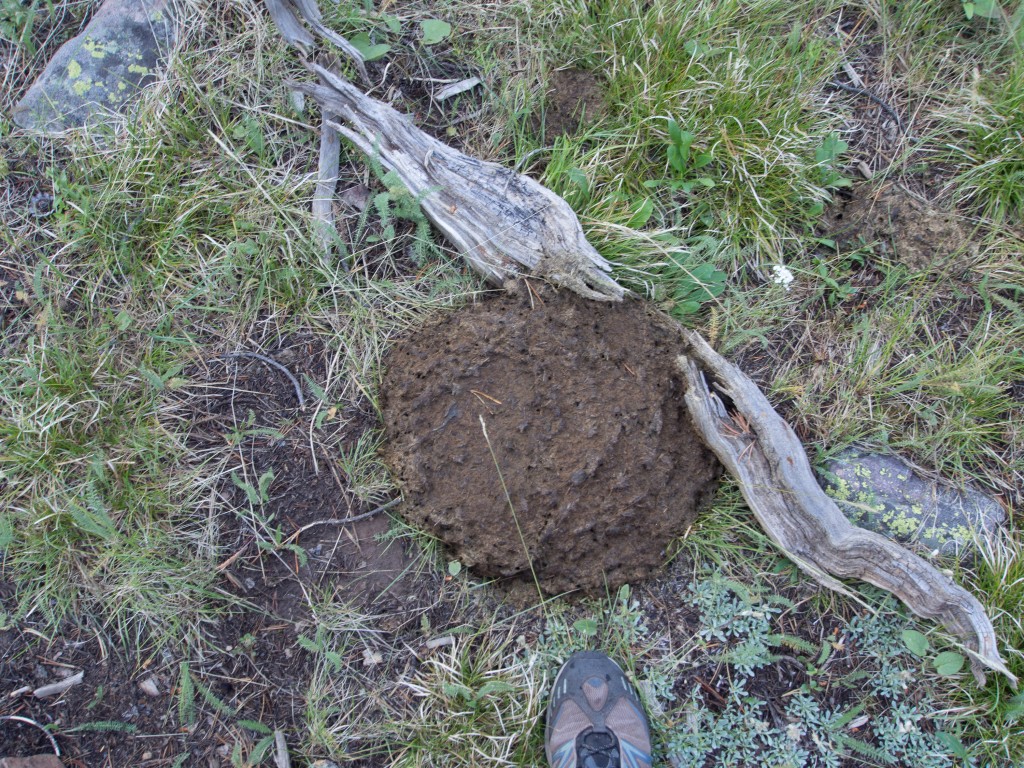 At this point, we were within easy striking distance of the end of the trail.  It was Thursday night, and we were not scheduled to be picked up until Saturday at noon.   It seemed likely that we were going to be done with the trip quite a bit sooner than Saturday at noon.
The next day, we made short work of Rocky Sea Pass, the last pass on the trail.  It looked like we could reach the trail head by the early afternoon.   Luckily, I had my Delorme inReach with me, which allowed me to use satellites to send a text message to our wives asking to be picked up a day earlier than planned.  It worked out well, and we got picked up about 15 minutes after we reached the trailhead on mirror lake highway, next to Butterfly Lake.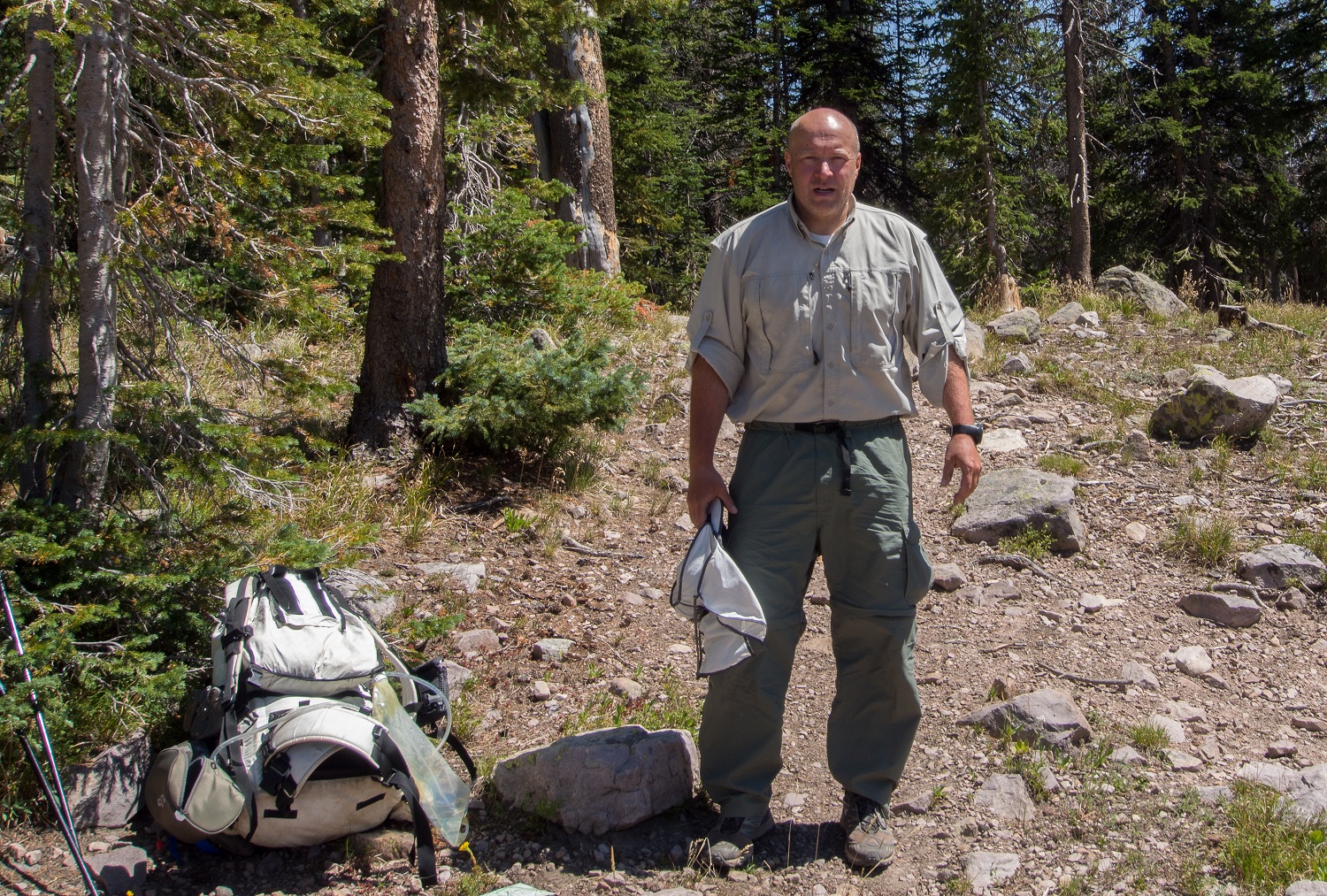 We were tired but happy.  The trip had been a bit of a grind at times, but the scenery had been beautiful and we'd had excellent weather (and no mosquitoes.)    All in all, it was a terrific outing.
 A word on gear:  
In spite of the fact that I knew that this was a long hike with a lot of vertical, I somehow brought way too much stuff on the trip, and as a result I carried a pack that was significantly heavier than it should have been for a trip like this one.
I own a lot of really lightweight gear.  However, having a lot of lightweight gear doesn't help reduce your pack weight if you bring too much of it, which is exactly what I did.  When packing for the trip, I thought, "fishing will be great up there."  So, I added about 5 pounds of fishing gear (rod, reel, waders, wading shoes, tackle, even an extra fly box) to my gear pile.  Thinking about the scenic beauties I would see along the route convinced me to add another several pounds of camera gear (Olympus OMD camera with 3 lenses.)  Similarly, I tossed on extra food and brought the entire first aid/repair kit instead of just the essentials.  I didn't coordinate group gear with my partner particularly well either.  As a result, we had duplicate water purification stuff, two tents, and other overlapping items.
I brought too much food too.  When I finished the trek, I still had over a pound of food left over.    My pack weighed about 40 pounds, and I estimate that if I had been a little more rational and careful, that I probably could have cut 10-15 pounds from that total.  When you're doing 15k of vertical, a 25 pound pack is very different than a 40 pound pack.  It's the difference between being tired and hammered at the end of the day and feeling good.
I should have known better than to carry so much extra stuff.  I know how to go ultra light.  I guess I just got confused and made some stupid decisions.  I forgot the primary purpose of the trip.  If I'm going on a casual backcountry fishing trip, there's nothing wrong with carrying an extra 5 pounds of fishing gear.  (If the purpose is fishing, then it's dumb not to bring enough gear to fish efficiently.)  Likewise, it often makes sense to bring a bunch of camera gear if you think that the photography opportunities will be terrific.
However, this trip involved hitting the trail every morning at 7:00 and hiking pretty much non-stop every day until 4:00 in the afternoon.  There was too much ground to cover to stop and fish or take long breaks for photography.  This trip was about covering distance and altitude.  A lighter pack would have been much better.    If I were doing this trail again, I'd ditch most of the fishing gear, and take only a Tenkara rod and minimal fishing gear with a total weight of less than 8 ounces.   Likewise, I'd leave the interchangeable lens camera system at home and just bring a single high-quality pocket camera such as my Lumix LX-5 or Canon S100.
To show just how much stuff I had, below is a list of things I brought.   Items in red are things I could have done without.
Clothing
Outdoor Research Sunrunner hat
Hoorag headband
Loki fleece balaclava
Heat resistant mechanics gloves
2 pair merino hiking socks
Scarpa trail running shoes
Marmot pre-cip rain jacket
Marmot pre-cip rain pants
REI Hiking pants with zip-off legs
2 pair dryluxe underwear
Fishing shirt
Midweight long john bottoms
Montbell Thermawrap jacket
Personal gear
Kaenon Polarized "Kore" Sunglasses
Petzl "Zipka" Headlamp
Suunto Vector Altimeter watch
Casio Commando Android cell phone
Toothbrush
Small tube of toothpaste
Diaper Wipes
Water purifier chemicals (Micropur tablets, 3 per day)
3 liter Platypus Hoser water container
Lighter
Titanium cup
Titanium spoon
Oricaso folding bowl
McHale Backpack
Sleeping bag (Marmot Hydrogen 30 degree down)
Exped Synmat UL sleeping pad.
Montbell inflatable pillow
Fizan hiking poles
Sun screen
Mosquito repellant
Sebenza folding knife
½ ounce bottle of camp soap
½ ounce bottle of hand sanitizer
Hyperlite Mountain Gear Echo II shelter
12 Tent stakes
Sawyer Squeeze water filter
2 One gallon ziplocks (1 for fish, 1 for trash.) (didn't need the one for fish.)
Fishing Gear
Columbia Drainmaker water/wading shoes
Tenkara rod and cloth bag (no case)
Tenkara fishing kit with tippet, floatant, etc.
Extra fly box with flies
Simms travel waders with wading belt
Titanium/carbon fiber net with magnetic tether
Fishing License
Uinta bamboo fly rod and reel
Frontier Pro water filter
Camera Gear  (should have brought a single pocket camera like the Lumix LX-5)
Olympus OMD camera
Olympus 9-18mm zoom
Panasonic 20mm prime lens
Olympus 45mm prime lens
Bag with extra battery, lens wipes, lens brush
Clik camera case
Group Gear (shared with one other person)
T-Tri Caldera Cone stove kit with Pot
14 oz alcohol fuel  (9 ounces would have been enough)
8 tinder tabs
Group Gear (shared among whole group)
Map
First aid/repair kit (brought too much stuff.)
Titanium wire grill (for cooking fish)
inReach satellite beacon
 Food
Monday: Breakfast: 2 packets Oatmeal (at car)
Lunch: Bagels, cream cheese; apple
Dinner: Brats, mustard, buns, hot cider
Tuesday: Breakfast: 2 packets Oatmeal
Lunch: Bagels, peanut butter, dried fruit.
Dinner: Freeze dried meal, hot cider
Wednesday: Breakfast: 2 packets Oatmeal
Lunch: smoked salmon, crackers; Dried apricots
Dinner: Freeze dried meal, hot cider
Thursday: Breakfast: 2 packets Oatmeal
Lunch: cheese; crackers; nutella
Dinner: Freeze dried meal, hot cider
Friday: Breakfast: 2 packets Oatmeal
Lunch: Fritos, bean dip; Dried coconut
Dinner: Freeze dried, hot cider
Saturday: Breakfast: 2 packets Oatmeal
Lunch: energy bars
Fish; pepper, BBQ seasoning; olive oil