The Mountain Hardwear Ghost Whisperer line of clothing are pieces that are designed with the overall goal of providing protection with the least possible weight and bulk.  I own the hooded down jacket and the hooded windbreaker.    This review is of the hooded down jacket
Ghost Whisperer Hooded Down Jacket   8.8 ounces (size X-Large)  
I've owned the Ghost Whisperer Hooded Down Jacket for about 9 months now, and it has become one of my favorite and most used pieces of clothing.  It weighs only 8.8 ounces and is filled with water resistant 850 fill power down.  The quilting on it is of sewn through construction, rather than box baffled.  The hooded down jacket provides warmth and wind protection that is greater than a fleece jacket, at considerably less bulk and weight.  It's an excellent light "puffy" for climbing, or any backcountry activity where you need some lightweight warmth.
I've been taking this jacket with me on backcountry ski trips, on "shoulder season" rock climbs in the spring and fall, and summer alpine climbs.  It fits easily into a small daypack, and provides me with warmth for chilly belays or cold evenings.  For how light and compact it is, it provides a remarkable amount of warmth.
The hood fits nicely over a helmet, and the elasticized cuffs and simple elastic cord at the hem keep out drafts.  The Ghost Whisperer fabric is water resistant, and I've had no issues fending off light drizzle and mist.  The 850 fill power down is treated with something called "Q-Shield" which is supposed to make it more water resistant than normal down.  I can't really comment on the effectiveness of this down treatment because I haven't ever soaked this jacket.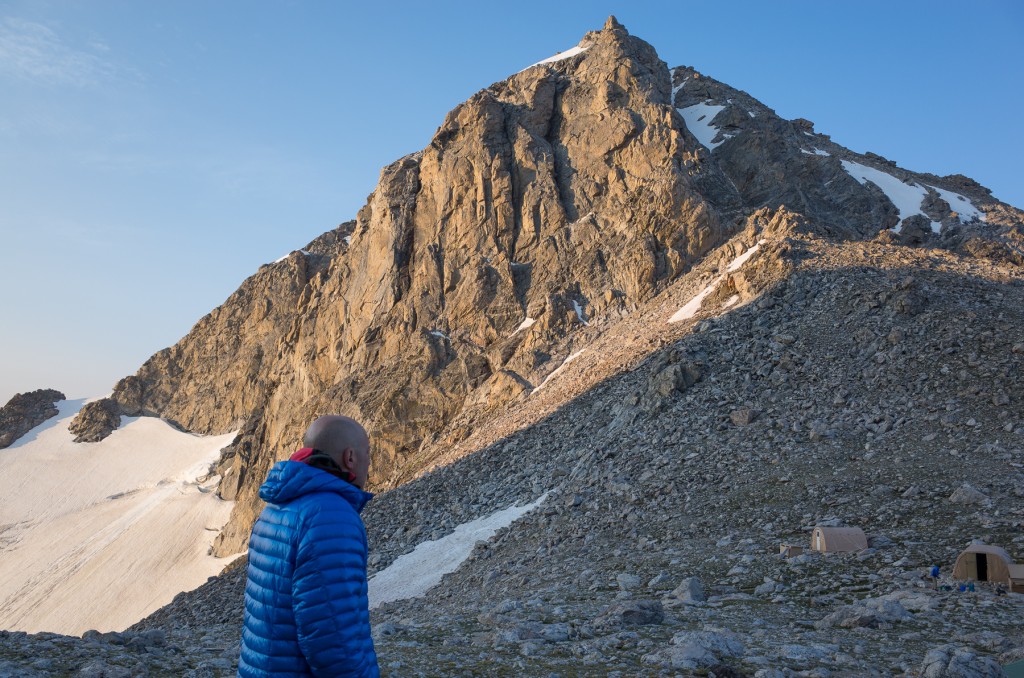 There are two zippered handwarmer pockets, and you can stuff the Ghost Whisperer into a pocket for storage.  There is a loop so that you can clip the stuffed jacket onto a carabiner.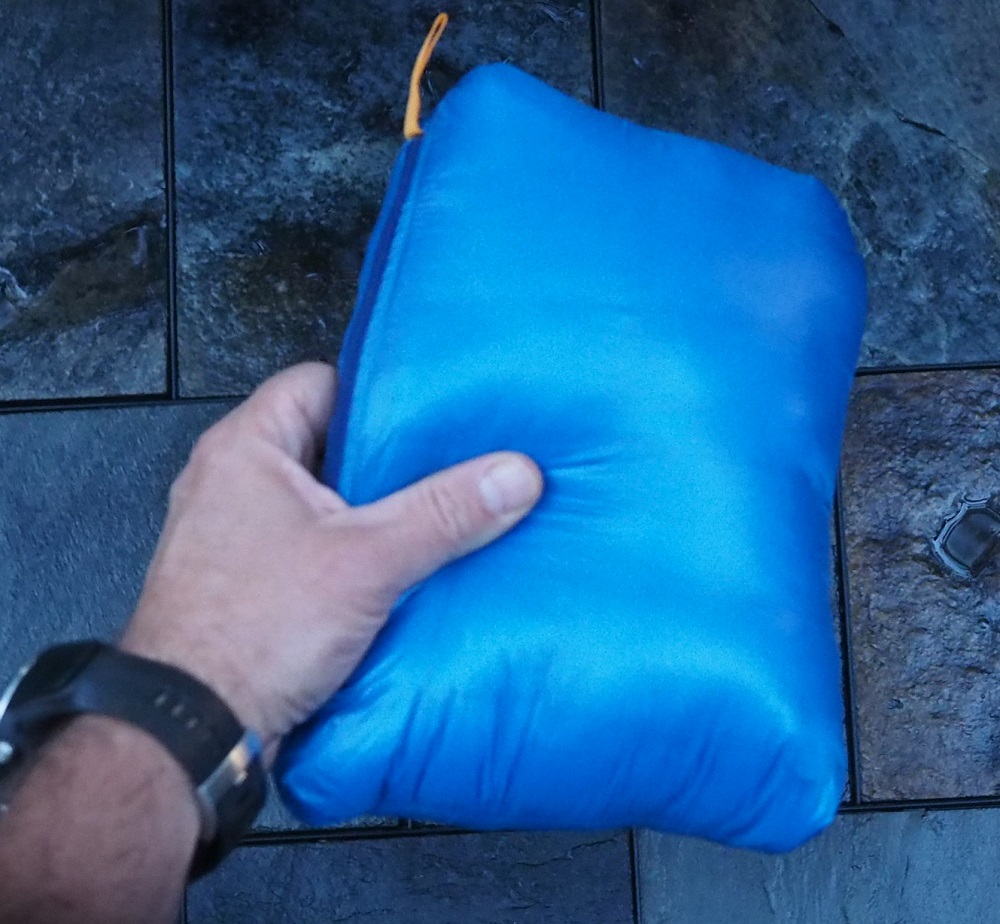 The jacket does have some limitations due to its light weight design.  The fabric is extremely light weight.  I haven't managed to rip it or wear a hole in it, even after climbing in it a bit, but it really isn't made to take much abuse.  If you're looking for a jacket for groveling up chimneys and off-width climbs, this is probably not a good choice.  The zipper is very lightweight and it doesn't take a whole lot of pressure to pull it apart.  I've had several occasions when it has separated from the bottom and come undone.   So far, this hasn't been a big issue, as I've been able to unzip it and then zip it back up again.  The zipper coils haven't seemed to have been harmed by this.
Regarding warmth, this jacket is very warm for its weight, but it's not a substitute for a thick insulated jacket for really cold conditions.  For cold winter ice climbs and high alpine bivis, I would still want a thicker, heavier belay jacket, but for most other situations, the Ghost Whisperer is sufficient.
Sizing on this jacket is a little on the small side for an over-layer.   I tend to wear a size large in most jackets, and a size large would have fit me, but I wouldn't have had much room with a size large to layer clothing underneath.  An X-large size gives me room to use this as a top layer.   If you're planning on using this jacket as a mid layer, then I'd suggest you get your normal size.  If you want to use it to layer on top, then I'd suggest going up a size.
Here's a list of other insulated jackets to give some perspective and comparisons of weights:  The only other jacket I've used that is close to the same weight class is the Montbell UL thermawrap jacket, which is not as warm and which doesn't have a hood.
Insulating Layers  (Size Large unless otherwise noted)
Montbell UL Thermawrap jacket 9.2
Montbell Thermawrap parka 16.2
Arcteryx Atom LT Hoody 14.9
Patagonia R2 pullover 13.3
Golite Coal Jacket w/hood 19.5
Jeff Lowe Cloudwalker Papillon Sweater 22.5
Arcteryx Dually Belay parka 29 oz (XL) 26.5 oz (L)
Brooks Range Alpini mountain anorak down hoodie (XL) 13.6
Patagonia Encapsil Down Belay Jacket (XL) 20.6
Montbell Mirage Down Jacket (XL) 14.7
Mountain Hardwear Ghost Whisperer Hooded Down Jacket  (XL)  8.8
Patagonia Nano Air Hoody  14.5