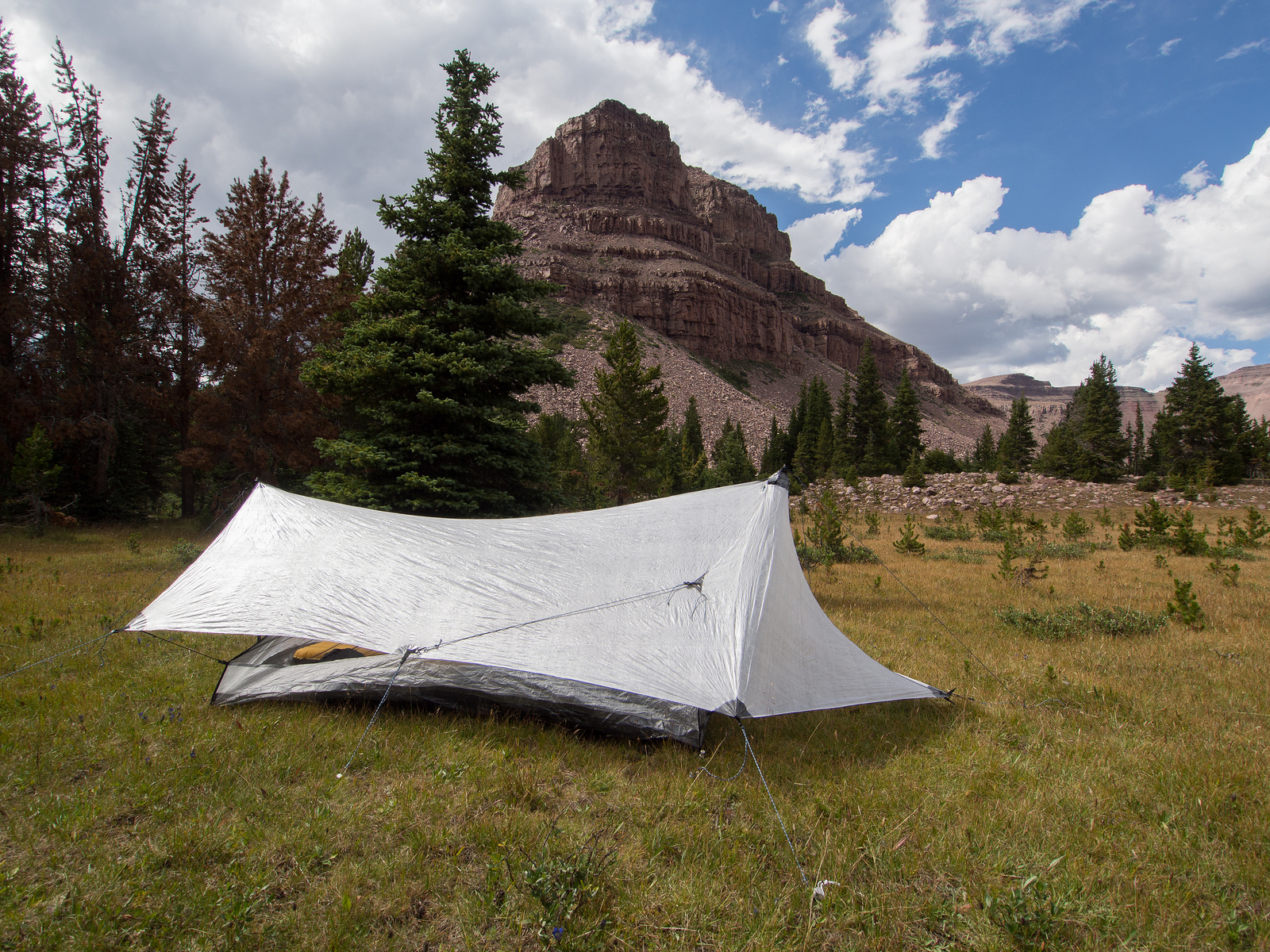 1 pound, 12.5 ounces (tarp, inner tent, beak, and stuff sack.)
5.5 ounces (12 aluminum stakes and small stuff sack.)
Total packed weight of full tent with 12 stakes:  34 ounces (2 pounds, 2 ounces)
The Echo II from Hyperlite Mountain Gear is my latest backcountry shelter.  It's a hybrid tarp/tent made mostly from lighweight Cuben fiber material.
I've been using the Hyperlite Mountain Gear Echo II shelter for a couple of months now.  I've slept in it for about 10 nights.  Not enough time for a long term test, but enough to have a pretty good feel for the qualities and limitations of this tent.  Durability so far has been very good.  I haven't poked any holes in it or otherwise damaged it.  Signs of wear are minimal.
The Echo II is made of three pieces, a rectangular tarp, an inner tent with the top made from bug netting and the floor and lower sections made from solid material, and a "beak" which closes off the front, creating a vestibule and providing shelter from wind and rain.  You can pitch the tarp by itself, or along with the beak if you want to.  However, I have always used the three pieces together.    The tent is well constructed, with reinforced stress points and excellent stitching and quality throughout.  I'm especially happy that I don't have to do any seam sealing myself, a task that I hate.  The Echo II is waterproof straight from the manufacturer.   Another plus is that the stuff sack supplied with the tent is sized large enough that it isn't a struggle to get the tent packed away  (unlike some manufacturers, who provide a stuff sack that is just too small to be practical.)
Set up requires two trekking poles and 12 stakes.  That's a lot of stakes compared with your typical free standing tent, but the overall weight of the Echo II is light enough that it doesn't really matter.  Set up is relatively simple, particularly because I generally keep the inner net tent already hooked up to the tarp, which speeds assembly. Unlike a typical pyramid tarp, there's a fair amount of lattitude with where you position the stakes.  So, if there's a rock that prevents pounding a stake in where you put it initially, you can just place the stake a bit closer or nearer and add or take in slack by means of the guyline and tensioner.  As long as the stake is at the correct angle, the exact distance to the tarp is not critical.
I've found that the easiest way for me to erect the tent is to stake out the tarp first, then insert the trekking poles, then re-position and re-tension the stakes as necessary.  Getting the tent up in a high wind can be a bit of a challenge when working alone.  With two people working together, it's not too bad.   The adjustable cord tensioners used to adjust the length of the guylines are simple to use and they don't slip.
Living space is adequate for two people.  For one person, the Echo II is very spacious.  The "beak" vestibule provides adequate covered protection for shoes, backpack, etc.  The netting inner tent is attached to the outer tarp in such a way as to maximize interior space and minimize drooping.
I have only used the Echo II in summer conditions, although these were mountain summer conditions, which included a fair amount heavy rain, some sleet, and moderate winds.  I stayed completely dry throughout heavy rain, including one storm where it rained heavily for about 5 hours, accompanied by gusty winds.    I have not experienced really really high winds in the Echo II, but given the number of stakes holding it down, I'm optimistic that it would do at least as well as other lightweight tents I've used.  If I were expecting very heavy winds, I would pitch the tarp low to the ground to minimize wind getting underneath the tent as much as possible.
Condensation with the Echo II is minimal.  The ventilation afforded by the tarp design and all the netting fabric on the interior has meant that I haven't really encountered any condensation issues at all.
One of the great things about Cuben fiber fabric (other than its light weight) is the fact that it doesn't stretch out when it gets wet.  Syl nylon fabric tends to stretch quite a bit, which means that you need to re-tension a syl-nylon tent regularly, especially when it's raining.  The Echo II, however, doesn't have any stretch at all to the cuben fiber fabric, which is great, because a heavy rain is the time when you least feel like messing around with tensioning your tent guylines.  With the Echo II, you get the tent nice and taut when you pitch it, and then it stays nice and taut all night long.
One of the limitations of Cuben fiber is that it tends to be kind of bulky.  I think that this additional bulk is due primarily to the fact that Cuben fiber fabric has a fair amount of "memory" so it tends to keep its shape more than syl nylon or other lightweight fabrics.  This leads to additional bulk.  However, you can minimize this bulk by compressing the tent like you would a sleeping bag.  I fold the tent up, put it in the stuff sack, and then I sit on the tent for a minute or so, squashing it flat.  Sitting on the tent reduces the volume by about half, and because of the "memory" of the fabric, once compressed, it doesn't really bulk up again, but rather stays flattened, taking up much less pack space.
Overall, the Echo II is the best 3 season shelter I've used.  There are some that are lighter.   A floorless pyramid tarp, for example, is lighter than the Echo II.  However, with a floorless pyramid, you sacrifice bug-resistance, and you give up the wet weather comfort of having a floor on the tent.  I tend to get significant condensation in most of the pyramid designs I've used too.  For me, the Echo II strikes the perfect balance between light weight, protection, and comfort.  For three season camping, it is my new favorite tent.
Note:  Hyperlite Mountain Gear has made me one of their "Ambassadors."  I don't get paid for this, but I do occasionally get prototype gear to test, and occasionally can buy gear at discounted prices.  The Echo II, however, I paid full retail price for.