Part 2.  Shelter and Sleeping
With my shelter and sleeping gear, I try to walk the line between light weight and function.  It's really important to get a good night's sleep, and your shelter needs to be able to protect you from nasty mountain weather.
Shelter
I use a floorless shelter that utilizes a trekking pole for support.  I've been using floorless pyramid tents since the 1980's.  The weight savings over a traditional tent is significant.  People who haven't tried tipi style floorless tents tend to worry about not having a floor.  There are only a few limited situations where I've found this style of tent to be lacking.  The first is bug season.  If mosquitoes are plentiful, then I want a tent with full bug netting, like the Hyperlite Echo, reviewed HERE.  However, most of my hunting is in the mountains in September or later, when bugs are not an issue.  The other situation where floorless tents are less than ideal is for day after day of heavy rain.  In such situations, it can be a challenge to try to find a dry spot to pitch the tent on.  However, I solve that potential problem by bringing a lightweight polycro groundsheet (which I can also use as a groundsheet for butchering meat.  I don't use it unless it's raining.  It generally just stays in the bottom of my pack.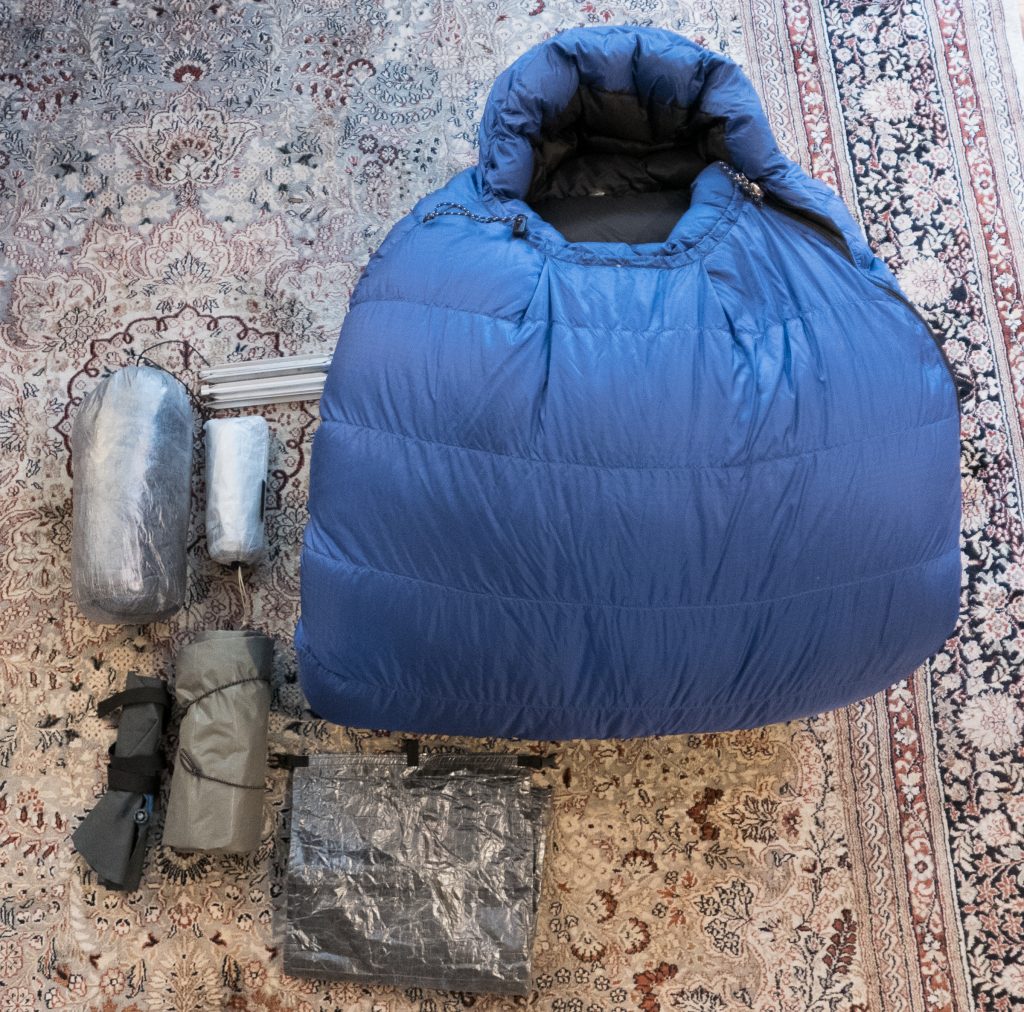 My current tent of choice is the Locus Gear Hapi DCF.  It's constructed of cuben fiber and weighs under 12 ounces.  It sleeps 2 people, or one person with lots of room for gear.  (2 people plus gear is tight, but workable.)  This is my tent for solo and 2 person hunts.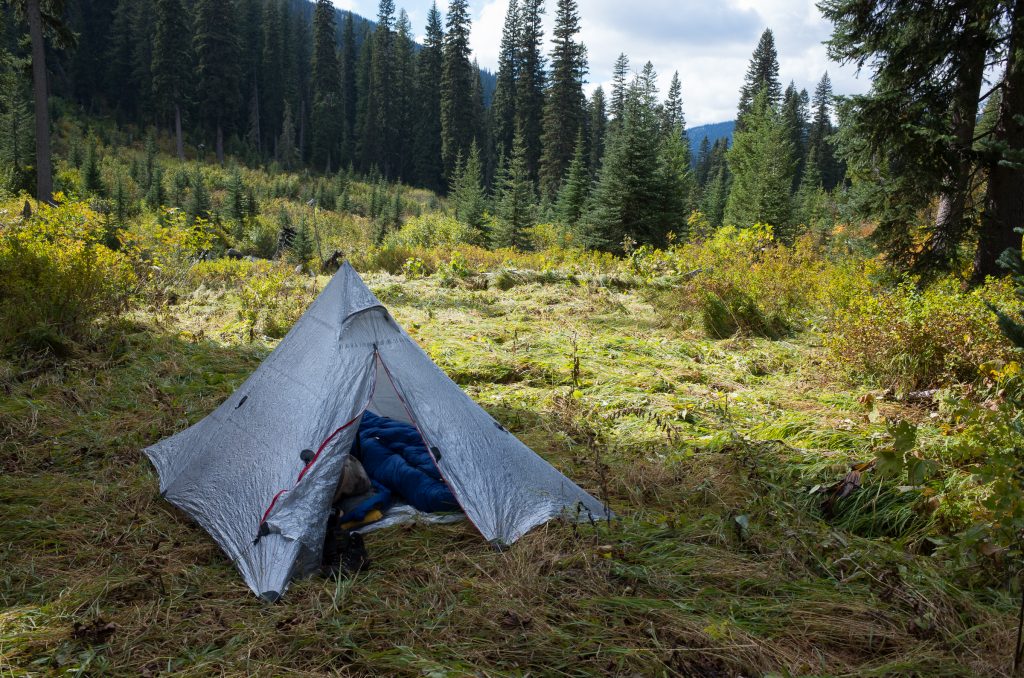 For hunts with 3 people, I have a larger pyramid tent, the Bear Paw Luna 6, also made with cuben fiber.  The biggest problem with this tent is that it's hard to find anywhere to pitch it, as its 10 feet by 10 feet size is larger than most of the flat spots you find in the mountains.  However, at 25.3 ounces, it's a very light weight multi-person shelter.
Sleeping bag
I use down bags exclusively for hunting.  The weight penalty for a synthetic bag is just too high.  If I were hunting in rainy Washington or Oregon, I might consider a synthetic bag, but for the Rocky Mountain areas that I hunt, down works.
In addition to down fill, another feature that I consider critical in a sleeping bag is a wide fit.  I'm a big guy, so a wide fit is more comfortable.  Even more important, a generous cut of your sleeping bag allows you to wear your insulated puffy jacket to bed in cold weather, effectively lowering the temperature rating of your sleeping bag.
The sleeping bag I choose depends on the temperatures I expect to encounter.  Here are my top choices:
Marmot Hydrogen 30 degree down bag 21.6 oz (1 lb., 5.6 oz)
Marmot Helium 15 degreee down bag 32.5 (2 lbs, 0.5 oz)
Marmot Lithium 0 degree down bag 41.9 (2 lbs, 9.9oz)
Valandre Shocking Blue 0 degree down bag 48.2 (3 lbs, 0.2 oz)
The Marmot bags are all of somewhat standard design, with the Valandre Shocking Blue having a very large girth, allowing for minimal compression of a puffy jacket layer.
I reviewed these (and other ) sleeping bags in depth previously, and that review can be found here: 
The bag I use most often is the 15 degree Helium, which seems to cover me for most of the conditions I encounter while hunting.
Sleeping Pad
The NeoAir XTherm inflatable mattress is the best all-season pad I've used.  It's warm, reasonably durable, and relatively light and compact.  (Weight is 15.6 ounces, and it rolls up into a small package.)  I am getting old, and have old aching bones and joints, and the XTherm provides enough comfort and cushioning to ensure I get a good night's sleep.  I generally use it right on the ground, and so far, haven't managed to pop in on a sharp stick or rock.   I have a full review of this pad (along with several others) in the blog post here:  
Other accessories: 
I am a side sleeper, so I need a substantial pillow.  I use the Klymit Cush, which weighs only 3.9 ounces, and serves double duty as a rear shooting rest/bag for my rifle, and a cushion for my butt or back when glassing.
Instead of a regular sleeping bag stuffsack, I use a Zpacks pillow dry bag.  It's a cuben fiber dry bag with an inside face of soft fleece fabric.  Weight is less than 2 ounces, and it allows me to fill it with spare clothing and use it as a pillow, with the fleece providing more comfort than a slick cuben fiber fabric would.
In wet conditions, I use a Mountain Laurel Designs cuben fiber ground cloth.  or a a lightweight polycro groundsheet.   It also makes a good ground sheet for keeping meat clean while field dressing an animal.  Weight is 3.5 ounces.
Gear Weights:
| | |
| --- | --- |
| Shelter and Sleeping Gear total weight  (ounces) | 70.9 |
| Total weight in pounds. | 4.4 Pounds |
| Locus Gear HAPI Pyramid tent | 11.6 |
| Mountain Laurel Designs Duo cuben fiber groundsheet (also used for meat processing) | 3.5 |
| 8 tent stakes | 3.8 |
| X-Therm inflatable pad with bungie cord | 15.6 |
| Klymit Cush inflatable pillow with fastex buckle strap (also used as rear bag for shooting) | 3.9 |
| Marmot Helium 15 degree down bag | 32.5 |