Hunting Gear and Clothing:  Intro and Context
This is part 1 of my post on hunting gear and clothing.  A few notes about this list to provide some context:
I hunt deer and elk.  My hunts are all self guided.  I tend to backpack hunt, generally 3-8 miles from my vehicle.  I don't have pack animals.  Everywhere I go, I walk.
I hunt public lands in Utah, Idaho, Arizona, and Colorado.  (Thinking of hunting Montana in the future.)  Because I only started hunting a few years ago, I have not accumulated significant preference points in any state.  My hunts are generally over the counter, general season tags, or easy to draw limited entry units.  I try to hike in to places that other hunters don't go.  Terrain is usually high country; either heavily timbered, or more sparsely covered high mountain terrain.  Temps can range from hot (Utah early season) or cold and snowy (Colorado 3rd rifle season.)
I'm a meat hunter.  I don't have any place in my house to hang a taxidermy head.  I will keep antlers, but have no real use for a big mounted trophy.  Because of this, I don't really care about an animal's "score."  Given two healthy, legal targets, I will opt for the smaller, younger one, on the assumption that the meat will be better.  (I prefer females to males for the same reason.)   You will see this preference reflected in some of my equipment decisions.  For example, I don't need a giant spotting scope to count antler tines, so I generally bring a smaller lightweight spotting scope.
Most of my hunting is solo.  (Another reason I prefer to harvest a smaller animal.)  I generally plan on spending 5 or 6 nights on a given hunt.  I'm getting older (in my 50's) so I try to keep my pack weigh down as much as possible.
A final note about my hunting gear.  I've tried not to make any compromises with my gear.  With very few exceptions, if I've chosen to take a particular item of clothing or equipment on a hunt, it's because I believe that it is the absolute best piece of clothing or equipment for the purpose.  After a few years of hunting, I have refined and honed my hunting clothing and equipment over and over again.  I have finally got the list to a pretty stable state.  Stuff that doesn't work or is not needed has been trimmed from the list, and many items have been changed out for things that work better.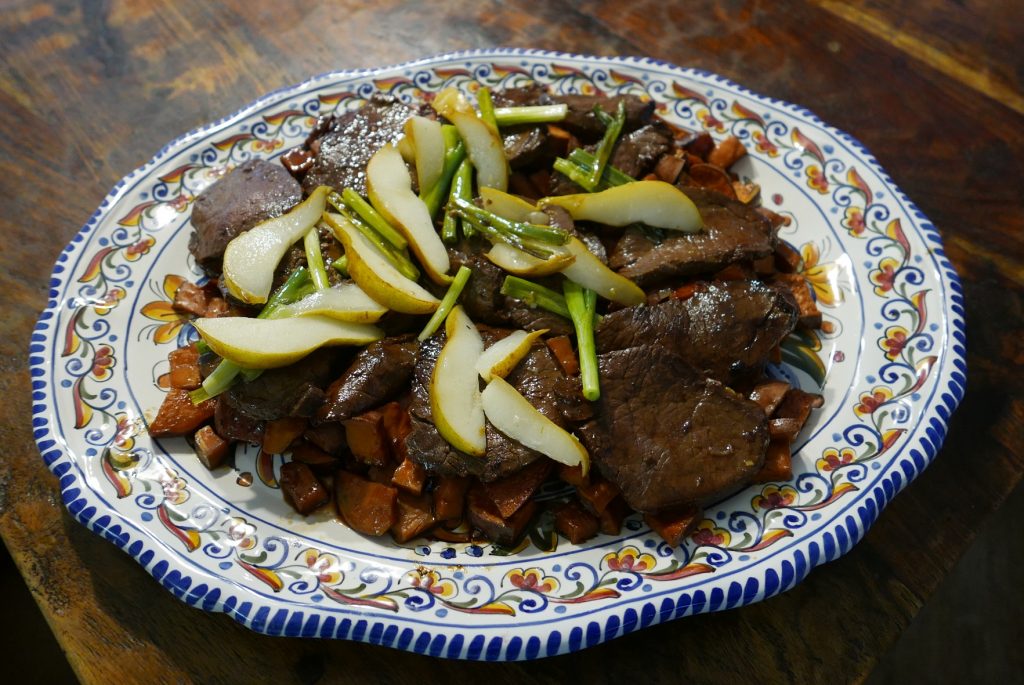 Clothing:
Hunter Orange.
Idaho and Arizona do not require hunter orange.  Colorado and Utah do.  Because of this, when I'm hunting in Utah or Colorado, I don't bother with camo on my upper body.  I just wear orange clothing.   Most folks wear camo and an orange vest.  I opt for just wearing orange clothing and not bothering with a vest.  I'm not convinced that camo clothing makes a huge difference in how easily elk or deer can spot me, particularly at rifle hunting distances.  Furthermore, the orange vests that I have tested with a UV light have glowed like crazy, indicating they have heavy optical brighteners in their dyes.  My orange clothing doesn't glow under a UV light.  (Deer and elk are sensitive to the UV spectrum, so generally, UV optical brighteners are bad because they make you more visible to your prey.)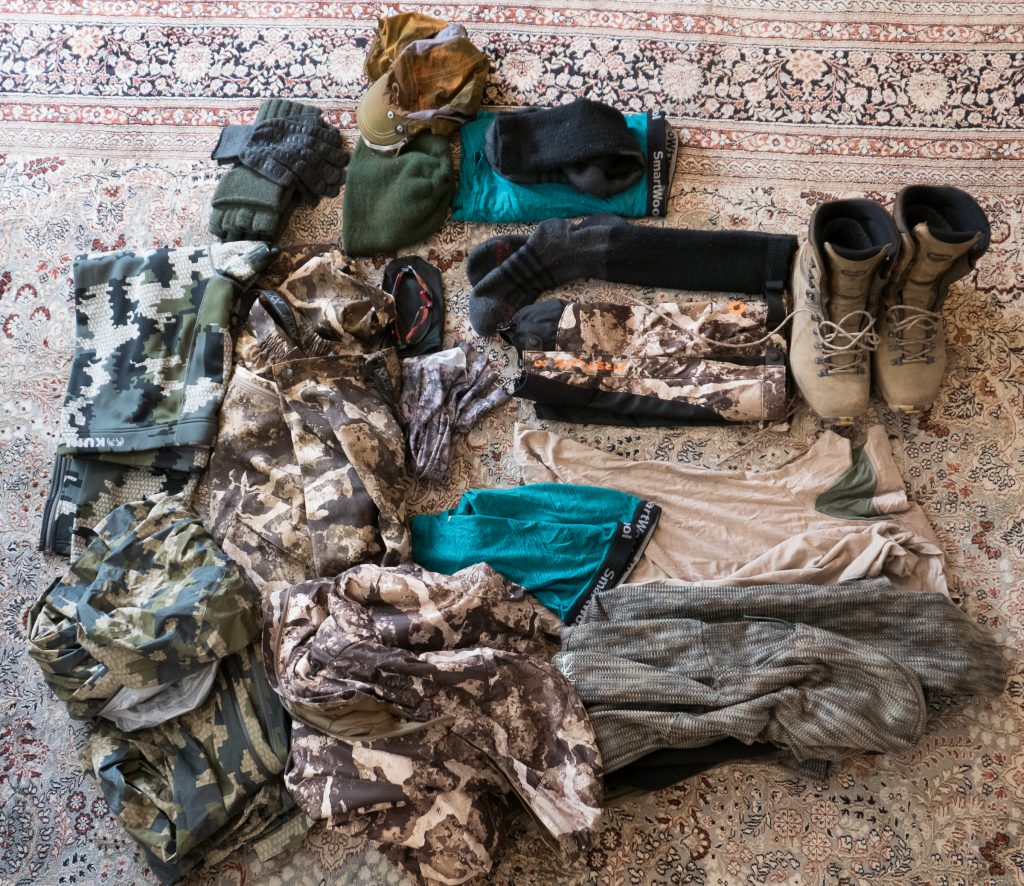 Above:  Camo clothing.  Below, orange clothing.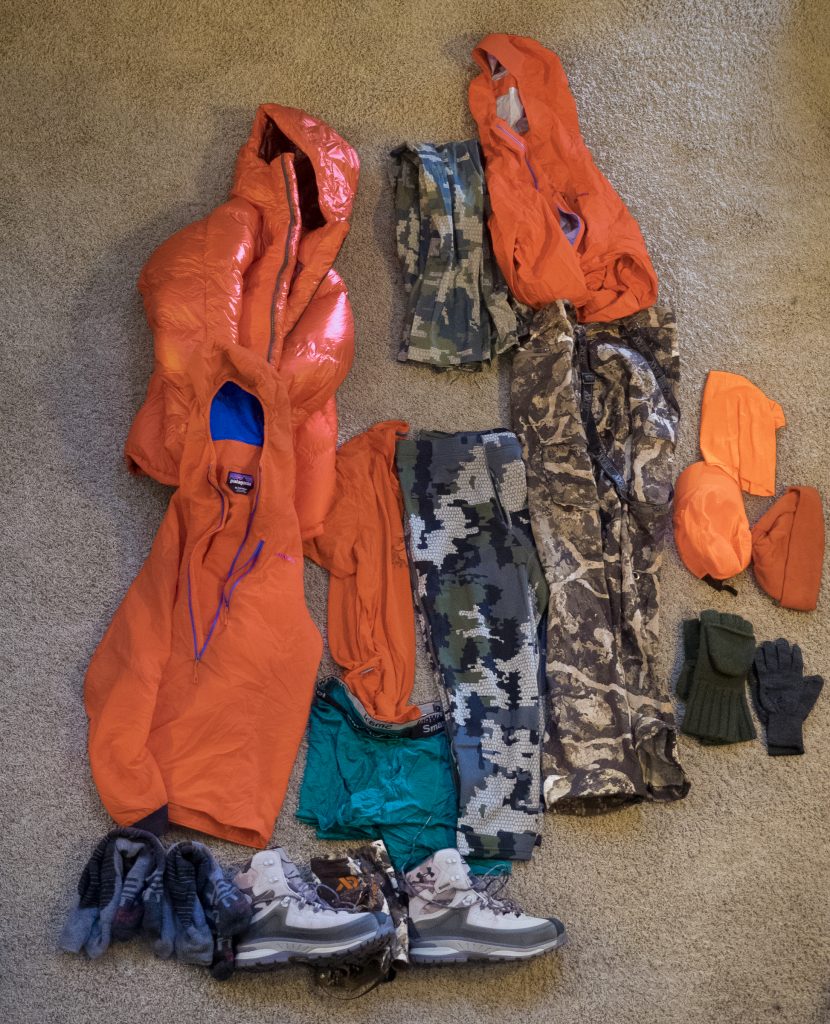 Hands.  
DeFeet Duraglove ET Wool   These are great lightweight gloves made from a blend of synthetic and merino wool.  Good dexterity for fine tasks (including shooting.)  Compatible with phone touch screen.  Good grip.  Durable.
Dachstein boiled wool fingerless, mittens, with fold-over cap.  These are my go-to cold weather hand gear.  They are warm, windproof, water resistant, and easy to convert from fingerless to mitten configuration (just fold over the finger cap.)  These mittens provide warmth for my hands, while the fingerless feature makes them easy to shoot with without removing them.
Simms Freestone fingerless, fold over mittens  This is my warmer weather version of the Dachstein mittens.  Same features in a lighter weight fleece version.
REI Minimalist Rain Mittens.    Waterproof, seam taped rain gear for your hands.  Ultralight fabric is not very durable, but I only wear them if it's raining, and it doesn't rain much where I hunt, so it's not a big problem.
Head
Golightly cashmere Expedition Weight Hat  (Replace with orange Golightly cashmere watch cap for Hunter Orange states.)   These hats are warm and super comfortable.  I wear them in cold conditions and for sleeping.  They are ridiculously expensive, but buying them is a fiscally irresponsible decision I have never regretted.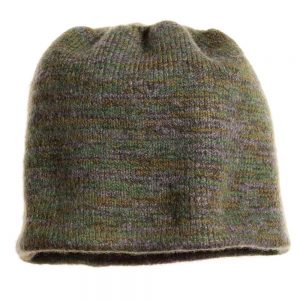 Buff headband/neck gaiter  (orange for Hunter Orange states, camo pattern for Idaho)  This is an indispensable piece of clothing.  It's a sweat band in hot weather, a neck gaiter, and an ear band in cold weather (Sometimes a warm hat is too much, and all I really want is something to keep my ears warm.)
Outdoor Research Sunrunner cap  (I tie-died this cap to give it a more camouflaged look.)  Replace with LL Bean mesh and cool-max hunting cap for Hunter Orange states. (The Bean cap is discontinued, but Headsweats makes a similar cap.)  Keeps the sun out of my eyes, and absorbs sweat.
Julbo Venturi sunglasses with Zebra Light lenses.  These sunglasses are made for trail runners, and they vent well and resist fogging.  The photochromatic "Zebra Light" lenses adjust to allow for good vision in shadows and bright sun and glare.  Comfortable, and durable.
Base layers
Smartwool boxer briefs   Merino wool underwear is low stink and comfortable.  I generally will bring a spare pair on a multi day trip.  (This and my socks are my only spares)
Kuiu Peloton 200 Zip-Off  long john bottoms  These long johns are genius because they have full length zippers that allow you to take them off and put them on without removing your boots.  This is a common feature for raingear, but Kuiu is the only company I know of that does this with base layers.
Ibex merino t-shirt  (orange for Hunter Orange states.)  Low stink.  Comfortable.  Doesn't dry as quickly as synthetic, but more comfortable.  Not durable.  Knit wool fabric won't stand up to bushwhacking very well.
Primary Layer; Pants  
FirstLite Obsidian Pants  These pants made from woven, ripstop merino wool are my choice for early season hunts and any time when I'm not expecting snow or wet conditions.  I don't like belts, and these work well with suspenders.  They have a high waist that fits well and is comfortable under a backpack hip belt.  They are a replacement for the Kenab pants, and have better pockets, and a more durable fabric.  Not at all water resistant.  Not great for snow or wet conditions.  They will get wet and don't dry as fast as some other pants.
Sitka Timberline Pants.      These are my pants of choice for wet and/or snowy conditions.  They have some water resistance and dry quickly.  The seat and knees are waterproof, so you can sit or kneel on snow and not get your butt or knees wet.  Good suspenders.  Comfortable under a pack hip belt.  Knees have removable knee pads which are flexible and comfortable.  High waist and suspenders.
 Primary Layer; Torso
Voormi Blur Jacket   This is my camo layer for Idaho or Arizona, when I'm not worrying about hunter orange requirements.  It's a nice, hooded softshell jacket, made of a merino wool blend.  It is weather resistant, and will shrug off light rain or snow.  It has a wide temperature comfort range.  Two chest pockets and two handwarmer pockets provide ample storage.  The Blur Jacket is one of several similar hunting oriented tops in Voormi's clothing line up.  There is a similar top with many of the same features in a pullover version, the Voormi Two Pocket Hoodie.  All of Voormi's clothing is made in the USA from American sourced materials.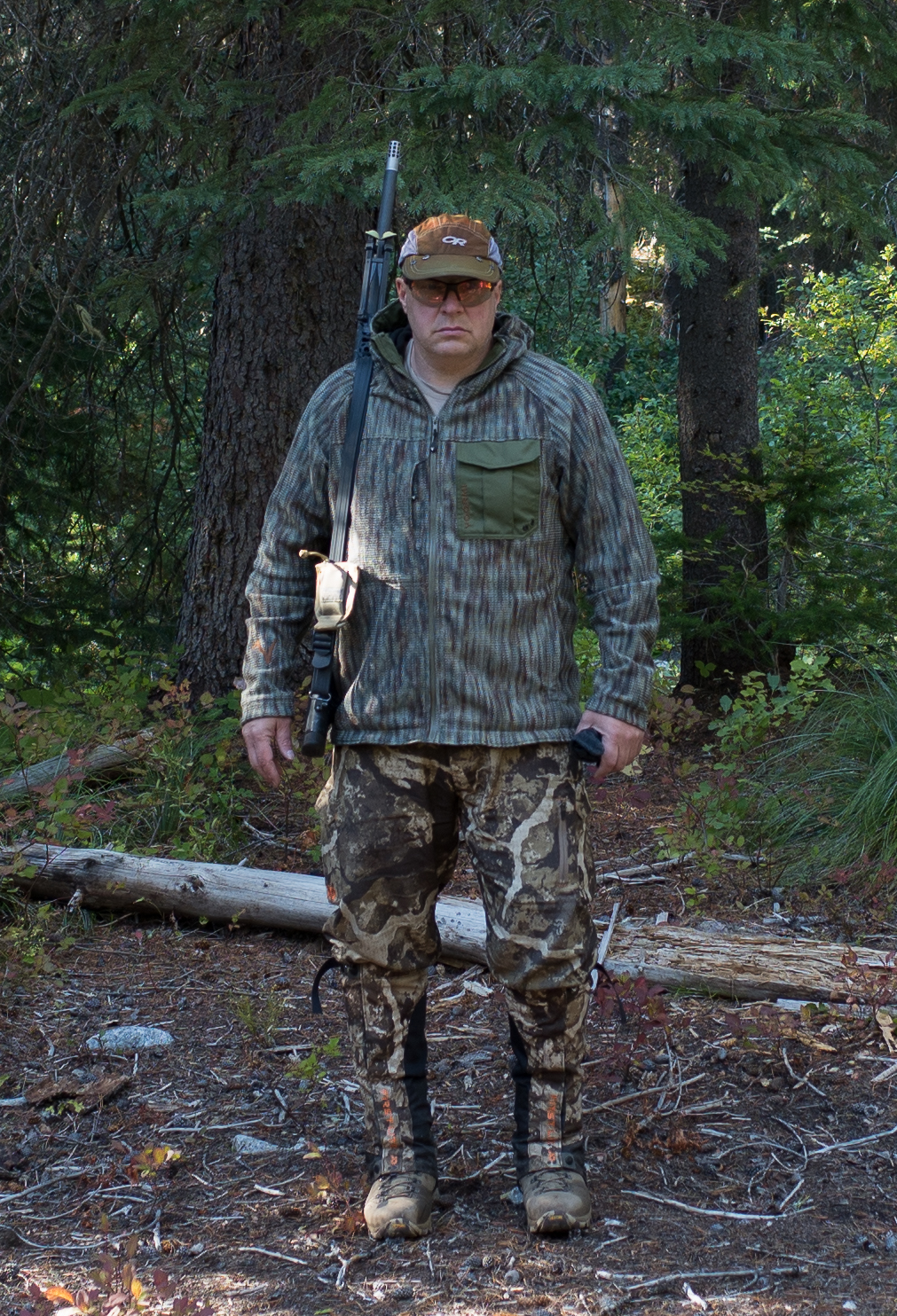 For hunter orange states, the Voormi Blur jacket gets replaced with an orange Patagonia Nano Air Light hoodie.  This is a lightly insulated softshell with excellent breathability and good stretch.  Not as warm or wind resistant as the Voormi Blur, but lighter and better for high exertion activities.
Rain Gear
I don't hunt in any states where it typically rains a lot.  My primary concern with rain gear is that it is light weight.  I don't really care if it's durable, as I don't really plan on wearing it all that often.
Kuiu Teton Rain Jacket   (Replace with Patagonia M10 Anorak for Hunter Orange states)  These are some of the lightest rain jackets available.
Kuiu Teton Rain Pants  Light weight.  Full side zips make them easy on and off without removing boots.
REI Minimalist Rain Mittens.    Waterproof, seam taped rain gear for your hands.  Ultralight fabric is not very durable.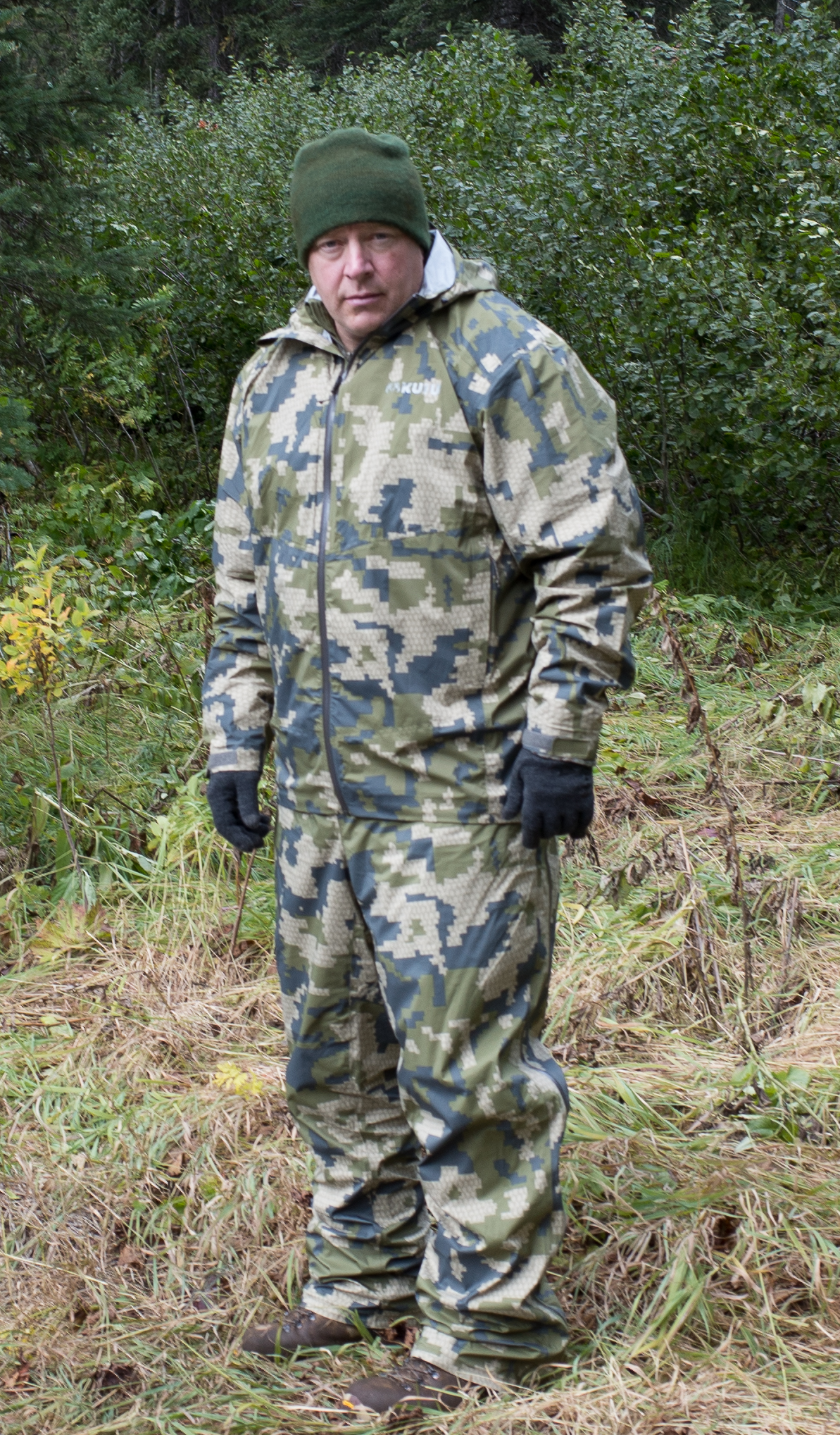 Puffy Jacket  I always carry a puffy jacket.  I want insulation that I can layer on top of my other clothing for times when I am stationary and not generating heat.  Hooded jackets are warmer than non-hooded versions.
FirstLite Uncompahgre Puffy Insulated Jacket This is a nice insulated jacket.  It pairs well with my Voormi Blur softshell, and keeps me warm and toasty when glassing and hanging around camp.
For hunter orange states, I use the Patagonia Fitzroy hooded down parka.  This is a very warm, very light down filled puffy that is great for really cold conditions.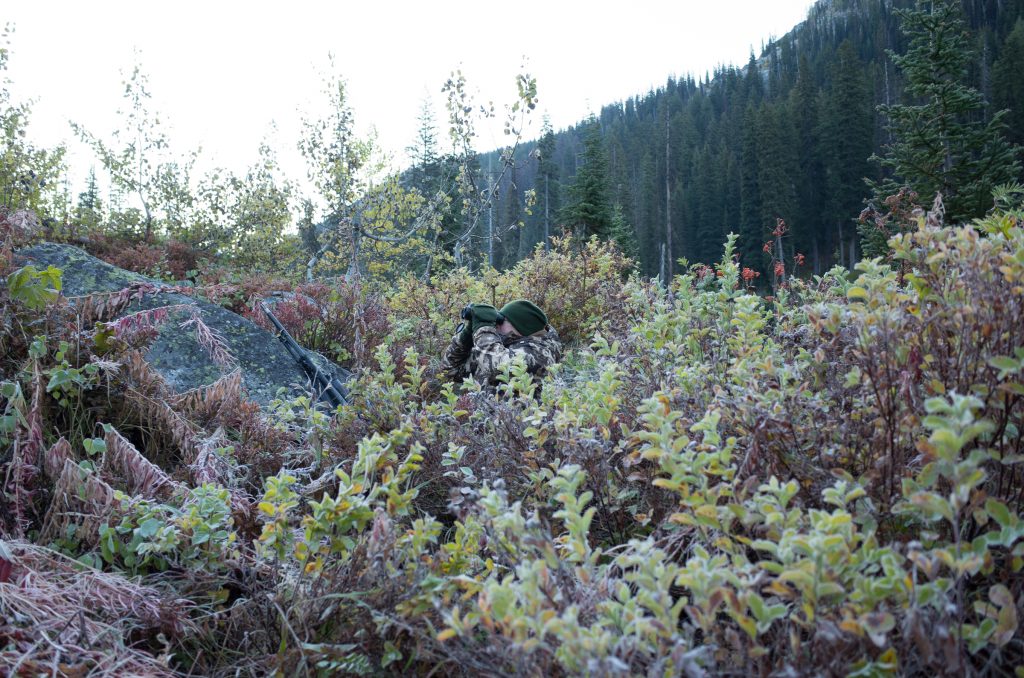 Feet
Gaiters keep rocks and sticks and moisture out of your boots.  I wear the FirstLite Brambler Hunting Gaiter,  except in early season, when I prefer a shorter, more breathable gaiter.  For early season, where snow isn't an issue, and I'm pretty much just keeping rocks and sticks out of my boots, I opt for the Kennetrek Hiking Gaiter.  They are light, stretchy, and breathable.
When I'm backpacking and hiking (not hunting) I seldom wear boots.  I pretty much just wear lightweight trail running shoes.  However, after trying to wear trail running shoes while hunting, I've found that I prefer more substantial footwear.  When I'm hunting, I tend to travel off trail most of the time.  Boots provide more protection and comfort off trail.  The loads I'm carrying (especially if I'm packing out meat) also tend to be heavier than typical backpacking loads, and I find that I want a bit more support than trail running shoes provide.
My primary boot of choice is the Zamberlan Lynx.   These are high quality, Italian boots that are waterproof, comfortable, and great for cool to cold weather.  One thing I really appreciate about these boots is that they come in both regular and wide widths.  I have a somewhat wide foot, and the wide width fits me perfectly.  They are very nimble, with a grippy sole for scrambling over rocks.  Their mid-height construction doesn't bind or constrict.  These are great boots, and I use them for everything except hot, early season conditions.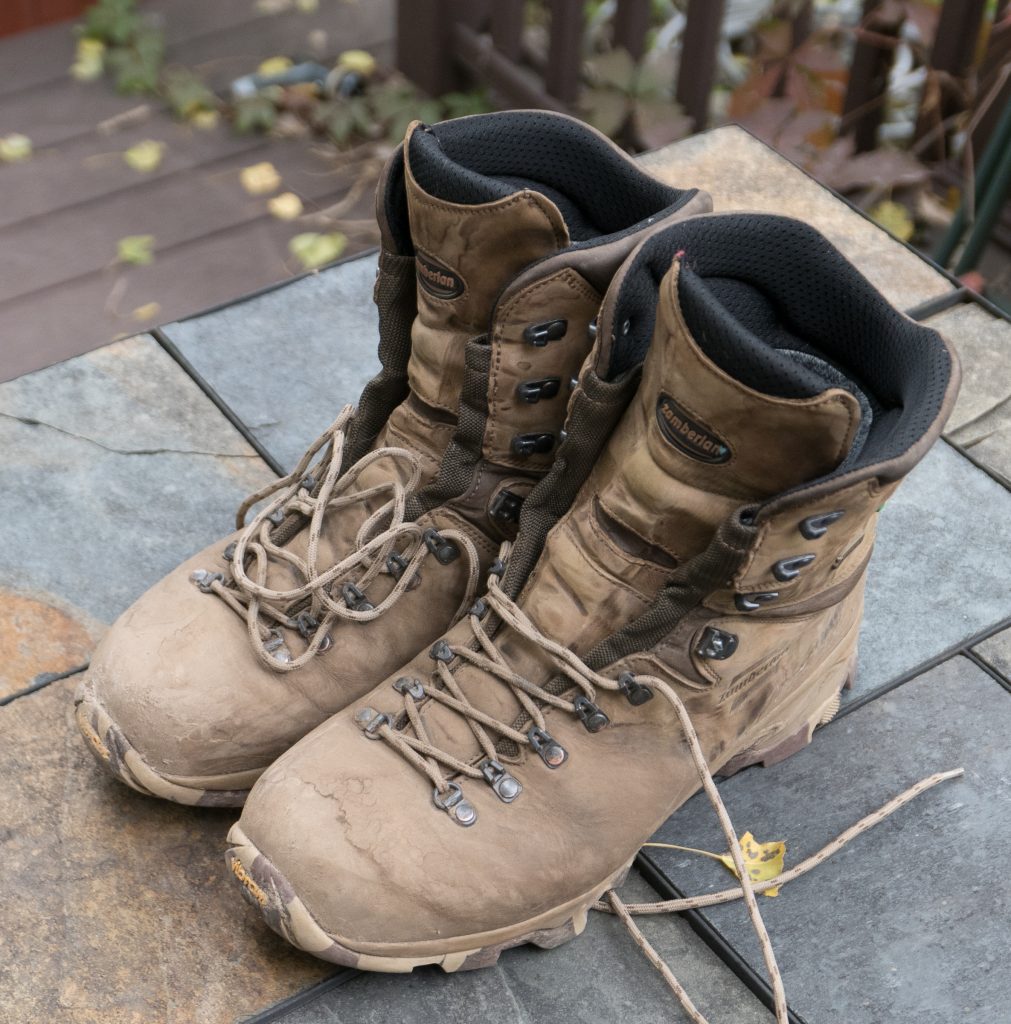 The Keene Liberty Ridge hiking boots are my choice for early season warmer conditions.  They are a bit lighter than the Zamberlans, but still provide good support.  They are water proof.  They don't come in different widths, but they have a relatively wide fore foot, so they fit my feet well.  As a bonus, they are made in the United States.
As with my merino boxer briefs, I generally bring a spare pair of socks.  I wear merino blend socks pretty much exclusively.  Nothing surpasses wool for sock material.
With my Keen boots, I wear Lorpen Merino hiking socks.  These socks are comfortable, durable, and maintain their shape well.
With the Zamberlan boots, I wear Patagonia Expedition weight merino hiking socks.  I don't think that these socks are still made by Patagonia, which is too bad, as they are great socks, with good cushioning and excellent warmth.  A good warm, thick sock like these allows my feet to stay warm and comfortable in cold temperatures.  I find that even in more mild conditions, the thick terry-looped merino interior absorbs any sweat from my feet and my feet stay comfortable and don't feel too hot.
Item weights:
| | |
| --- | --- |
| Clothing: | |
| Julbo Venturi sunglasses with Zebra light lenses and cloth bag | 1.4 |
| Smartwool Merino boxer briefs (2 pair) 2.6 ounces each | 5.6 |
| Sitka Timberline Pants | 32.7 |
| First Lite Obsidian Pants | 22.6 |
| Kuiu Peloton 200 zip-off bottoms | 8.5 |
| Merino t-shirt | 5.5 |
| Voormi Blur Jacket | 26.3 |
| Orange Patagonia Nano Air light hoodie | 11.8 |
| Expedition weight Cashmere Hat (Golightly Cashmere) | 5.3 |
| Orange Cashmere Watch Hat (Golightly Cashmere) | 3.1 |
| Orange Buff | 1.3 |
| Outdoor Research Sunrunner Hat | 2.9 |
| Orange Cap (LL Bean Technical Upland Cap) | 2.2 |
| Keene Liberty Ridge Mid height Hunting Boots | 51.4 |
| Zamberlan Lynx Gtx Mid height Hunting Boots | 64.4 |
| Lorpen mid weight wool hiking socks x2 (2.8 ounces per pair) | 5.6 |
| Patagonia Expedition wool socks x2 (7 ounces per pair) | 14 |
| DeFeet ET Dura glove | 2.2 |
| Dachstein fingerless mittens with fold over cap | 5.3 |
| REI eVent rain mitts | 1.6 |
| First Lite Brambler gaiters | 11 |
| Kennetrek Hiking gaiters | 5.5 |
| Patagonia Fitzroy Down Parka (Orange) | 21.1 |
| First Lite Umcompagre puffy jacket with hood | 22 |
| Orange Patagonia M10 Anorak | 8 |
| Kuiu Teton Rain Jacket | 9.6 |
| Kuiu Teton Rain Pants | 6.9 |