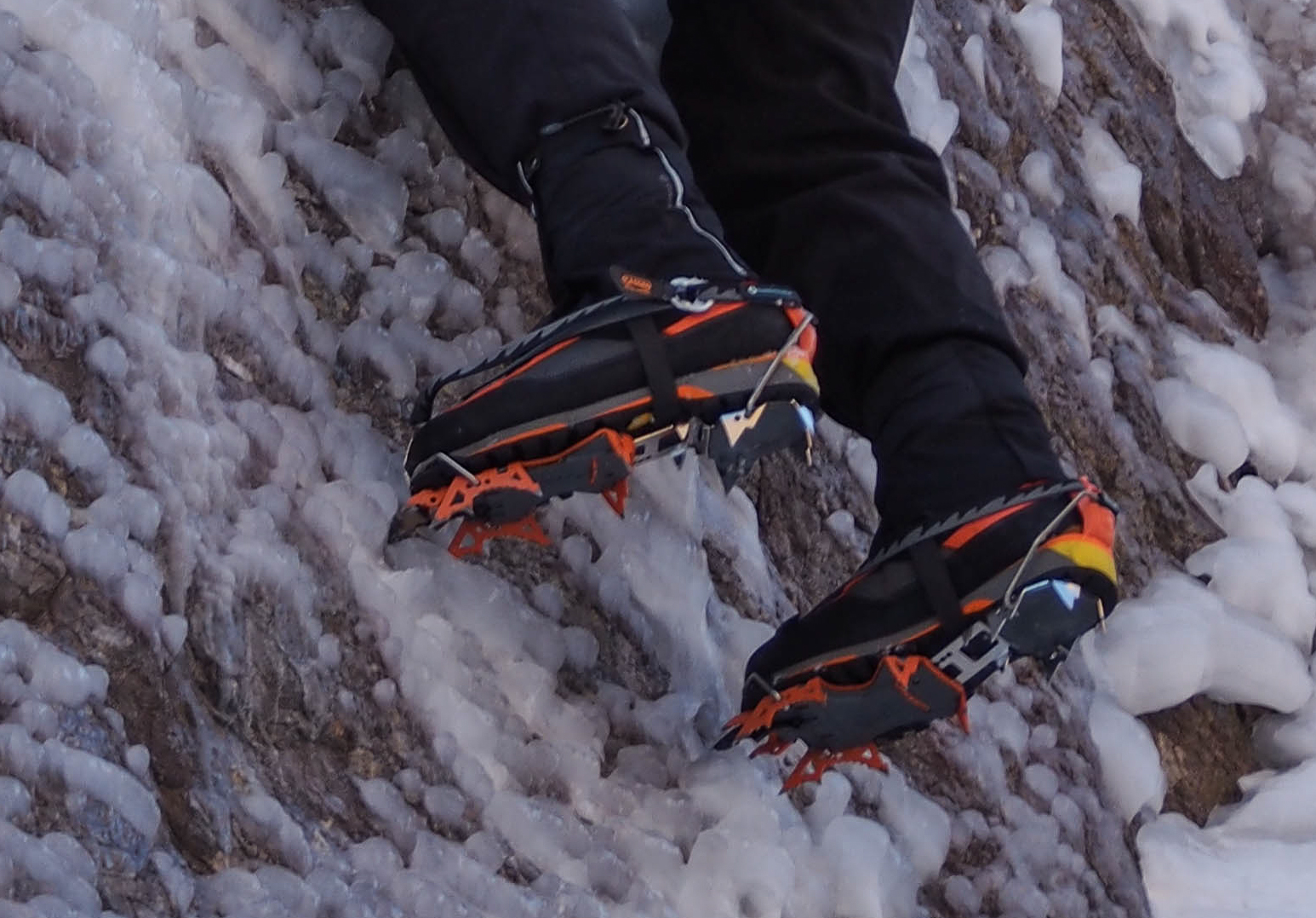 The Cassin Bladrunner crampons are a new modular design that is supposed to provide both maximum versatility and excellent performance.   The design allows the crampons to be set up with either horizontal or vertical front points, (or, I suppose, one of each,) and there's a great deal of choice on how the front points are configured.  You can use single front points or double front points, and you have a wide range of options as to how you want to mount them.  (Single offset, double closely spaced, single centered, double offset wide apart, etc.)  The relative length of the two points is fixed, however, so if you want to climb with one short and one long front point, you're out of luck.
The Bladerunner also gives a choice of toe attachment options.  You can use a standard wire toe bail, or change it out for a nylon front strap (like Grivel's "Newmatic" option.)  The standard heel lever is used in both cases.  (There is no option for replacing the heel lever with a heel strap.)  One thing I have noticed with the front strap option, is that the front points end up quite long.  When the strap is mounted as far forward as it will possibly go, I still end up with 2 inches of front point extending beyond the boot toe.  This is because the strap is a bit on the narrow side, so my fat toe'ed boots don't extend very far forward in the strap.  Smaller boots with narrower toes may have more of an adjustment range.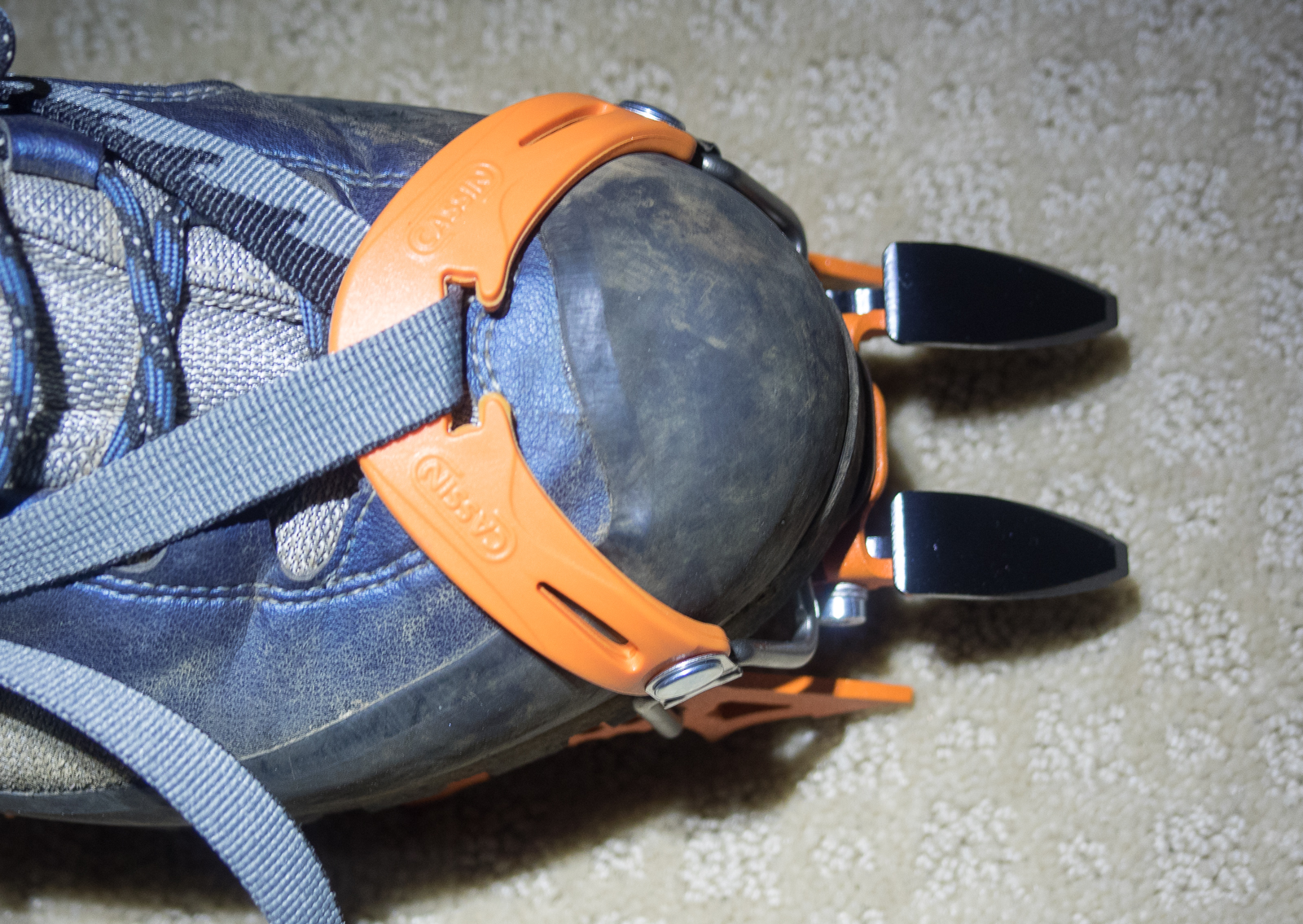 The most obvious competitor for the Bladerunner is the Petzl Lynx, which also features interchangeable (vertical and horizontal) front points and interchangeable toe binding options.  There are a few design features that set the Bladerunner apart from the Lynx, and other crampons on the market.  Most modern technical crampons are made from three pieces: a front piece, a heel piece, and a connecting bar that holds the two together.  The Bladerunner is made from two pieces.  The front piece, and a heel piece that integrates a wide connecting bar.  This wide connecting bar section fits rather solidly into the front piece, making the Bladerunner a bit more stiff and rigid than a typical three piece design.
The rear portion of the Bladerunner also has a unique feature I've not seen on any other crampon.  The wide connecting bar has an abrupt bend in it, that's designed to hook on the underside of the heel of your boot, providing a tighter fit.  This means that careful attention needs to be paid to the sizing of the Bladerunner in order to achieve the optimum fit.
Fit and Sizing: 
The Bladerunner comes in two sizes.  The variation is only in the rear piece however, as the front section is the same for both sizes.  The Camp/Cassin web site says that Size 1 fits boots that are Euro size 37-46, and Size 2 fits boots that are Euro size 40-49.  The characteristics of the connecting bar, however, make the length of the sole's heel the most important consideration when getting a decent fit with these crampons.
Here are some pictures of the Bladerunner crampons on a pair of large boots (Spantik) and somewhat low volume boots (Scarpa Rebel Ultra.)  As you can see, getting the right fit depends on matching the rear piece to the length of your heel, and to some extent, the depth of the heel.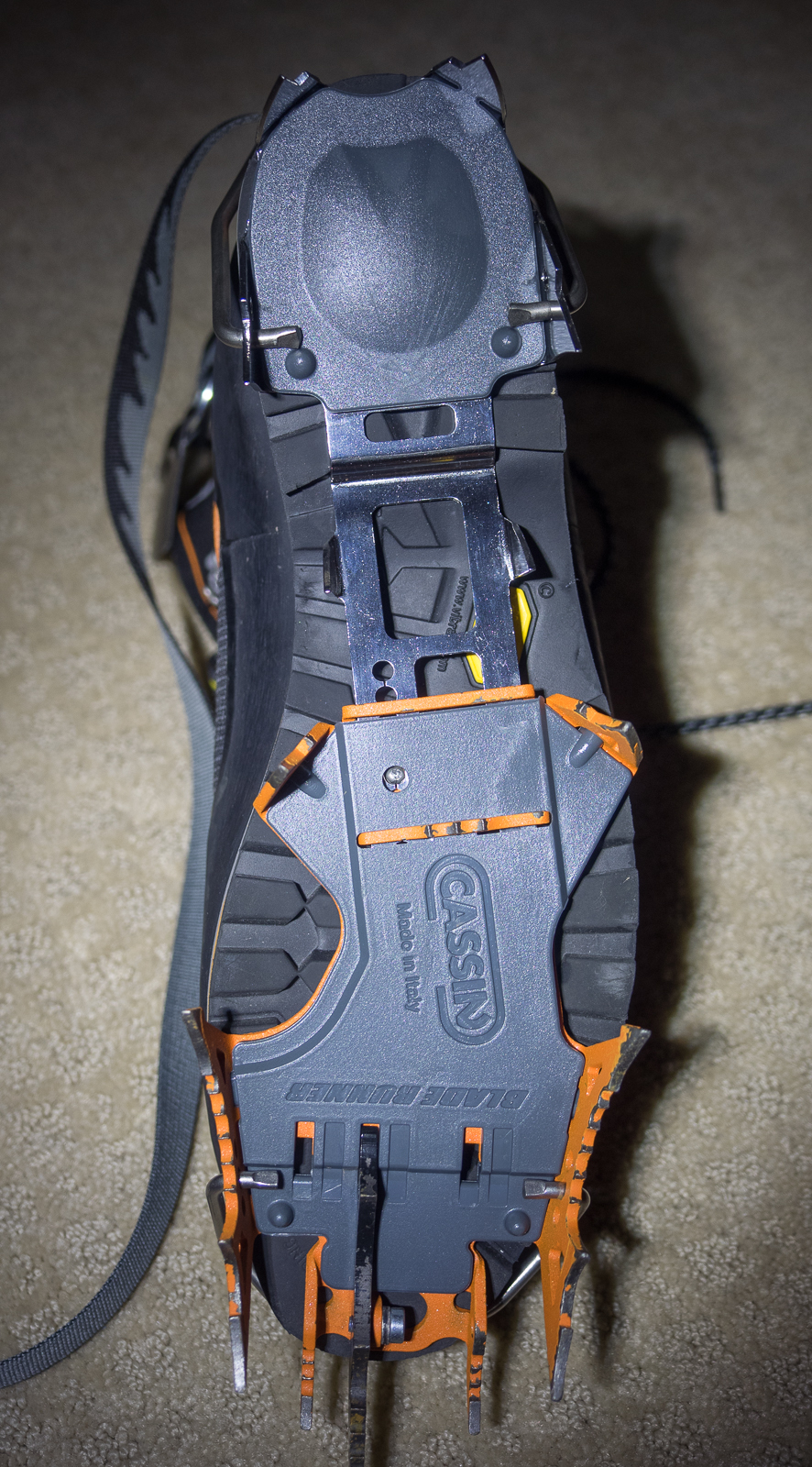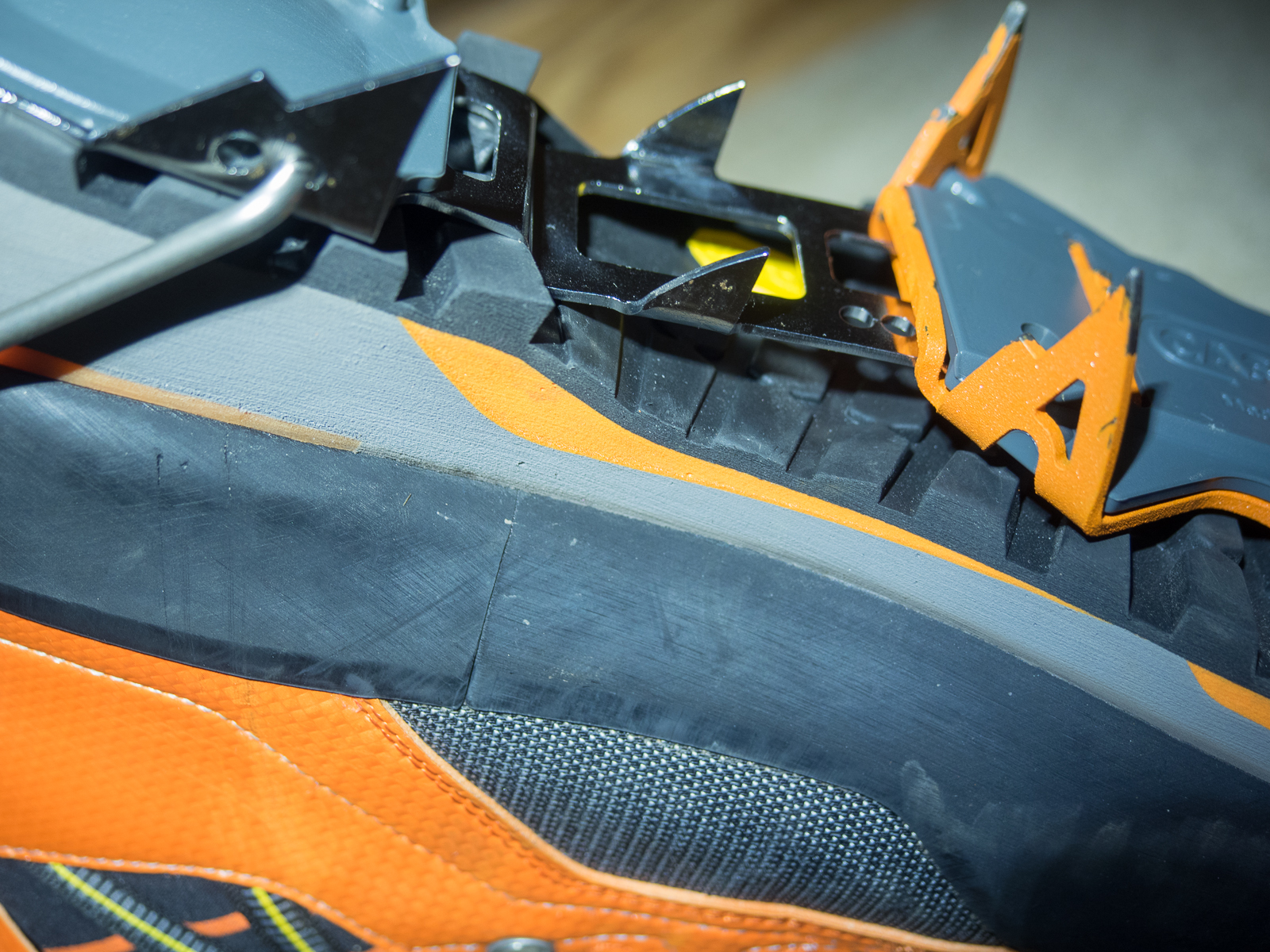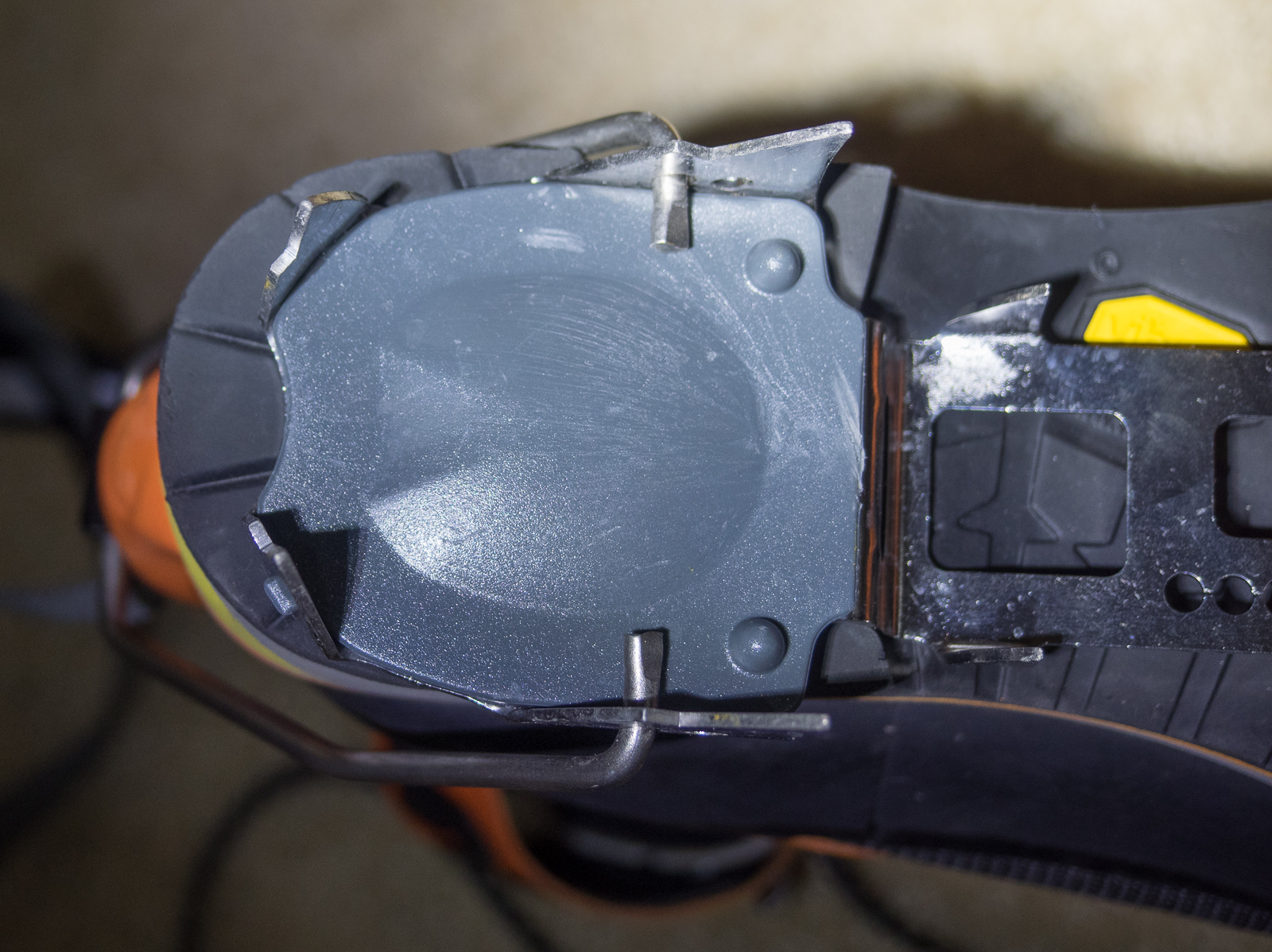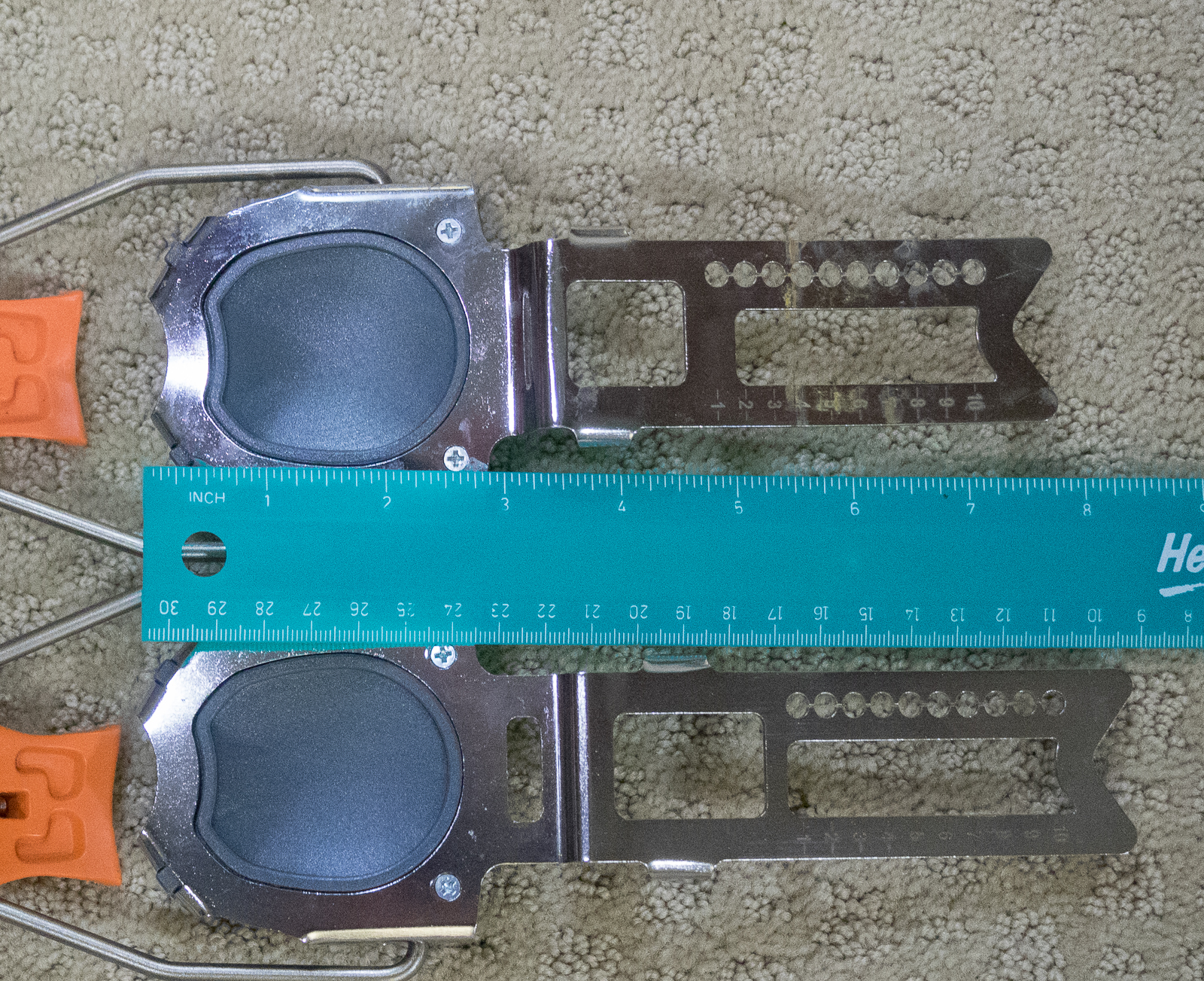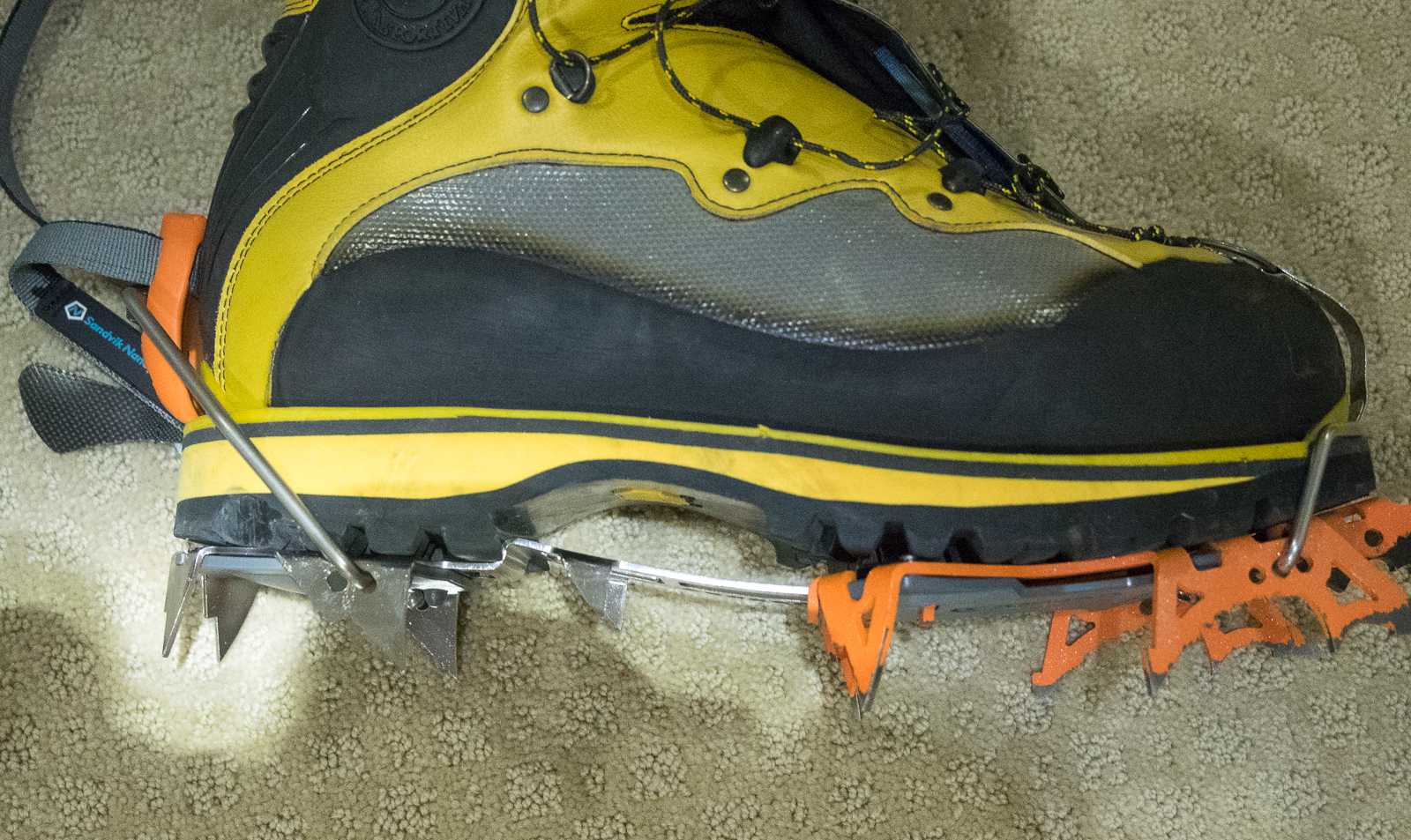 Performance and weight:
Although I have both the horizontal and vertical front points, I have not yet used the horizontal points. They have a broad, chisel profile that will likely give good purchase in snow and neve. However, I can't speak from experience on this issue.
I have used the vertical points (in my preferred offset mono-point configuration) on both ice and mixed routes. I've been very pleased with the Bladerunner's performance. The crampons are very solid and secure, and I don't feel any slop or vibration when climbing on them. They are very good technical crampons.
Weight of a single Bladerunner crampon is 1 pound, 2 ounces in monopoint configuration with wire toe bail, and 1 pound, 4.1 ounces in dual alpine front point configuration with the plastic toe strap.  This is not particularly light weight, but not too far off of similar modular crampons.  For comparison, the Petzl Lynx configured with two front points and nylon toe strap is 1 pound 3.4 ounces.  A Black Diamond Cyborg with a monopoint and wire toe bail is 1 pound, 2.1 ounces.  A non-modular Grivel Aiir Tech crampon with "New-matic" nylon toe strap is 1 pound, 1 ounce.
The crampons come with anti-balling plates that seem to work well, and the front points are easy to swap out, as changing front points doesn't require disassembling the whole crampon as with some other modular crampons I've used.
Conclusions:
I've only owned the Bladerunners for a couple of months so far, and have only used them for water ice climbing and mixed climbing.  So, my conclusions are not based on long term use, or use for alpine climbing on snow and neve.  I like them very much as a technical water ice/mixed crampon.  They fit my boots well, and there is very little slop or vibration in use.  The aggressive secondary points are well suited for steep ice.  The only issue is their price.  MSRP for these crampons is $350.  That's a lot.  I'm not sure I like them that much better than other (less expensive) technical crampons I've used.
I suppose that the price premium could be justified by the idea that this single crampon will do everything, because of the various configurations of front points and bindings.  If you didn't own any other crampons at all, and needed a crampon that could do everything, then maybe it would make sense.  However, I have a whole box of various crampons, and I'm not fully convinced that these Bladerunnrs are going to replace my Grivel Air Tech crampons for alpine climbing.  I like the lighter weight of the Air Techs, and the New-Matic binding Air Techs seem to fit my boots better than the nylon toe strap configuration of the Bladerunner.
So, I guess I'm still on the fence regarding the Bladerunners.  They have become my go-to technical crampon.  I'm planning on taking them to the Cascades this summer, where they will get a proper testing in the alpine environment.  I will have to wait until that trip to really evaluate their versatility as a "quiver of one" do everything crampon.
Here is a link to a Cassin VIDEO showing the details of the Bladerunner crampons
Some manufacturer pictures of the Bladerunner in Alpine and Monopoint modes: