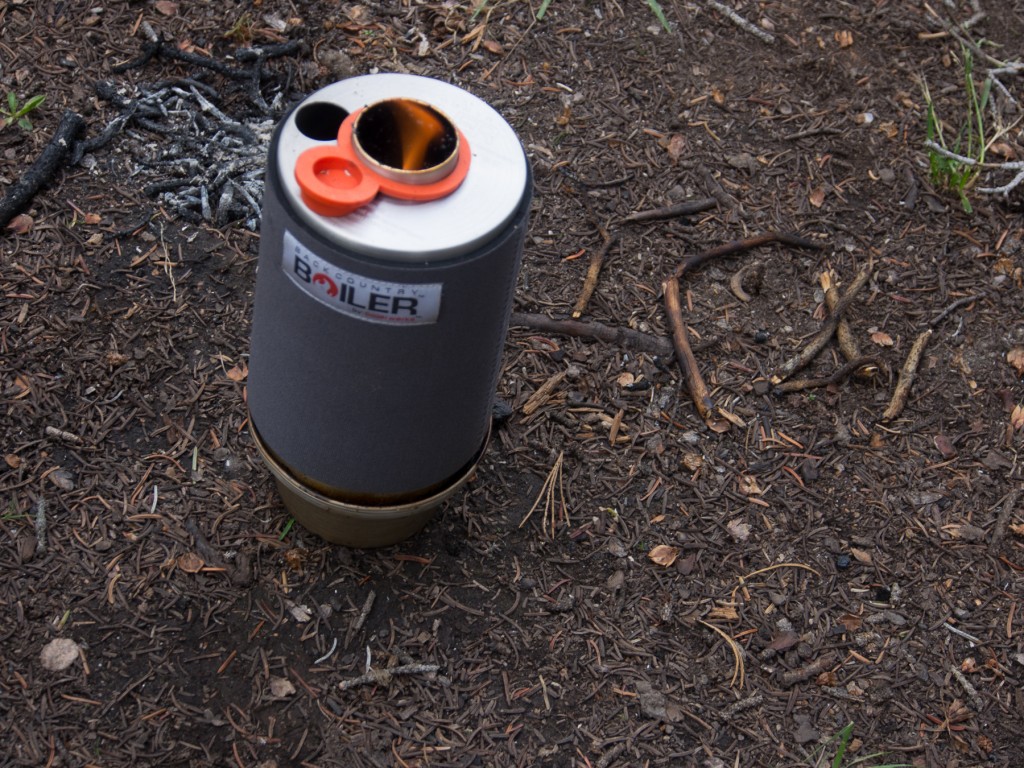 The Backcountry Boiler is an updated version of a very old design, often referred to as a Storm Kettle, Chimney Kettle, Shepherd's Kettle, or a Kelly Kettle.  A chimney kettle consists of two parts, a bowl where you build a small fire, and an upper portion that is a chimney surrounded by a hollow vessel where you put the water.  The genius of this design is that the heat from the small fire is very efficiently transferred to the surrounding water via the walls of the chimney, allowing you to heat water using a minimum amount of fuel.
Youtube link for a demonstration of how to use it can be found HERE. 
I have owned a large, British Made Storm Kettle for many years, and I have used it mostly for car camping, as it's too big and bulky for backpacking.  It's a great way to heat up water for hot chocolate and the like.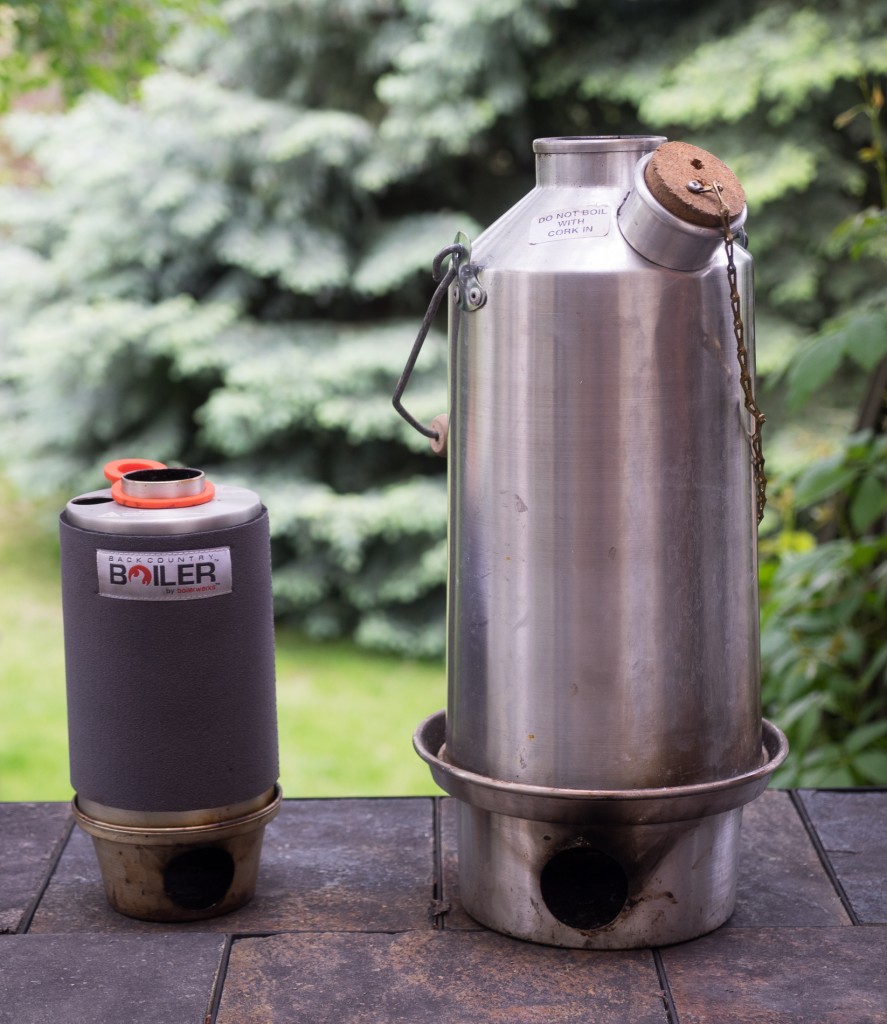 A few years back, an ultralight hiker named David Montgomery decided to make a lightweight, compact version of a chimney kettle that would be suitable for backpacking.  Some history of his work on the project can be found on the Backcountry Boiler Web Site. The result of his efforts is the Backcountry Boiler.  It's an aluminum chimney kettle with an insulated neoprene cozy for easy handling when hot, and a a silicone stopper to seal it up when not heating water, which allows it to be used as a canteen as well as a stove.
Total weight for the Backcountry Boiler is 7.7 ounces, including the stuff sack.  (When new, it may have been a tiny bit lighter than that, but mine has a thick layer of carbon, soot and glaze on it from long, hard use.)
There are some optional accessories for the Backcountry boiler, all of which are similarly lightweight.  There is a piece of fireproof felt that weighs 0.4 ounces.  This felt allows the Backcountry boiler to be used with alcohol fuel instead of sticks and twigs.  About 25ml (slightly less than 1 fluid ounce) of alcohol will boil about 16 ounces of water.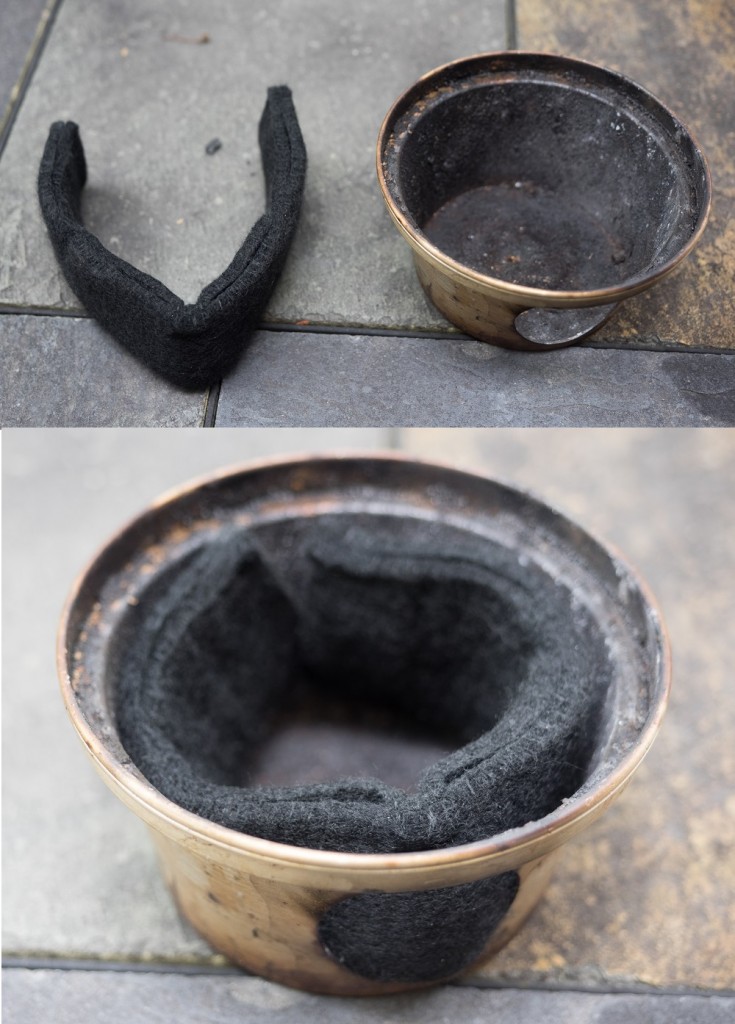 If you are using alcohol fuel, an easy way to carry the alcohol is in a vial that comes with Camelback Elixirs.  Just buy the elixer, dump the elixir tablets into a ziplock bag, and use the vial for a fuel container.  The vial holds about 60 ml of fuel, which is enough for about two boils.  The vial fits nicely in the chimney of the Boiler, so it takes up no additional pack space.  The vial has a desiccant capsule in the lid, so take out the desiccant before you use it to hold fuel.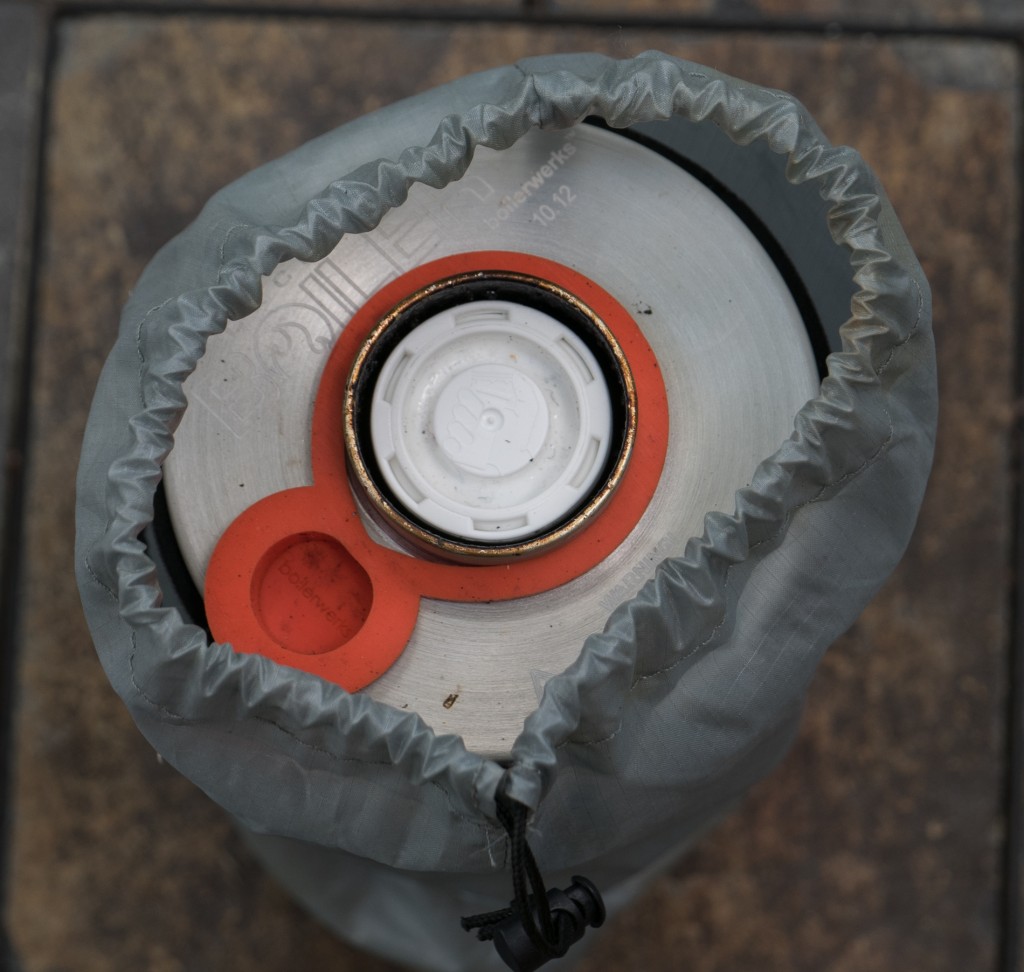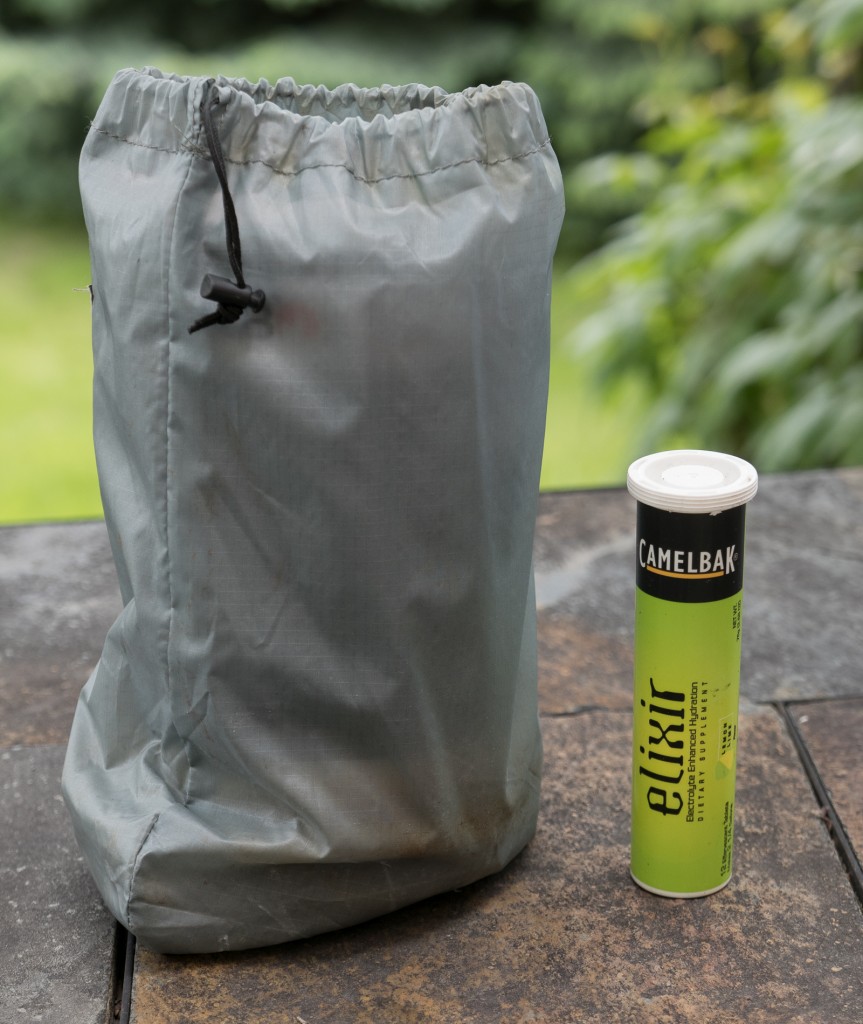 There is also a pot stand/cup holder accessory that can be used to support a cup or small pot on top of the boiler, allowing you to warm up a cup of soup or the like while the water inside the boiler heats up.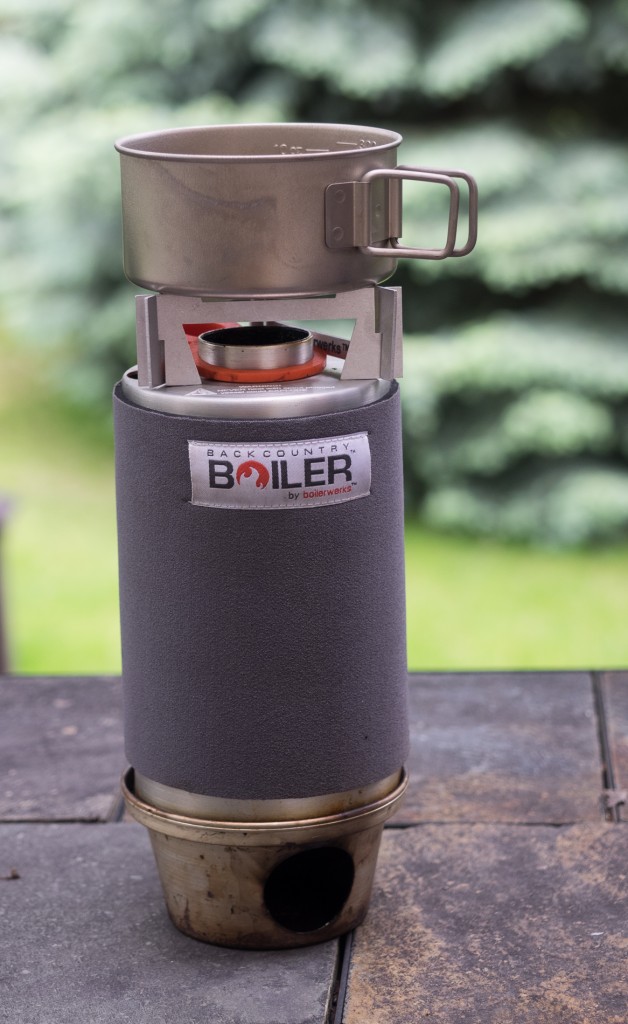 To heat up water, you first build a small fire in the fire bowl.  Once the fire is lit, you put the chimney on top of the fire bowl, and keep the fire going by feeding small sticks into the top of the chimney. (You can also feed sticks into the hole in the side of the fire bowl, but dropping them down the chimney works better.)  The chimney effect creates a nice draft and draws oxygen through the fire.  The heat transfers rapidly into the water that surrounds the chimney like a jacket.  I've found that once I've got a small fire going, heating up 16 ounces of water takes about 5 minutes or so.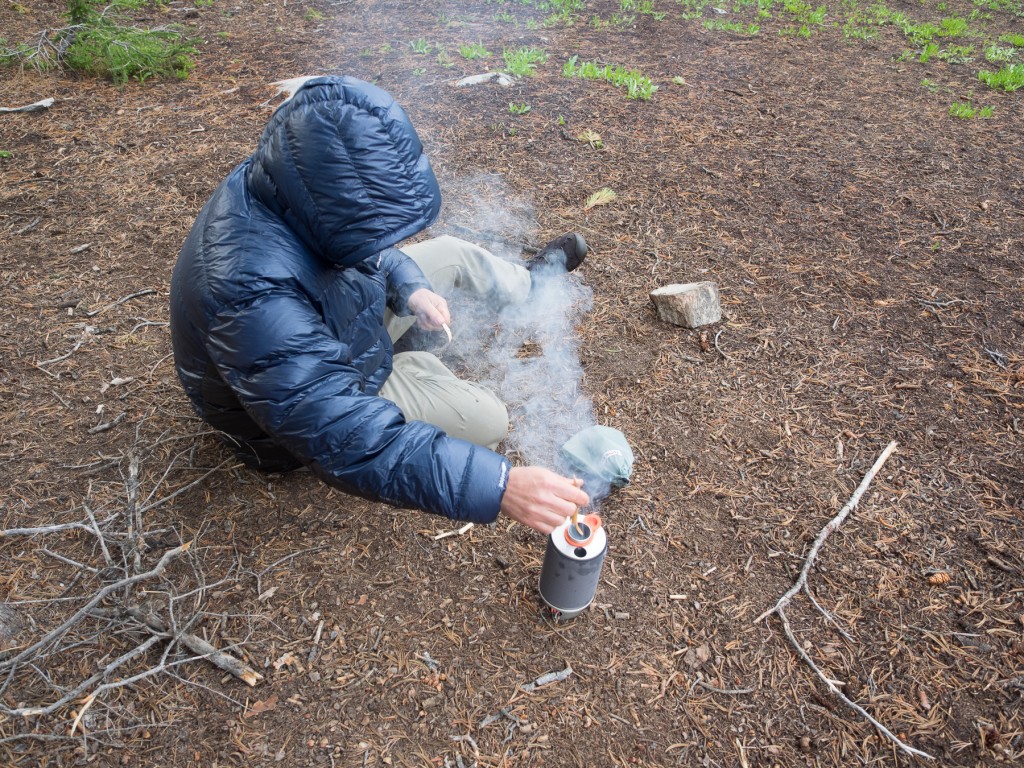 The Backcountry Boiler is designed to boil 16 ounces of water at a time, which is enough for about two freeze dried meals.  (If you're using the boiler as a canteen for water transportation and storage instead of heating, you can fill it up a bit more and carry about 23 ounces of water in it.)
The design is remarkably wind resistant, and assuming you've got some dry fuel, will function in pretty much any weather.
If I am just heating up water for one or two people, the Backcountry boiler is my go-to lightweight backpacking stove for warmer weather.  (It's not really suitable for winter because the design doesn't work well for melting snow.)  I generally take a few tinder tabs to make starting fires easier, and will typically carry the fire felt and a few ounces of alcohol fuel for times when dry fuel is not available, or I'm too tired/lazy to start a fire, or I'm above tree line and no wood at all is available.
The Backcountry Boiler is one of the the most weight efficient camp cooking stoves I've ever used.  With the boiler, stuff sack, the fire felt, the pot stand, 10 tinder tabs, and the Elixir container with 60ml of fuel, the entire kit weighs 10.7 ounces.  While there are a number of alcohol stoves on the market that are lighter than the Backcountry Boiler, this stove is designed to be used primarily with sticks and twigs, obviating the need to carry liquid fuel in most cases.  So, for longer trips especially, where the weight of liquid or gas fuel begins to add up, the Backcountry Boiler is a true ultralight solution.
The Backcountry Boiler is a very elegant piece of kit, and I can recommend it highly for those who are looking to shave some weight off of their backpacking load, especially for longer trips, where the weight saving benefits of using found fuel are much greater.
Sadly, it appears that the Backcountry Boiler is no longer available, and that the company that produced it (Boilerworks) is out of business.