I am becoming more and more convinced that belay/rappel devices with assisted braking are a big improvement over traditional ATC or Reverso type belay/rappel devices.
Assisted braking devices are not fully auto-locking like a Gri Gri, but provide significant extra friction when catching a falling leader or rappelling, when compared with an ATC or Reverso.  I really like the added security of the braking assist.  When catching lead fall, the effort needed to control the rope running through the device is minimal, and there is very little rope slippage.  Similarly, when rappelling, it's very easy to stop yourself while on rappel.  Generally, you can just take your hand off the device, and it stops itself.  In most circumstances, this eliminates the need for a prussik back up when rappelling.
My first assisted braking device was the Mammut Smart Alpine (see my initial review of that device HERE.)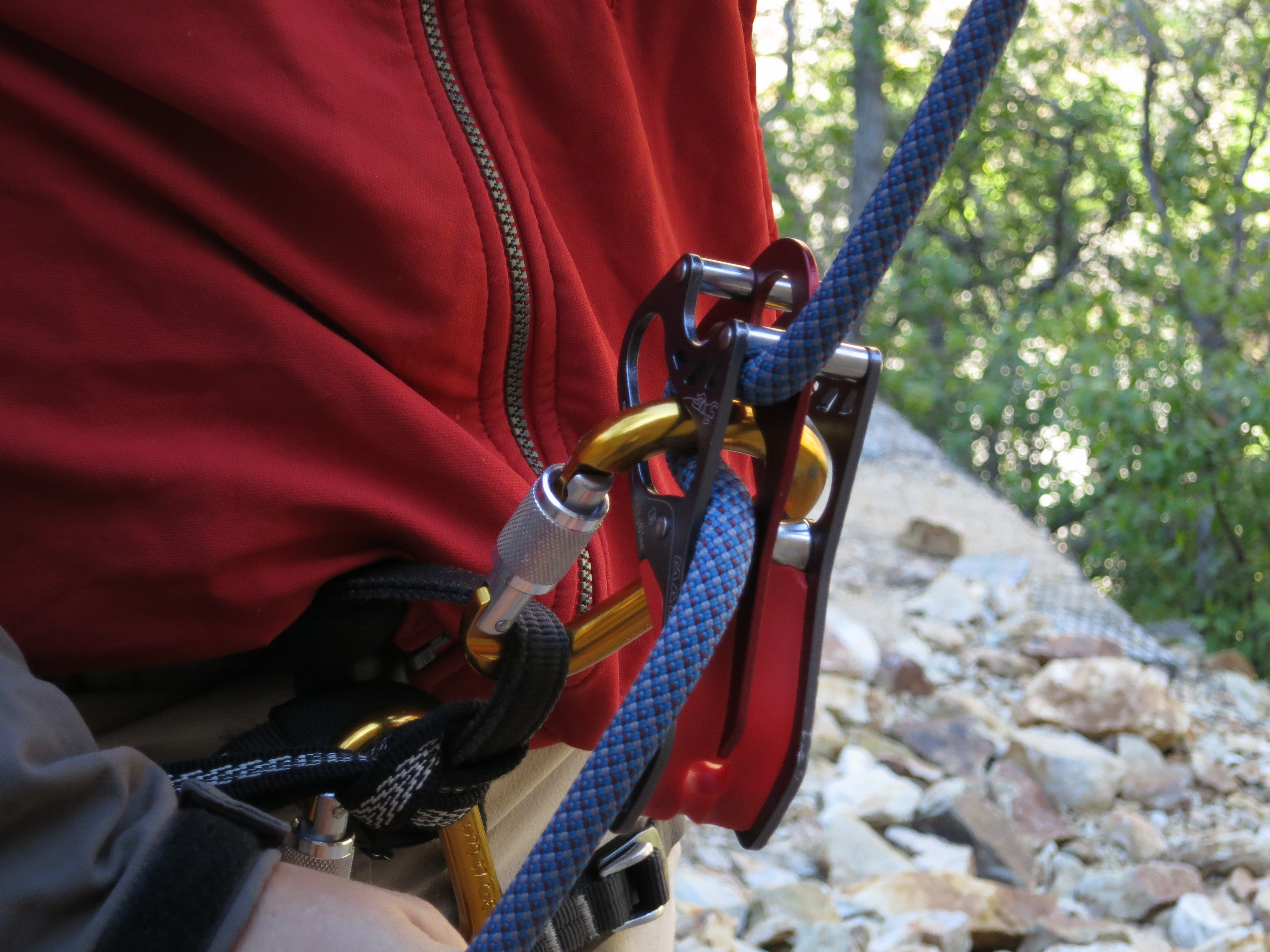 The Smart Alpine is a pretty good design, but it has a few flaws that have led me to abandon it in favor of some newer devices:  First, the Smart Alpine tends to lock up too easily when feeding out rope.  It also had a habit of allowing thinner ropes to migrate under the separator bar, causing the ropes to get stuck, and a somewhat jerky rappel mode when in auto-lock configuration.  I put up with these issues because of the enhanced safety of the assisted braking, but these flaws made me interested in trying out other assisted braking options.
Enter the Edelrid Mega Jul and Micro Jul:
My next trial of an assisted braking device was the Mega Jul and Micro Jul by Edelrid.  These devices are identical in design, but the Mega Jul is designed for ropes of diameter from 7.8mm to 10.5mm, while the smaller Micro Jul is made for skinny ropes from 6.9 to 8.5mm.
My first impressions using these devices were so good that I bought 2 Mega Juls and 2 Micro Jules.  They seemed like they would replace all my other belay devices.  However, I was somewhat disappointed and worried when the thumb cables failed, first on my Micro Jul, and then on a Mega Jul.  I sent all four of them back to the Edelrid distributor, and they eventually replaced them with new ones that have improved connection between the device and the cable.
The new and improved Mega Jul and Micro Jul devices seem to have solved the problem of the weak cable attachment, as I have used them without any failures.  These devices are really very good.  They are made of steel instead of aluminum, so they can be made very compact and still retain the needed strength.  The Mega Jul is very compact and weighs only 2.3 ounces.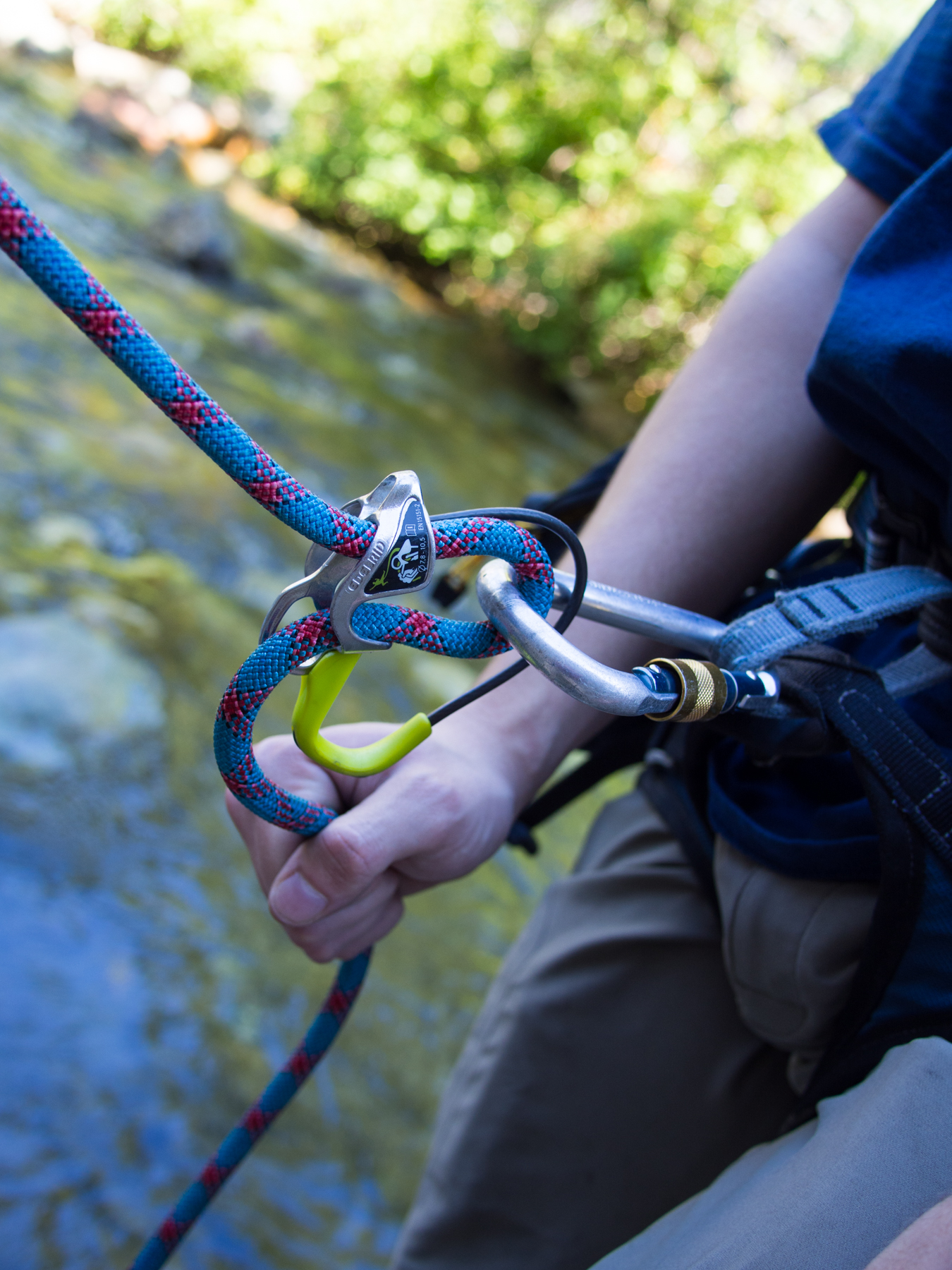 In spite of its small size, the Mega Jul is a very versatile device.  It provides a very effective assisted braking function while lead belaying, can be used in guide mode to belay one or two seconds (with an autoblock function that locks up automatically in the event they weight the rope,) and can be used to rappel in either an assisted braking mode, or in a normal mode similar to a regular ATC or Reverso.
Paying out rope to the leader is pretty easy.  I found the Mega Jul (and Micro Jul) to be easier to use for lead belaying than the Alpine Smart.  They hang up less often than the Alpine Smart, and are smoother when paying out rope.  Lowering a leader and rappelling are about the same as the Alpine Smart.  Both devices are adequate, but are not super smooth.  They tend to be a bit jerky when lowering or rappelling.  Rappelling is greatly facilitated by using a separate carabiner, although you can use the thumb release.  If you use a separate carabiner, it needs to have a nose that is narrow enough to fit in the carabiner hole.  (The Edelrid small locker biner fits well, but not all others do.)
Video showing the various techniques for belaying and rappelling with the Mega Jul and Micro Jul.
Guide mode is also reasonably good.  Taking in rope requires about as much effort as with an ATC Guide or Reverso, and lowering a second while in guide mode isn't overly hard.  (It requires a third carabiner inserted into the carabiner hole to release tension.)
Overall, the Mega Jul and Micro Jul are superior to the Mammut Smart Alpinet.  They outperform the Smart Alpine in lead belaying, and are much smaller and lighter.  Performance in guide mode and rappelling are about the same.
Climbing Technology Alpine Up.  
The Alpine Up is made by the Italian company, Climbing Technology.  It has some advantages over the Edelrid Jul devices, but is signficantly heavier and bulkier.  The Alpine Up weighs in at 6.2 ounces, which is close to double the weight of the tiny Mega Jul.  It is designed to work with twin and half ropes from 7.9mm to 9mm in diameter, and single ropes from 8.9 to 10.5mm in diameter.
If you can overlook the significant disadvantage in size and weight, the Alpine Up is the best performing assisted braking device I've ever used.   The signature feature of the Alpine up is the "click up" mode.  The click up feature allows the rope to run more smoothly than any other device.  This is because when the rope is not weighted, the rope runs in a loose, large radius curve that allows for very quick and easy rope control.  Paying out or taking in rope is effortless, with very little friction and resistance.  However, when the rope is weighted (when the climber falls) the rope changes position, and "clicks" into a tighter assisted braking position.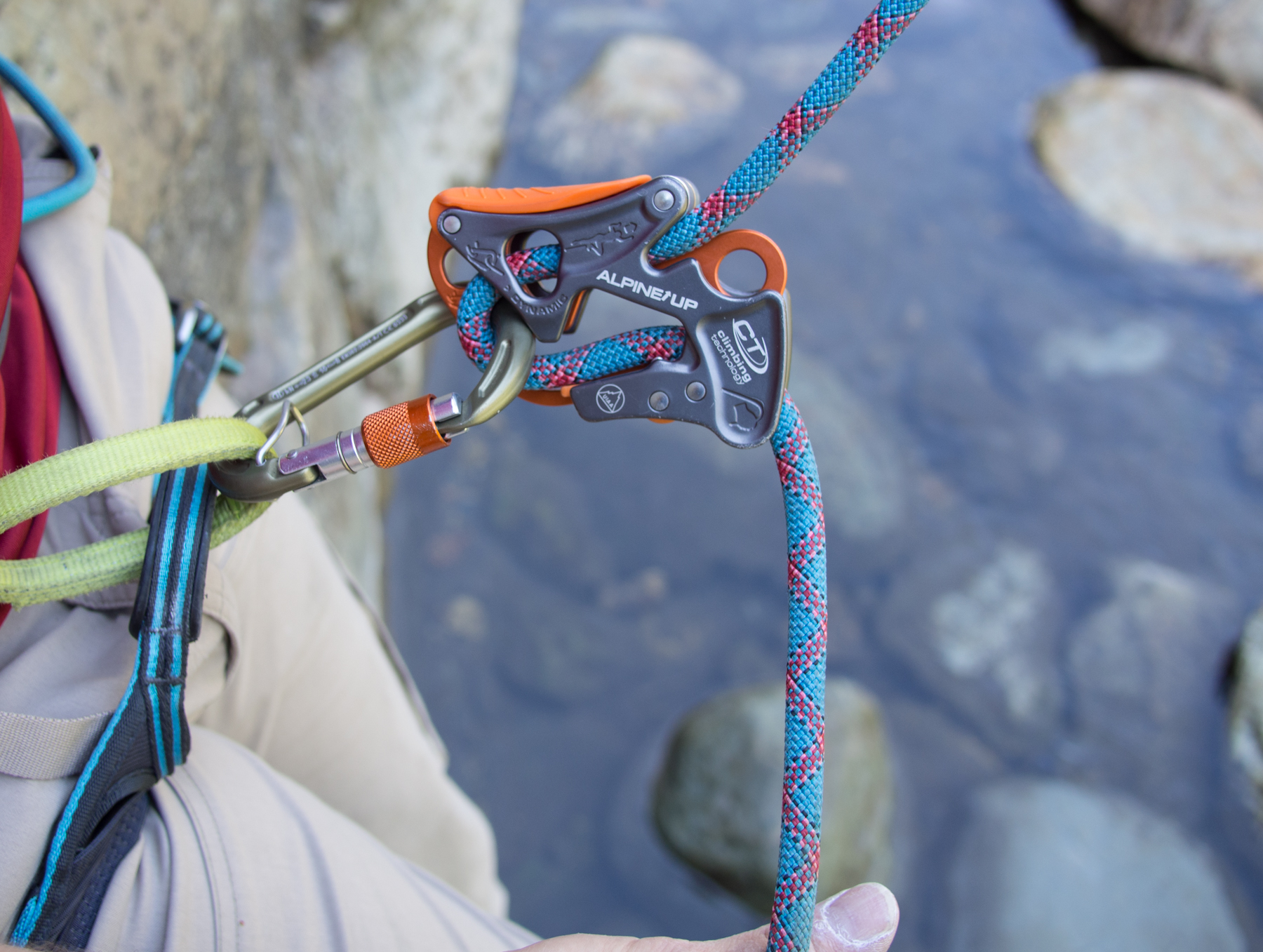 This feature makes the Alpine Up by far the easiest of the assisted braking devices for belaying a leader.  It doesn't hang up or bind, and makes taking in or paying out rope super easy and smooth.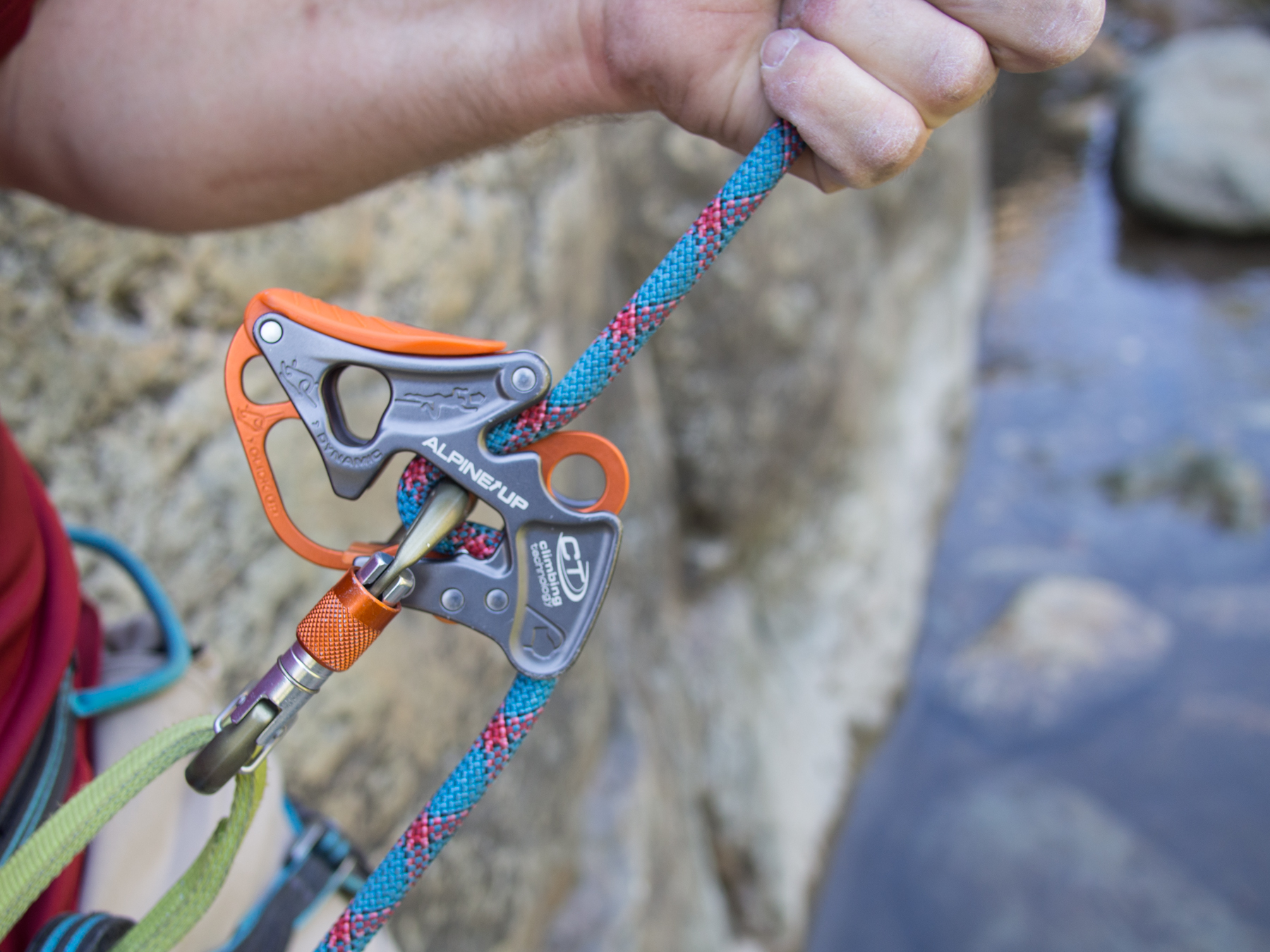 Once the device is locked, a flip-out lever allows for easy lowering of the leader if necessary.  If the leader begins climbing again after a fall, you just give a tug on the carabiner and move it back into the non-braking position.
The assisted braking configuration is also used for rappelling, with the lever controlling the rate of descent.  Rappelling is very smooth and easily controlled, and you automatically stop if you take your hand off of the release lever.
Guide mode with the Alpine Up is very smooth, and requires the least effort of any belay device I have used other than the Kong GiGi, which is designed specifically for use in guide mode.
Overall, the performance of the Alpine Up is superior to any other belay device I have used.  The only drawbacks of the Alpine Up are price (about $100 including a carabiner) and weight and bulk.
Instructional video detailing how to use the Alpine Up
Bottom Line:  What is the Best Assisted Braking Device?  
So, given my views regarding the Alpine Up's performance, It would seem as though it would immediately replace my other belay devices.  However, even though it's the best performer, there are times when I still chose the Edelrid Mega Jul or Micro Jul.
The Mega Jul and Micro Jul are significantly lighter and more compact, so when weight and space are at a premium (i.e. alpine climbing) I would sometimes reach for one of the Edelrid devices over the Alpine Up.  Also, the Micro Jul is the only device capable of being used with really skinny twin ropes, such as the 6.9mm Edelrid Flycatcher.
However, the performance advantage of the Alpine Up eventually overcame its greater weight and bulk and it has become my go-to device for pretty much all of my climbing now.
See my long term update HERE:  http://larsonweb.com/blog/long-term-update-salewa-quick-screw-ice-screws-and-alpine-technology-alpine-up-belay-device/