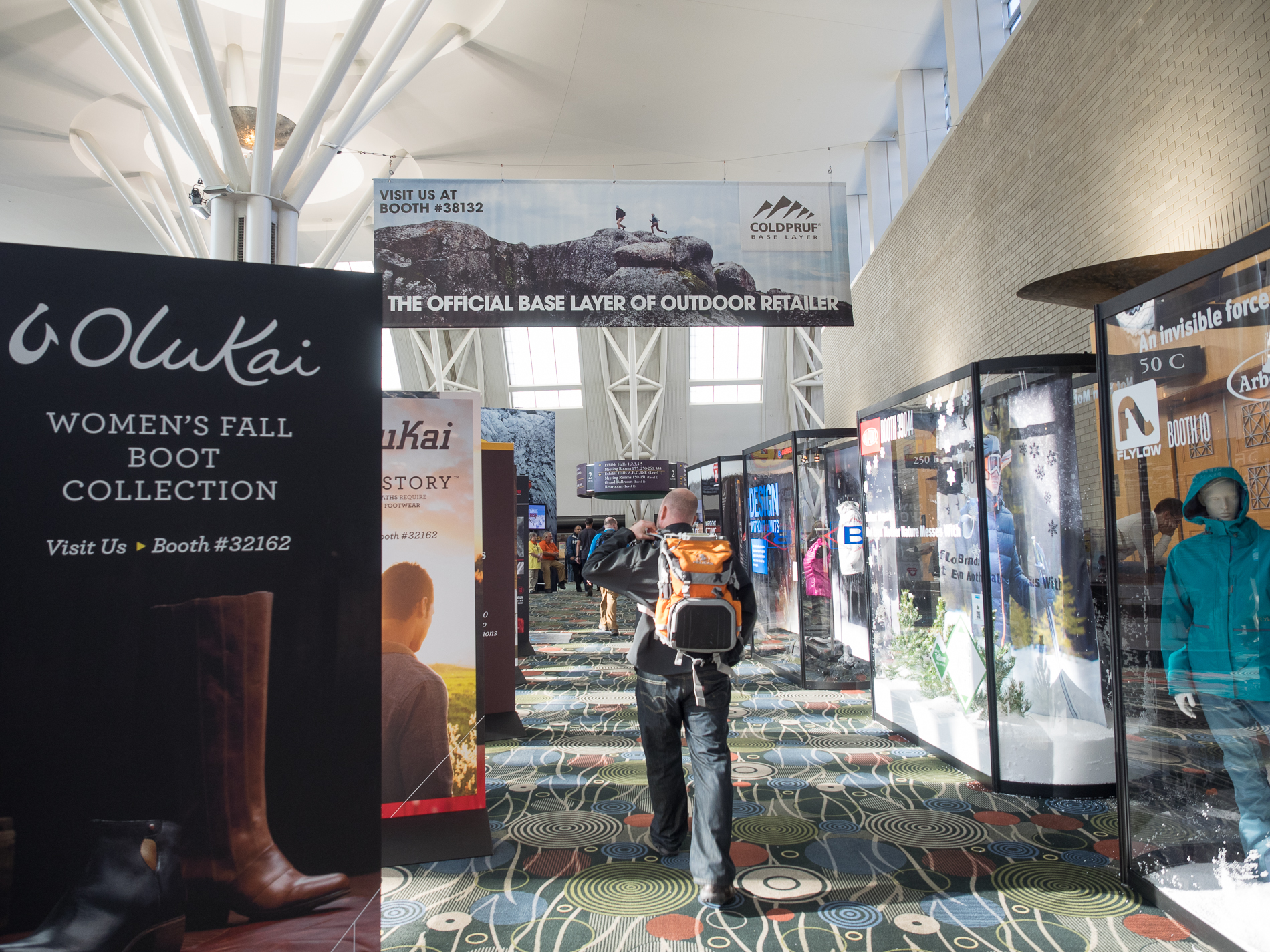 The 2014 Outdoor Retailer Winter Market presents an overwhelming array of products to assess and be dazzled by.   After a couple of days wandering the halls of the  outdoor retailer show, here are some of my impressions:
Backcountry Ski Touring:
As the winter oriented show, it's not surprising that there were tons of backcountry skiing items to lust and drool over.  By far the coolest of them all (and my favorite thing I saw at the show in any category) was the new Jet Force airbag back from Black Diamond.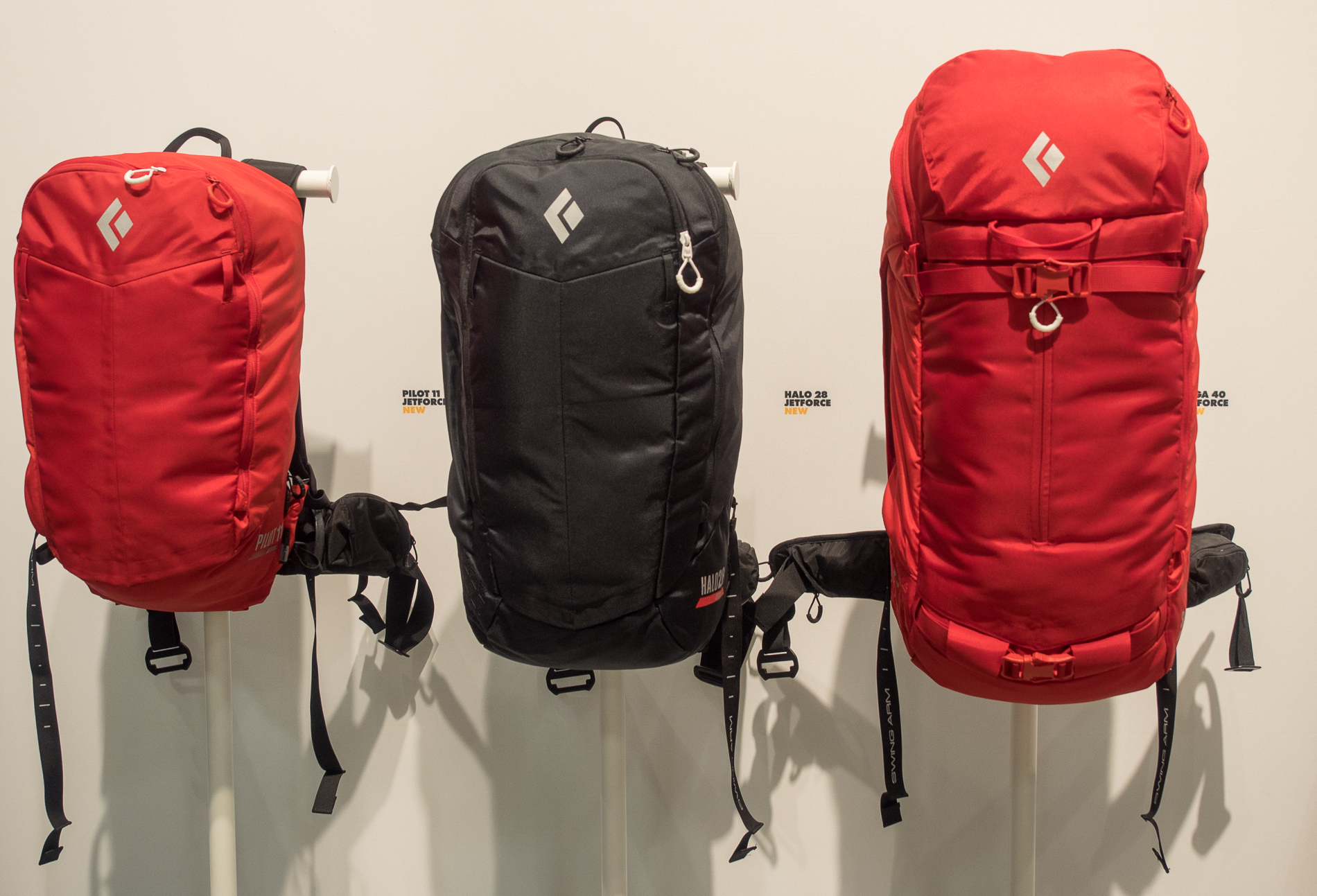 The Jetforce pack differs from conventional airbag packs in that it uses a battery driven fan to inflate the airbag rather than releasing compressed gas from a canister.  This allows the pack to be taken on an airplane, which is problematic for compressed gas systems.  When trying to figure out the logistics of getting my airbag packs to Alaska for a heli-skiing trip, it was very difficult to work out how to do it, as I couldn't bring the gas canisters on the plane, so they had to be shipped separately ahead of time.  The Jet Force pack can simply be brought on the plane as checked luggage.
Performance wise, there are a number of other benefits of the fan driven system.  First of all, the pack can be deployed and then easily be readied for another deployment in minutes.  At first, I didn't really see how this was a big leap forward, as getting caught in multiple avalanches on one tour shouldn't be on anyone's agenda.  However, the ease of redeployment makes it easier to pull the ripcord if you're unsure of whether you're in a serious slide or not.  The hassle and expense and finality of traditional canister systems makes me reluctant to activate the airbag in marginal situations.  I'm unlikely to pull the ripcord unless I'm certain I'm going for a big ride.  Having the Jetforce pack makes me more likely to activate the pack just in case.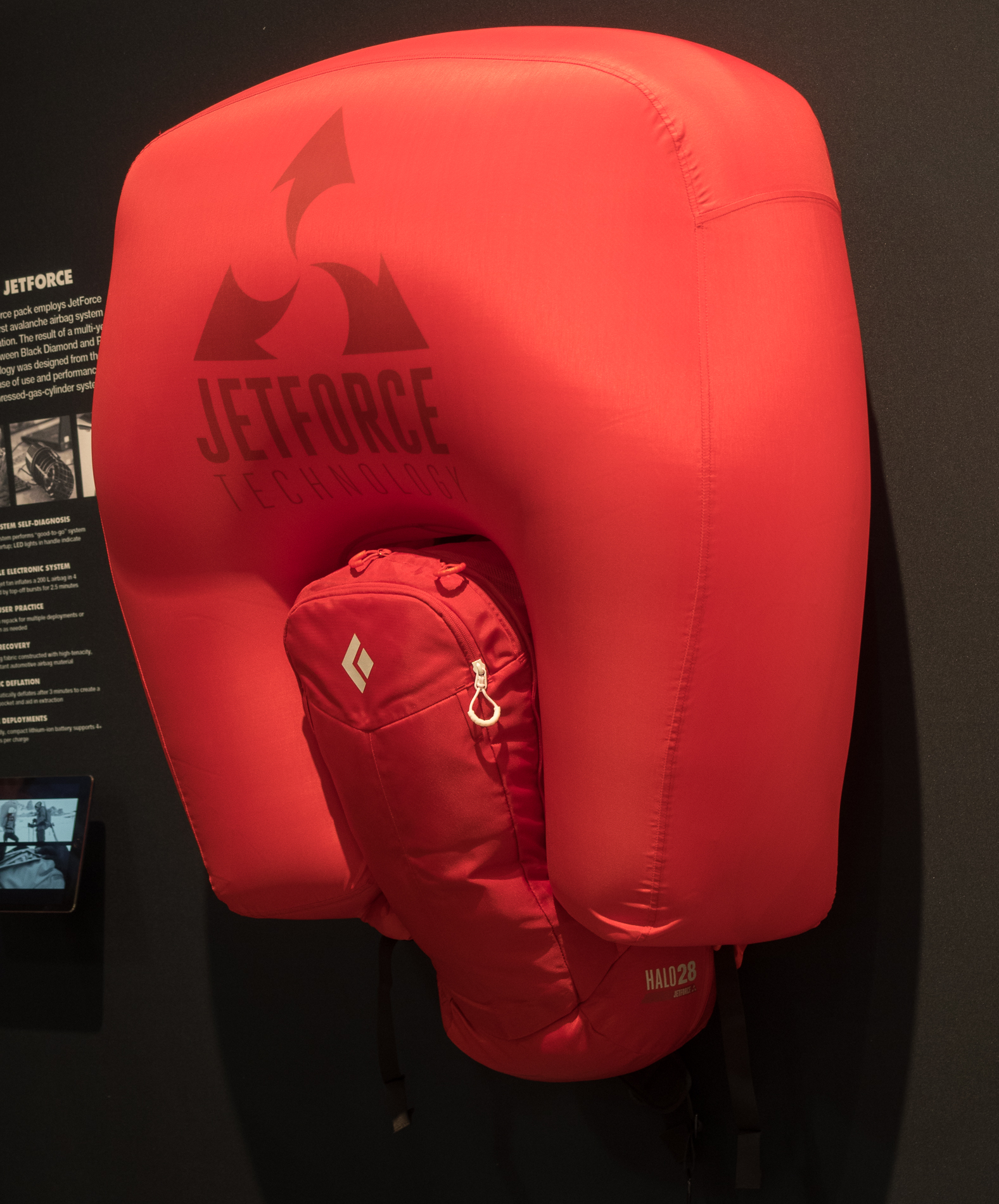 Once activated, the Jetforce keeps reinflating for several minutes, allowing for full inflation even in the event of a small puncture in the bag.  After several minutes, the fan reverses, and sucks all the air out of the bags, leaving a big airspace that facilitates breathing or even self rescue.
Readying the pack for use again after it has deployed is simple.  The fan forcefully deflates the airbag, so it's ready to stuff back in the pack.  The airbag doesn't need to be folded in any particular manner, you just stuff it back into the airbag pocket, fasten it all up, and it's good to go.
The non-airbag features of the Black Diamond Jetforce Packs are also very nice.  The packs are clean, with well thought out compartments, accessories, and suspensions.  The packs are available in 11, 28, and 40 liter versions, with the two larger sizes available in two different back lengths.  Weight is a bit over 7 pounds for all three models, which places them in the middle of category when compared with other airbag packs.  They aren't the lightest, but they aren't the heaviest either, and given the functionality and features, it's a pretty impressive design effort.  Retail price is about $1,100.
I had seen pictures of this airbag pack previously, and had read descriptions of how it functioned.  However, watching demonstrations of its capabilities and looking at the thoughtful design and construction of the packs I came away very very impressed.  I want one (or two) of these packs very badly, and will likely get at least one of them (likely the 28 liter version) as soon as they become available next fall.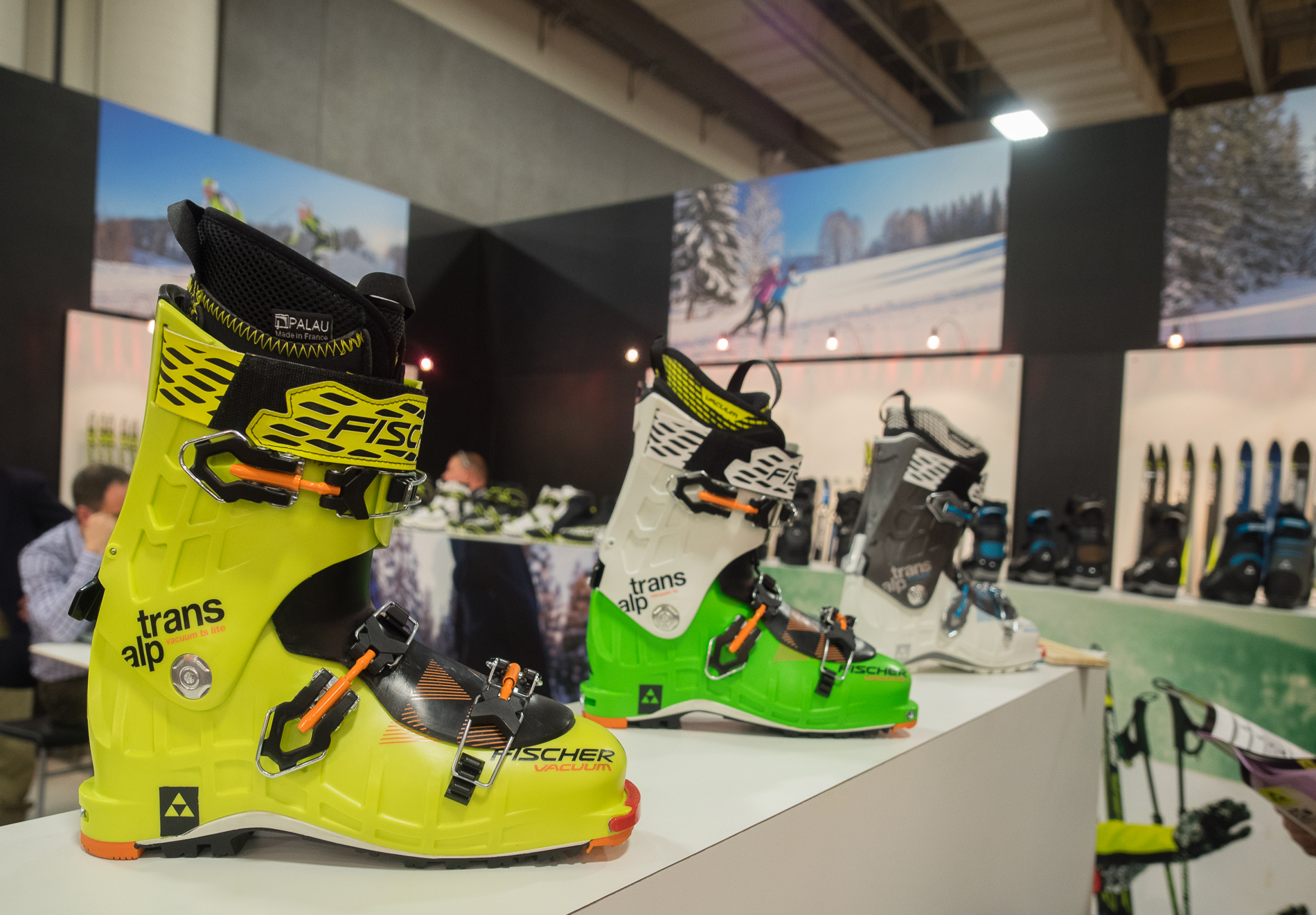 Snow Shovels:  
One backcountry ski trend that I found very encouraging was the proliferation of avalanche shovels that can be used in "hoe mode" with the blade angled at 90 degrees like a hoe.  Previously, Ortovox seemed to be the only company that recognized the benefits of being able to set up your shovel like a hoe (which makes moving snow much easier in some situations.)  At the OR show, lots of companies, including Black Diamond, BCA, and Mammut were showing off snow shovel models whose blades could be used in hoe mode.  Nice to see some more options here: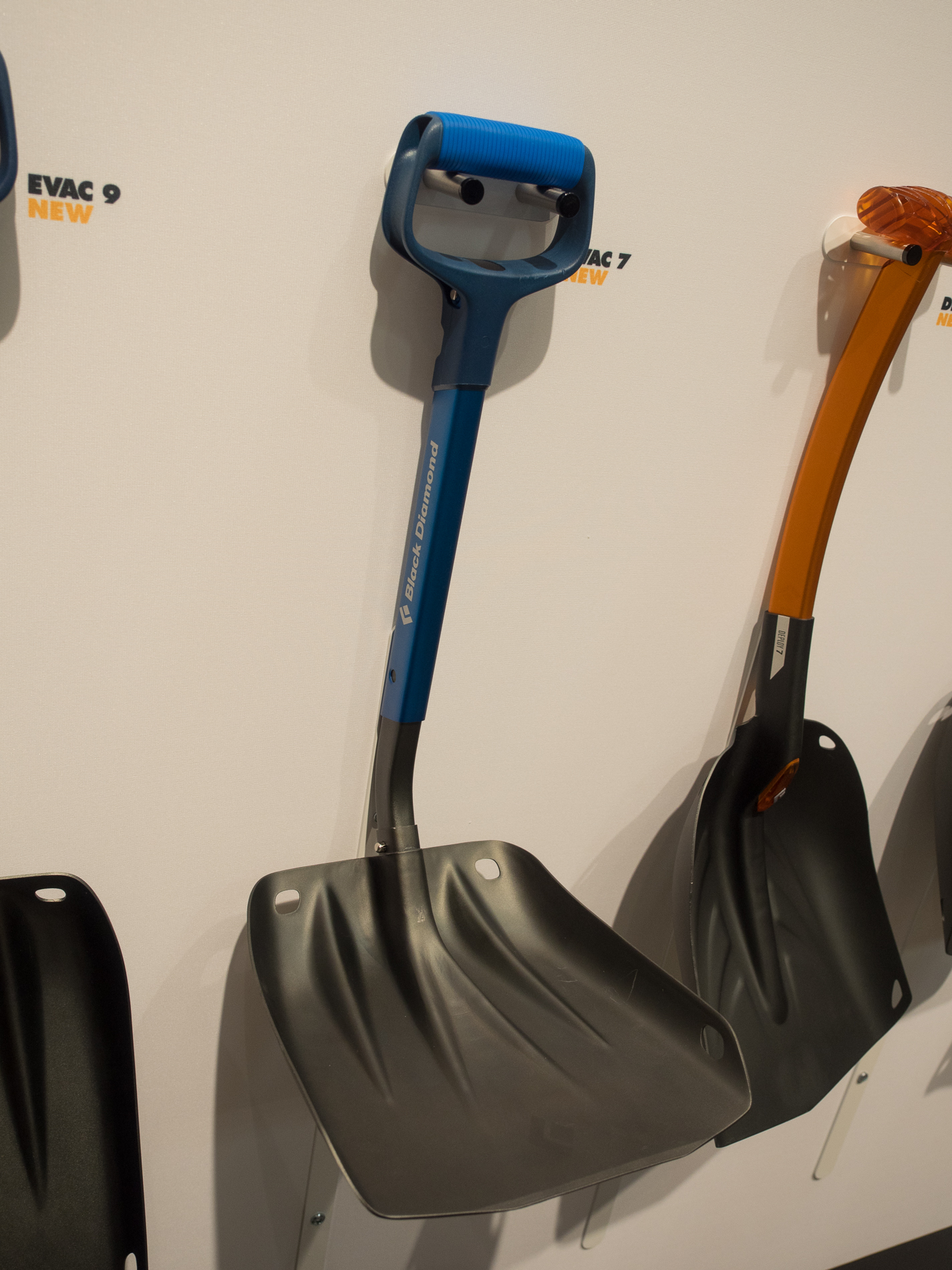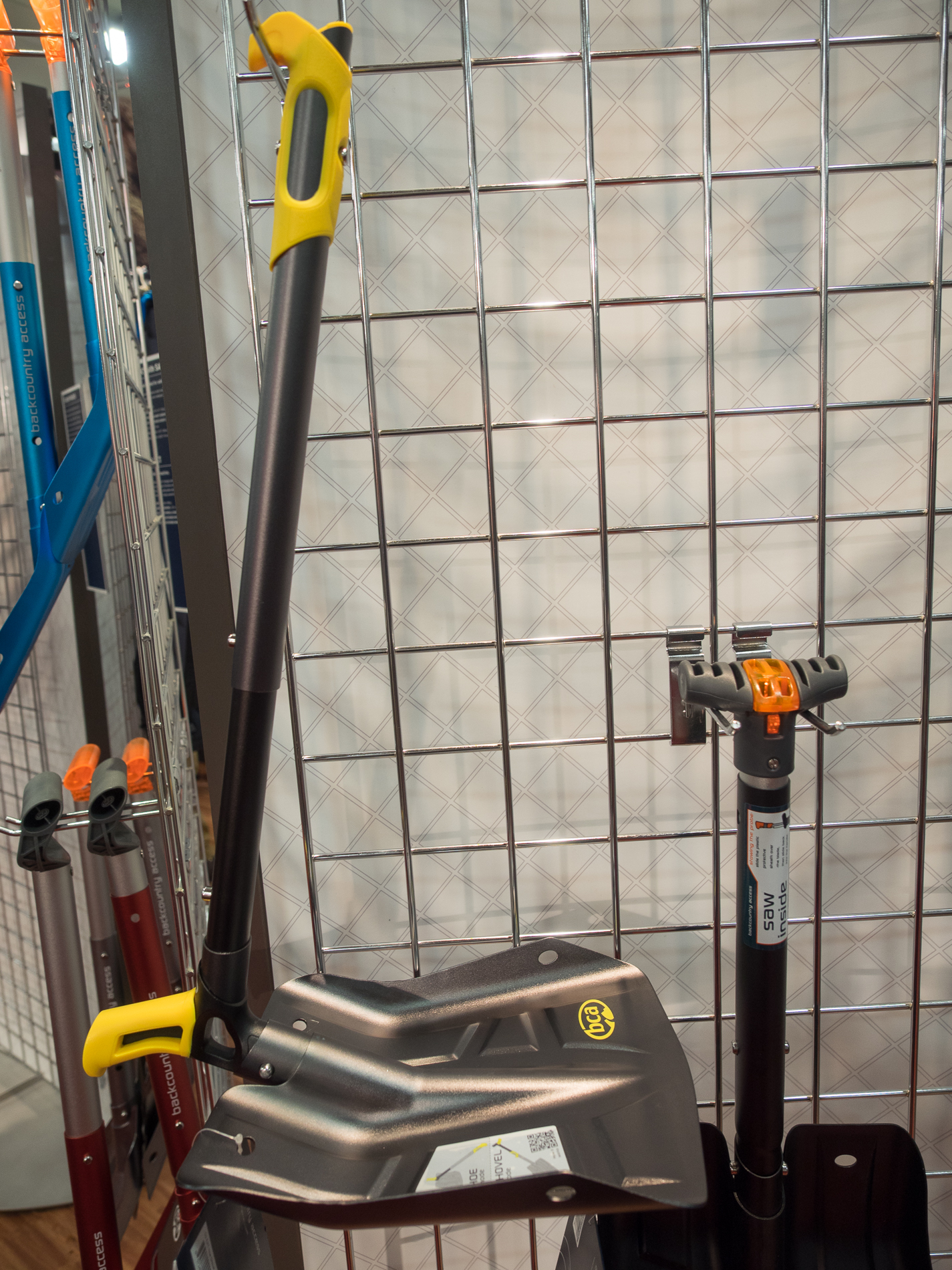 Ski Touring Bindings:
I was impressed with the new G3 tech binding, the Ion.  Having been pretty underwhelmed by their first tech binding, the Onyx, I wasn't expecting too much here.  Happily, I was very pleasantly surprised.  The Ion has a number of innovative features that make it stand out when compared with the standard Dynafit offerings.  First off, it clamps the boot with steady forward pressure, eliminating the gap at the heel of the boot as with the Dynafit and Plum bindings, and supposedly providing more consistent performance throughout the full range of ski flex.  They have a DIN range of 5-12, which is plenty for the backcountry, even for a big guy like me.
They have a number of thoughtful improvements, including little guides at the toe, that position your boot in the right spot to engage the toe clamps. The rep told me a bunch of stuff about how the specific radius of the wings helps with consistent engagement of the boot.  I only understood about half of what he was saying and have no idea if it really makes a difference or not.  I can say that the clamping wings have a nice positive engagement on the boot.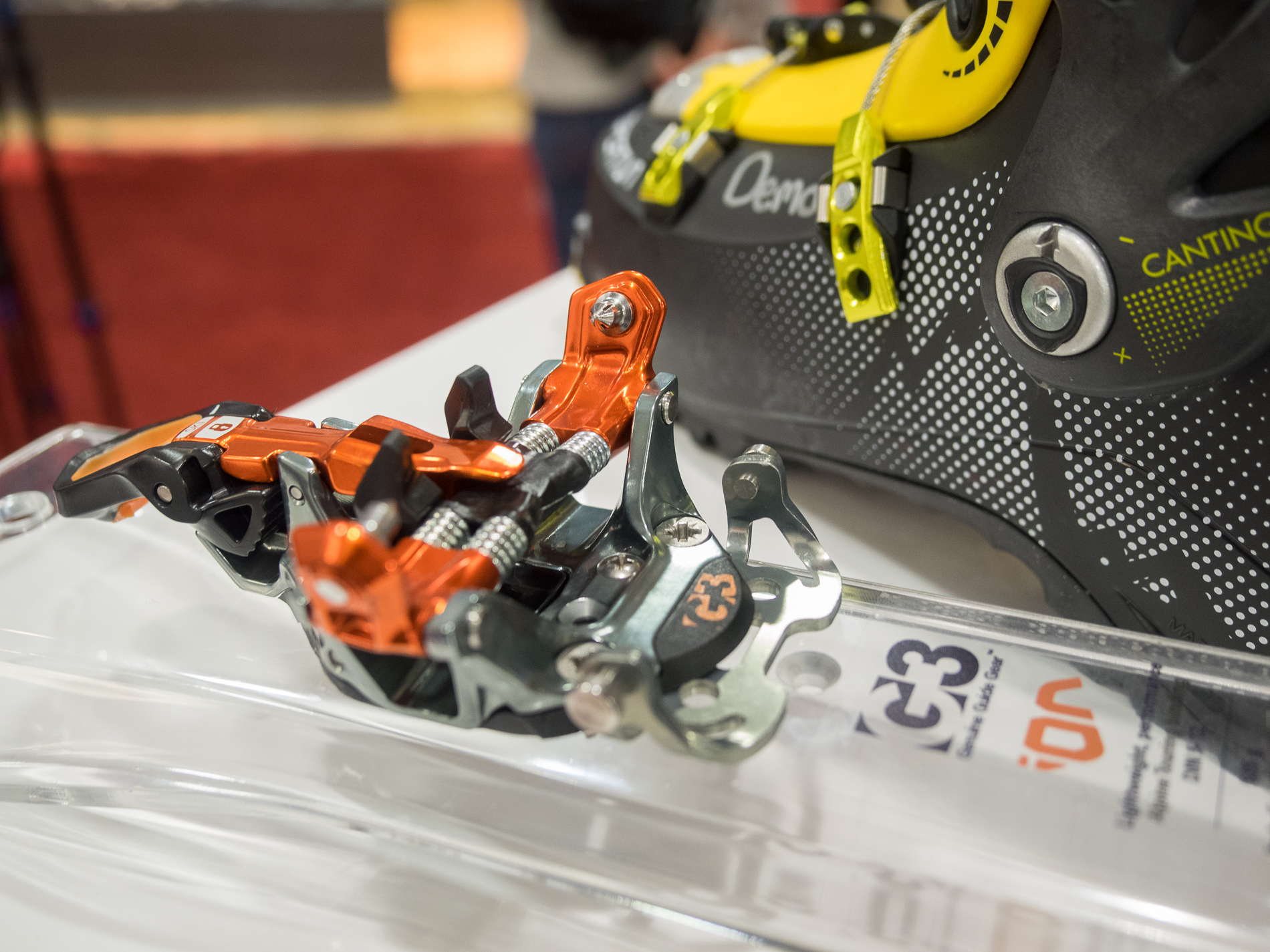 The heel piece has easy to engage climbing plugs, and burly brakes.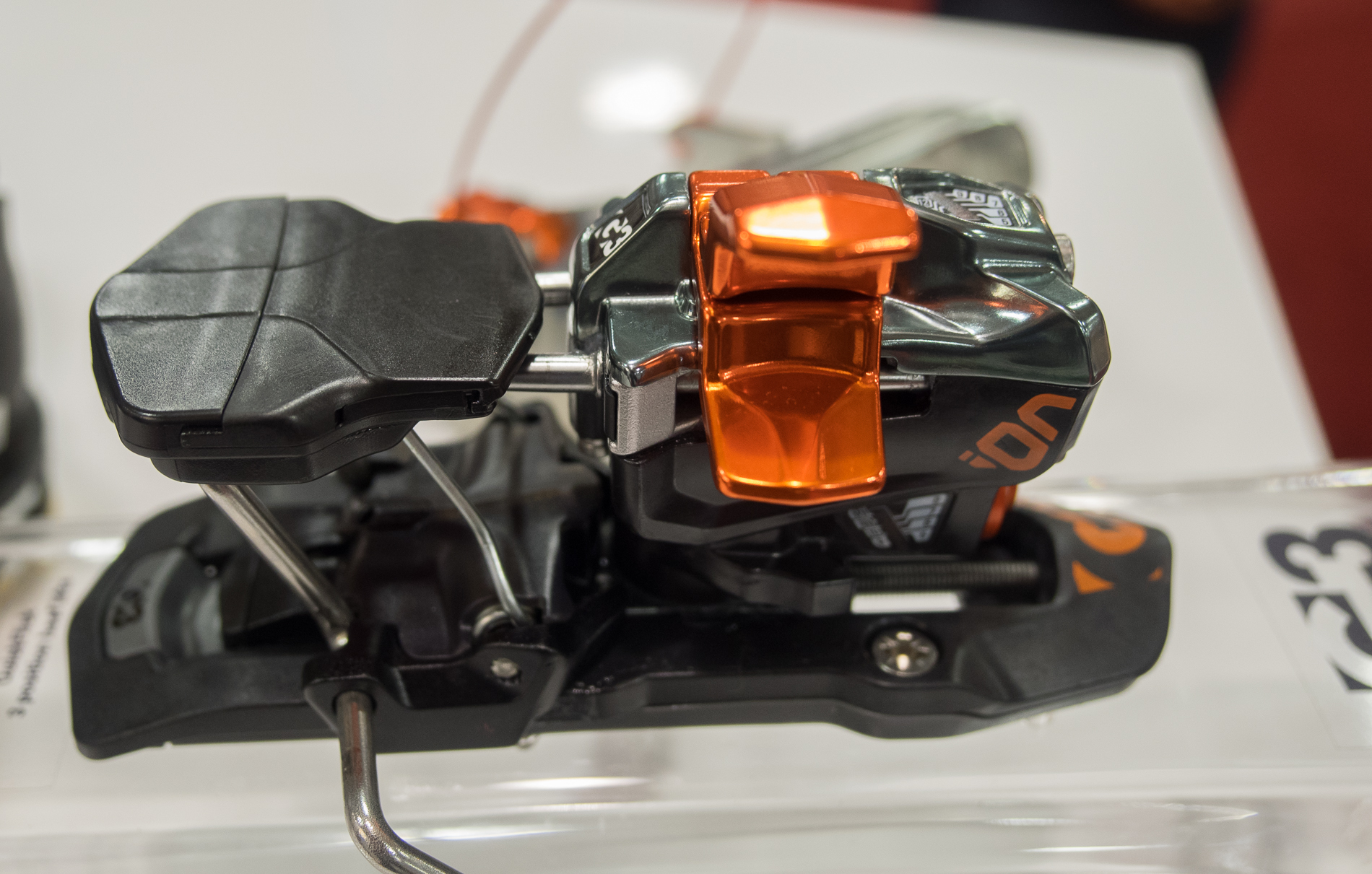 Overall, I was really impressed with this binding.  I have no idea how it will function in the real world, as I haven't had a chance to ski it, but it certainly looks promising.
 Ice climbing gear:
The ice climbing gear I was most excited over are the new Petzl Laser Speed Light ice screws.  They are aluminum body screws with steel teeth.  This concept is not new.  I climbed on Lowe R.A.T.S. (ratcheting aluminum tube screws) back in the old days, and they had a similar combination of aluminum body and steel teeth.  Currently, the e-climb Klau screw is also made with an aluminum body and steel teeth.  I've never seen one in real life however, and I don't think they are sold here in the U.S.
The Petzl screw looks like it incorporates the sharp, fast-placing tooth design of their Laser screws, but with significant weight savings due to their aluminum tube body.  Seems like just the ticket for alpine routes where I'm trying to save weight.
Sadly, they won't be for sale until June or July.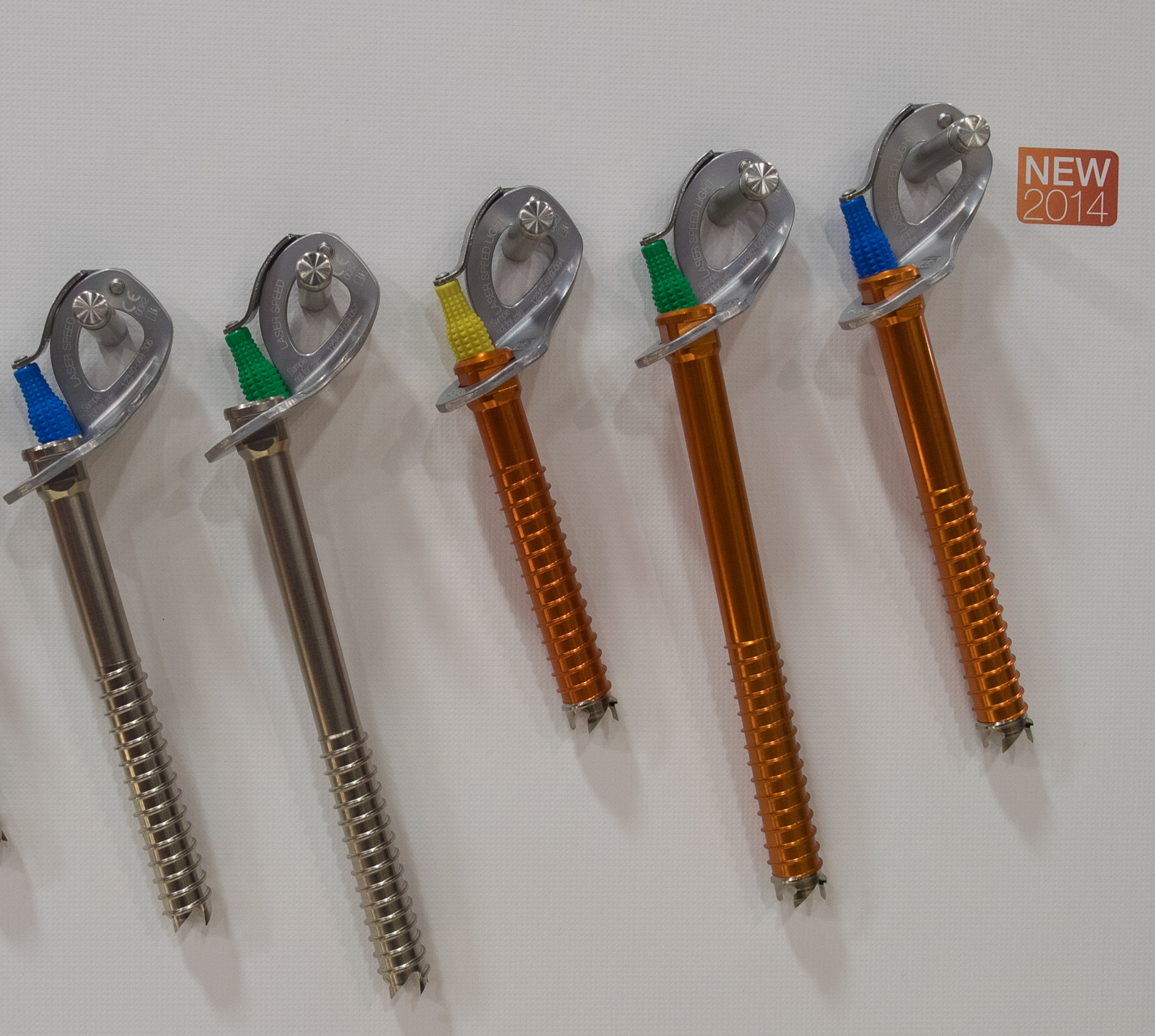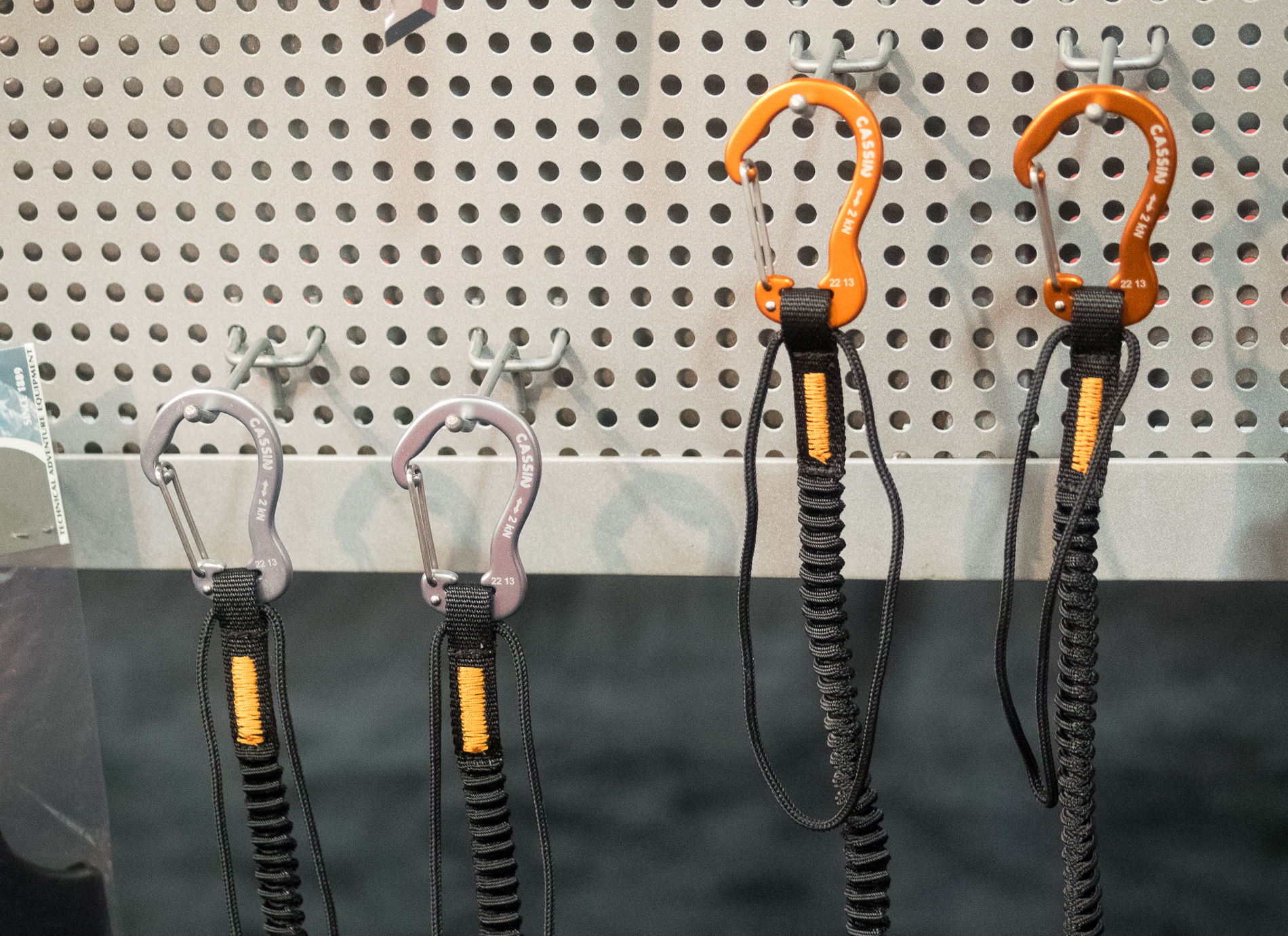 Cassin is updating their X Gyro umbilical leash with special purpose carabiner clips to replace the Nano 23 full strength biners on the older version.  I'm not convinced that this is a positive thing, as I think the Nano 23's do a fine job in this role and are full strength.  They have kept the thin cord attachment that you can use to larks-foot your umbilical directly to the tool if you don't want to use a biner.
The "big" news that wasn't really all that exciting was the new Nomic clone from Black Diamond, the new "Fuel" ice tool.  No idea if it is as good as or better than the Nomic, but it looked very similar.  It might make high grade mixed climbers excited.  It didn't do much for me.  (Probably because I'm not a high grade mixed climber.)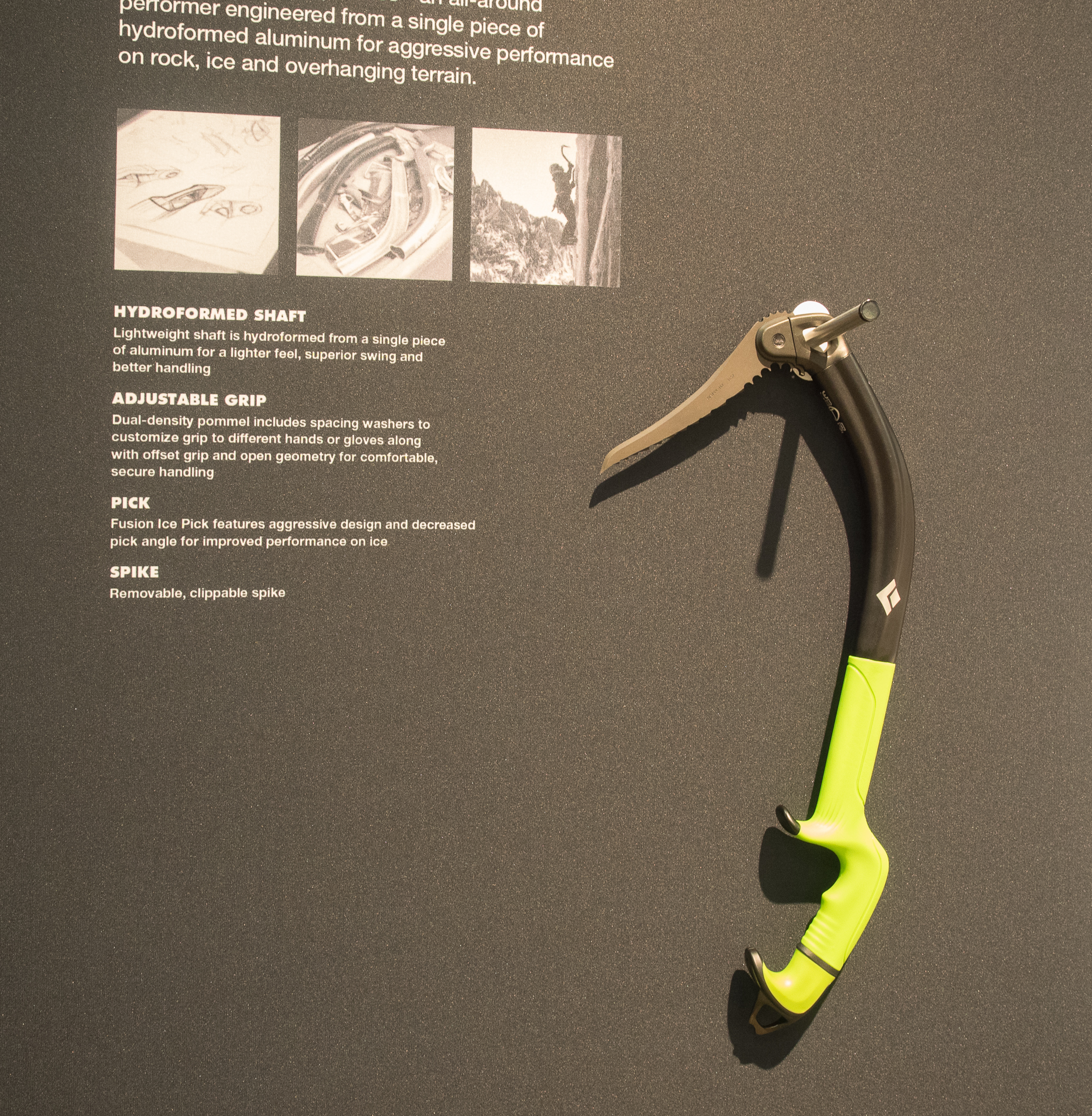 Mountain Boots:  
Everybody who makes mountain boots now has a version of the Scarpa Phantom Guide/Sportiva Batura.   This is a good thing, as these insulated integral gaiter single boots tend to be light, well-performing, and versatile.  With more companies offering these types of boots, everyone should be able to find a fit for their foot.  (I saw them from Scarpa, Sportiva, Lowa, Mammut, Salewa, and there are no doubt others I missed)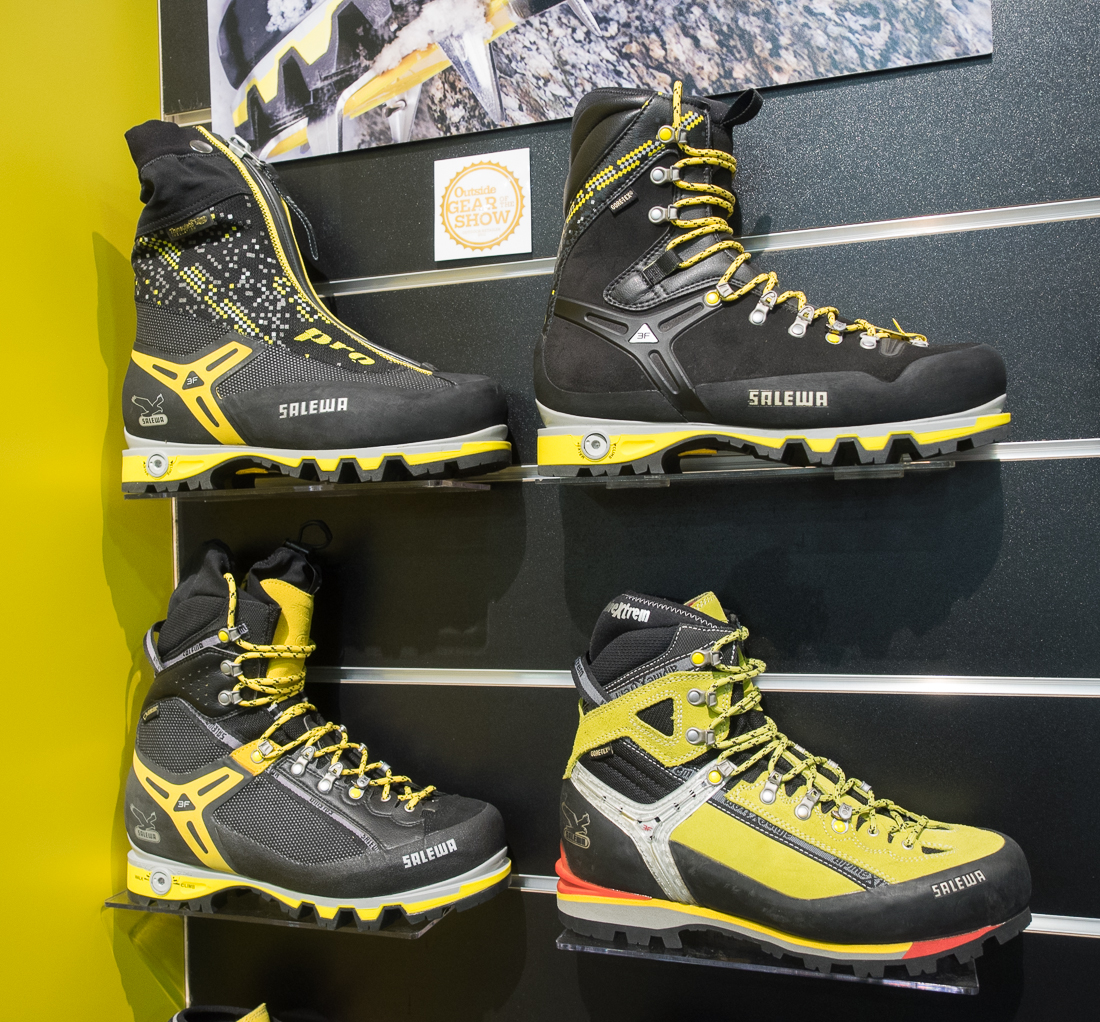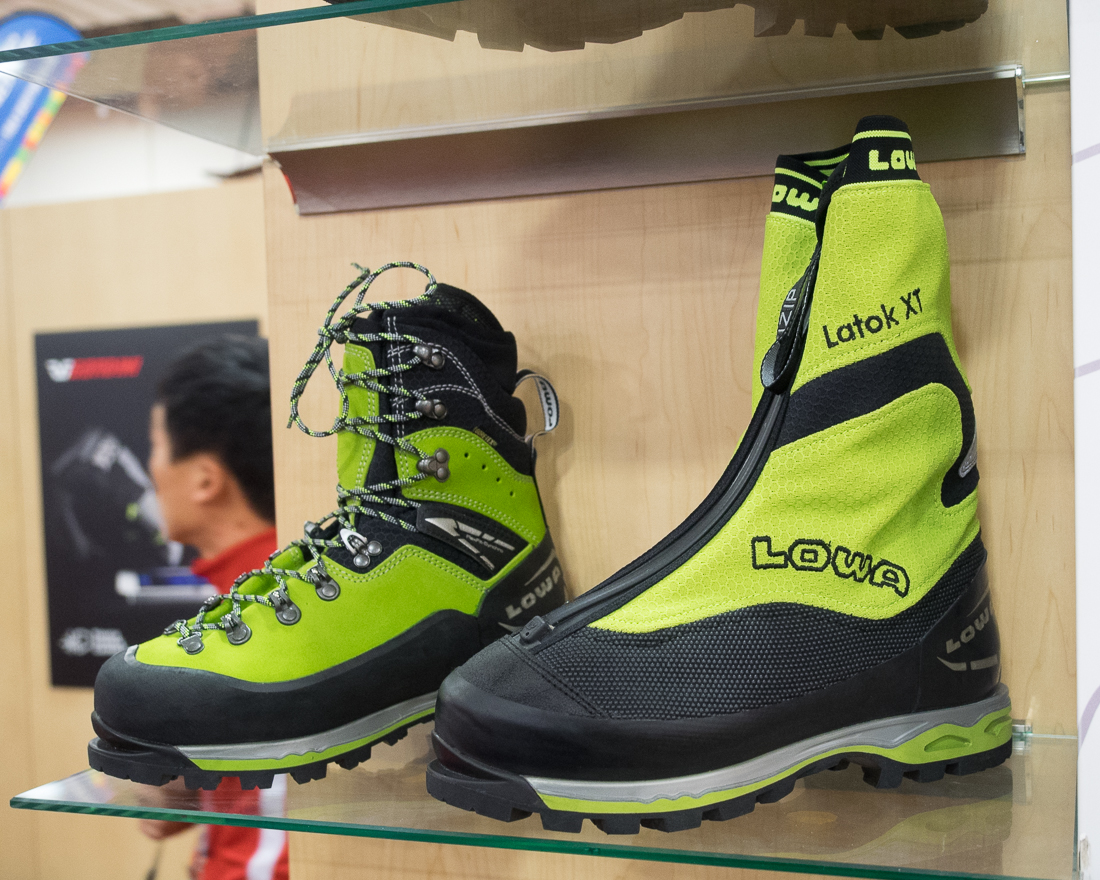 The big news is that Scarpa's terrific Rebel Ultra boot is being discontinued from their U.S. lineup.  (but will still be available in Europe.)  Too bad, as I think it's a terrific boot.  The Scarpa rep said that the Ultra just wasn't beefy and durable enough to justify its price tag for the majority of consumers, who expect a $500+ mountain boot to have tank-like durability.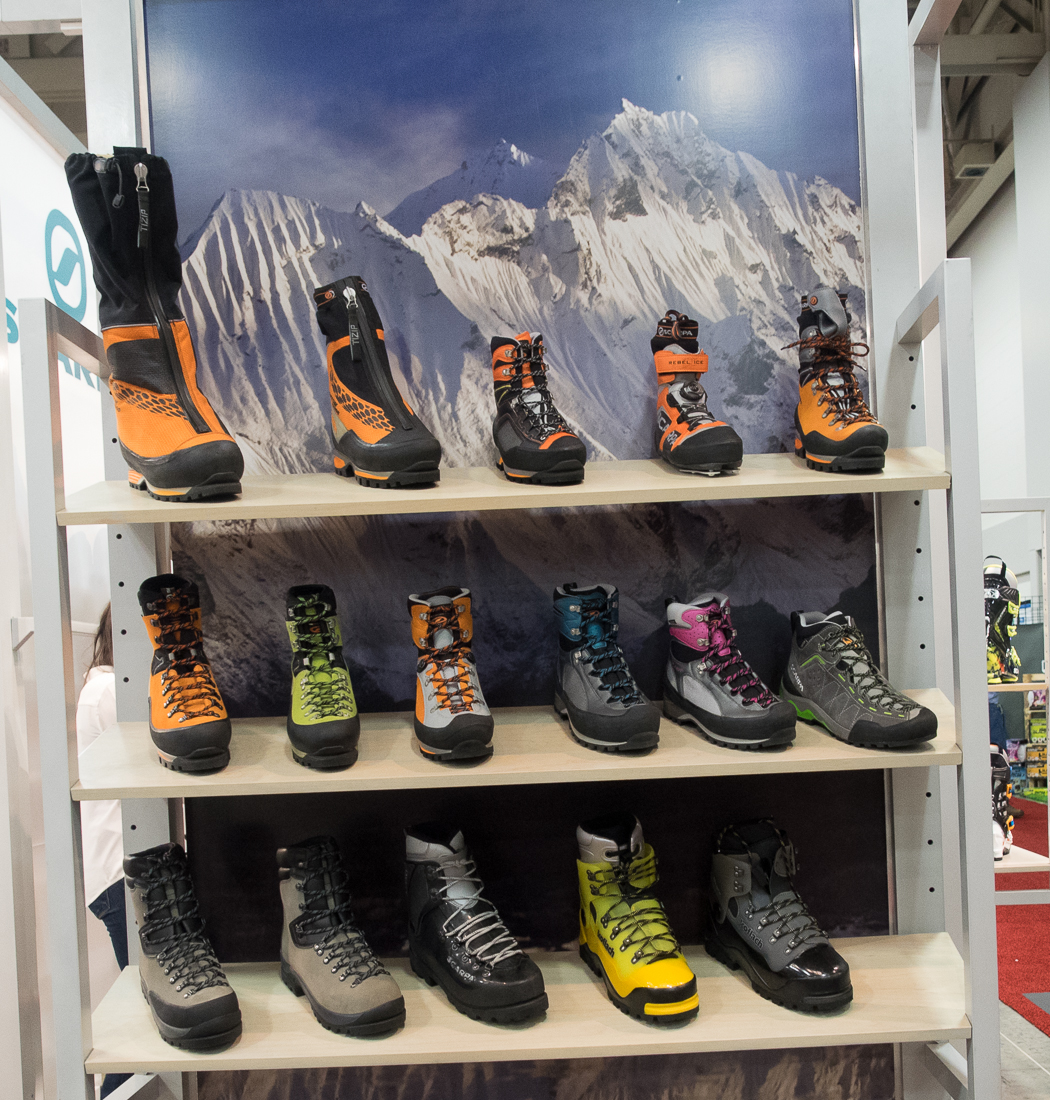 Stoves:
By far, my biggest disappointment of the show was the Jetboil Joule.  I'm a serious stove geek, and the idea of a high output liquid feed tower stove with an alpine hanging kit and pressure regulator really had me excited.  The MSR Reactor is my current favorite alpine stove, but I figured that the Jetboil Joule would dethrone it due to the Jetboil's inverted canister liquid feed design, which is great for very cold temps when butane loses pressure.
However, when I saw the Jetboil Joule in person, I was amazed at how big and bulky it is.  My first thought when I saw it was, "That thing's the size of a soccer ball.  It would take up half the volume in my back pack."  It's maybe not quite as big as a soccer ball (probably more like a volley ball,) but it's way too big to be of use to me as a stove for climbing or backpacking.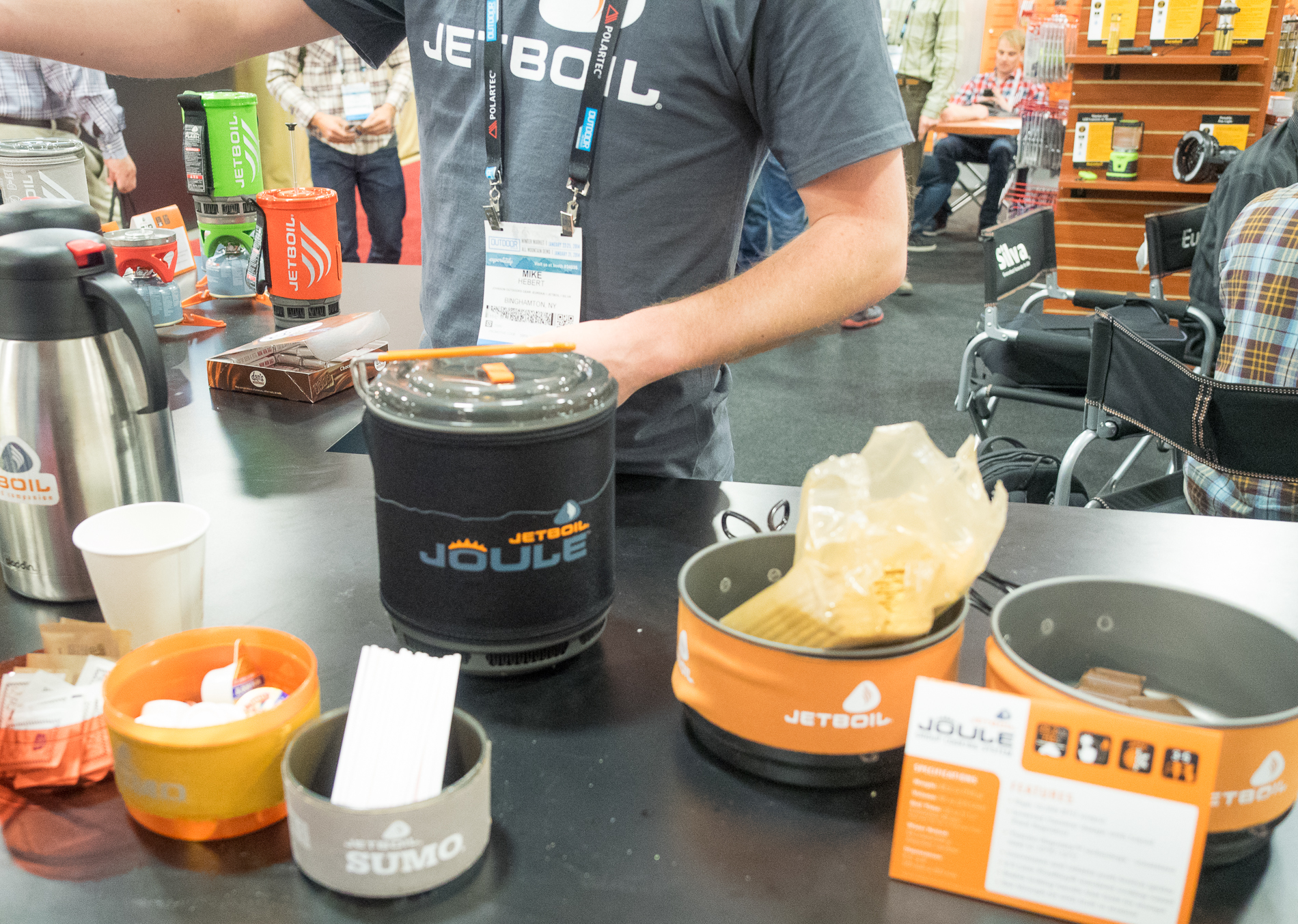 The Jetboil rep said that the stove was optimized for groups of 4 to 6 people and would be a great basecamp stove.  He's probably right about that, and I was impressed at its simmering capabilities and the ease at which it roasted marshmallows and melted chocolate without burning it.  However, I really have very little use for a stove that large.  I was hoping for a compact, cold weather snow melting mega blowtorch that I could take on cold alpine climbs.  What Jetboil delivered was a bloated comfort-camping and basecamp stove.  I'm hoping they can come out with a smaller, more streamlined version of the Joule, sized like the smaller Jetboil Sol or Sumo stoves.  Until they do, I'm sticking with my MSR Reactor.
Clothing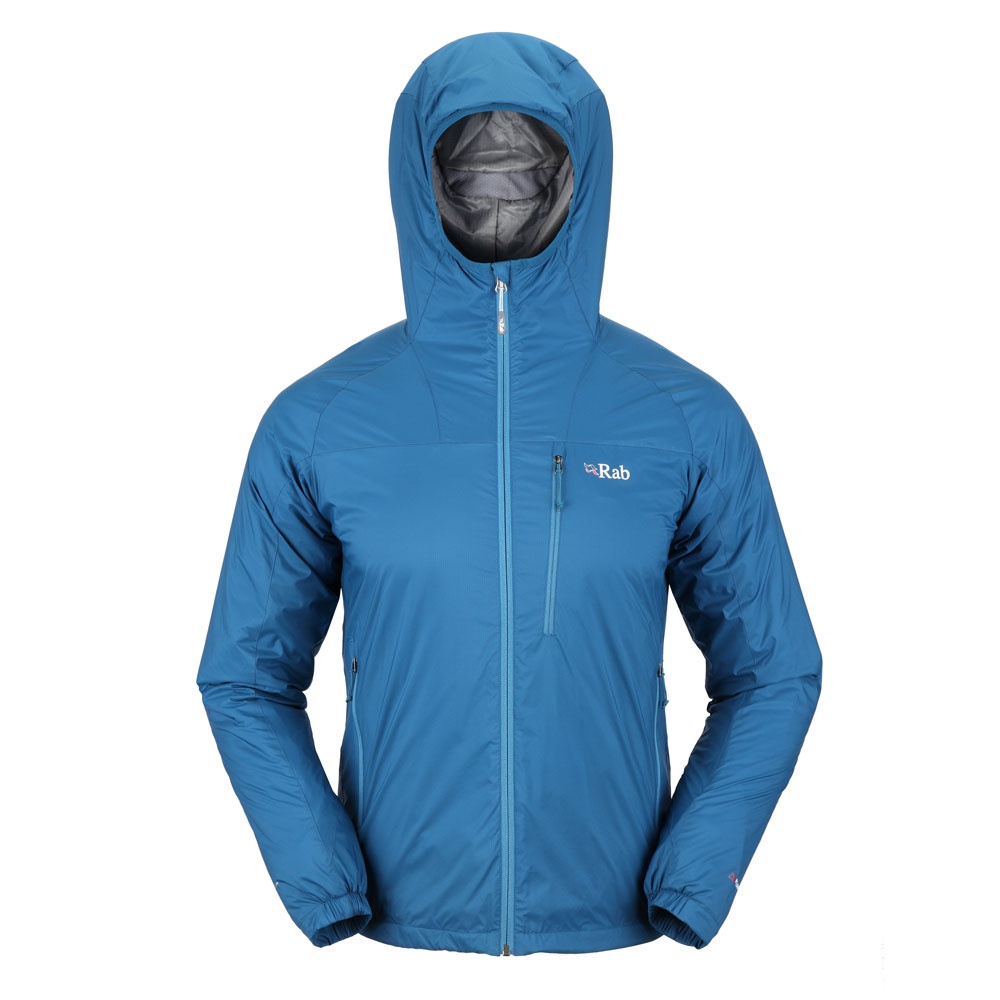 Not too much new as far as clothing goes.  The only stand-out stuff that piqued my interest were the lightweight insulated pieces using new ultra breathable synthetic insulation.   Polartec Alpha is the best known of this new breed of insulation, which is touted as being more breathable and having a much broader comfortable temperature range than traditional insulated pieces.  The Rab Strata and the Patagonia Nano-Air were two of these new clothing pieces, with the Patagonia piece having the benefit of additional stretch in the outer fabric, and the Rab piece having the benefit that it is on sale right now.  (The Patagonia Nano-Air is not yet available.)  The Patagonia offering doesn't use Polartech Alpha, but rather a proprietary insulation that seems to share Alpha's highly breathable characteristics.  Not quite sure if I "need" one of these Polartec Alpha garments, but Patagonia's "Put it on, Leave it on" sales pitch did sound pretty good.  I'm trying to figure out just where one of these garments would fit in my alpine clothing arsenal.