For over a decade, I've used a Suunto Vector watch with built in compass and barometer/altimeter.  I've been pretty happy with the Vector, but have always thought that having a wrist-top GPS would be useful.  About 6 or 7 years ago, I bought a wrist-top GPS, but ended up getting rid of it because it was big and bulky and had a very difficult time getting a GPS fix.  At that time, the wristwatch GPS tech just wasn't that good.
Fast forward to the present, and you see GPS tech in all kinds of small devices.  I figured it may be time to try a wrist watch GPS again.  REI had the Suunto Ambit2 on sale, and the discounted price coupled with my long and positive experience with my Suunto Vector made me decide to take the plunge and buy this watch.  The model I purchased was the Suunto Ambit2 with a sapphire crystal and heart rate monitor.  After about 6 months of pretty regular use, these are my thoughts: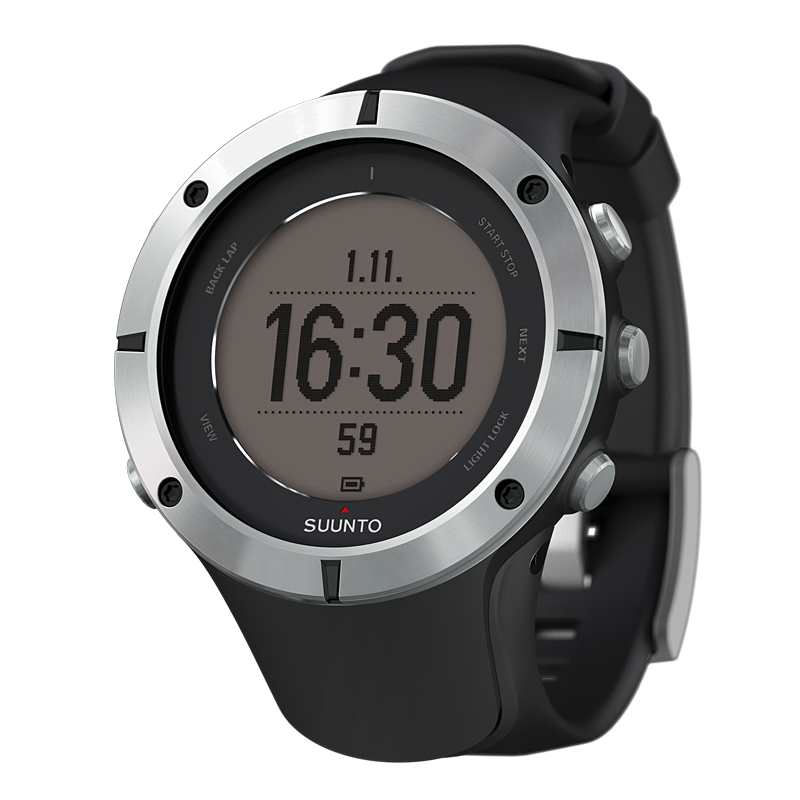 Form Factor and Physical Design:
The Ambit2 is not all that big.  It's more or less the same size as my old Suunto Vector.  The Ambit2 is maybe a tiny bit wider, but it is also a tiny bit thinner than the Vector.  It's a large watch, but it isn't so large or bulky that it is annoying to wear.  One thing I do miss, however, is the lanyard kit that you could buy for the Vector.  If I'm rock climbing, I don't ever wear a watch on my wrist, and in such instances, I typically would wear the Vector around my neck, using the accessory lanyard kit that Suunto sold.  I have not seen any similar kit available for the Ambit2.  I may have to jury rig something myself if I want to carry the watch in this manner.
I paid a bit extra and got the sapphire crystal.  I like the extra durability and scratch resistance that a sapphire crystal provides, particularly because I occasionally subject my watch to some bumps and scrapes during the hard-knock backcountry activities of climbing, hiking, and skiing.
The Ambit 2 is water proof to 100 meters.  I'm not a scuba diver, so I will never have to test that claim.  (If I'm at 100+ meters of depth when I'm fly fishing, something will have gone terribly wrong.)   The battery is re-chargeable via a USB charger, which is nice.  I always hated having to change the battery in my Vector, so being able to just plug in the Ambit 2 and have it charge up is a nice feature.  Charging doesn't take very long.  It will go from 40% power to 100% in about an hour.  Battery life is pretty good.  The watch will run for weeks if you aren't using the GPS, and with the GPS engaged, (in hiking mode with 1 minute updates) I have been able to go for 14 hours and still have 84% of my battery life left.  From my use, the Suunto estimates of 50 hours of battery life in GPS mode appear accurate.  This battery life has been sufficient for my uses.  If you're hiking a long trail over more than a week, and planning on tracking your progress via the GPS function, or if you're settings have the GPS updating every few seconds, you might need to plan on recharging your batteries at some point during the trip.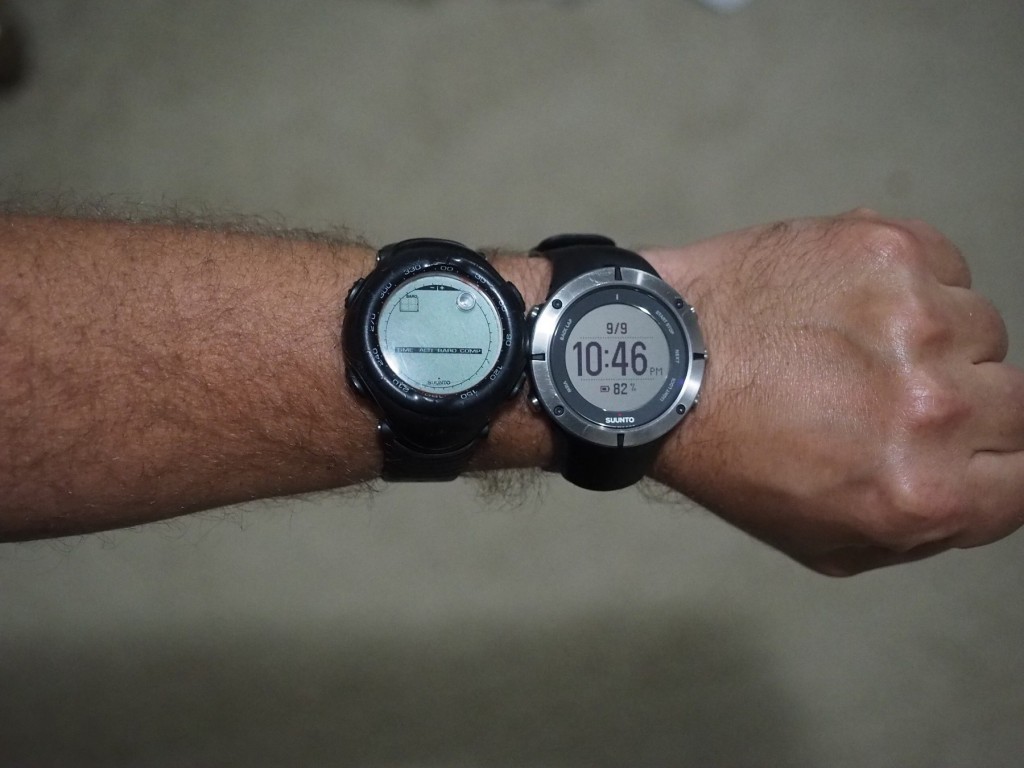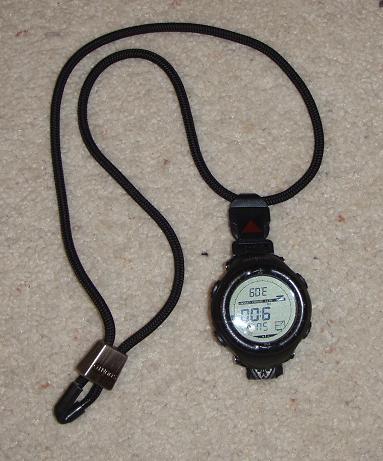 Generic functions, Alarm and Backlight, Barometer and Altimeter
The Ambit 2 has various time keeping functions, including 12 or 24 hour display, stop watch, date, etc.  One big improvement that the Ambit 2 has over the Vector, and many other digital watches I've used is that the alarm is pretty loud.  Many watches have very weak alarms, which don't have the volume to wake you up for an alpine start, especially if they are muffled by your sleeping bag.  The Ambit 2 alarm is much louder than the Vector's alarm, and not nearly so easy to sleep through.
Another great feature of the Ambit 2 is the backlight.  It's really bright.  Not only does it really light up the watch face, but it is actually bright enough to illuminate the area around you a bit.  It's perfect for navigating your way through a darkened alpine hut, where you don't want to use a headlamp because you don't want to shine your headlamp beam on others who are sleeping around you.  It's also great for shining around in your tent when you are trying to find your headlamp.  Obviously, it's not going to replace a headlamp, but I have found it to be very useful in a number of nighttime situations.
The altimeter function is GPS corrected, which makes it very accurate and not as affected by weather as a traditional altimeter that relies solely on barometric pressure.  I've found it to be accurate to within a few feet.  There is a barometric pressure tracker as well, which graphs the pressure over time.  This is useful to look at in the morning, to see what the pressure has done while you were asleep.  If the pressure has risen, that's generally a good sign of fair weather.  If the pressure has dropped, then that's often a portent of incoming storms.
GPS and Navigation Functions
This is where the Ambit 2 really shines.  The GPS in this watch is really good.  I have never failed to get a quick GPS fix when I have been in the backcountry.  The Ambit 2 can almost always get a location fix in about 30 seconds or so from the time I turn on the GPS function.  Once the GPS is activated, the Ambit 2 will give you your GPS coordinates, which you can then use to locate your position on a map.
However, even better, the Ambit 2 can be used in conjunction with your computer to pre-plan routes.  You can create a route using Google Earth and export it to Suunto's website (called Movescount.com) as a .kml file.  Then, you can download the route into the Ambit 2's memory.  When you activate the navigation functions, the Ambit 2 allows you to select one of these pre-stored routes and will point you in the direction you need to go to follow this route.
I have found this to be very useful.  For example, this past summer, I was planning to hike and climb a local peak, however, we would not be following an established trail for part of the approach, and we needed to locate a specific ridgeline in the dark.  I plotted out my path on Google Earth, then uploaded the path to the Suunto web site, and downloaded it into my Ambit 2 as a route.  Sure enough, in the pre-dawn hours, we became confused as to the path we needed to take, and I used the Ambit 2 to help us navigate the correct route.  Having the Ambit 2 was sufficient for us to navigate even though it was too dark to see any decent land marks.  We just followed the path on my watch, correcting our path to keep the arrow pointer on the route layed out on the watch face.
To give an example of how this works, below are two pictures which show how routefinding is done.  This first picture is of a short route that I created using Google Earth and then uploaded to the Suunto Movescount Site.   You can see the path laid out on the map.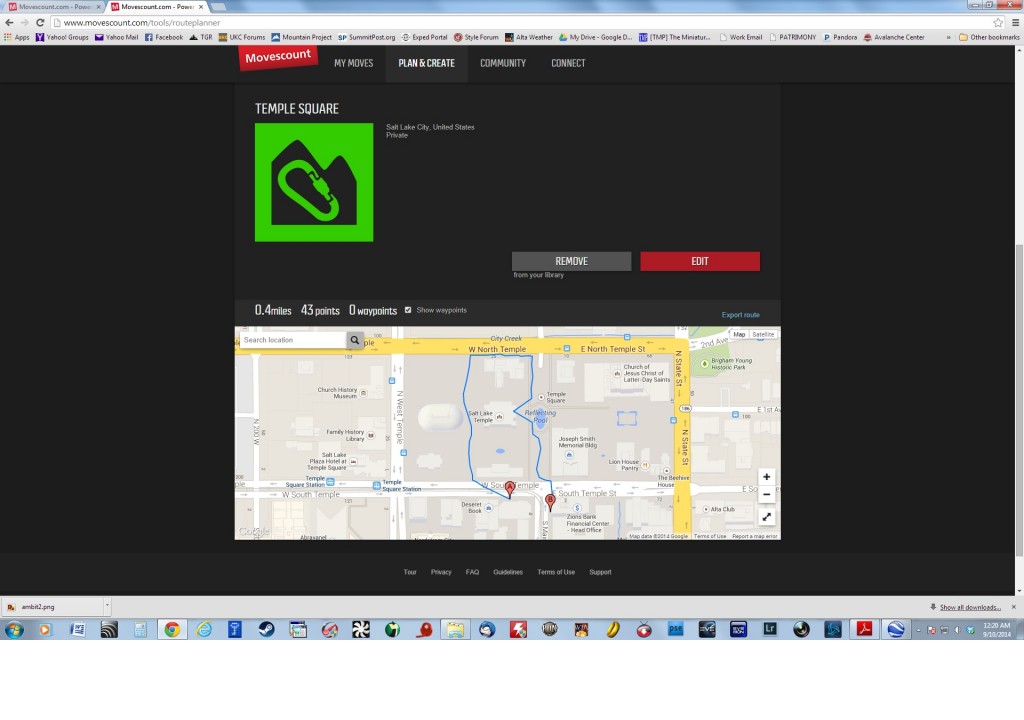 This next picture is a photo of what this route looks like when downloaded to the Suunto Ambit 2.  The route path is laid out on the screen, and the arrow pointer shows my current position and direction.  I can use this arrow pointer and the track line to keep myself on the selected route.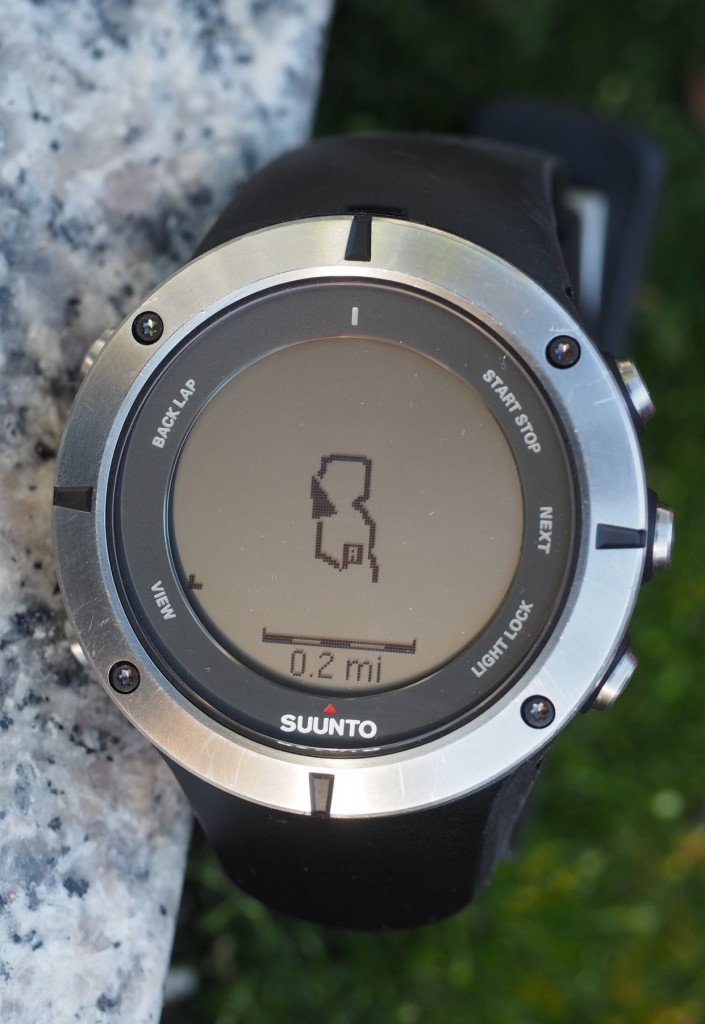 The usefulness of this functionality should be readily apparent to anyone who has ever been lost or just unsure of their position.  For a climber, you could, for example, create a route showing you the descent route down the Emmons Glacier on Mount Rainier.  With the GPS navigation function, you could have the possibility of finding your way down from the summit even in whiteout conditions.
You also have the ability to create GPS waypoints at any time while using the watch.  If you are hiking, and discover an interesting place, and want to be able to find your way back, you can mark the location and save it in the Ambit 2's memory as a point of interest.  This feature also allows you to leave a "trail of breadcrumbs" as you go, so you can retrace your footsteps whenever you wish.
The Ambit 2 does not have the benefits of a standalone GPS with a big color screen, that is loaded with area maps, but it does provide a lot of navigation functionality, particularly if you spend the effort ahead of time to create your routes in advance.
Tracking features  
In addition to helping you navigate and know where you need to go, the Ambit 2 is very good at tracking your progress and showing you where you've been.  You can activate the GPS and have it track your location as you move, and then you can upload this data to the Movescount web site and see where you were.  Here's an example of an uploaded track that recorded one of my hikes on a local mountain.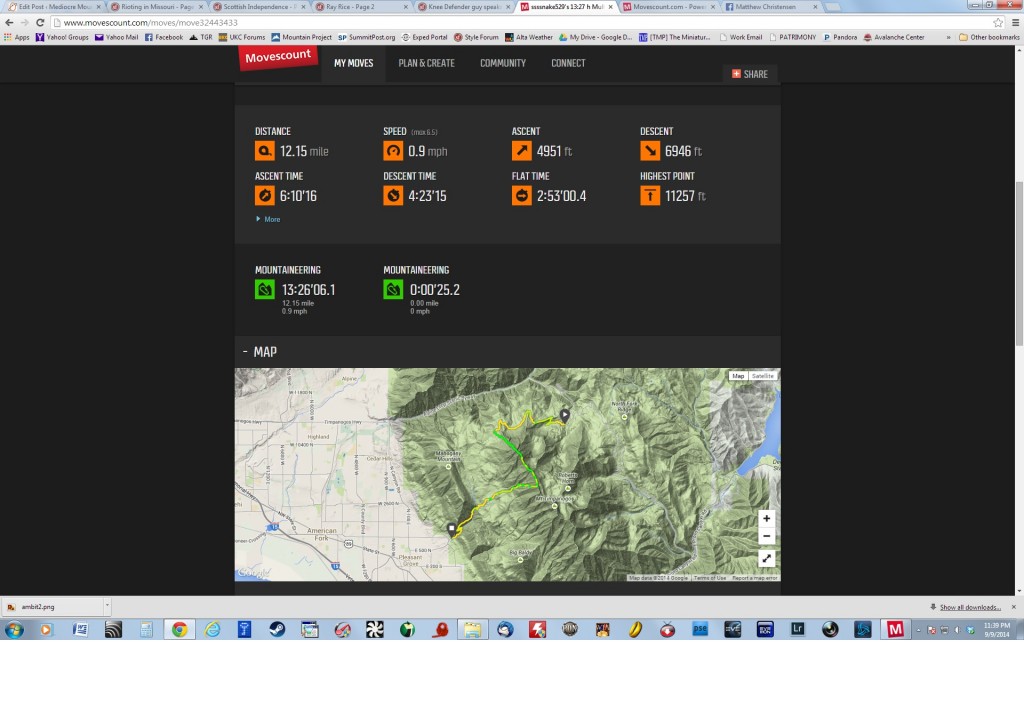 As you can see from the screen shot above, the data collected includes the path traveled, as well as aggregated information on average speed, altitude gain and loss, distances, etc.  This is great for tracking your training and assessing your accomplishments.
Training Aids
In addition to the various navigation features, the Ambit 2 will keep track of training.  It works in conjunction with a heart rate belt to monitor and track heart rate.  You can track both distance (via GPS) and heart rates if you're running or biking or doing other mobile training activities.   I use the Ambit 2 to keep track of my work outs at the gym.  I don't use the GPS function because I'm staying in one place, but I do keep track of my heart rate data.
Here's a typical data screen for an indoor workout, in this case a 90 minute bout on the stair stepper: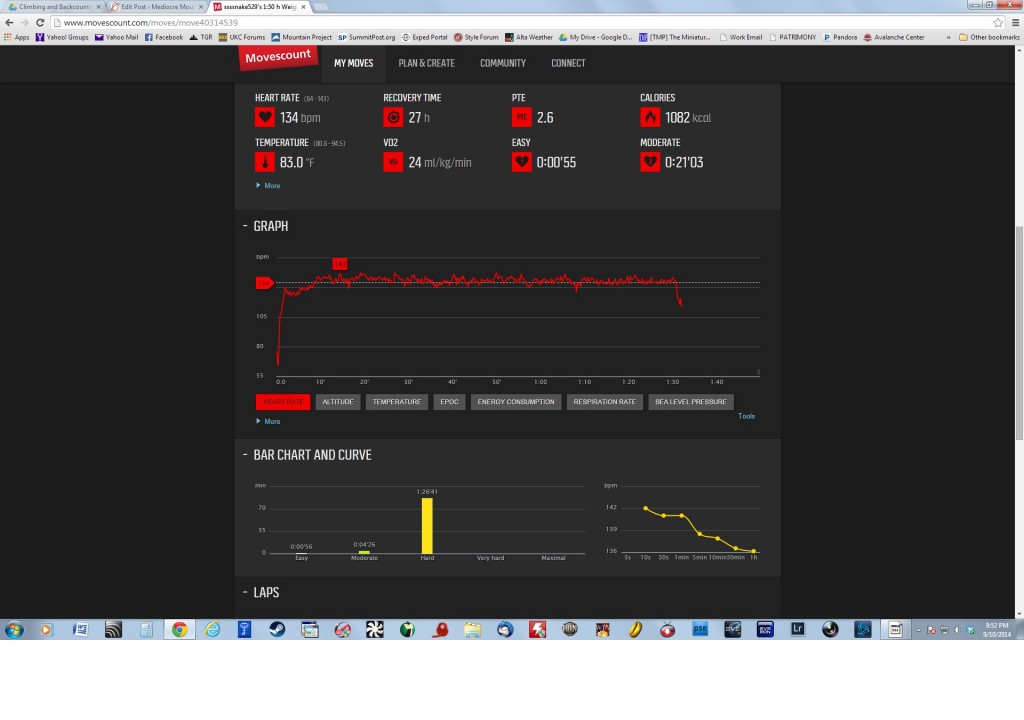 Apps and Customization:
There are a number of apps available for the Ambit 2, both from Suunto and also user created apps.  They range from practical (storm alarms) to silly (virtual cat hunting.)  There are tons of training apps available, but the only app I had any interest in was an app that provides me with sunrise and sunset times.  However, I found out that the sunrise/sunset information is available without the need for an app simply as an option on the barometer screen.  So, I don't currently have any apps installed.
Dislikes and Problems:
I had to put this section in here, but I honestly can't think of very much to say that I don't like about this device.  It could always be smaller, but if that compromised the functionality, then I would not be in favor of miniaturizing it.
The price is high, but I assume that it will be discounted as the Ambit 3 hits the market.
The menu systems can be a bit overwhelming and hard to remember, but with increased use I have become increasingly familiar with the various menu options, and navigating to the feature or function I want is getting easier and easier over time.
Conclusions:
The Ambit 2 has become an "indispensable" piece of gear for me.  I use it to track my training, I use it for navigation, and I use it for mundane tasks like knowing what time it is.  If I lost it tomorrow, I would go out and buy a new one.  It's really a quality piece of gear that delivers a lot of functionality in a small and compact package.  I just hope that it proves to be as durable as my old Vector has been.  If so, I will still be using the Ambit 10 years from now.