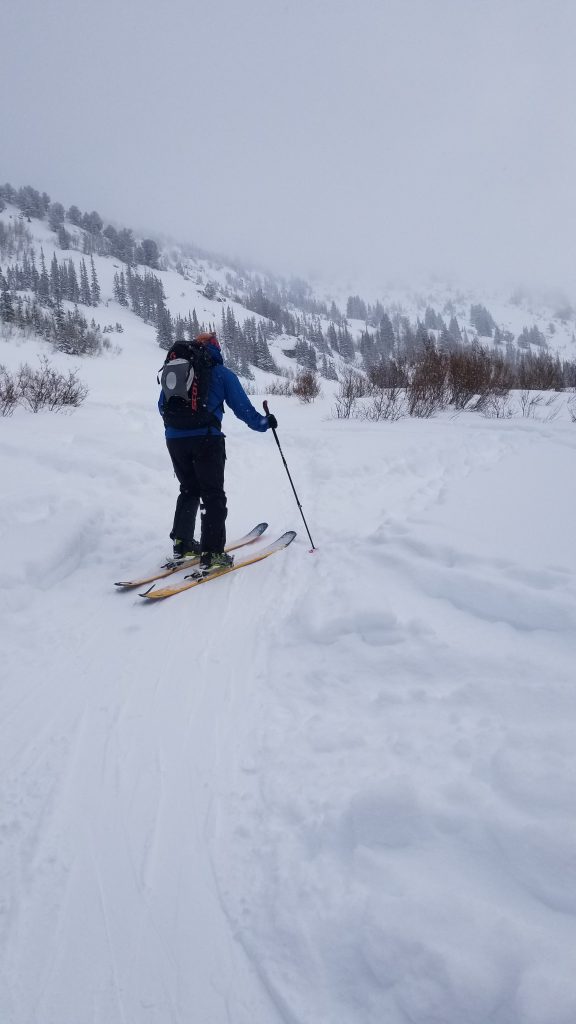 I was an early adopter of avalanche airbag packs. I've been using them for over a decade, and have owned and used models by Snowpulse/Mammut ABS, and Dakine. My packs have all used compressed gas (either oxygen or nitrogen) to inflate the airbags. My first airbag pack was an ABS model, which uses nitrogen charged canisters. Nitrogen canisters are relatively compact and lightweight, but not approved for air travel, however. In anticipation of a heli-skiing trip to Alaska, I purchased a couple of Snowpulse/Mammut packs, which use compressed air canisters that can be refilled at dive shops or ski shops with compressed air tanks.
Airbag pack technology has improved in the past few years, with perhaps the biggest change being the introduction of electric fans as a replacement for compressed gas canisters. Electric fans have the advantages of not requiring canister refills if you deploy the airbag, either for testing or in response to an avalanche. Unlike compressed gas (air especially) they are not as affected by cold temperatures. (Compressed gases become less pressurized the colder they get.)
I held off buying a fan airbag pack for several years. They were too heavy, and the lithium/ion rechargeable batteries are considered hazardous, which makes taking them on airplanes problematic.
Recently, a new generation of electric fan powered airbag packs have become available. These use a supercapacitor instead of a battery to charge the fan. I don't know much about supercapacitors other than that they are good at very quick energy discharge, they are lighter than comparable batteries; they are not as affected by temperature fluctuations as batteries, and they are not considered hazardous for airplane travel. Currently, the leader in supercapacitor airbag systems is a company called Alpride, a Swiss company that has licensed their "E1" supercapacitor airbag technology to a number of different outdoor companies.
The Alpride E1 system charges with a USB cable. In addition to the on-board supercapacitor charge, it has 2 auxiliary AA size batteries (either alkaline or lithium) that keep the supercapacitor at full charge and also allow for an additional charge while in the field (takes up to 1.5 hours) if the airbag is deployed.
When you turn on the system, it runs a self-diagnostic, and an LED blinks (visible from outside the pack) to show you that it is turned on and working. I typically turn the system on when I am packing for my trip, and turn it off when I unpack. (It's hard to turn it on and off when you're at the trailhead because the on/off switch is deep in the main compartment of the pack.) With two fresh AA batteries installed, the system is good for 2-3 months. Generally, I just plug the pack in to a USB port for a couple of hours every time I return from a tour to keep the batteries from being used to charge the capacitor.
There are a few different options on the market today that incorporate Alpride's E1 supercapacitor system. I considered the Osprey Soelden Pro 32 liter pack; the Ferrino Full Safe 30+5 pack; the Black Diamond Jetforce Tour 26L; and the Scott Patrol E1 40.
In choosing between these options, one of my main considerations was load capacity. I tend to carry quite a bit of gear, even or short day trips, and I wanted a pack that could accommodate this gear, and also have room for longer, multi-day hut trips. Of the Alpride E1 packs I looked at, the Scott Patrol has a 40 liter capacity, with the Ferrino at 35 liters and the Soelden Pro at 32 liters. At 26 liters, the Black Diamond Jetforce Tour was just too small for my needs.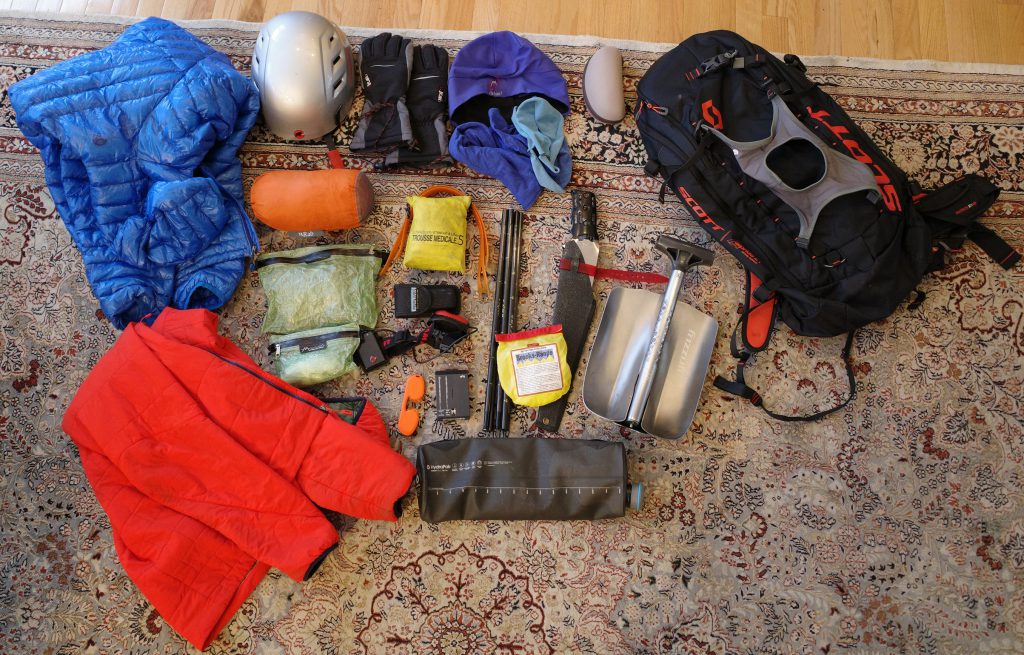 The Ferrino Full Safe has a unique feature in that it also incorporates an "avalung" type device that allows a buried person to breathe under the snow, provided you have the mouthpiece in your mouth when you are buried. Years ago, I had a custom pack made that incorporated an avalung and airbag (description HERE,) however, I found that I didn't really use the avalung feature that much. It interfered with my skiing and added weight and complexity to the pack. The Ferrino Full Safe is the heaviest of the packs I considered, (over 7 pounds) and I figured I would seldom use the avalung feature.
Ultimately, my choice came down to the Osprey Soelden Pro 32 and the Scott Patrol 40. They are very similar in weight and capacity, and what reviews I could find online all seemed pretty positive. Ultimately, I found the Scott on sale with a 15% discount, so that proved to be the deciding factor. I purchased the Scott.
After having used the Scott for about 10 touring days, I am very happy with it.
Scott's website claims the pack weighs approximately 2830 grams or 6.24 pounds. On my scales, my pack weighs 6.3 pounds, which is pretty close to the claimed weight. The pack is constructed with thinner straps, lighter zippers and doesn't have a lot of useless features, which is a good design direction for a piece of gear that most folks will use going uphill more than down.
I think that the claimed 40 liter volume includes the space taken up by the capacitor, so the actual usable volume is probably closer to 38 liters.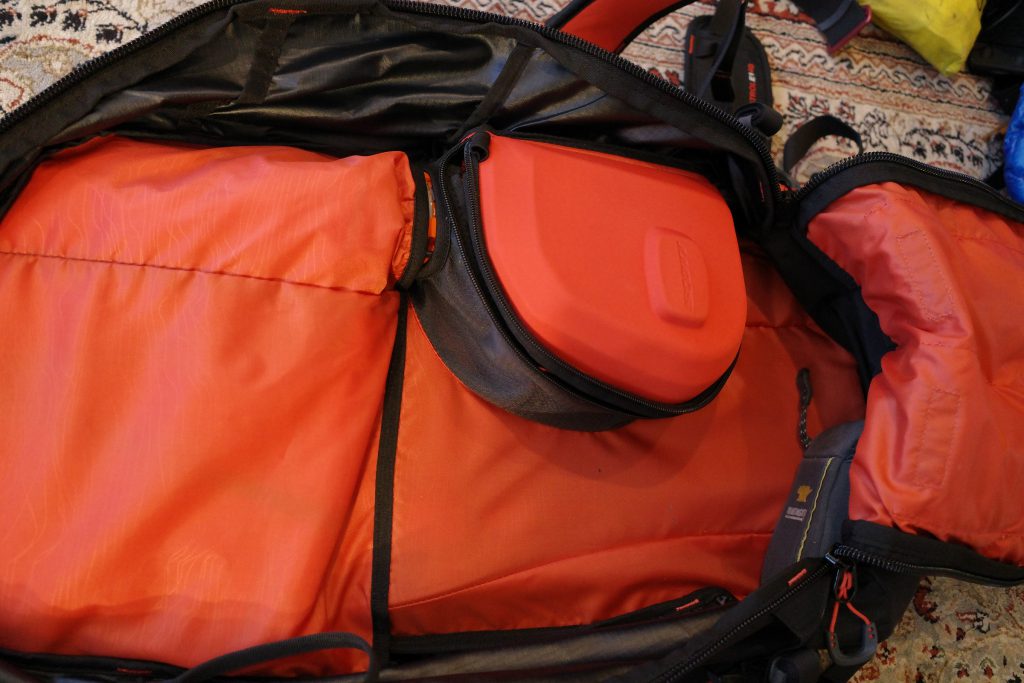 Even with the capacitor taking up some space, there is plenty of room for my typical day trip or hut tour kit, and I don't have to spend a lot of energy cramming stuff into a space that's too small.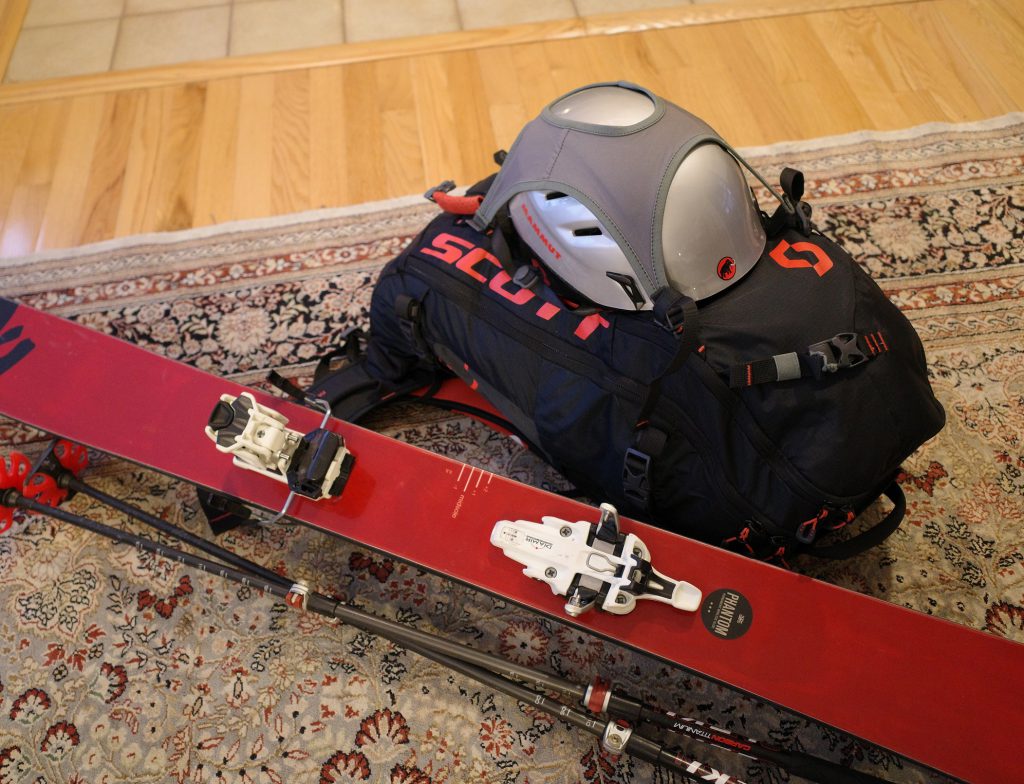 As with most avy packs, the Scott Patrol has two compartments; a smaller top compartment and the main compartment. Both of these are accessed with clamshell zippers. The top compartment has dividers to organize your snow safety equipment, with places to put your probe, shovel blade, and shovel handle. I can also easily fit my snow saw and ECT cord into this compartment. This top compartment also has a zippered pouch which is handy for keeping quick access items like snacks, a spare Buff, and sunglasses.
The main compartment houses the supercapacitor and has room for spare clothing, an emergency shelter, first aid kit, thermos, and all the rest of the gear I take with me. It has a zippered pocket that is handy for storing easy to lose items like my multi-tool.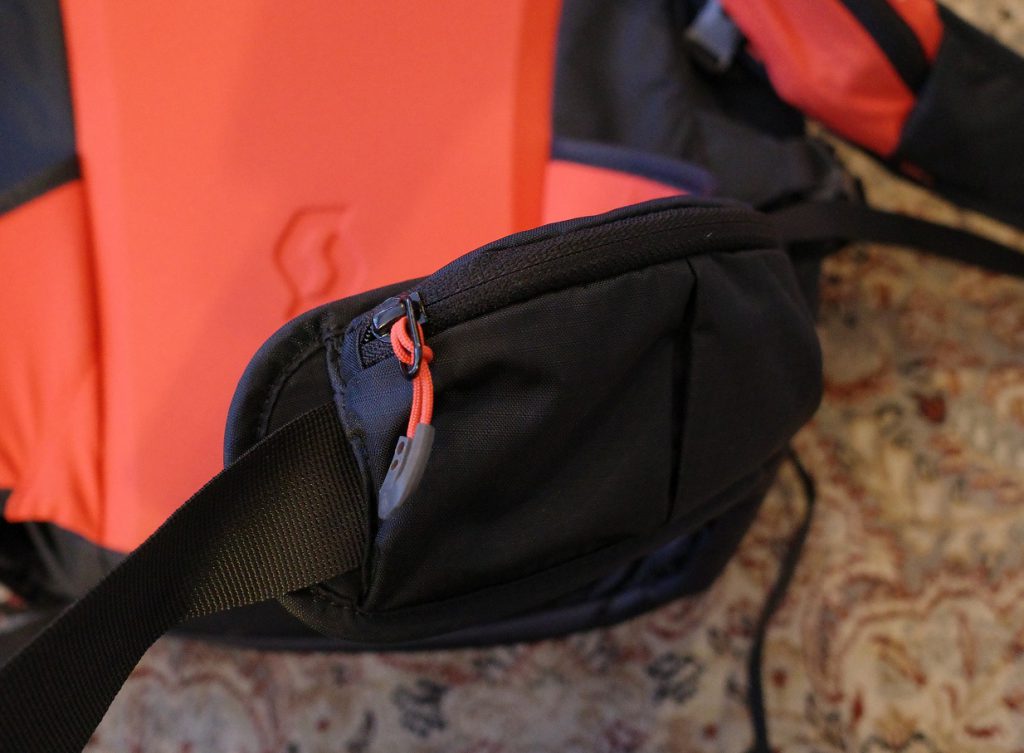 There is also a small hip belt pocket. It's not very big, but it fits smaller items like sun screen, lip balm, a lens wipe for my goggles, and my reading glasses. I wish that this hip pocket were a little bit bigger. It's not quite big enough to hold my inclinometer or a soft flask. I would also welcome a matching pocket on the other side. I find easily accessible pockets to be very useful when I'm on the move, as I can access things without having to stop.
A common feature that this pack does not have is a dedicated goggle pocket. I like the soft goggle pocket on my Dakine ABS pack, and I miss it on this pack.
The helmet holder works well, and has stowed my helmet securely without issues. I was originally worried that the clips that hold it on would come off (the upper clips fit to the daisy chain and are held there by tension) but so far, that has not been an issue, either when holding the helmet or when empty.
Skis can be carried either diagonally or in A-Frame mode. The diagonal carry set up has a very fast dedicated system of a top buckled strap and a bottom cut-resistant plastic wrapped wire. For A-Frame, you just use the dual compression straps on either side of the pack. I've mounted skis up for carry testing, but have not carried my skis more than a few yards in either configuration. Both configurations seemed to work well enough.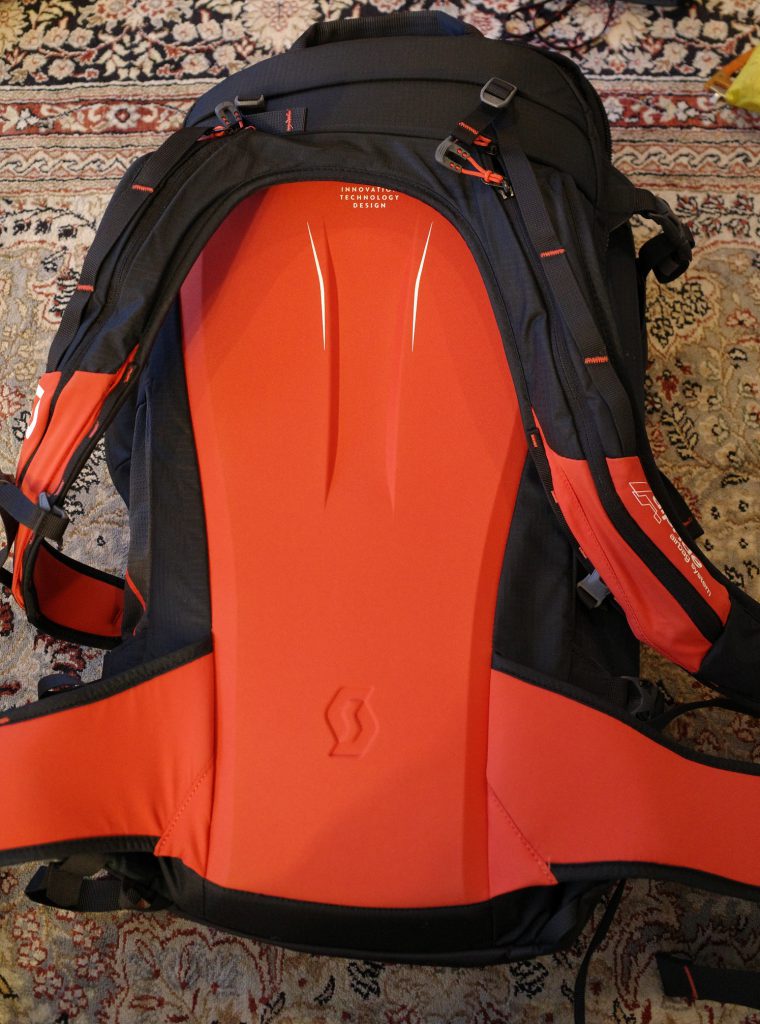 Fit and comfort of the pack is excellent. I have a pretty long back, and I was worried that the pack would not fit me well. In use, it fits very well, and I am able to transfer the load to my hips without having to crank the hipbelt down too much. The airbag activation trigger is adjustable in height, so I was able to move it down lower on the shoulder strap to accommodate my longer torso. Apparently, it's possible to transfer the trigger to the opposite (right) side as well, but I am right handed, so I haven't done that. I've heard it's possible to run a hydration tube through the shoulder strap sleeve, but I haven't done that either(water tubes always seem to freeze.)
The pack has a lightly padded frame that is comfortable and keeps objects in the pack from poking your back.
In use, I have found that I don't think about the pack very much, either on the uphill or when skiing downhill. This is the best indicator of a comfortable pack. It doesn't throw me off balance, and stays snugged down without having to over-tighten the straps.
I've only used this pack for less than one season, but I really really like it. A lot of thought has gone into the design of this pack and it serves its intended function very well. I'm certain that supercapacitor airbag systems will continue to improve, getting smaller and lighter as the technology advances. However, until that happens, I think that this is one of the best airbag pack options there is, and likely the best choice for my needs.