One of the things I've learned over the years is to never go into the wilderness without a puffy jacket. Puffy jackets keep you warm when you're at a cold belay, they help you survive an unplanned night out, they stave off cold when you're at the end of a long hard mountain day. Putting on a puffy jacket provides you with a big morale boost when you're cold and things are sketchy.
I have accumulated a large number of puffy jackets, for all seasons and activities. Most are down filled, but some have synthetic insulation. Some are heavy and some are light.
My rule of thumb when deciding which puffy jacket to bring is to choose one based on a scenario where I am spending an unplanned night out. I want a puffy jacket that, when worn over my other clothing, will keep me alive for an unplanned bivi at the coldest temperatures I could reasonably expect. I don't expect it to keep me comfortable, but I want it to be warm enough that I don't have to worry about hypothermia, even if I'm tired and low on energy.
Although puffy jackets are available in hood-less styles, all of my puffy jackets have hoods. I've found that a hood adds a significant amount of warmth for a modest weight penalty vs a non-hooded jacket. Also, if it's snowing (or worse, raining) a hood provides some protection from precipitation. Because of this efficiency, I don't use anything without a hood.
Here is a review of the various puffy jackets I own and what uses they are best suited for:
Ultralight Puffy Jackets (About a pound or less.)
Montbell Mirage Parka: 14.7 ounces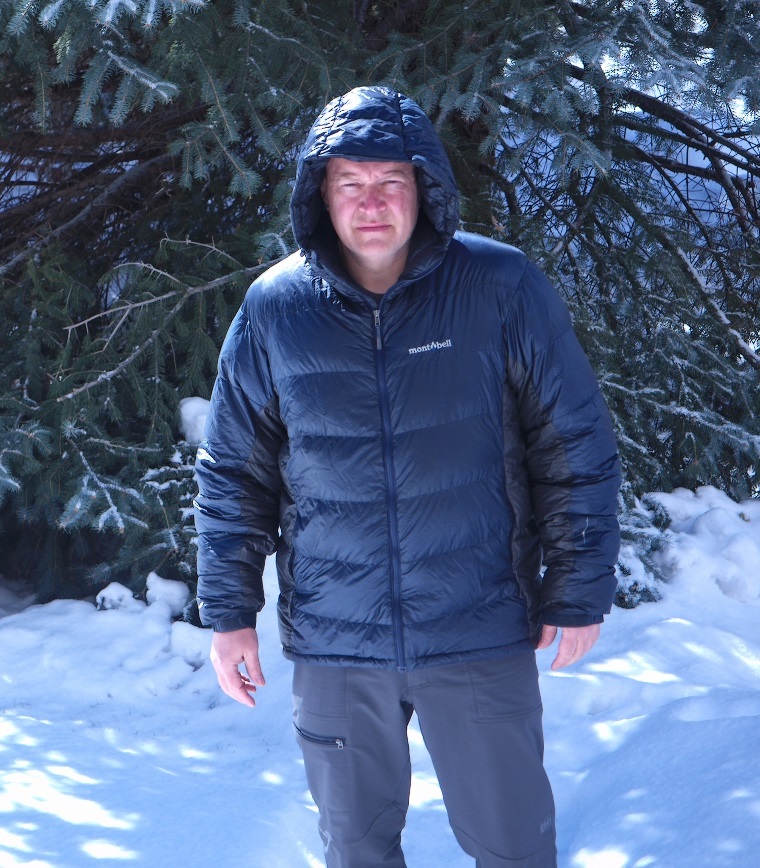 The Montbell Mirage Parka is incredibly warm for its weight. It's a fully baffled puffy jacket, filled with 900 fill power down, at less than a pound. When you put it on, it feels almost weightless, but it has sufficient loft to really add significant warmth to your clothing system. It's probably the most versatile jacket I own, and is suitable for most 3 season activities. I've used it for multi-day spring ski tours, summer and fall alpine rock climbing, and backpacking in colder weather. It's the perfect jacket for spring and fall conditions in the backcountry.
It's made of extremely light weight materials, and I've managed to poke a few holes in it over the years, but they were easy to repair with tenacious tape. If you're climbing in this jacket, you can expect to tear it up on rough rock. The hood is large enough to easily fit over a climbing helmet, but it does not have a two way zipper that you can unzip from the bottom, so it's function as a belay jacket is somewhat impaired
A couple of handwarmer pockets and two large internal pockets for storing gloves and the like round out the features. Out of all my puffy jackets, I probably use this one the most. For moderate conditions, it's a perfect, lightweight answer.
Mountain Hardware Ghost Whisperer Hooded Down jacket: 8.8 ounces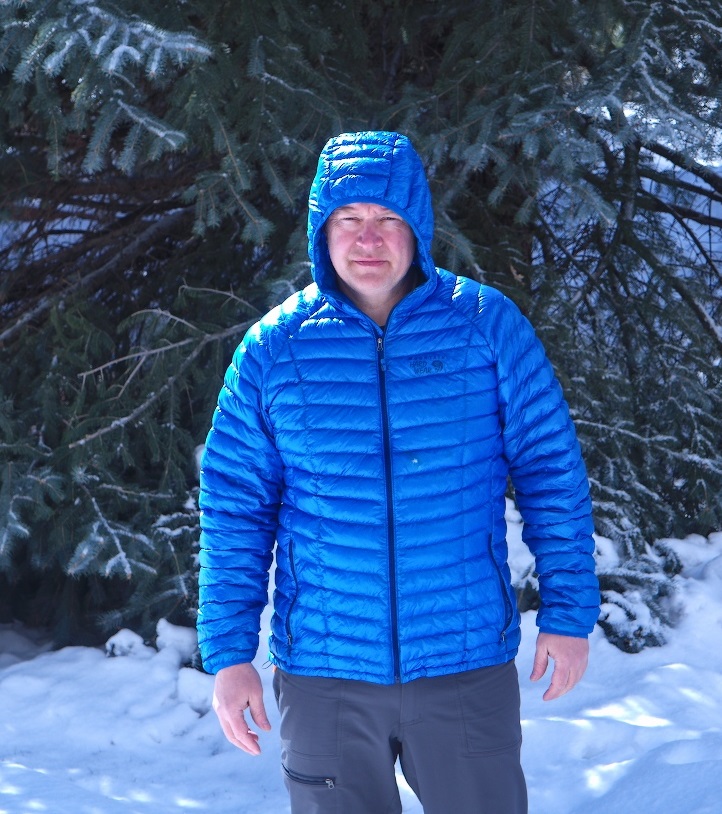 The Mountain Hardwear Ghost Whisperer Down Hoodie is the lightest of all my puffy jackets. Some years ago, I did a stand alone review of this jacket, which can be found, HERE. This jacket is a great puffy for summer backpacking in the mountains, fall and spring in the desert, and long multi-pitch rock climbs in cool temperatures. It weighs so little and packs down so small that it's easy to take with me. If it's summer time and I'm in the backcountry, chances are good that I've got this in my pack.
Montbell Thermawrap Parka 1 pound, 0.4 ounces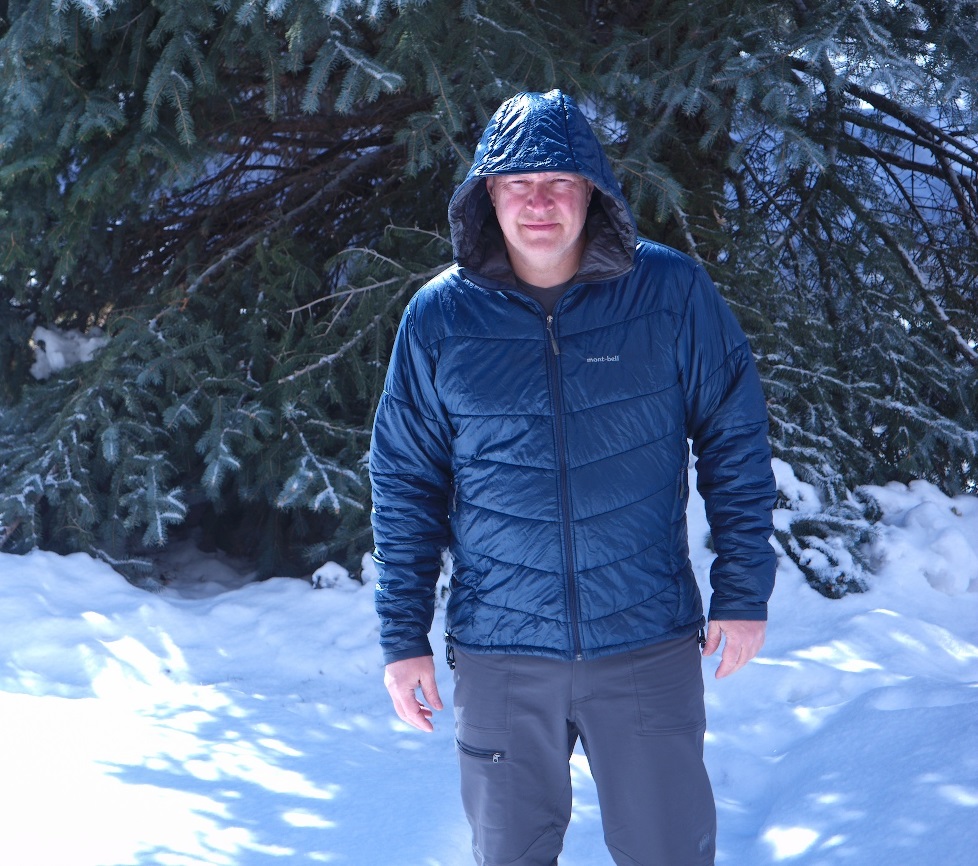 This jacket provides warmth similar to the Ghost Whisperer Down Hoody, but is significantly more bulky and heavy due to the fact that it is filled with synthetic insulation, not down. Because synthetic insulation is more resistant to water and dries more quickly, this jacket has become my go-to puffy for backcountry fly fishing. I'm kind of clumsy, and have dunked myself in a creek more than once while fly fishing, and so I like to have a jacket that will provide some warmth even when wet. The Thermawrap is light and compact enough to fit in my fishing pack, and provide me with some warmth in the event of changing weather conditions.
Puffy Belay Jackets for Cold Conditions
All of these jackets are belay jackets. They are designed for keeping you warm when you are belaying or when you are otherwise immobile during ice climbing or cold alpine climbing. They will keep you alive during an unplanned bivi when the sun goes down and the temperature starts to plummet. A good belay jacket is your insurance policy, increasing your chances of survival if things go wrong.
Good belay jackets share some common features: They are sized generously enough to put on over your other clothing, with sleeves that are voluminous enough that you can put the belay jacket on and take it off without removing bulky gloves or mittens. A good belay jacket has a couple of large interior pockets for storing your spare gloves, to allow your body heat to help dry them out. The hood of a good belay jacket has enough volume that it will fit over a climbing helmet, and the hood needs to be able to snug down without a lot of messing around with complicated snaps or velcro. You need to be able to batten down the jacket easily while wearing big gloves with minimal dexterity.
A good belay jacket needs a two way zipper that you can unzip from the bottom. This feature allows you to access your belay device without having to hike your jacket up around your waist. Ideally, you want to be able to belay, while the jacket covers your butt and hips.
Outdoor Research Perch 1 pound, 15.3 ounces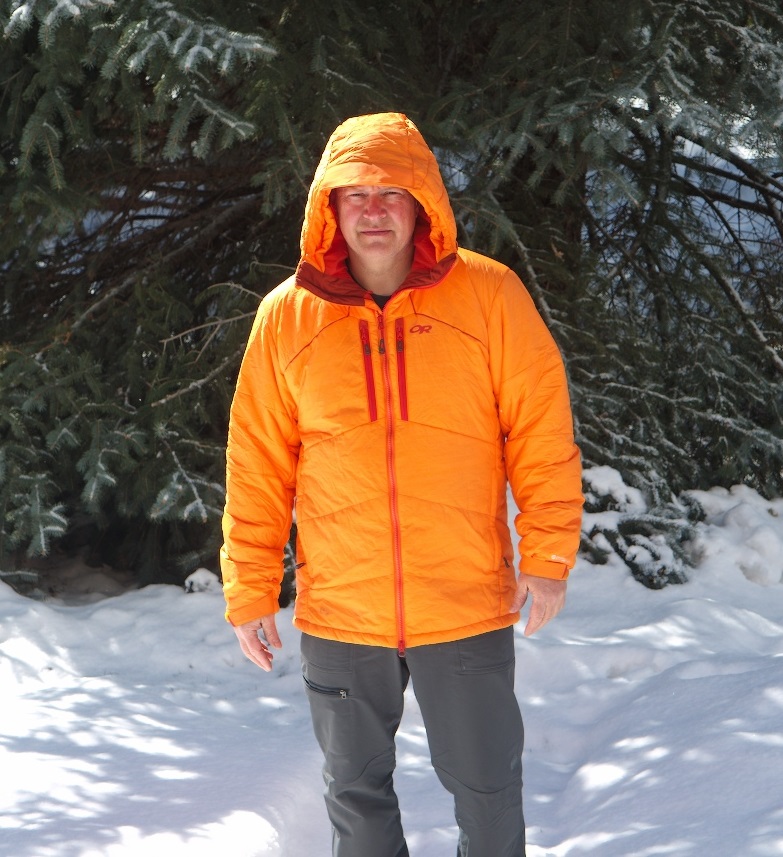 Truth be told, I bought this jacket primarily because of its color. The bright neon orange is good for cold weather hunting trips in states that require hunters to wear orange clothing. I've used it on mountain hunts in November, and it has kept me warm while I've been sitting in the snow and glassing the hillsides for elk.
The Perch is insulated with synthetic "Primaloft Gold" insulation, and has a highly water resistant Pertex shell, so it does well in wet conditions. I've used it as a belay jacket for wet, sloppy ice climbs, where I've been showered by water at the belay, and it's kept me warm and dry. It's moderately warm and I've found that it will keep me comfortable down to about 5-10 degrees F when worn over my climbing clothing (generally a base layer and a Patagonia Nano Air Lite hoodie. The outer fabric is pretty durable, and I haven't managed to poke any holes in it yet. The cut is full enough for easy layering over other clothing.
The hood of the Perch is large enough to fit over a climbing helmet, and the two-way zipper makes it easy to unzip it from the bottom and access your belay device. There are two chest-high outside pockets, two really big interior pockets for storing gloves, and a rear interior pocket across the back at waist level that doubles as a stuff sack. You can stuff the jacket into this waist pocket and then clip it to your harness for transport if you aren't carrying the parka in a backpack.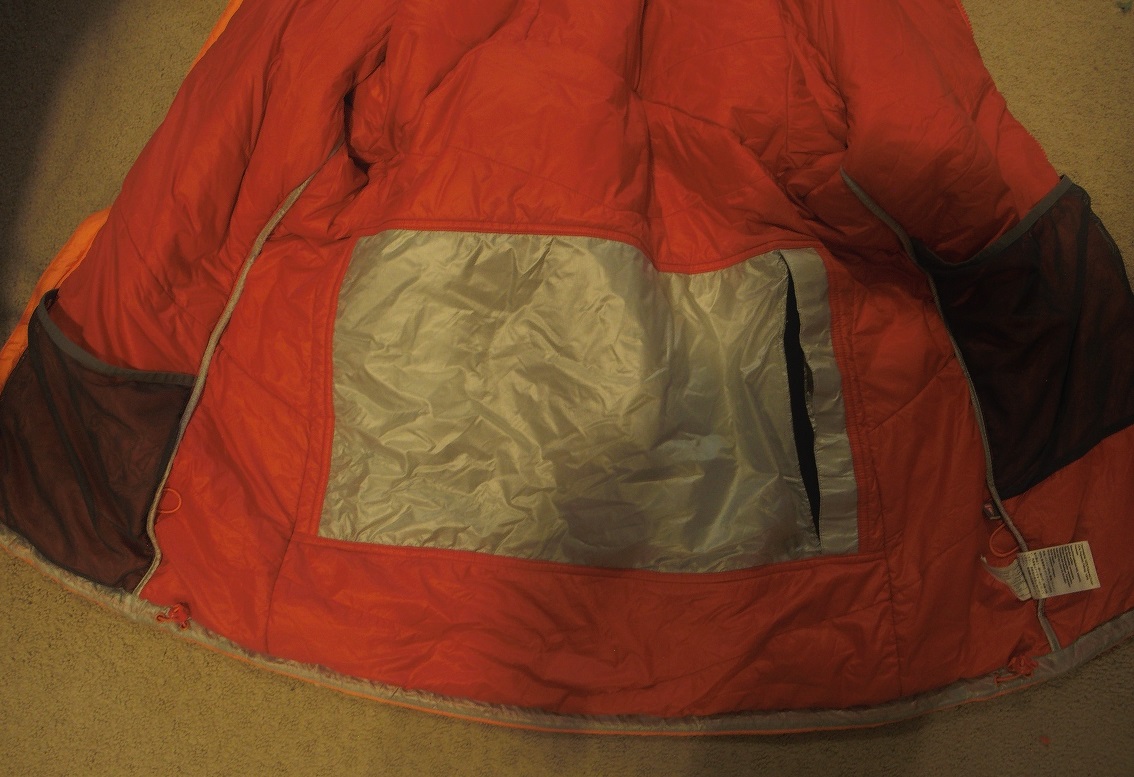 Although I originally purchased this jacket for hunting, I've found that I use it for ice climbing too. It's an excellent, well thought out belay parka, and if I'm out for a day of ice climbing, it's usually in my pack. Were it not for my experience with the Arcteryx Dually, I'd say it was my favorite belay parka.
Arcteryx Dually 1 pound, 12.3 ounces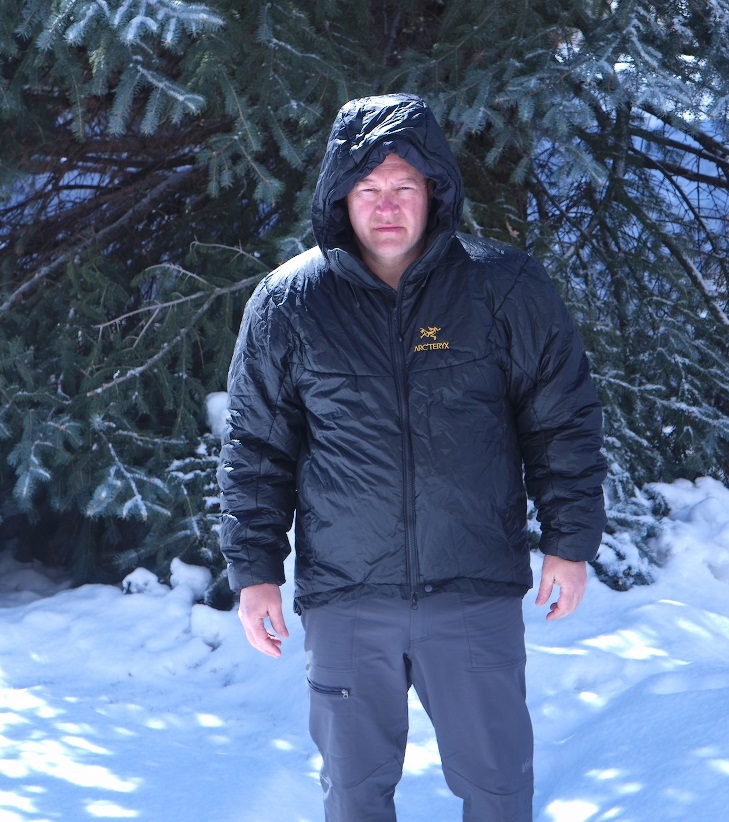 The Arcteryx Dually Parka is the finest belay parka I've ever used. Why? Because it's really warm and almost completely impervious to water. The Dually is significantly warmer than the OR Perch, in spite of being about the same weight. The Dually doesn't have the neat integral stuff sack pocket of the OR Perch, but it does have a good, helmet compatible hood, a two way zipper, handwarmer pockets, and a couple of big interior pockets for gloves.
It's stripped down to the essentials. The cut is comfortable and made for layering over other clothing. The warmth of this jacket is fantastic. It's made for really cold conditions and I've been fine in this jacket (layered over my climbing clothing) down below zero.
The Dually is an alpine security blanket. No matter what the weather is doing, when you put this on, it provides warmth and comfort. It's overkill for ice climbing day trips in moderate temperatures, but it's my go-to alpine climbing belay jacket when I'm in the mountains in shoulder seasons and subject to changing weather conditions. If I could only own a single belay jacket, it would be the Dually.
There is a very in-depth and comprehensive review of the Dually HERE. The reviewer does a better review than I could ever hope to do, so I will just encourage you to follow the link.
Patagonia Fitzroy 1 pound, 4.8 ounces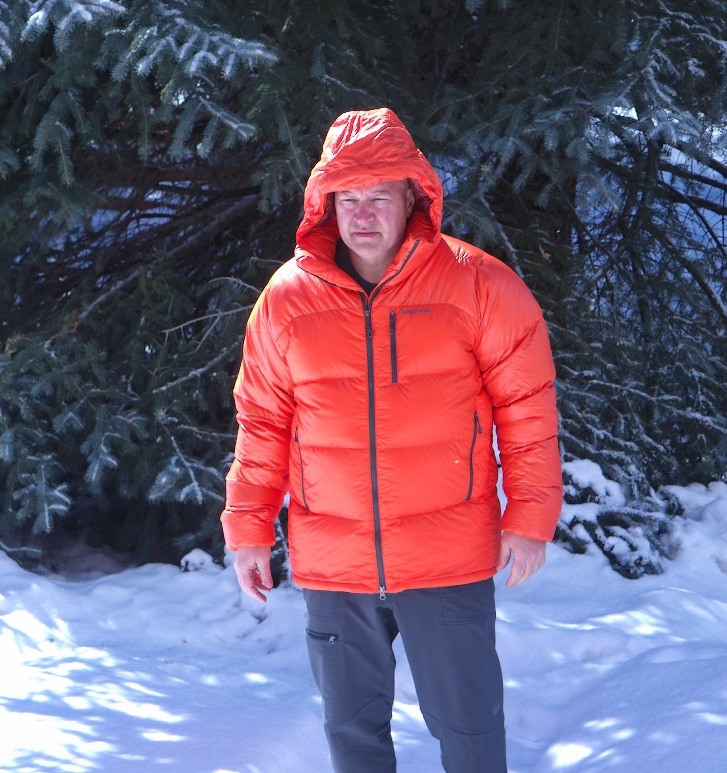 The Patagonia Fitzroy Parka is the only cold weather belay parka I own that is made from regular down (the Encapsil Parka is silicone treated hydrophobic down.) It's significantly lighter and packs much more compactly than the OR Perch or Arcteryx Dually. The fabric is also much lighter weight than the Perch or Dually as well. As with the Perch, I bought the Fitzroy because its orange color makes it suitable for hunting. Also similar to the Perch, I've found other, non-hunting uses for it as well.
I don't use it for ice cragging. The Perch does a better job of this because of its water resistance and greater durability, and the weight and bulk advantage of the Fitzroy doesn't matter much for day trips. Where I use the Fitzroy is for situations where I need to go light, but want something a bit warmer than the Montbell Mirage. It's a great jacket for fall alpine climbs, mid winter ski trips, and any time I need a light, compressible jacket that's truly warm. In warmth, it's comparable to the OR Perch, and a bit less warm than the Dually.
Patagonia Encapsil Parka 1 pound, 4.7 ounces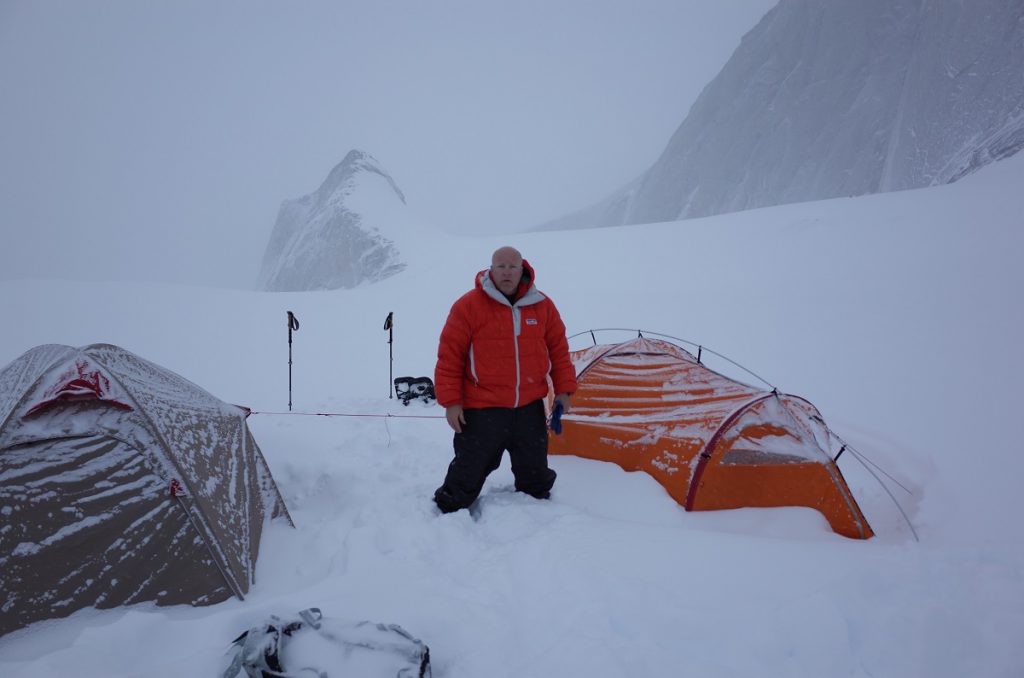 This jacket was accompanied by a lot of hype when it was released in 2013. Patagonia called it "the best down jacket ever," and released videos touting its groundbreaking performance. The reason for all this hype was the encapsil treatment of the down. Patagonia used a proprietary process to infuse the down clusters with silicone, which made the down resistant to water and also increased the fill power of the down to about 1000FP (typical high-end down is 850 fill power.)
The careful, fully baffled construction also contributed to the jacket's warmth and comfort. The parkas went on sale and promptly sold out in less than 24 hours. They cost $600, which was a very high price for a down jacket in 2013. Only 1000 of them were manufactured, and I counted myself lucky that I managed to get one.
An interesting perk of owning this jacket is that it included professional cleaning for life. If the jacket needed cleaning, you just called up Patagonia customer service and they sent you a pre-paid shipping label for the jacket. You sent it to Patagonia, and a couple of weeks later, the jacket was returned, all clean and fresh.
I fully bought in to the hype surrounding this jacket and figured it was going to be the last belay parka I would ever need. The promise of light weight coupled with water resistance and the warmth of 1000 fill power down seemed like a great combination.
After using the jacket a bit, I began to be a bit disillusioned with it. For one thing, it did not have a two way zipper, which is a strange oversight for a belay jacket. Getting access to your belay device required hitching up the jacket around your stomach. More serious, however, were the rumors on the various climbing forums of significant clumping of the down. I ultimately experienced this myself on a trip to Alaska. After a week of wearing the parka, the down fill was clumping very badly, leaving cold spots all over the jacket. Holding the jacket up to the light, you could see the down all clumped together in the baffles, leaving most of the baffle devoid of down insulation. That Alaska trip was the last time I used the Encapsil parka.
After the trip, I sent it back to Patagonia for cleaning, and then sold it. Luckily, there is a very healthy market in Asia for vintage and collectible Patagonia clothing, and I was able to sell it to a store in Korea for $1000, four hundred dollars more than I paid for it back in 2013. It's telling that Patagonia never produced any more encapsil down products. I guess the clumping issues were insurmountable.
Puffy Jacket for Unreasonably Cold Conditions
Valandre Immelman 2 pounds, 7.4 ounces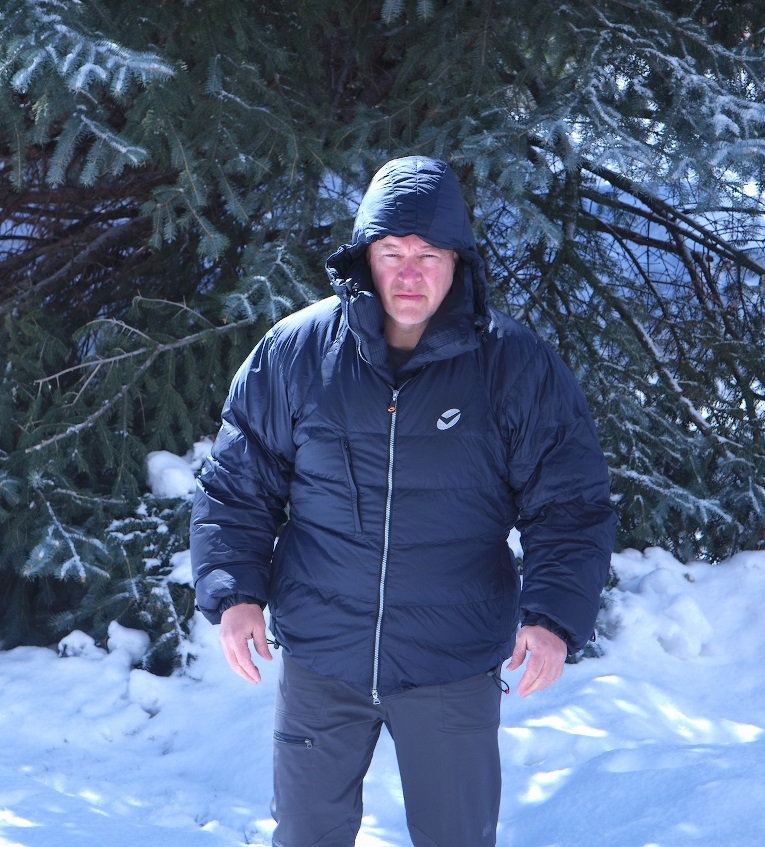 This jacket is a bit on the crazy side. It's easily the warmest jacket I've ever encountered. It's fully baffled, and with almost a pound (14.8 ounces) of down, it has more insulation than many sleeping bags. The baffles are seriously overstuffed with down, making this jacket incredibly puffy and thick.
In spite of its insane puffiness, the Immelman is extremely comfortable to wear. The cut and fit of the jacket are contoured to the body, and freedom of movement is great. Valandre claims that their patterning and construction of the baffles gives the jacket more freedom of movement, and I have to agree that this is not just marketing hype. Wearing it feels like wearing a much lighter jacket. The Immelman has a more "athletic" cut than most of the other cold weather jackets, and I had to size up all the way to a XXL to allow for comfortable layering over other clothing. The fit is less baggy than the other jackets, and it is tucked in at the waist and hips, which makes it easy to see your feet.
Like the OR Perch, the Immelman has two interior glove pockets (zippered on the Immelmann) and a rear interior waist pocket that converts into an integral stuff sack. Unlike the Perch, the Immelman's integral stuff sack isn't all that well suited for clipping to your harness. The stuff sack material is a soft fabric designed to be comfortable when used as a pillow, and it absorbs water quickly. If you clipped it to your harness, the jacket would be soaked with water and snow before long.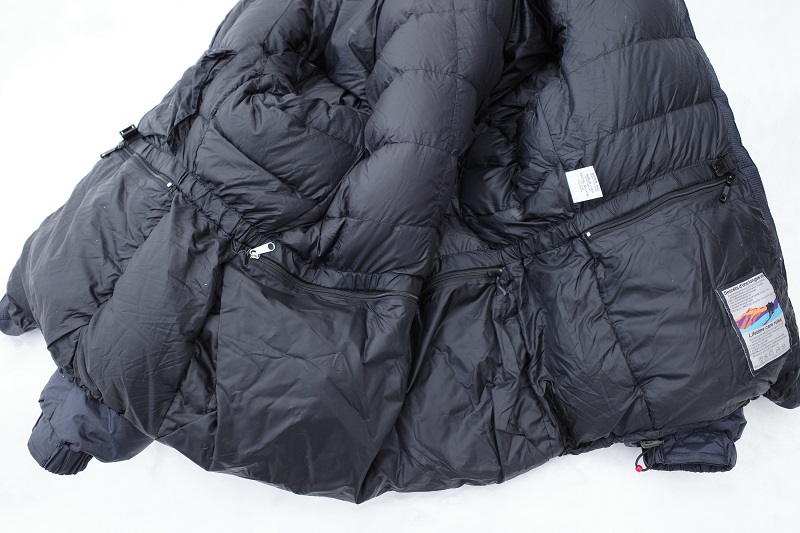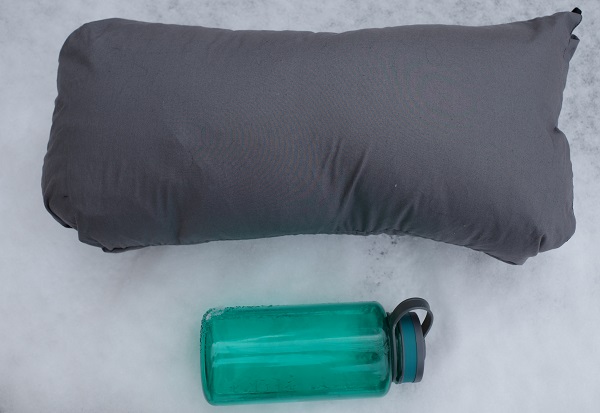 The Immelman has a very nice zipper backing that makes it almost impossible to snag the main zipper. It has a European left hand zip, which takes some getting used to, but works fine.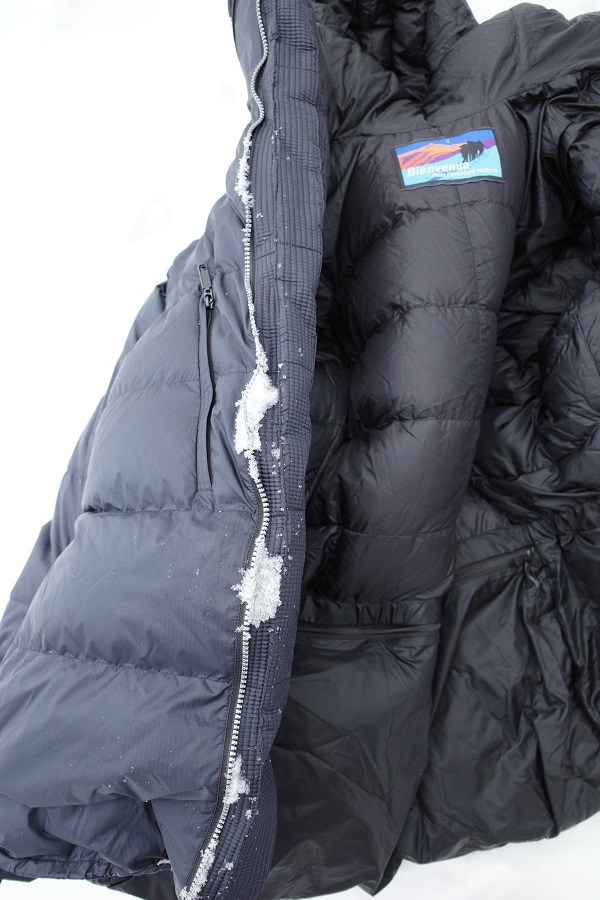 The hood is extremely comfortable and warm, but is a bit snug when worn over larger higher volume climbing helmets like the original Petzl Sirocco. I wish the hood had a bit more volume. The hood is removable and zips on and off easily. In contrast to other removable hood designs I've encountered, it doesn't require any velcro or snaps to snug it down. All you have to do is zip up the jacket's main zipper, and the hood closes nicely over your head.
The jacket has an integral belt, which I think is superfluous, as the cut of the jacket is plenty snug without it.
This jacket is not applicable to a broad range of activities. It's quite a bit bigger and heavier than the other jackets I own, so it's got to be really cold for it to be worth the extra weight and bulk. It's really built for the coldest of conditions; high alpine peaks in winter, ice climbing in Canada during a polar vortex, and anything else where you're likely to encounter prolonged sub zero (F) temperatures. It would be a great jacket for Denali, or Mount Rainier in winter, or an open bivi on the Grande Jorasses in December. For these conditions, the Immelmann excels, as it's almost inconceivable that anyone could be cold while wearing this jacket.
Conclusions
It should be clear by now that I have way too many puffy jackets. Nobody needs all of the jackets I own, especially since their purposes and features overlap quite a bit. At some point, I'm going to have to check myself in to a 12 step program for puffy jacket hoarders.
If I had to choose only 2 jackets, I'd take the Montbell Mirage and the Arcteryx Dually. The Mirage is unmatched for efficiency and warmth/weight ratio. It's the perfect jacket for going light and fast. The Dually is the best protection from truly horrific weather, and with adequate layering underneath could be used in very cold conditions.