The Olympus OMD EM-5 Camera   (15.3 ounces)
I've been using an Olympus PEN E-P2 camera for several years now.  It's a micro 4/3 system camera that accepts interchangeable lenses.  The sensor is half the size of a full frame sensor, so the "crop factor" provides the field of view equivalent to that of a lens twice length.  (For example, a 12mm lens on a micro 4/3 camera gives the same field of view as a 24mm lens on a full frame dSLR or traditional 35mm film camera.)
The micro 4/3 system provides a great combination of excellent image quality, flexibility of interchangeable lenses, and compact size.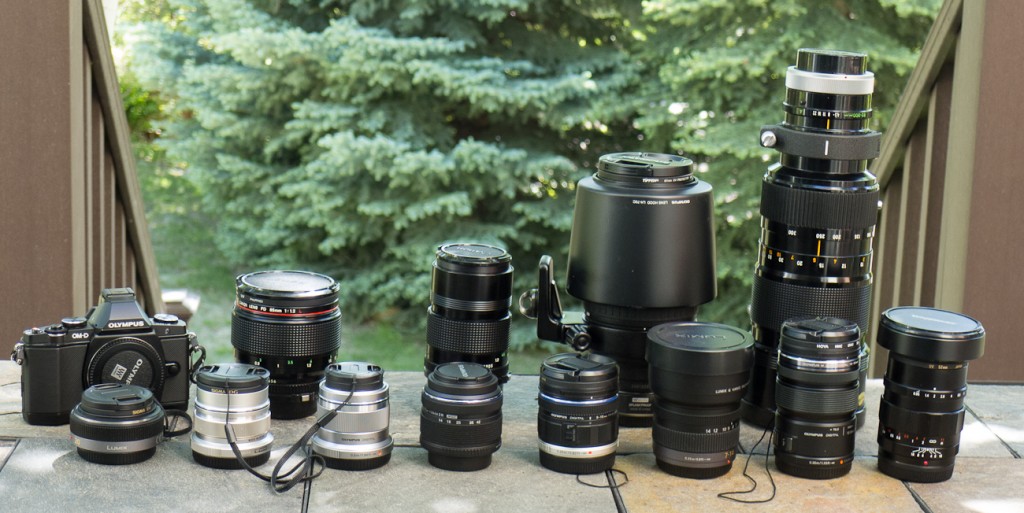 Although I've been very happy with the Olympus PEN E-P2 camera I've been using, (see  my PEN E-P2 thoughts HERE) I was so impressed with the specifications and early buzz about the new OMD E-5 that I pre-ordered it as soon as it became available.  After months of waiting, B&H Photo finally delivered it to me.
I've had an Olympus OMD-E-5 camera for a few weeks now.  I've been shooting with it just about every day.  So far, I love almost everything about this camera.
Build quality is excellent.  The magnesium body has appropriate heft, without being too heavy (15.3 ounces.)  Fit and finish are  terrific, and the weather sealed body has the feel of a precision instrument.  It's a good looking camera too, with a design very similar to that of the classic OM-4T film camera that I have always admired.
Ergonomics are likewise excellent, and the camera has a well-placed thumb rest that helps in holding the camera.  Knobs and buttons are well placed and for the most part are easy to manipulate.   I really like the tilting screen on the back.  I can take pictures at odd angles and tilt the screen so that I can compose the shot without having to be directly behind the camera.  The buttons and options are configurable, so I can program the buttons and controls to fit my shooting style.  You really get the feeling that the engineers that designed this camera were also serious photography enthusiasts.  Everything about it seems designed to allow you to just take pictures instead of fiddling with the camera.
Some people have complained about the placement of the on/off switch (on the back of the camera in the bottom right corner.  I think the placement is great.  It's out of the way where it is. I like having only shooting controls on the top plate. Some other folks have complained about the "mushy" feel of the buttons.  The button feel doesn't bug me either. I can tell by touch when I've depressed a button, even when wearing thin gloves. That's really all I care about.
Although the camera's features are very configurable, the instruction manual that comes with the camera isn't that great, and a lot of the camera's features are hidden deep in the rather complex menu system.  I would highly recommend any user of the OMD EM-5 read this article that explains some of the features of the OMD that are not readily apparent by reading the instruction manual.  There is another excellent blog HERE that addresses set up of your OMD EM-5 and many other issues.
The back LCD screen is bright and easy to see, and with the touch-screen functionality, you can manipulate camera settings from the screen.  You can also set the camera to take pictures when you touch the screen, with the auto-focus targeted on the area that you touch.  This can be a very useful feature when you have a "target rich" environment and you want to make sure the camera focuses on the right subject.
Speaking of auto-focus, it's really fast and accurate, even in low light conditions.  I haven't used any pro-level dSLR cameras, but the auto-focus on the OMD is very fast and acquires targets faster than any other camera I've ever used.  It's going to be great for taking action shots of skiing next winter.
The built-in viewfinder is one of the major features that sets this camera apart from the PEN E-P2 camera that I've been using.  The PEN has an accessory view finder that mounts on the hot shoe, but the OMD's finder is integrated into the camera.  This is great because I prefer to compose my photos using a viewfinder, and having a viewfinder is especially useful in high-glare environments such as snowfields, where the glare tends to render the rear LCD screen hard to use.   I've found the viewfinder to be very high quality.  It's bright, with good detail.  One very nice feature is that the viewfinder can be set up to show areas that are going to be beyond the dynamic range of the sensor.  With this option turned on, any areas that are too bright or too dark are highlighted in red or blue in the display.  This gives you a great tool for keeping your exposure within the boundaries you want.
One of the truly outstanding features of the camera is the image stabilization capability.  It has a new image stabilization technology that is extremely effective at limiting camera shake.   I've hand-held shots at one tenth of a second with no discernible fuzziness from camera shake.
Image quality is excellent.  I was pretty happy with the image quality coming out of my E-P2, and the OMD has raised the bar significantly from the level of the E-P2.  Colors are rendered very well, and I've seen minimal noise or other distractions even in less than perfect lighting.
One of the things that surprised me about this camera is how small it is.  I thought it would be bigger than the PEN E-P2 I've been using.  In fact, it's virtually the same size.  Slightly taller because of the viewfinder hump, but otherwise the same form factor.   This means I can use the same small camera cases and other carrying options that I've come to rely on for the E-P2.  As with the E-P2, my cases of choice for the OMD are from the Optech Digital D series.  I use the Optech Digital D Compact, the Digital D Shortie, or the Digital D M-4/3 depending on which lens I have mounted on the camera.  The Compact works well for most of the smaller primes, the M-4/3 works well with the larger zooms, and the Shortie works well for the middle sized lenses.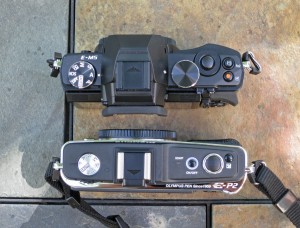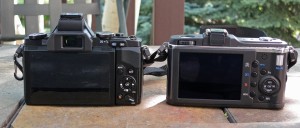 For carrying the camera body and three prime lenses (12mm, 20mm, and 45mm) the entire kit fits nicely into the Moutainsmith small zoom case, with room for a few extra accessories.  I can easily attach this camera case to the shoulder strap of my back pack using lightweight carabiners.  It stays out of the way when not in use, and is quickly accessible when I want to shoot.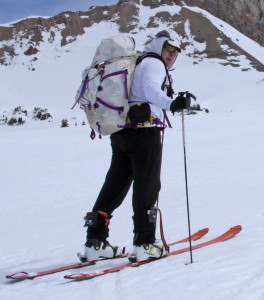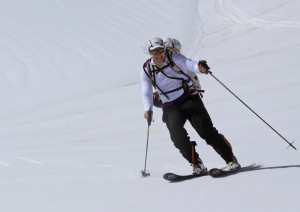 I've got a bunch of other cases as well, but when I'm  trying to keep the weight and volume down, I try to keep my gear limited to what will fit in this Mountainsmith small zoom case.  For carrying more stuff, there are a lot of options, including the Mountainsmith medium zoom case which allows you to carry the larger zoom lenses in much the same manner as the small zoom case (albeit with a bit more bulk and weight.)   For my purposes, I find that the OMD body with the three primes (12mm, 20mm, and 45mm) pretty much covers all the bases I need when I'm in the backcountry.  Occasionally, I will take a 9-18 zoom and the 45mm prime as a change of pace, but the three prime combination in the Mountainsmith small zoom case is my go-to backcountry kit.  There is a short Youtube video clip of the Mountainsmith case and the three lenses I usually take with me HERE where you can get a better feel for the size of the case and how it works.   The Clik Elite Infinity Case is similar to the Mountainsmith small zoom case.  It provides a bit more room than the Mountainsmith, and allows a bit more flexibility about which lenses you bring.   It's slowly replacing my Mountainsmith as my backcountry case of choice, particularly if I want to bring a zoom lens instead of one of the primes.
Lenses:
Over the years, I've accumulated a number of lenses that I use with my E-P2 (and now OMD) cameras.    Here are the lenses I use with this system along with my thoughts on using them.
Native Micro 4/3 lenses:
7-14mm f: 4.  Panasonic   (11.1 ounces)
12mm f: 2   Olympus  (5.4 ounces)
12-50mm f: 3.5-6.3 Olympus (macro)   (8.5 ounces)
9-18mm f: 4-5.6 Olympus   (6.4 ounces)
20mm f: 1.7 Panasonic  (4.3 ounces)
25mm f: 0.95 Voightlander (manual focus)   (16.3 ounces)
14-42mm f: 3.5-5.6  Olympus  (4.3 ounces)
45mm f: 1.8 Olympus  (4.7 ounces)
Non Micro 4/3 lenses used with adaptor (all weights include the weight of the adapter:)
85mm f: 1.2L Canon FD (27.7 ounces)
135mm f: 2.8 Canon FD (17 ounces)
50-200 f: 2.8-3.5 Olympus 4/3 (47.7 ounces) (2 pounds, 17.7 ounces)
80-200 f: 4L Canon FD (28.7 ounces) (1 pound, 12.7 ounces)
85-300 f: 4.5 Canon FD (68.7 ounces) (4 pounds, 4.7 ounces.)
Canon FD are used with a Novoflex adapter and are manual focus, the Olympus 4/3 lens uses an Olympus adapter and keeps automatic aperture and auto focus capability. (although auto-focus doesn't work very well.)
The Panasonic 7-14mm f:4  is a big lens.  It's heavy and is pretty long and bulky compared with the primes or the compact Olympus 9-18.  However, I really like the extra angle of view and perspective of the ultra wide lens when it's at 7mm. This isn't really a good backcountry lens for going light and fast, but when weight and space don't matter, this is my wide of choice.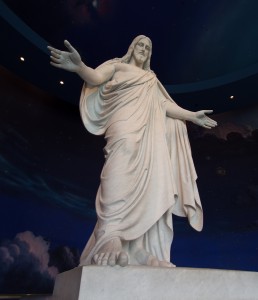 The other two wide angle lenses in my arsenal, the Olympus 12mm f: 2  and the Olympus  9-18mm f: 4-5.6  zoom are much much smaller than the Panasonic 7-14. The 12 is a good lens, and is very sharp and very compact. For some reason, however, at the wide end, I find myself wanting zoom capability quite regularly, so I often will opt for a wide zoom instead of the 12mm prime.  The Olympus 9-18 zoom is very compact, and it's what I take if I want a wide zoom and need to save weight/space.  When I compare the size of the Olympus 9-18 with the size of the Panasonic 7-14, I have to marvel at the design and engineering that allowed Olympus to make a wide zoom in such a tiny package.   All three of these lenses are high quality, and I have been pleased with sharpness and other characteristics of all of them.   If I had to pick just one of them, I'd probably go with the Olympus 9-18.  I like the versatility of the zoom, and the lens manages to be compact and still produce reasonably sharp images.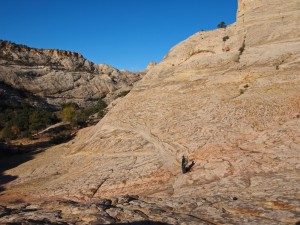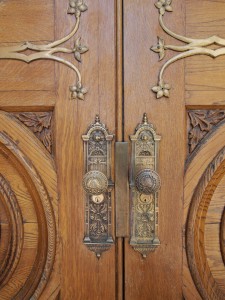 The lenses I tend to use the most are the Panasonic 20mm f: 1.7 and the Olympus 45mm f: 1.8  These lenses are compact, sharp, and give me great results.  Most of the time, when I go out, I've got one or the other of these lenses on my camera.  The Panasonic 20mm is a truly tiny "pancake" lens that takes great pictures.  I pretty much always take it with me even when I'm planning on using other lenses because it's so small that I can tuck it away into a very small space.  I've found that when I'm packing my kit, there's always room for the 20mm.    The 20mm length is a great "standard" length, equivalent to a 40mm lens on full frame.  I really like this length, as I've always thought that the "standard" 50mm lens on a full frame was just a tad long.  The decently fast 1.7 f-stop allows for pretty good low-light performance, especially when coupled with the excellent image stabilzation of the Olympus OMD.    If I could only own a single lens for my entire micro 4/3 system, the Panasonic 20mm would be my choice.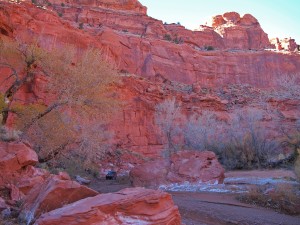 Even though the 20mm is probably the most useful, the Olympus 45mm is probably my favorite lens that I own.  For some reason, it seems that my favorite photos are often taken with this lens.  That may be because this lens is truly tack sharp.  Detail and sharpness are truly excellent, especially in such a compact little package.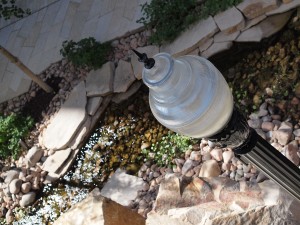 Although I generally associate wide angle lenses with landscape photography, the effective length of 90mm of this lens has proven to be good for landscape shots, particularly when I want to tie together objects in the foreground with dramatic scenery in the background.  The 45mm has become one of my "must bring" lenses whenever I'm deciding what to pack.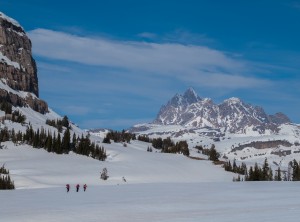 Multi-Purpose "kit" zooms
Olympus makes two multi-purpose kit zooms for their micro 4/3 system cameras.  The entry level option is the 14-42mm f: 3.5-5.6 zoom.  The higher end option is the 12-50mm f: 3.5-6.3 zoom.   The 14-42 is a decent lens and is pretty inexpensive.  Although kit lenses are generally looked upon with disdain, this lens is actually not a bad option for a single lens kit.  It's reasonably sharp, compact, and takes pretty good pictures.  In spite of the fact that I have so many other (more expensive) lenses for my system, I still find myself using this lens when I just want to mount one lens on the camera and not have to worry about switching lenses.  For me, it makes a good "tourist" lens for times when I just want photography to be as simple as possible.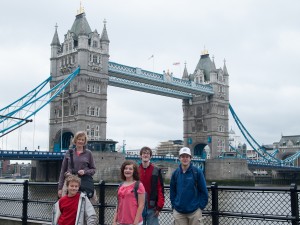 The Olympus 12-50mm has received generally luke-warm or negative reviews, but I haven't found it to be all that bad.  My biggest complaint about this lens is its size.  Its pretty big and unwieldy, especially compared with the 14-42 which covers very close to the same zoom range.  In terms of performance, the 12-50 is not as sharp as some of the other options, but it's generally been adequate for my needs.  A couple of the things I really like about this lens (besides the very broad zoom range) is the fact that the lens is weather sealed.  This makes it a good combination with the weather sealed OMD body for shooting in foul conditions.  The other thing I like about this lens is its macro capability.  For a kit lens, it has a decent macro function.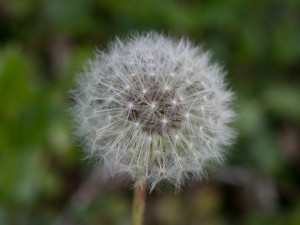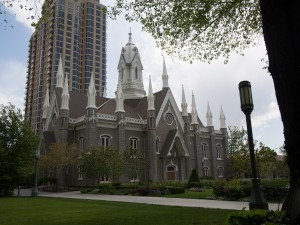 Manual Focus Lenses
There are three manual focus lenses that I use regularly with my micro 4/3 system:  The Voightlander 25mm f: 0.95, the Canon FD 85mm f: 1.2L, and the Canon FD 135mm f: 2.8
Manual focus with the Olympus OMD is not too hard.  There's no rangefinder prism or "focus peaking" feature on the OMD, but the viewfinder is clear enough to focus pretty accurately.  Additionally, a touch of a button allows for viewfinder magnification to help in fine-tuning the focus.   Although the magnification will go to 10x, I've found that 5x magnification is the best setting for me.  Some folks complain about the difficulties of using manual focus with the OMD, but I  used manual focus exclusively on my film cameras for 30 years, so I'm pretty used to it and can generally capture my subject, even when it's in motion.
The Voightlander 25mm f: 0.95 lens is somewhat specialized.  Although it's a new lens, specifically designed for the micro 4/3 format, it's manual focus only and has no communication with the camera's electronics.  It's made completely of metal and glass, and is pretty big and heavy as a result.  However, it has a solid, quality feel, with a silky-smooth focusing action, and f-stop adjustments that click into place with a satisfying tactile feel that speaks of old-school quality.  This lens' unique feature is its incredibly wide 0.95 maximum aperture.  This allows it to be used in very low light situations, particularly when paired with the OMD's exceptional image stabilization.  Wide open, it's a little soft, but pleasing.  With such a wide aperture, the lens can have a shallow depth of field, even though it has a fairly short 25mm focal length.  Overall, I tend to use it mostly for portraits.  I've never used it for backpacking or climbing.  I suppose it would be good for evenings around the campfire and the like.  Perhaps I will take it out into the backcountry a bit more in the future, at least on trips where weight doesn't matter as much.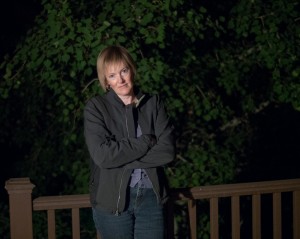 Back in my film camera days when I was shooting with the Canon F1 body, the legendary Canon FD 85mm f:1.2L was one of my favorite lenses.  It has excellent sharpness even wide open, and the wide 1.2 aperture gives it impressive low-light capability.  I was really happy when I figured out that I could mount an adapter on this lens and use it with my digital micro 4/3 camera bodies.  On the micro 4/3 sensor, this lens has an effective length of 170mm, so it's a medium/long telephoto.  It's a bit big and heavy for a general purpose backcountry lens, but what I use it for mostly is indoor event photography.  It's particularly useful for taking pictures at various plays and musical performances, where I have to make use of available light and I'm sitting back a ways from the stage.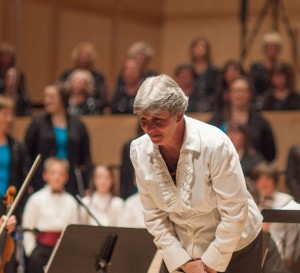 The Canon 135mm is a great street photography lens for the kind of street shooting I do. I tend to keep my distance from my subjects, and the 135mm acts like a 270mm telephoto when paired with the Micro 4/3 sensor.  This gives me plenty of reach for taking "people pictures" without getting too close.  As a bonus, this lens is pretty compact and has decent brightness (f: 2.8.)  I've found it to be sharp as well.  It's also very inexpensive to buy one used.  (I've seen them in excellent condition selling for less than $80.)  This is my go-to telephoto lens for street photography.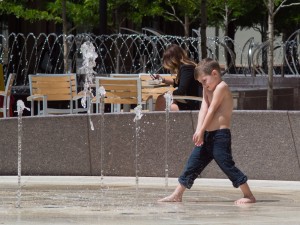 Big Zoom Lenses
The Olympus Digital Zuiko 50-200mm f/2.8-3.5 ED SWD is part of the Olympus 4/3 line developed for use with their 4/3 format dSLR cameras.  It's a pro-grade lens, and has weatherproof construction.  The Olympus MMF-3 adapter is used to adapt the lens to the OMD body, and has weather sealing to preserve the weatherproof nature of the lens, which combined with the OMD makes a completely weatherproof system.
The 50-200 is a large lens, and pretty much dwarfs the diminutive OMD body.  However, considering the relatively large maximum aperture and the effective maximum focal length of 400mm on a micro 4/3 sensor, it's not outrageously huge.  (Although when the lens zooms out in use, it gets a lot bigger than when "at rest.")  For wildlife and bird photography, sports, or any time when you need to "reach out and touch someone," this lens is a good super-telephoto option.   However, I have one serious complaint about this lens.  Autofocus sucks.  I don't know how it functions on an SLR body, but on my OMD EM-5, the autofocus is close to useless, even in decent light.  It takes forever to get a lock, and hunts back and forth for a long time.  It often can't get a lock at all.   Because of this, I typically just use manual focus.   I've found that my success rate when focusing manually is many times higher than my success rate when relying on the lens' autofocus mechanism.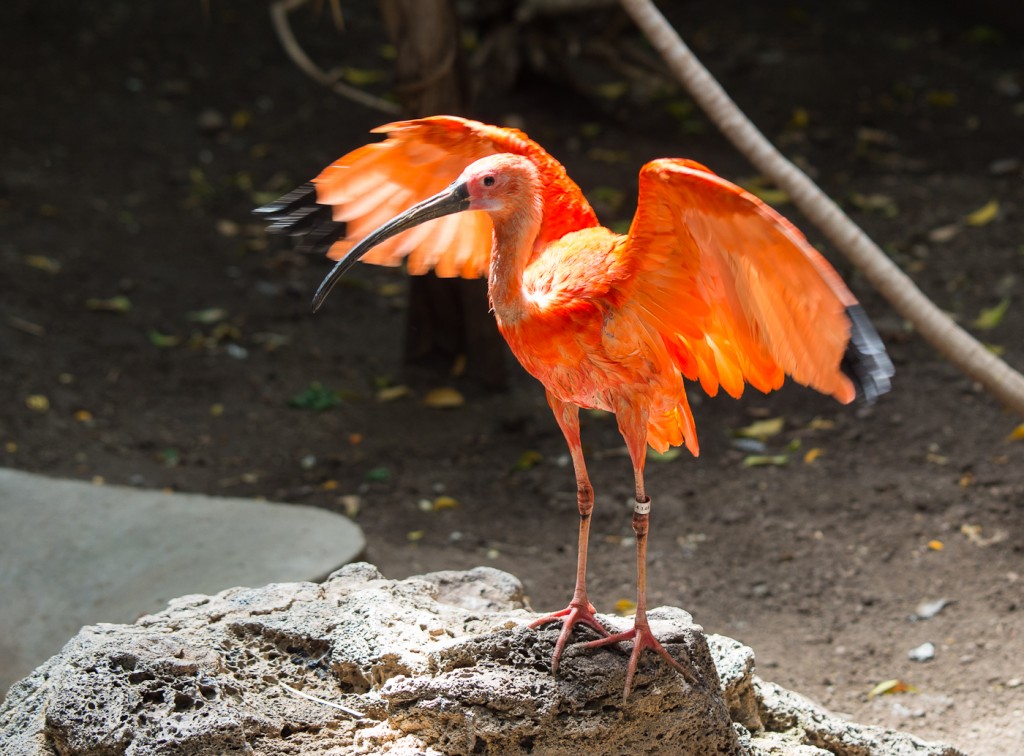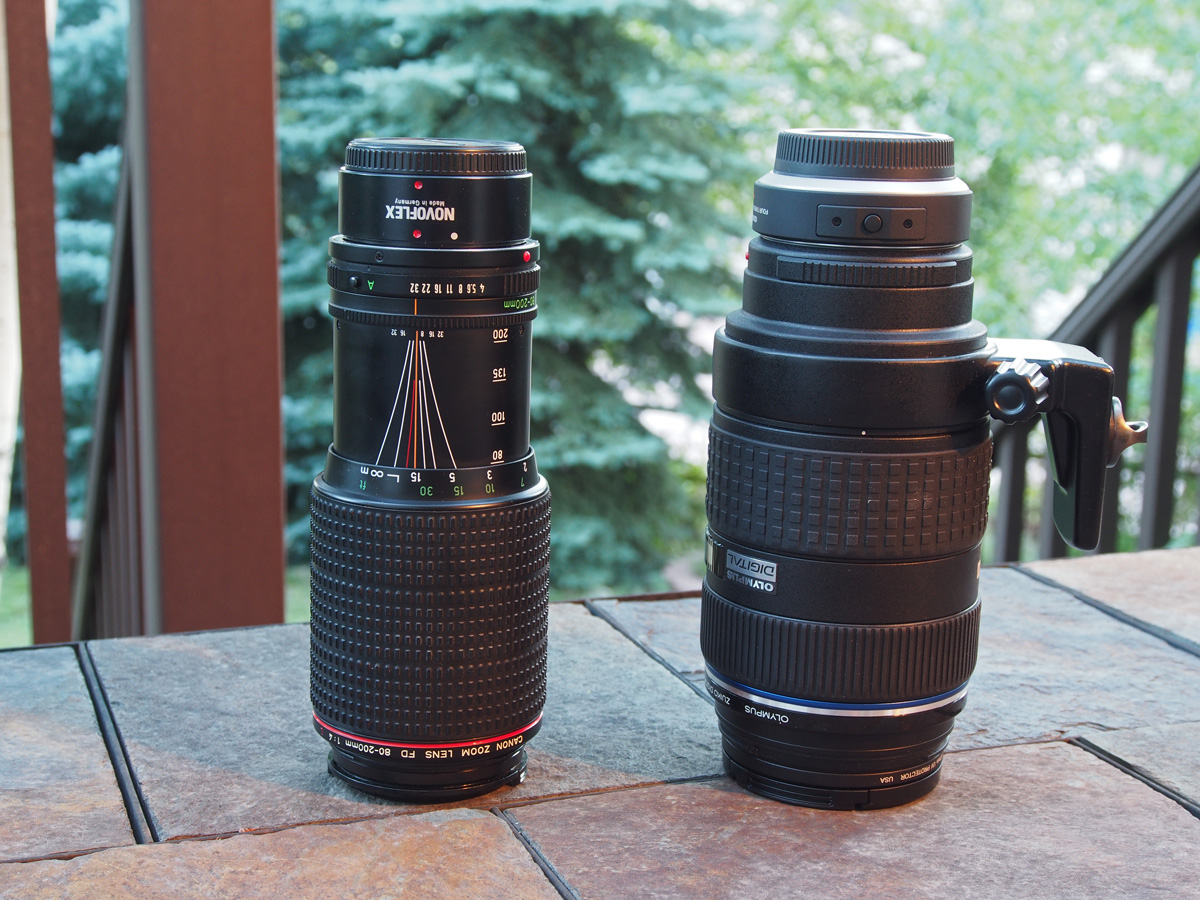 The Canon FD 80-200 f:4L is a legacy, manual focus zoom lens that is part of Canon's well respected "L" range.  It has excellent optical qualities, and is wonderfully sharp across  its focal range.  It is substantially lighter and less bulky than the Olympus 50-200mm, and therefore is a lot easier to pack and carry.  I take this lens along when I need a longer telephoto zoom, but I need to carry other lenses too, so the bulk and weight of the Olympus 50-200 is prohibitive.  The Olympus has a larger aperture than the Canon, but the constant f:4 aperture is fine for most daylight situations, and the lens is sharp even wide open.  One negative when using this lens (or any legacy zoom lens) with the OMD is that the image stabilization doesn't work well and needs to be turned off.  This is because the image stabilization needs to factor in focal length of the lens in order to work correctly. However, with a legacy zoom, the camera body can't communicate with the lens to ascertain the focal length, and (because it changes as you zoom in and out) you can't manually set the focal length as you can with a fixed focal length lens.  I haven't found this to be much of an issue, and I tend to get good results without image stabilization.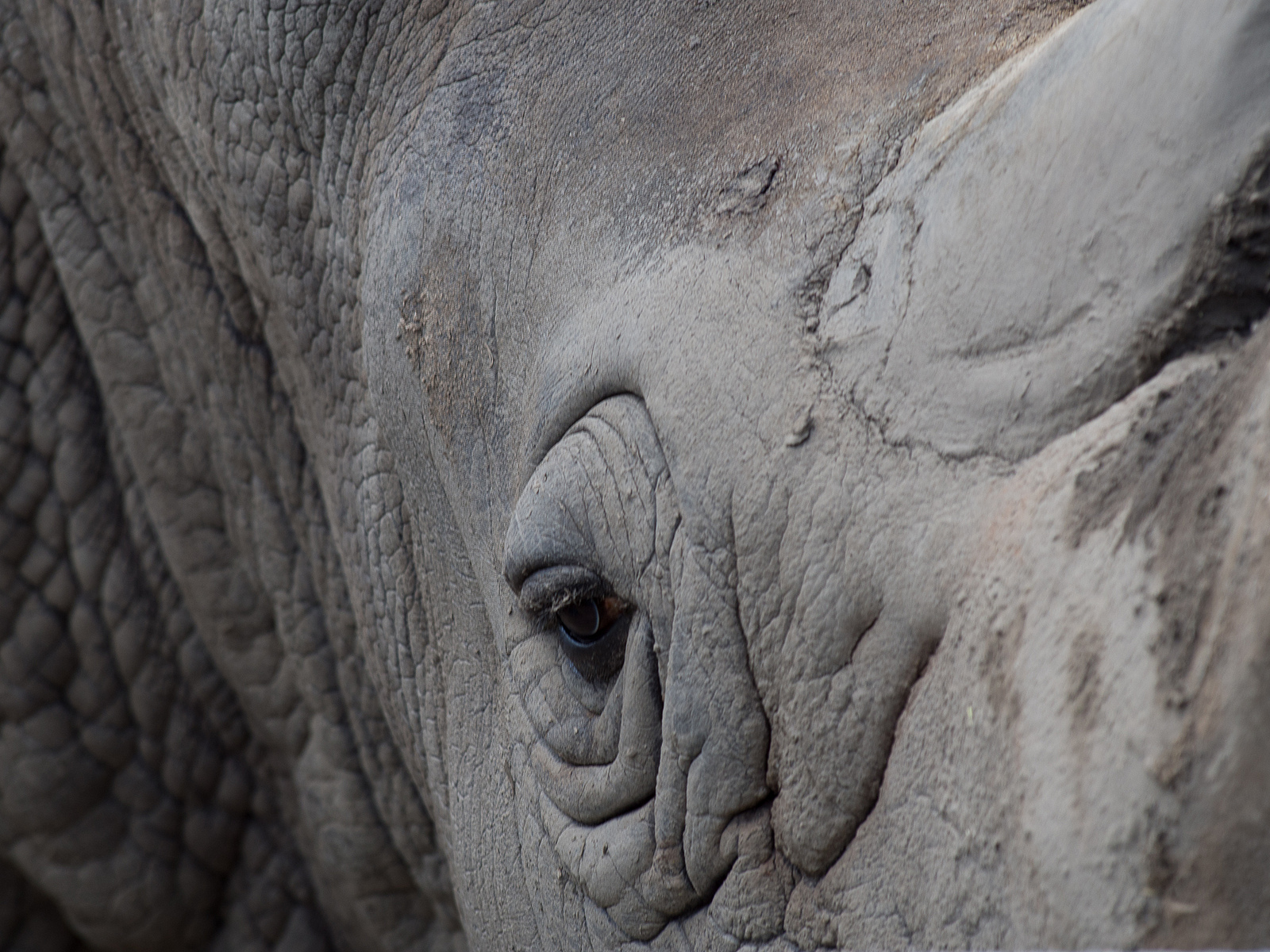 For times when 200mm just isn't enough, I've got the (monstrously big and heavy) Canon FD 85-300mm f: 4.5 lens.  On the OMD, this lens has an effective length of 600mm, making it just about as long as I think I will ever need.  It's so long, big, and heavy, that I seldom use it.  It's probably my least utilized lens, but when you really need a super long lens, it definitely gets the job done.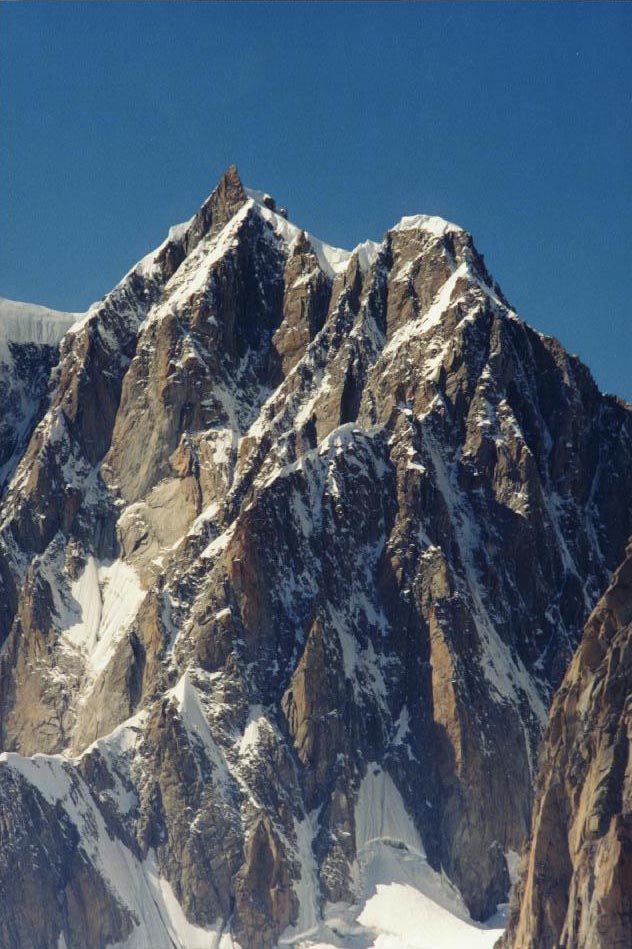 Accessories:
Sometimes, the little things can make a big difference in how easy it is to use a camera.  One of these little things is the lens cap.  I don't like using the standard lens caps because I tend to drop and/or lose them.  Particularly when wearing gloves, I hate having to figure out a safe place to put the lens cap when I'm shooting.   So, I tend to replace my stock lens caps with caps that have keepers on them.  I attach the keeper cord to the camera by means of a double sided clip, and I'm good.  With the keeper attached, I can just take the lens cap off, and let it dangle, not having to worry about dropping or losing it.  The best aftermarket lens caps I've found are from Fotodiox.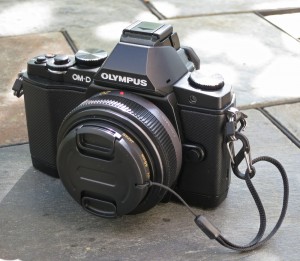 The best lens cases I've found have been relatively inexpensive neoprene cases.  They don't add much bulk, but they protect the lens from banging around.  There are tons of them on eBay.  Here's a picture of the ones I like the best: