Rifle and accessories
Christensen Arms Summit Ti/Th  6.5 Creedmoor rifle with thumbhole stock for deer
For elk, I use a slightly heavier, RBros Rifles LW Hunter  300 Win Mag rifle
Both of these rifles are top quality.  At 100 yards, they will consistently shoot groups of 1/2 inch or less.
Christensen Arms Rifle is 99.4 ounces; Scope 33.6 ounces; Bipod 4.2 ounces; Sling 6.2 ounces; Talley Rings 5.7 ounces
R Bros Rifle is 105.5 ounces; Scope 33.6 ounces; Bipod 4.2 ounces; Sling 6.2 ounces; Rings 8.1 ounces
Rubber gun sling (Specialty Outdoors)   or Slogan Outdoors   These rubber slings are terrific.  They keep the rifle secure when over your shoulder.  They provide excellent support when the sling is used to steady the rifle for shooting, and they can be looped, backpack style over both shoulders for secure carrying over rough terrain.
Here is a VIDEO that shows the basics of a rubber sling.
Neopod ultralight bipod  This rifle bipod weighs next to nothing.  Bipod and all the hardware for attaching it to the rifle weighs a total of 4.2 ounces.
Kahles K 624i rifle scope  with AMR reticle and left side windage adjustment.    34mm tube, 6-24x magnification 56mm objective lens.  With Vortex flip up lens caps.   This scope is one of the lighter weight scopes with a large 34mm tube and relatively high (24x) magnification.  Optical quality is excellent.  I've found it to be durable, and consistent with its elevation adjustments.  The reticle design works well for holding for wind and elevation when you don't want to dial your turrets.  Center illumination is good for low light.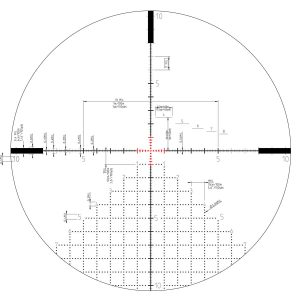 Soundgear Earplugs with extra batteries  These are electronic hearing protection that fits in your ear as opposed to ear muffs that go over your ear.  They weigh next to nothing, and provide decent sound protection coupled with adequate hearing.
Maxpedition D-Bag pouch (mounted on gun sling)  I keep some Zeiss lens wipes, the wrench for my scope, and some Traditions Muzzleloading rain Gear  muzzle protectors in this little pouch.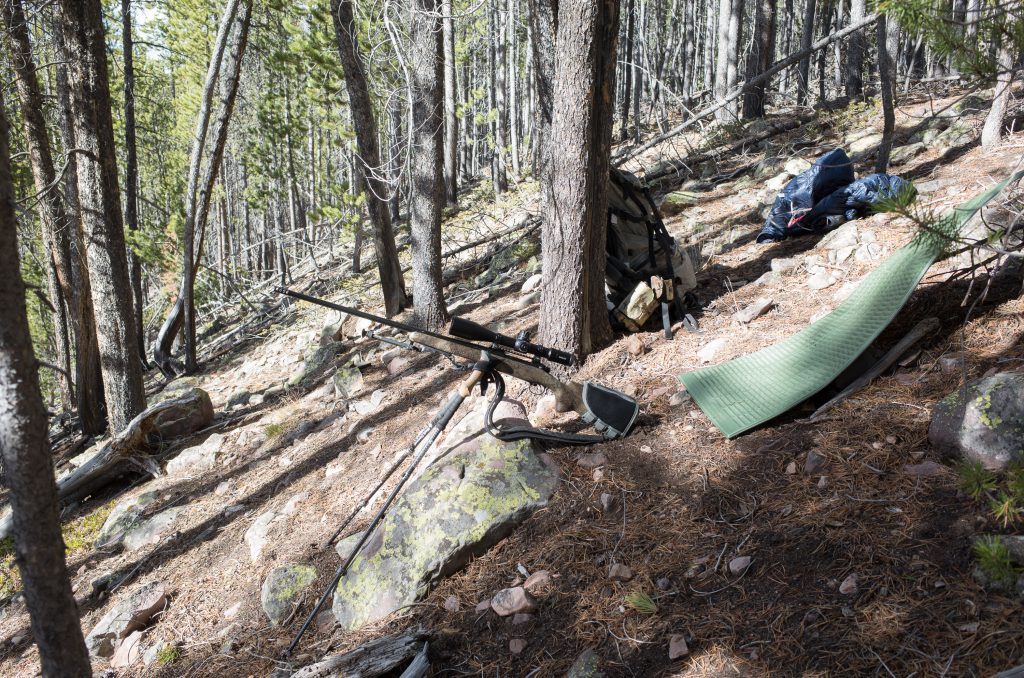 Leki Carbon Ti Trikking poles, (15 ounces) which I use for walking and supporting my tent, also make decent shooting sticks, for supporting the rifle when I'm not prone or shooting using my backpack as a support.
I have been using the Sig Sauer Kilo 2400 ABS Laser Rangefinder for the past 5 months.  I have bee very impressed with this piece of gear.  Range finding is fast, accurate, and consistent out to at least 1400 yards, even on minimally reflective targets.  The built in ballistics software is easy to use, interfaces with my smartphone for easy input of custom ballistics data, and provides very accurate firing solutions.  It's small and lightweight (8.1 ounces).  It's the perfect rangefinder for hunting.  It was expensive, but worth the money.  I carry it in a FHF rangefinder pouch attached to my bino harness.