I have 30+ pairs of outdoor gloves and mittens.  It seems like every year for the past 20 years, I've bought one or two new pairs of gloves, searching for the elusive perfect glove.
However, for the past couple of years, I've been using two gloves almost exclusively for my climbing; the Guide Gloves and Guide Lite Gloves from the Eddie Bauer First Ascent line.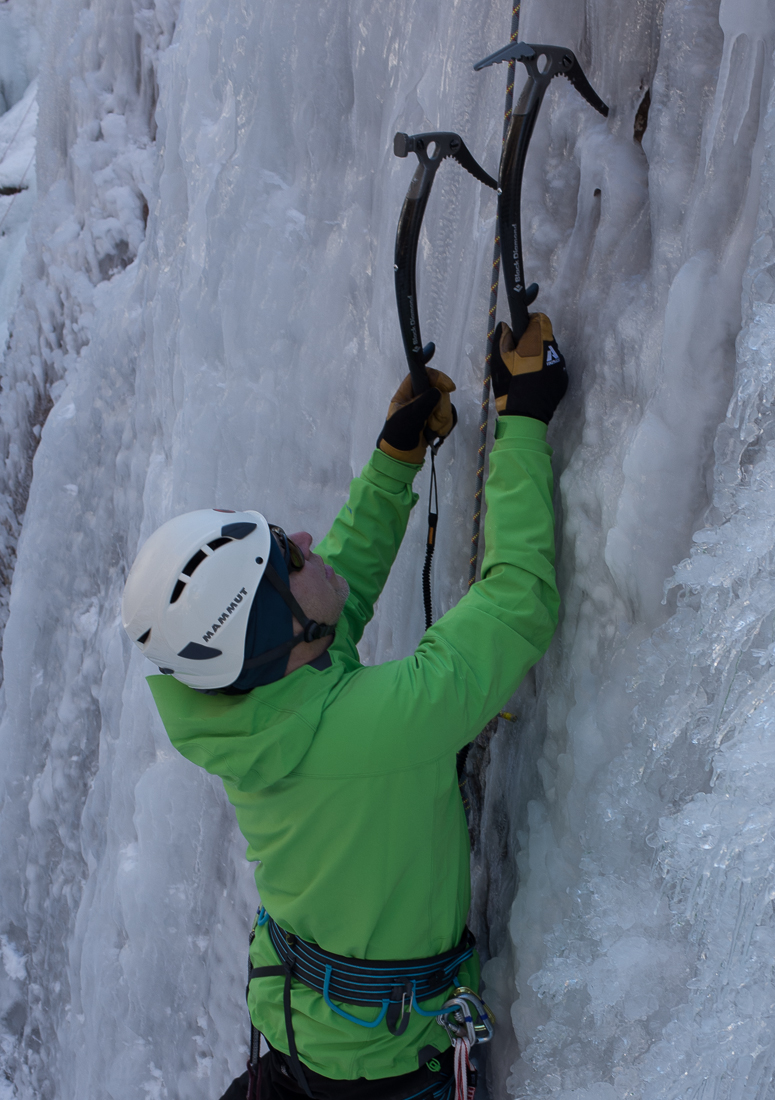 The problem with glove design is that it's got conflicting goals.  A glove needs to be warm, but it also needs to not be too bulky.  It needs to keep your hands warm and dry and comfortable, but also needs to maintain dexterity.  They need to be tough enough to stand up to the abuse of climbing and rappelling, but not so stiff and heavy that they don't perform well.  A good glove design is one that makes appropriate compromises between these conflicting goals.
Here's why I really like the Eddie Bauer Guide and Guide Lite gloves:
1:  Fit.  They fit my hands really well.  I have relatively broad hands, but my fingers are not particularly long.  The Eddie Bauer glove pattern fits my hands almost perfectly.  Some glove makers (Black Diamond for example) tend to pattern their gloves with longer fingers.  When the gloves are cut too long in the fingers, it compromises dexterity and makes manipulating gear more difficult.  If you have extra long fingers, the Eddie Bauer gloves may not fit you well, but for me, they fit "like a glove."
2:  No removable liner.   I hate removable liners in my gloves.  Almost without exception, removable liners make gloves more bulky, less dexterous, and harder to put on and take off.  Especially when my hands get damp with sweat, taking a close-fitting glove off will often pull out the liner, or invert the liner's fingers, making it difficult to get back on.  I have used dozens of gloves with removable liners and have yet to find any that had the same functionality as a glove with an integral liner.   The supposed benefit of a removable liner is that you can take it out and dry it overnight.  In practice, I haven't found this to be an advantage.  I just take my entire glove and put it next to my body inside my sleeping bag at night, and they are plenty dry by morning.
3:  Just the right amount of insulation.   The Eddie Bauer gloves have just the right amount of insulation for me for most conditions.  They both have an integral, non-removable liner made from a mix of acrylic and merino wool.  The Guide Glove has an additional layer of primaloft one insulation, while the Guide Lite just has the acrylic/wool insulation.  I use the Guide Lite gloves for climbing and am comfortable in them in temperatures down to the high teens.  The more generously insulated Guide Gloves are comfortable down to about zero Fahrenheit.  If I'm actually climbing, I can use them in colder temperatures, but I will typically need something warmer to wear on my hands when I'm not active (like when I'm standing around at the belay.)  I am seldom doing technical climbing in arctic or Himalayan temperatures, so these gloves have me covered for 95% of the conditions I'm climbing in.
I find these gloves to be considerably warmer for their bulk than any other gloves I've used, and are warmer than gloves that are considerably thicker.  I don't know for sure why this is, but I suspect that the merino wool in the liner pulls away moisture and keeps my hands dry, which keeps them warm.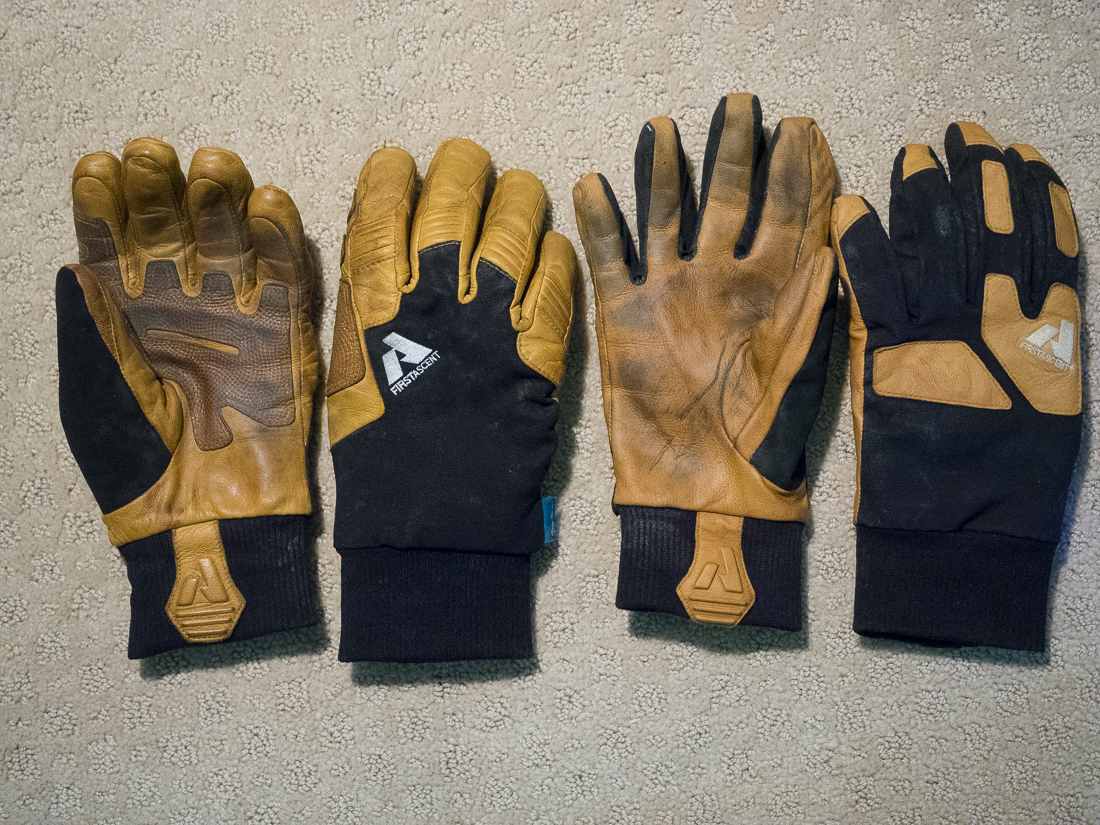 4:  Excellent Dexterity and Feel.  Both of these gloves provide exceptional dexterity and feel for manipulating equipment and climbing.  They are soft and supple, and don't provide much resistance when clenching your fingers and gripping an ice tool.  The palms are relatively thin, and the fingers are sensitive enough to have a good feel when placing ice screws and rock gear.  The Guide Lite in particular is extremely good in this regard, providing about the same level of dexterity and sensitivity as uninsulated dry tooling gloves I've used that are not nearly as warm as the Guide Lite.
5:  Adequate Durability.  These gloves are generally pretty durable, with leather palms and reinforcements in high wear areas.  I have worn out a pair of these gloves, but they lasted as long as I expected, given the abuse I subjected them to.  I have had one defective pair of Guide Lites, where the knit cuff became unstitched from the glove long before the glove should have worn out.  This pair was replaced by Eddie Bauer under their lifetime warranty.  (Waiting for the replacement pair to come back, I used some other lightweight softshell gloves instead, and was reminded of how much better the Guide Lites are than my other lightweight softshell gloves.)  Bottom line is that I've been happy with the durability of these gloves.  They don't last forever, but I don't expect that of my climbing gear.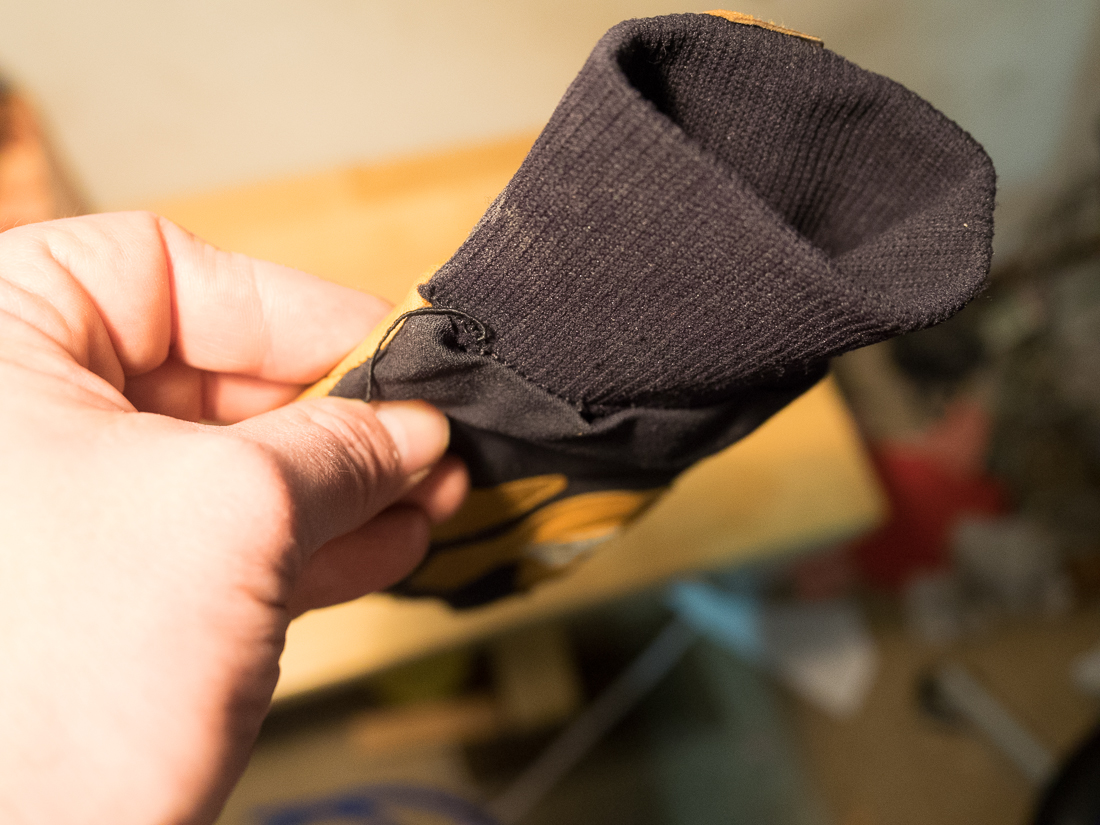 6:  Adequate water resistance.  These gloves are not waterproof.  They don't have Gore-tex inserts or seam sealed shells.  They have water resistant fabric, and water resistant leather (and come with some Nikwax leather treatment to increase that water resistance.) If you are climbing ice that is running with water, or you're constantly plunging your hands into wet snow all day long, the gloves will get wet.  In almost all cases, I've found the water resistance of these gloves to be adequate.  Even if the leather gets wetted out, my hands have tended to stay warm and comfortable.  In general, I would rather have a glove that is water resistant than water proof, because I've never yet found a truly waterproof glove that has decent dexterity and fit for technical climbing.  If you demand a truly waterproof glove, then these aren't the best choice.  I have found, however, that they are water resistant enough to do the job well in almost all conditions that I am climbing in.  They dry out overnight if I sleep with them under my clothing.
Conclusion:  In spite of the fact that I have a large box filled with gloves, the Guide and the Guide Lite are the ones that get the most use for technical climbing.  They perform better across a wider range of conditions than any other gloves I've used.  Combined with a super warm mitten for ultra-cold belaying duties, these gloves are pretty much all I use any more.