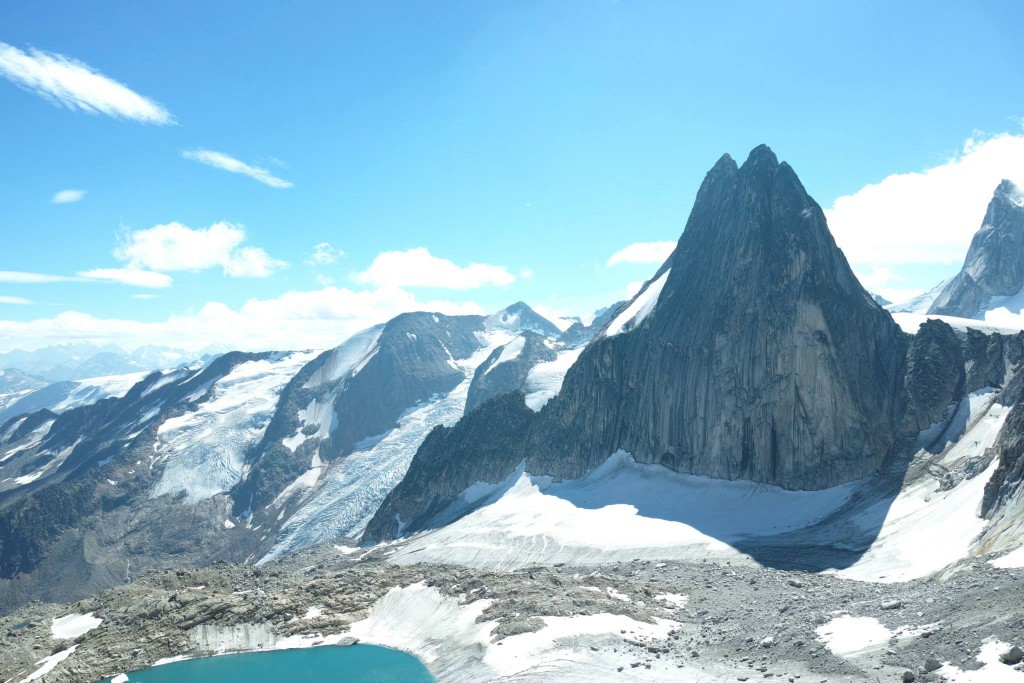 It has been more than 20 years since I last visited the Bugaboos.  I had planned three trips since then, and actually bought plane tickets twice, but my partners always seemed to drop out on me, usually at the last minute.  Every year it seemed like the Bugaboos was on my list of places to climb, but every year it always seemed to fall through.
This year, my plans finally paid off, and I got to go back to the Bugaboos again.   My success in getting to the Bugs was mostly the result of just giving up on going with any of my climbing partners and hiring a guide.   I scheduled 9 days of private guiding through the American Alpine Institute.  My guide for the trip was a great guy named Chad Cochran.
We met in Bellingham early Saturday morning, and spent the rest of the day driving.  Spent the night in a cheap hotel in Golden, B.C., then drove up to the Bugaboos trailhead and hiked up to the Conrad Kain Hut.  The Kain Hut is super nice, with luxurious cooking accommodations and comfy pads to sleep on.  It's  a great alternative to tenting, especially for a climber like me with old bones and stiff joints.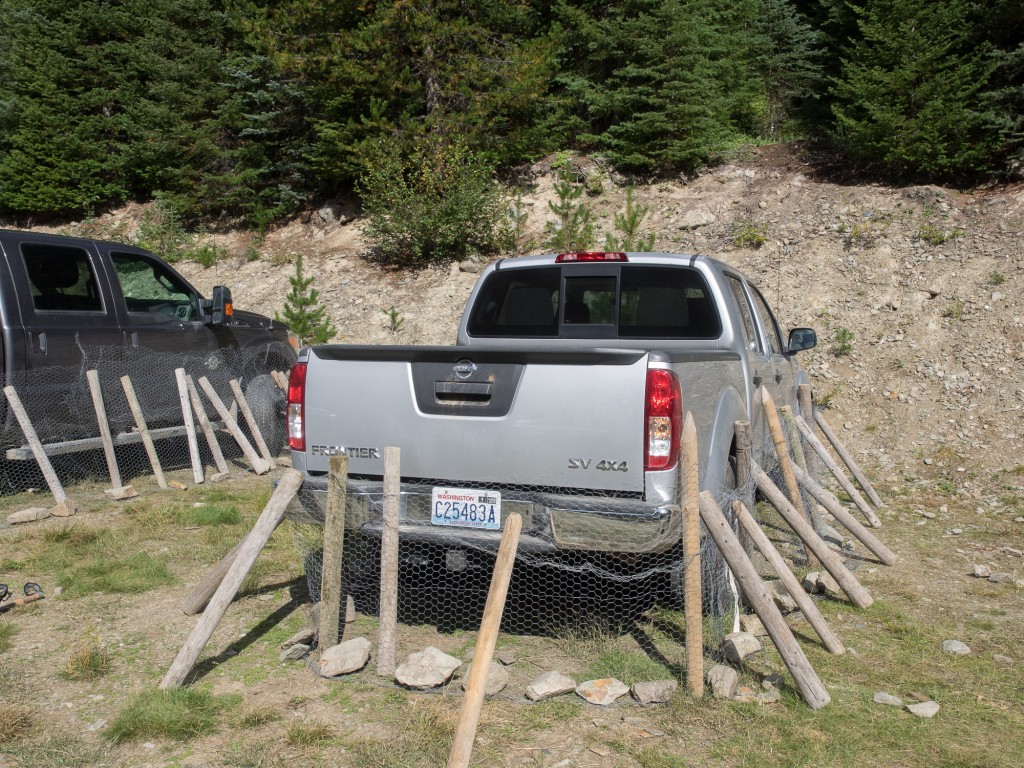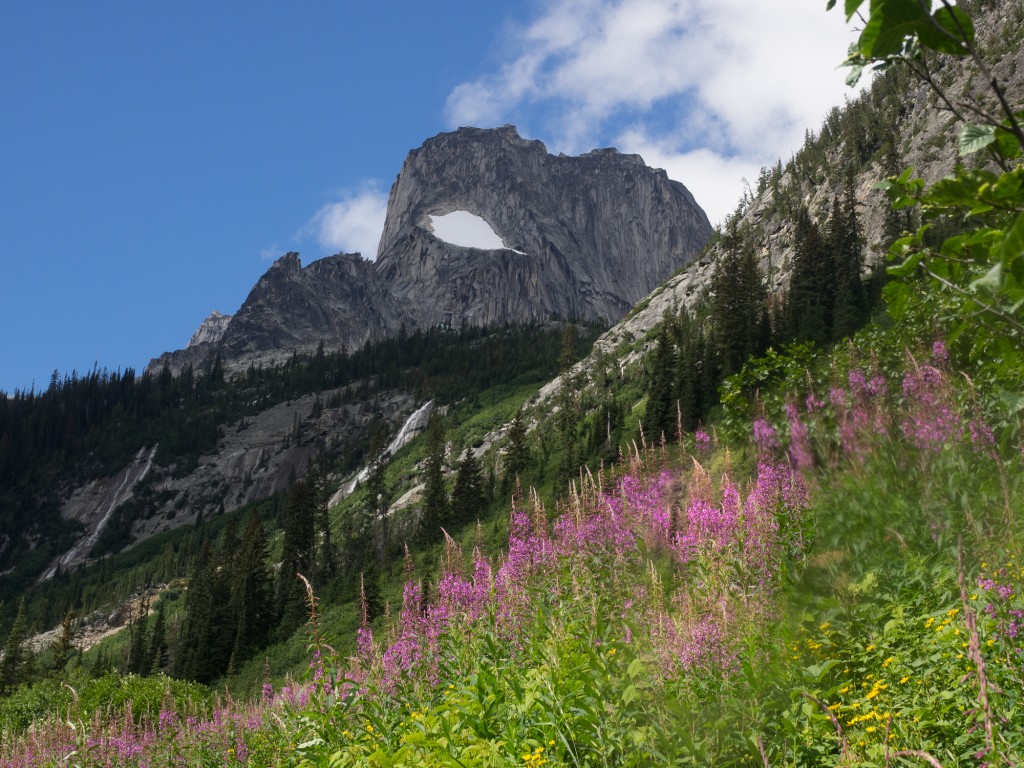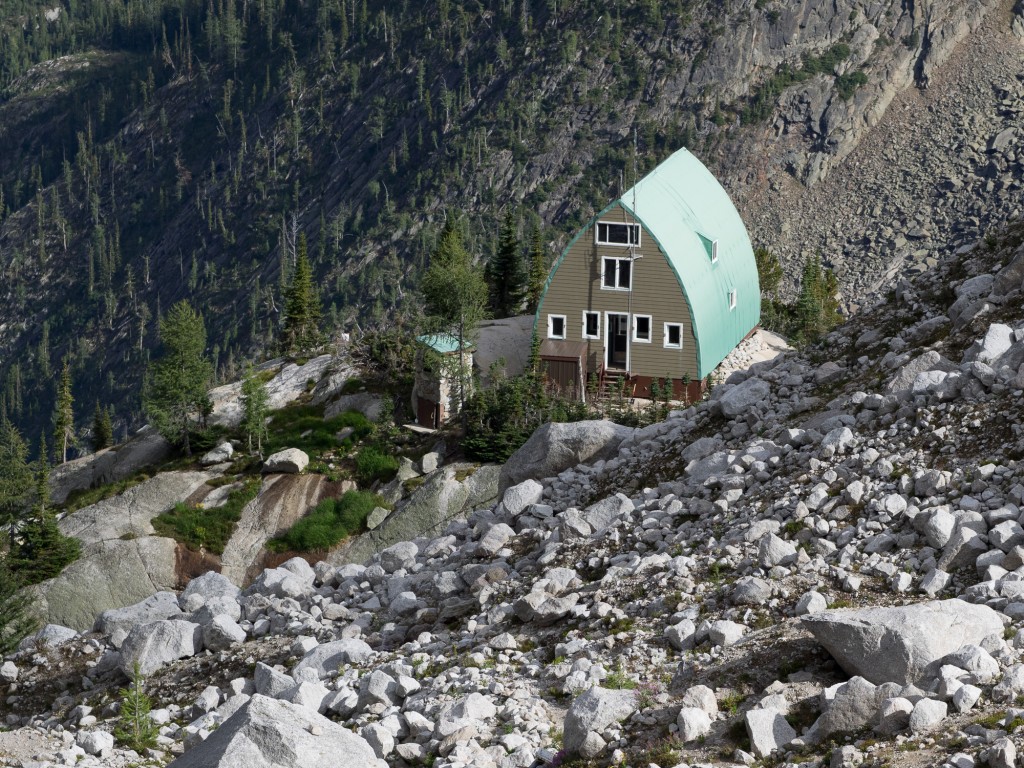 The weather forecast for the next few days was good, and we were stoked to go climbing.  We picked the SE Shoulder (Weissner Route) on Snowpatch Spire for our first objective.  It's long, (17 pitches) but of moderate difficulty, so it seemed like a good route to start out with and get our systems, communications, and changeovers sorted out.
We left the hut Monday morning at about 5:30 and we were scrambling up the rock to the base of the route about an hour and twenty minutes later.  After we scrambled up to the saddle where the route starts, the real fun began.   What a terrific day!  We were all alone on the route, and the weather was perfect.  We had blue skies, comfortable temperatures, and great climbing.  We pitched out the lower sections, but we simulclimbed the easier parts along the margin of the big snowpatch, which saved us a lot of time.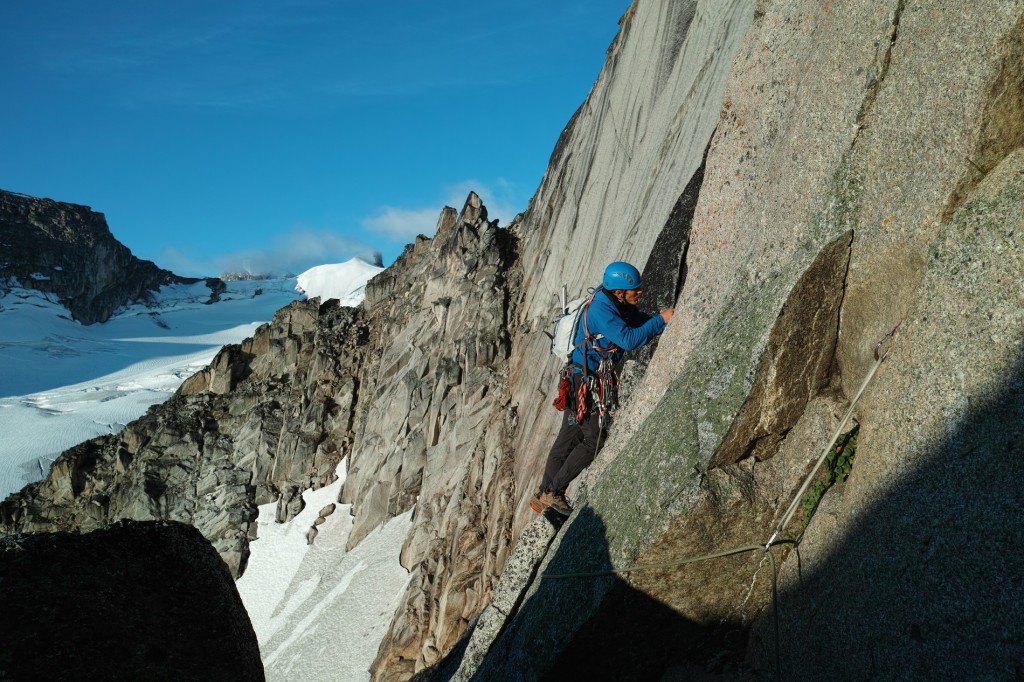 There was a lot of great climbing on the route, with my favorite pitch probably being a beautiful open book section a couple of pitches below the snowpatch.  The views were amazing, and the summit dramatic.   This is truly a stellar route.   It took us a little over 6 hours from the time we began climbing to the time we topped out.  That was a pretty good time, attributable mostly to Chad being a serious rope gun who made short work of the technical pitches.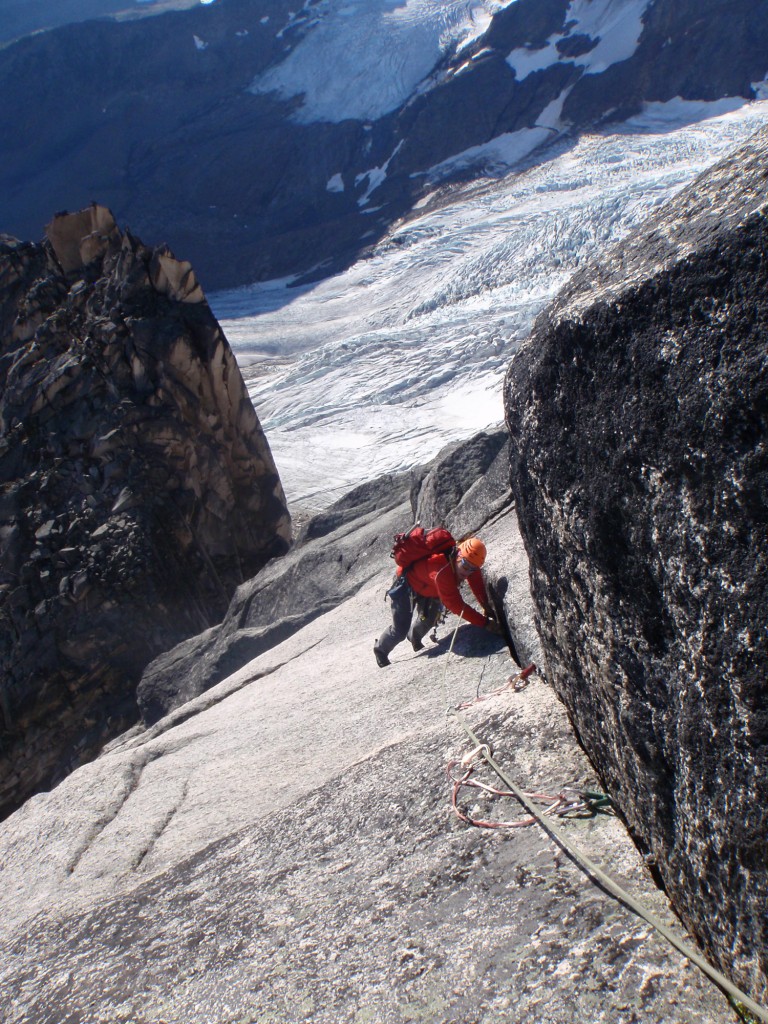 The descent down the back side of Snowpatch was simple but tedious.  The first rappel station is right below the summit blocks, and we just rapped down on fixed anchors, taking in gorgeous views of Pigeon Spire.  Once at the base, we had to work ourselves down and left (skier's left) around to another series of fixed anchors on the West side of Snowpatch Spire that drop you down to the glacier and snowfields on the South side of Snowpatch.   This descent route was required because the Bugaboo/Snowpatch Col was not in condition for descent.  When I was in the Bugaboos 21 years ago, the Bugaboo/Snowpatch Col was a nice ramp, covered with snow and ice.  Straightforward cramponing was all that was required to get up or down.   However, in its current state, this avenue is a horrific death trap, with lots of very loose rock, and big slides coming down it with frightening regularity.  Luckily, the new descent route on the West side of Snowpatch was pretty straightforward.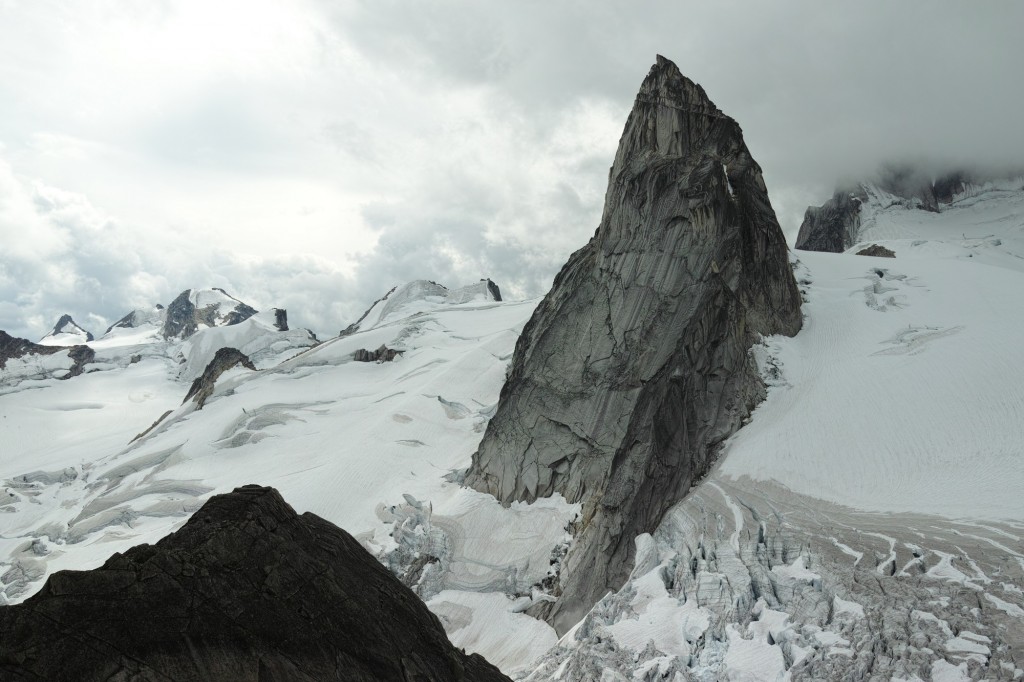 We were back at the hut in time for an early dinner, and made plans for our next day.  I wanted to try something technically a bit harder than the Snowpatch Route, but not quite so long, as I was kind of tired from our long outing.   We decided on a climb of McTech Arete, a 6 pitch 5.10 on a buttress in the Crescent Spire area.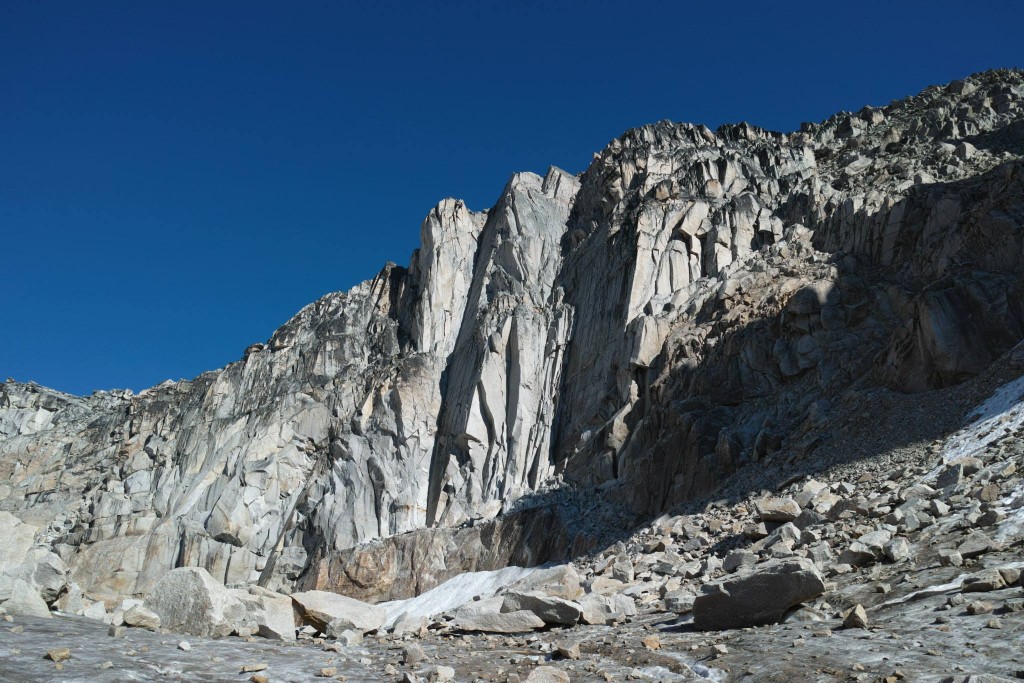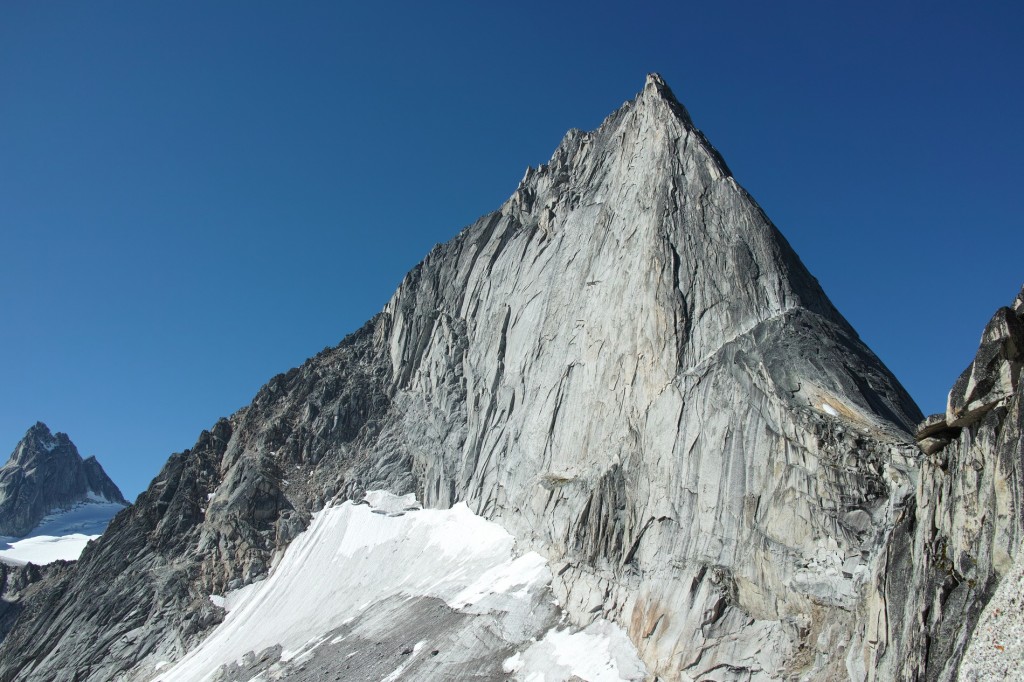 We got up late, and strolled over to McTech Arete.  We were in no hurry, because the route doesn't get any sun until about 10:00 or so.  About 10:30, we began climbing.  This was another stellar route.  Unlike the Snowpatch route, it didn't feel really alpine, but the climbing was great, and the views were amazing.  We had excellent vistas of Snowpatch and Bugaboo Spires, with glimpses of the Howser Towers peeking out from above the col.  The climbing was definitely harder than the climbing on Snowpatch, but I managed to only fall off once.  Just about every pitch was really enjoyable, and the experience was great.  It was casual cragging in an alpine setting.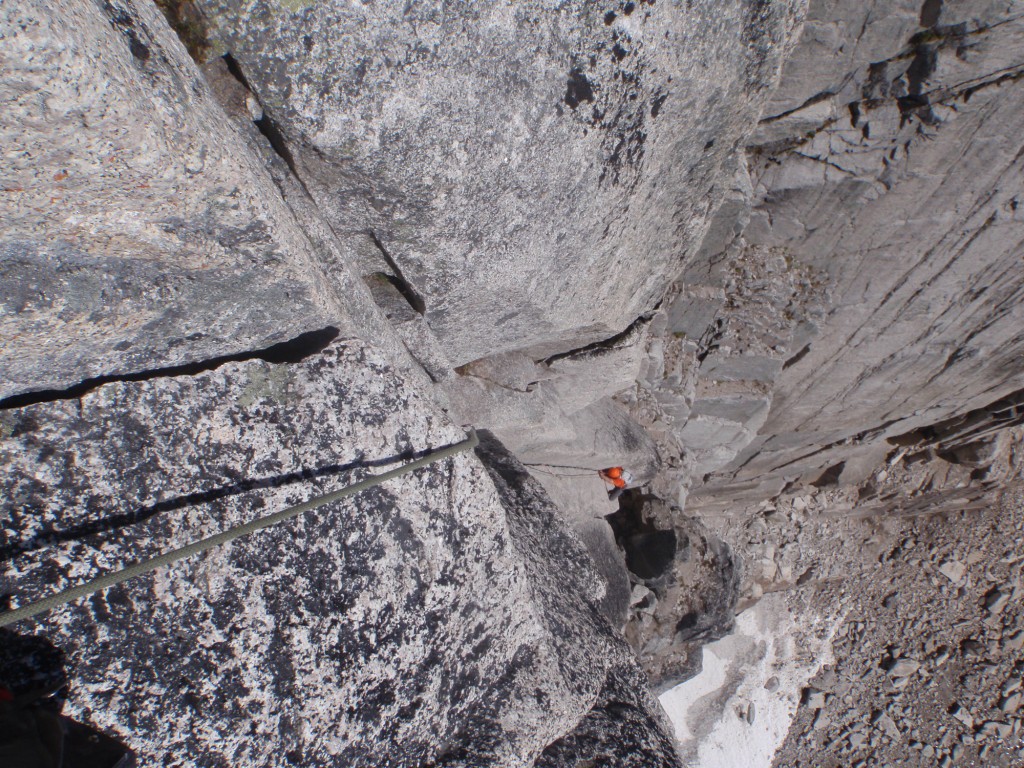 After finishing off McTech Arete, we headed back to the Hut.  I was pretty tired at this point, and was in need of a rest day to recuperate a bit.  The weather report indicated that the weather window was closing and the weather getting more unsettled over the Bugaboos, so we decided to leave the Bugs and head back south to Washington Pass in search of more good weather and fine granite.  We packed up and took off the next morning, However, I had already decided that I was definitely coming back with Chad next year.  Next time, we were going to start out on the Beckey-Chouinard, a route I have been dreaming about much of my life.
For now, however, I was satisfied.  I'd climbed a big route on Snowpatch that I had wanted to climb for a long while, and had a great time in the mountains.  I got some much needed rest and relaxation on the drive back to Washington.