A knife has got to be one of the first tools that early man created.   When you're in the wilderness, you often have the need to cut things, and having a knife along can be pretty handy.  Because knives are so useful, it's no surprise that primitive people worked on making knives from flint, and later cultures spent a lot of time and energy improving knives made from copper, bronze, iron, and steel.
I have a lot of knives both big and small.  I take at least one of them pretty much every time I go out into the backcountry.  When I was a little kid, I was pretty sure that the most important use for a knife in the wilderness was protection from bears and other wild animals.   Fanciful stories about Daniel Boone and Davy Crocket and Baden Powell reinforced this conviction.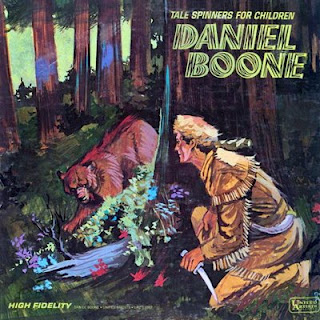 However, as I've grown up, I've come to realize that a knife isn't really used for doing combat with carnivorous forest predators.  However, in spite of the fact that I've never killed a bear with a knife, a knife is pretty handy in the backcountry.   This post examines my real-world use of knives and how I select which one(s) to bring with me when I leave home and head into the wilderness.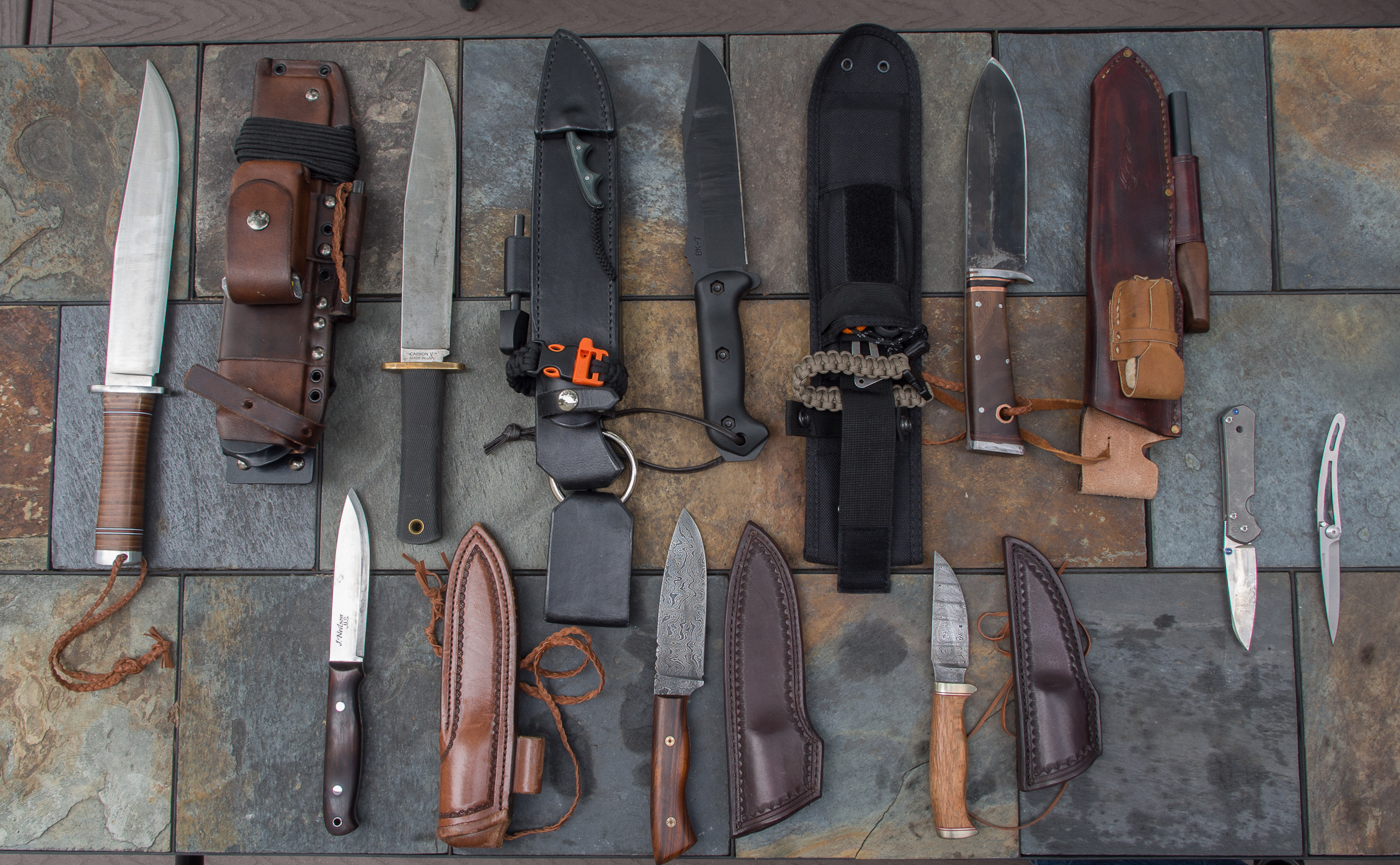 Knife Uses:  Here are some of the things I use knives for on a regular basis when I'm in the backcountry and the types of knives that work best for these tasks:
Cleaning fish.   A smaller knife with a relatively thin blade seems to work best for gutting and cleaning fish, although pretty much any knife will work.  A fixed blade knife is easier to clean when you're done than a folder.
Starting small fires.  Making feather sticks and shaving off very small pieces of wood or other plant material to make tinder and fine kindling is best done with a knife that has a medium to medium-large blade.  Fixed blade knives are ideal, but any sturdy folding blade knife will also work.
Building larger fires.  Splitting wood by batoning it is a task that is best done with a medium to large knife with a thicker blade.
Shelter building.   If you're building a shelter out of natural materials, a medium-large to large knife is the most efficient tool.  A knife with a thicker, longer blade will be more efficient at lopping off boughs of trees, notching logs, and other big chopping tasks associated with building natural shelters in wooded areas. A medium or large knife is also more efficient for non-chopping tasks such as cutting and collecting reeds, cat-tails, long grasses etc. as part of the shelter building process.
Trail clearing.  Chopping through heavy brush to force a path through an overgrown trail or through a trail blocked by branches etc.   This is a task uniquely suited for a large machete-like knife.  I think I've only resorted to chopping my way through brush on a couple of occasions.  Mostly, it's easier (and safer) to just find an alternative route.
Fine Carving tasks.  A small to medium size knife is best for fine carving tasks such as preparing fireboard and spindle for fire-making, carving deadfall triggers, carving spoons or other implements, carving fishhooks, and recreational whittling (turning large sticks into smaller sticks.)
Miscellaneous  small cutting tasks.  Cutting cord, cutting cloth, cutting food packaging, cutting duct tape, trimming first aid dressings.  These tasks are best accomplished with a small knife.
I think that the above list covers pretty much everything I've ever done with a knife in the backcountry.   The cutting tasks are pretty varied, and no single type of knife will be the best at any one task.
So, I choose my knife based on what I think I will be doing on a trip.
Standard Lightweight backpacking:    If I am going on a standard, lightweight backpacking trip, I am typically carrying a shelter and a small backpacking stove that burns  both alcohol and wood (Trail Designs Ti-Tri.)  For trips like these, the only cutting tasks I do much of are cleaning fish, and miscellaneous small cutting tasks, along with making the occasional feather stick for starting a small fire.   Weight is the enemy, as I am often covering lots of ground and I try to keep my carried weight as low as possible.  On these trips, I typically carry only a lightweight knife.
My current favorite is the small Chris Reeve Sebenza folding knife. It has a 3 inch blade, a titanium handle, and the folding mechanism is very strong and secure.  It weighs only 2.7 ounces.  The Sebenza is a very high quality folding knife that is stout and solid enough that it feels like a fixed blade knife.  It's good at making feather sticks, small cutting tasks, and cleaning fish.  I can open and close the blade one handed.  When I'm backpacking, this is usually the knife I take.
Wilderness Survival:     I'm not a wilderness survival expert, but I have taken a lot of survival and bushcraft classes, and I've spent a fair amount of time in the backcountry building shelters and doing other traditional bushcraft tasks.  Just about every year, I take boy scouts out into the forest and teach shelter building techniques.  Occasionally, I will test my own skills by leaving my backpacking equipment behind and going camping with minimal gear.  For activities like these, having a knife with some heft to it makes life a lot easier.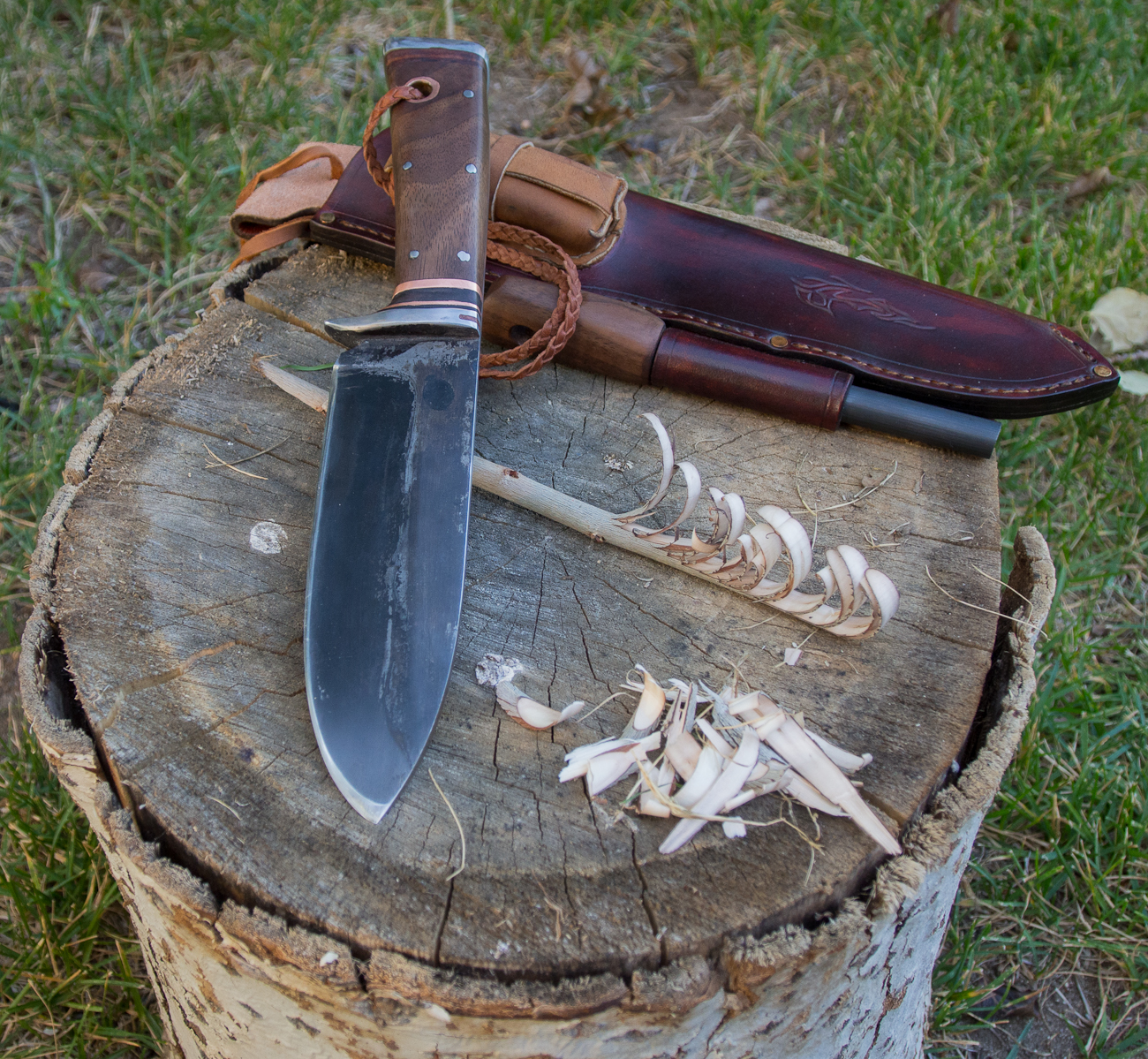 I've got several larger knives, but my current favorite is probably the Mountain Caribou knife made by Cariboo Blades.  It has a blade that is a hair over 6 inches in length, about a quarter inch thick.  It's a beautiful, hand made tool, but it is made for hard duty.  It handles heavy chopping tasks almost as well as my bigger knives (Thor and Trailmaster) but its shorter blade length makes it better than these long bladed knives for carving and finer tasks.  Any of my larger knives performs admirably in a heavy, wilderness survival role, but the balance, beauty, and function of the Cariboo make it my sentimental favorite.
Car Camping:  When I'm car camping, I don't have to worry as much about weight saving as I do when I'm under my own power.  I usually bring an assortment of cutting tools.  Typically, I pack a medium size knife (my Ray Coon Damascus) in my kitchen kit for food prep tasks and general camp chores, whittling, etc.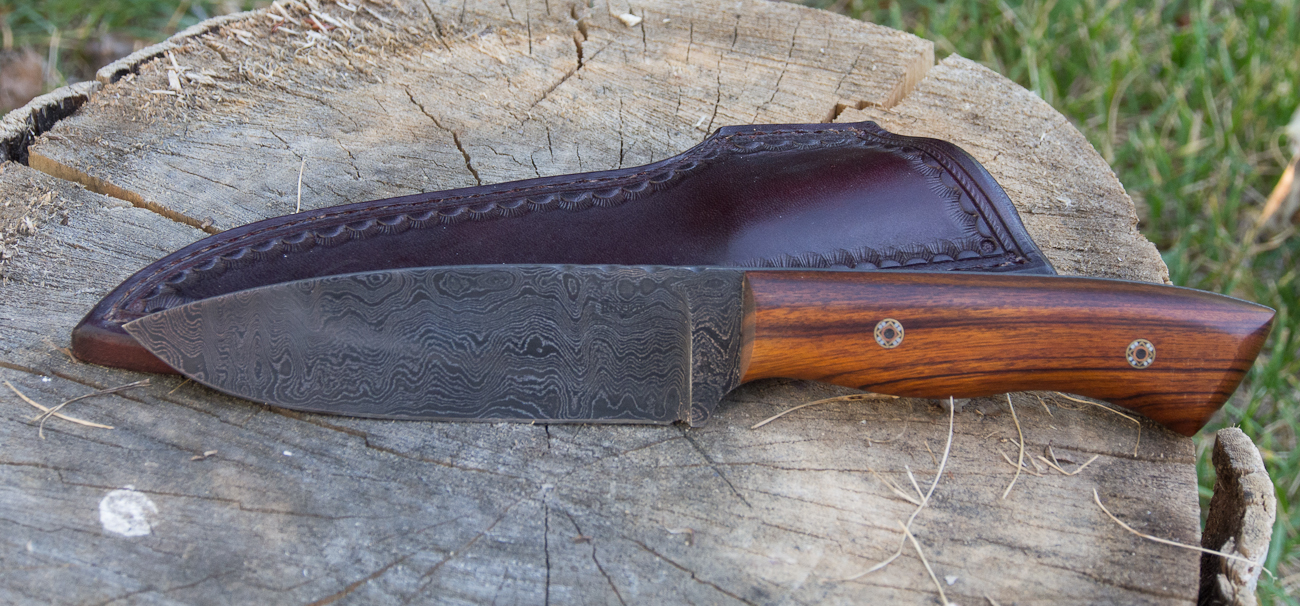 For bigger cutting tasks while car camping, I generally don't use a knife.  I use an axe and a saw.  An axe and saw are much more efficient than a knife for large cutting tasks such as cutting firewood, or clearing deadfall from a jeep trail.  My axe and saw of choice are the Gransfors Bruks "Small Forest Axe", and the Ray Mears "Woodlore" folding saw.   These tools strike a nice balance between usability and weight and bulk.  They are compact and light enough to stow away easily and could easily be carried with you while hiking if necessary.  They are big enough that they get the job done.  The saw breaks down to a small compact bundle and fits in a high quality well-made case that also carries the axe.  I have used these tools to cut my way through downed trees that had fallen across the jeep trail I was driving.  I've also used them for various other wood cutting tasks such as cutting firewood and cutting down logs to make stools, etc.   They are beautifully fashioned, high quality tools that are made to last a lifetime.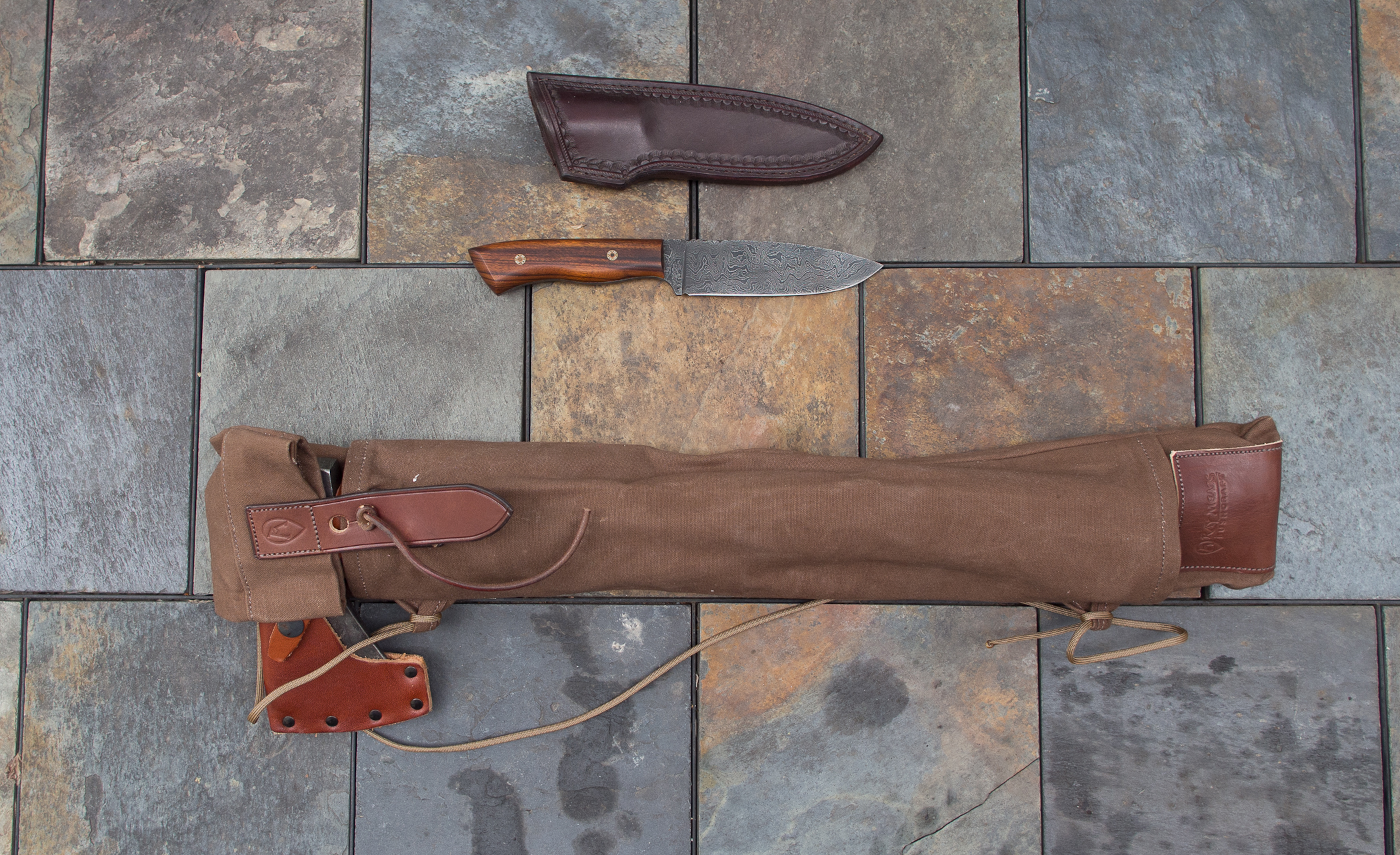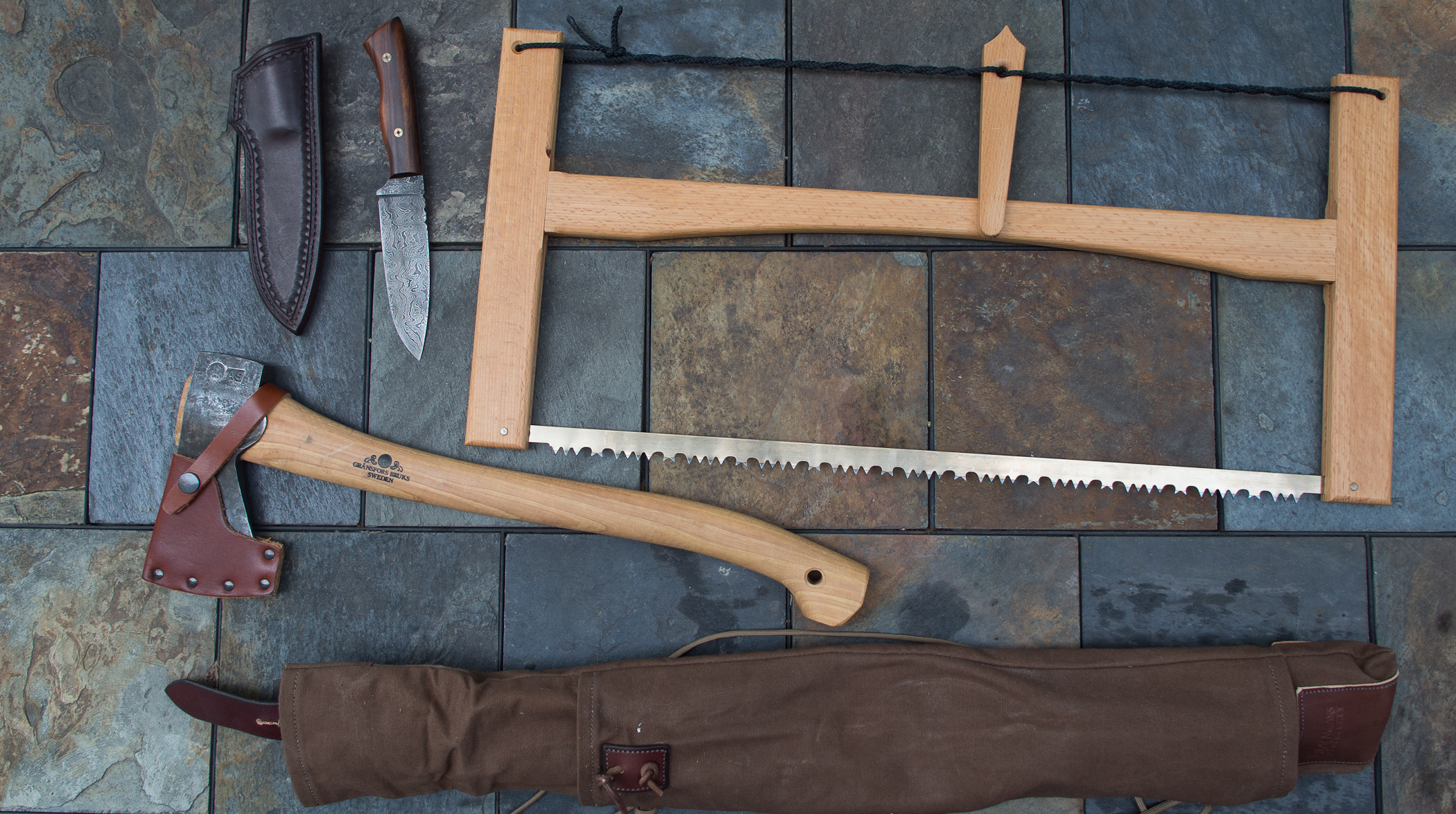 Multi-tools:  Most trips, in addition to a knife, I will bring along a small multi-tool.  If I'm going really light (like when I'm climbing or doing a long ultra-light backpacking trip) I will just take a small multi-tool instead of a knife.  There are times when a pliers, scissors, or screwdriver can be very useful.  I generally don't take a full size multi-tool, but favor a smaller size tool such as the Leatherman Squirt PS4 which has both a pliers and a scissors.  Sometimes, I take my old Victorinox Champion Swiss Army Knife.  I've had it since I was 12 years old and it has served me well for many years.  The handle scales came off of it after years of use, and I replaced them with mammoth ivory handles.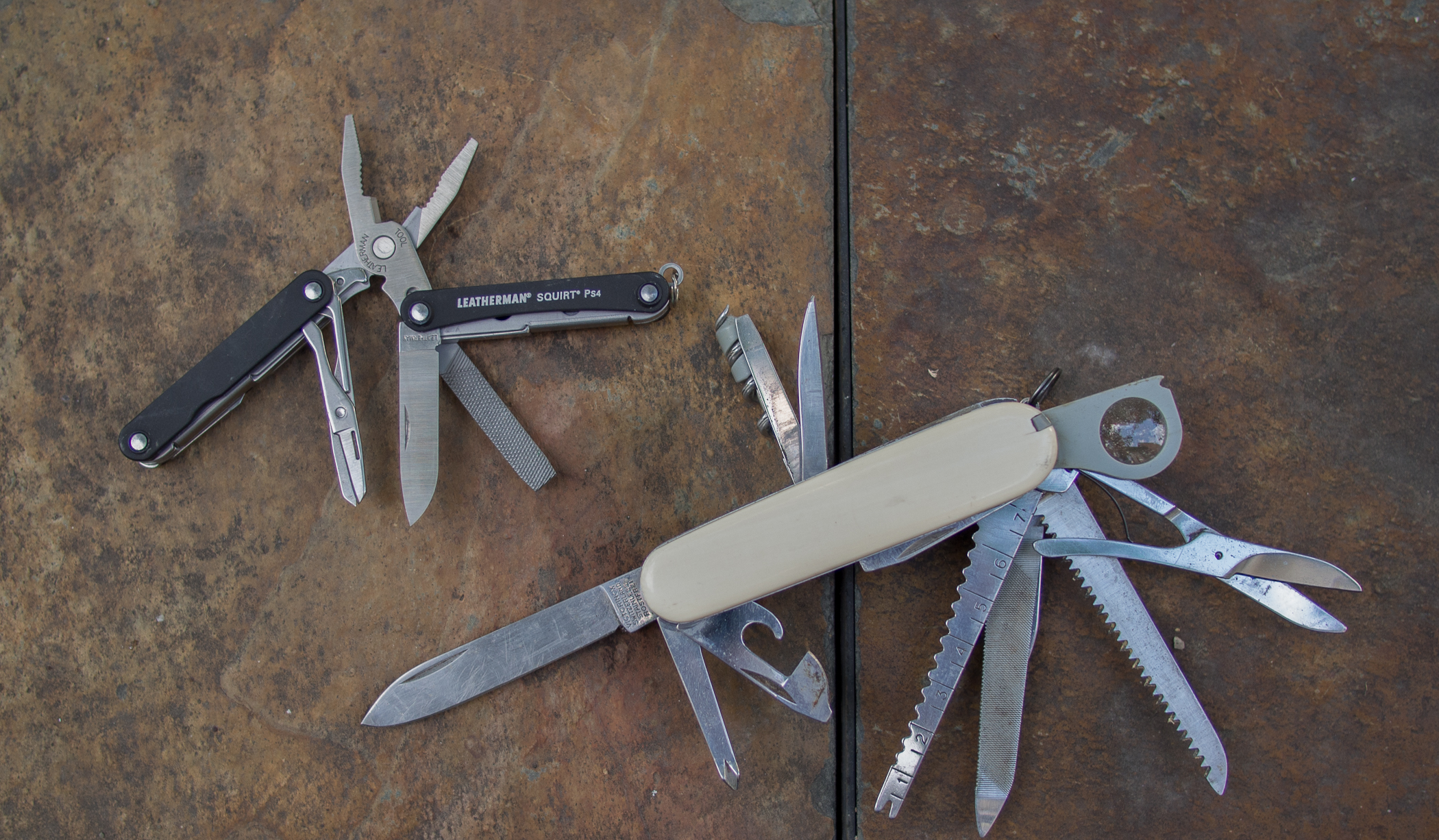 Various Knives I own and use:
Baladeo "22G"  (0.8 ounces)   At less than one ounce, this is a seriously lightweight folding knife.  It has a decent locking mechanism, but it isn't really made for heavy duty activities.  It's great for cleaning fish and general cutting chores.   I carry this in my backcountry fishing kit as a fish cleaning knife and as an emergency/back-up blade.
Chris Reeve Sebenza (small)  2.7 ounces  This small, lightweight and tough knife is the benchmark for high-quality folders.  It's manufactured with close tolerances and quality materials.  A perfect all-around small folder.  My Sebenza has an Insingo blade profile that is slightly different than the traditional spear-point design.   The Sebenza comes with an integral clip on it that clips it to your pocket.  I didn't really want or need this clip, so I removed it.  I filled the space where the clip was with a small titanium insert from Edge Specialties.   
Coon 3.5 inch fixed blade  (5.6 ounces) and Coon 5 inch fixed blade (9 ounces)  Raymond Coon makes beautiful, hand forged Damascus blades.  They are beautiful, but also very functional.  The small, 3.5 inch fixed blade knife resides permanently in my fishing vest and is used primarily for gutting fish.  The larger 5 inch blade knife is my all-around camp/kitchen knife when I'm car camping.  Either would make a good all-around carving/bushcraft knife.
J. Neilsen 5 inch fixed blade  "Scandi-Bushcraft)  13.2 ounces (includes 1.6 ounce firesteel)  This is a pretty good all-around bushcraft knife.  It's blade is thick enough for heavy duty tasks like batoning wood, and it's short enough to be useful for fine carving tasks.  
Mora "Bushcraft Force"  4 inch fixed blade  5.2 ounces.  Mora knives are one of the true bargains in knives.  Usually, you get what you pay for.  With Mora knives, you get more than you pay for.  They are no-frills, plain jane knives, with solid construction and good steel that maintains an edge.  The Mora is a great first knife for the aspiring bushcrafter.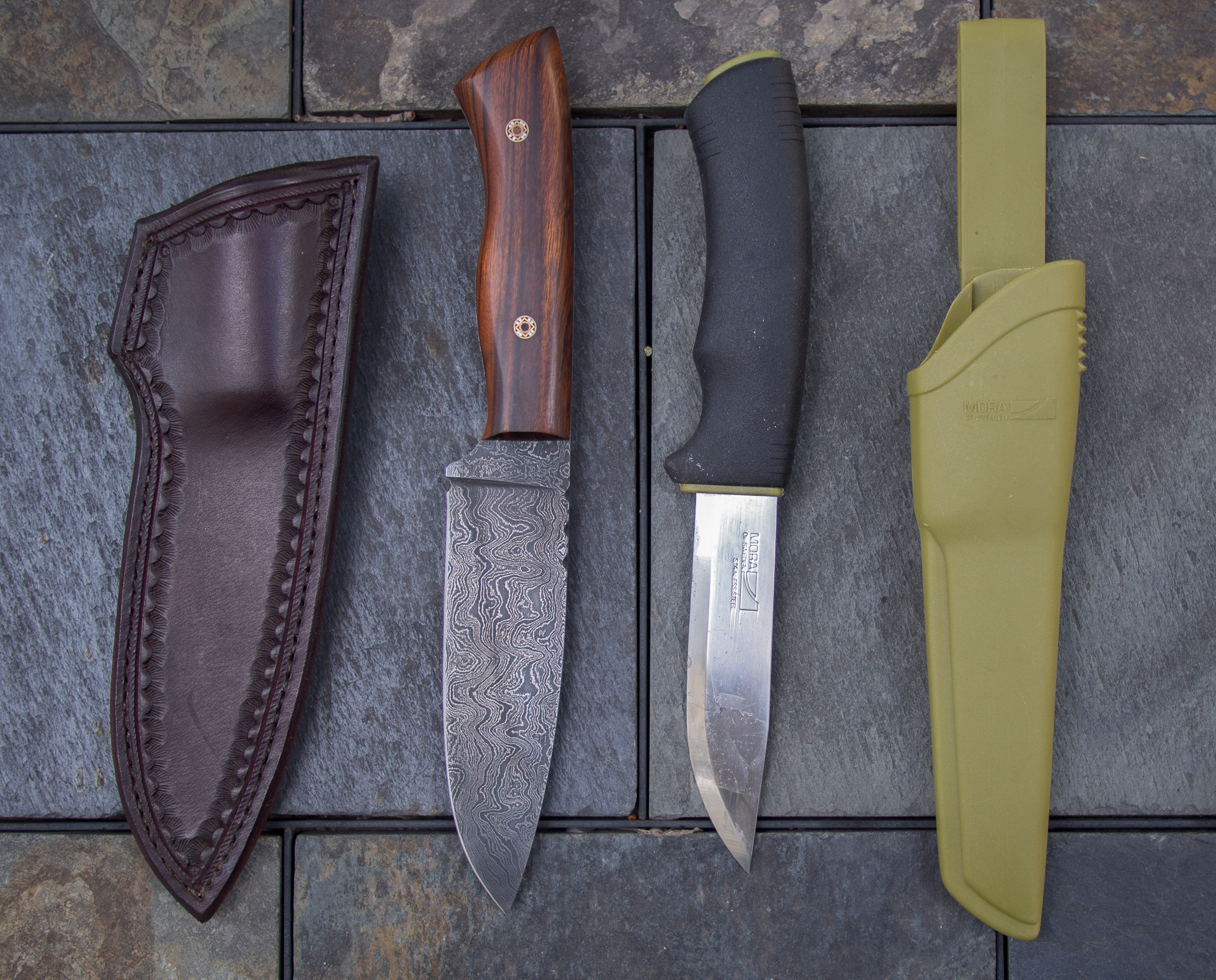 K-Bar Becker "BK-7"  7 inch fixed blade  22.1 ounces  (includes firesteel, sharpening stone, small "Remora" knife, and braided paracord bracelet that adds 3.8 ounces )  The Becker BK-7 is a reasonably priced solid knife that is a good all around survival knife.  It's sturdy and substantial enough for shelter building and other hard duty tasks.  The blade is strong, the steel is high quality.  It's not as beautiful as a custom knife, but it's simple effective design is a great example of form dictated by function.  This knife lives in the glove compartment of my truck, and it has cut rope, battery cables, watermelon, and dozens of other things.  If you need a quality, hard-working knife at a good price, this would be an awesome choice.  The factory sheath isn't fancy, but it does have pockets for some survival accessories and a small Becker Remora knife.
Cariboo  "Mountain Knife" 6 inch fixed blade    29.5 ounces    (Includes 4.5 ounce firesteel, and diamond stone and tinder tabs weighing 1.8 ounces)   This beautiful knife is hand made from reclaimed materials.  It's probably my favorite knife in my collection.  The balance and feel is terrific.  It's size and shape make it well suited for a very broad range of tasks.  It's the perfect all-around knife.  The sheath has a holder for a large firesteel and a pouch for a sharpening stone and tinder tabs.
Cold Steel Carbon V "Trailmaster"  9 inch fixed blade   34.2 ounces  (Includes firesteel, braided paracord bracelet, and CRKT "Minimalist" small knife that adds 3.2 ounces )  I bought this knife back in the early 1990's when the Trailmaster was made in the USA from Carbon V steel.  I don't have any experience with Cold Steel's current crop of Chinese made knives, but this vintage Trailmaster has been a great knife.  I have used and abused it for many years, and it's none the worse for wear.  The Carbon V steel sharpens easily, keeps an edge, and is very tough.  I recently replaced the factory sheath with a custom sheath by Chuddy Bear Leather.  The sheath has a place for a very small CRKT Minimalist knife and a firesteel.
Fallkniven "Thor" 10 inch fixed blade  37.4 ounces (includes firesteel, diamond stone, fishing line and hooks, LED light, 20 feet of paracord, and tinder tabs that adds 4.2 ounces)  This is a terrific large knife.  It is made with a laminated steel blade that sandwiches a carbon steel layer between two stainless layers.  This knife came from the factory with as sharp of an edge as I've ever experienced in a factory made knife.  It was shaving sharp when new, and it has not taken much effort at all to keep it that way.  Its size and heft make it a great chopper, and I've used it for shelter building and other heavy duty tasks with great success.  The stacked leather handle was a little bit slippery when new, but with use, it has become a bit less slick.  The balance on this knife is very good, and I'd have to say that this is my favorite of my big, long-bladed knives.  The sheath that came with this knife was adequate and well constructed, but I wanted something a bit more versatile.  I commissioned Martin Swinkels to make me a combination leather/kydex sheath for the Thor.  The sheath has a holder for a firesteel, and a pouch in which I can keep some survival essentials like tinder tabs, sharpening stone and fishing line.   With 20 feet of paracord wrapped around the sheath, I've got a lot of the survival basics covered in one package.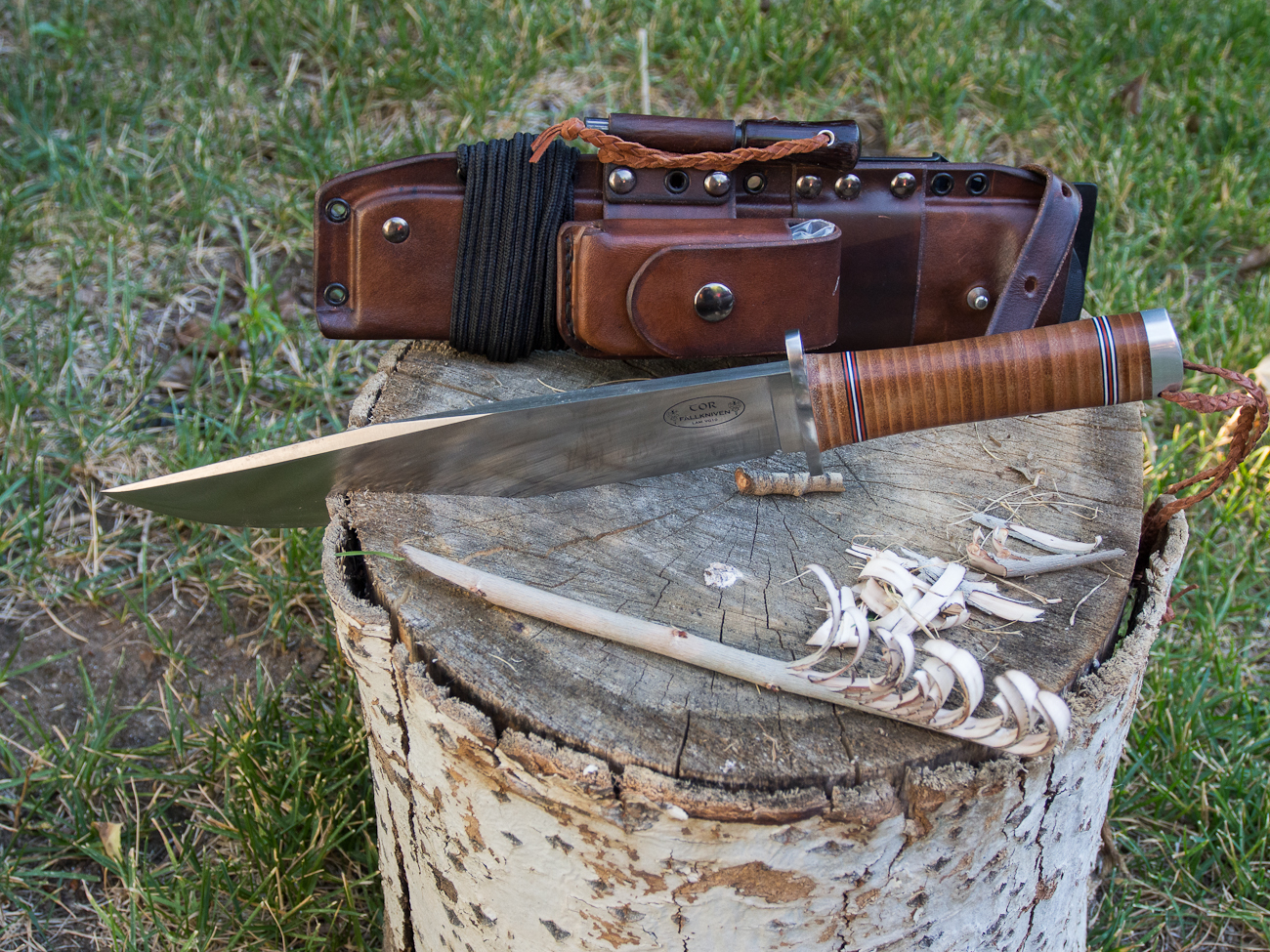 As you can see from the pictures, I have a lot of knives.  Too many really, for how often I use them.  If I had to choose just two, I'd take the Sebenza for light duty, and the Fallkniven Thor for heavy duty tasks.  A good small folder coupled with a big fixed blade knife will do pretty much anything you want a knife to do.
If I had to choose just one knife to do everything, it would probably be the Caribou Mountain Knife.  It's heavy enough for chopping, is stout enough for hard work, and nimble enough for fine work.
Happily, I don't have to make these choices, and can select the perfect knife for the anticipated situation (which hopefully never includes fighting a bear.)